Holiday Gift Guide for Hanukkah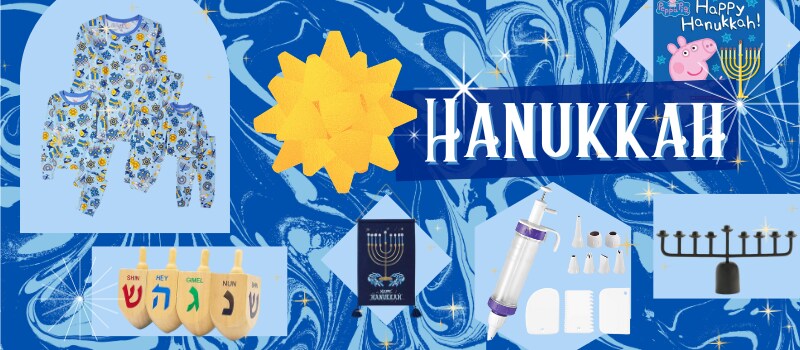 The Festival of Lights, Hanukkah, is celebrated worldwide by many believers of the Jewish faith. It is celebrated on the 25th day of Kislev according to the Hebrew calendar, which may occur from late November to late December. This year, it is celebrated from December 18th through December 26th. There are several different ways one can celebrate this holiday that commemorates a miracle that lasted eight days.
One can share the story and history of Hanukkah with friends, children, and family. You can create delicious meals, play music, play dreidels, pass out coins (gelt), and more. As we approach the holiday season, we wanted to provide a share of gift suggestions you can give to loved ones who celebrate this wonderful holiday.
Traditional Holiday Gifts
Discover the timeless beauty of traditional Hanukkah gifts, featuring exquisite Menorahs that light up the celebration and classic Dreidels that spin with festive charm. MyUS helps you access the heart of tradition by facilitating international shipping from renowned Judaica stores, making it easy to share the essence of Hanukkah with your loved ones worldwide.
Menorahs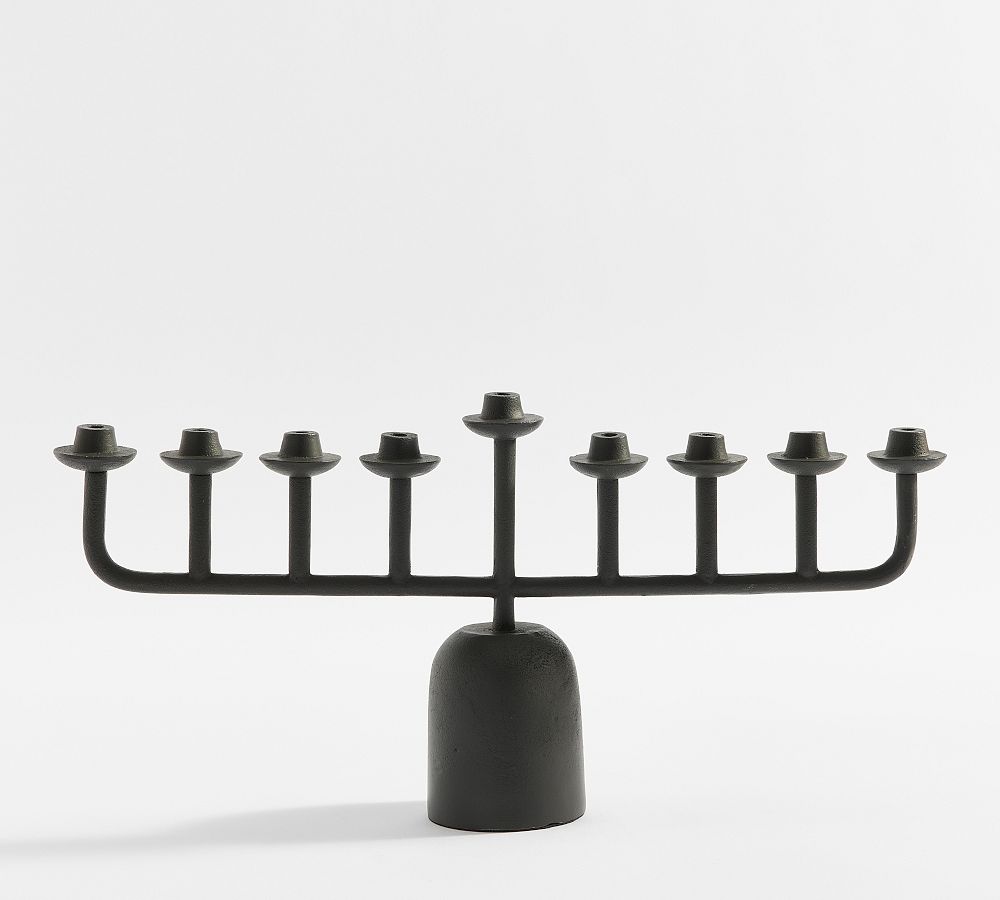 A beautiful Hanukkah menorah is a timeless gift. Opt for traditional styles with intricate details or a modern twist with unique designs. Check out this handcrafted bronze menorah from Pottery Barn to grow your holiday decor collection.
Dreidels
These spinning tops are a must-have for Hanukkah. Find dreidels with various designs, including those made of wood, metal, or acrylic. Check out these Extra Large Wood Dreidels that will add fun and atmosphere to your Hanukkah parties.
MyUS Tip: Shop at popular US retailers like Judaica.com or Pottery Barn for a wide selection of holiday decor like menorahs, dreidels, and other Hanukkah decor. MyUS will consolidate your purchases and forward them to your international address.
Gourmet Hanukkah Treats
Indulge in the delicious world of Hanukkah by creating gourmet treats that will tantalize the taste buds. From heavenly Sufganiyot to artisanal chocolate gelt, these gourmet delights are a delectable way to celebrate the Festival of Lights with elegance and indulgence.
Tools to Create Sufganiyot
Enjoy a popular Hanukkah treat that is often enjoyed around the world. Rather than purchase a Sufganiyot, a jelly-filled doughnut, create it yourself with this handy Donut Filling Tool from Amazon. You can also use this tool to fill cupcakes, create beautiful icing decorations, and more!
Create Your Own Gelt
Traditional chocolate coins are a delightful addition to the festivities. Rather than purchasing chocolate coins that can melt during transport, get creative by making your own gelt. Use this Star of David Reusable Mold and get creative while making gelt with the whole family.
MyUs Tip: Find all the tools you may need to create your traditional holiday treats from online retailers like Amazon and others. MyUS will consolidate all your purchases for cost-effective international shipping.
Hanukkah Art and Decor
Elevate your loved ones' Hanukkah celebrations with our selection of exquisite Hanukkah-themed art and décor. From stunning Hanukkah art prints to elegant Challah covers, these beautiful pieces of art are designed to bring the warmth and spirit of the Festival of Lights into their homes, making it a truly memorable and meaningful holiday season.
Hanukkah Art Prints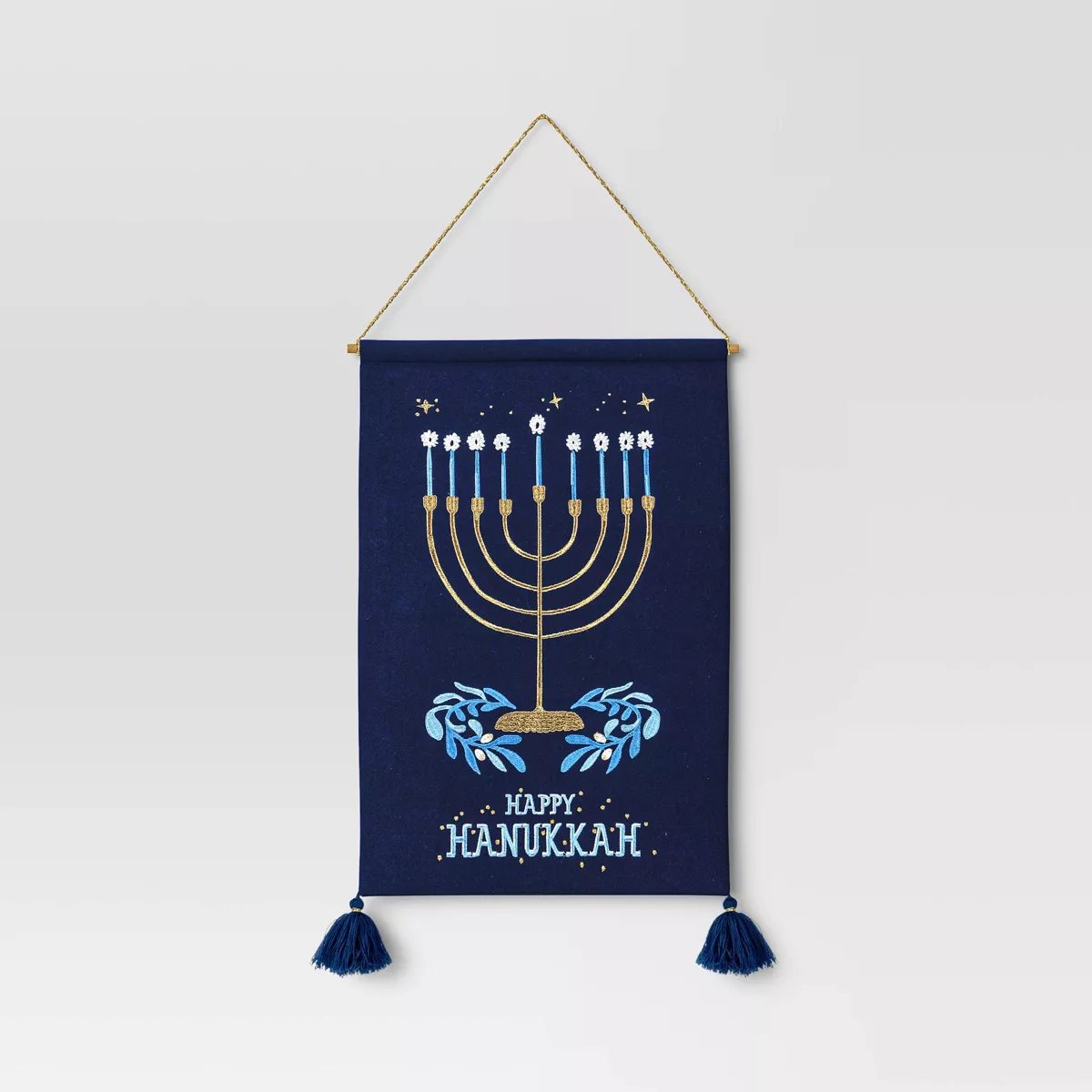 Beautify your loved ones' homes with Hanukkah-themed art prints or paintings. Check out this beautiful Happy Hanukkah Wall Hanging from Target and add some pizzazz to your traditional decor.
Challah Covers
Elegant challah covers with Hanukkah motifs make for a meaningful gift. Check out this beautiful silk embroidered challah cover designed by famous Israeli designer Yair Emmanuel to keep traditions alive.
Hanukkah Gifts for Children
Surprise the little ones with the joy and wonder of Hanukkah through a selection of gifts, including educational Hanukkah books and entertaining toys that celebrate the Festival of Lights. From captivating stories to interactive games, these gifts will engage and delight children, making their Hanukkah celebrations even more special.
Hanukkah Books
Educational and entertaining books about Hanukkah are a great way to engage young readers. Get your children excited about learning their traditions through their favorite character, Peppa Pig. In Peppa Pig's Happy Hanukkah! read along as Peppa and George eat latkes, play dreidel, and light the candles to celebrate the festival of lights.
Hanukkah Toys
Surprise kids with Hanukkah-themed toys and games that bring the holiday spirit to life. Get your child the Mitzvah Moose as a special Hanukkah gift. Not only does this moose have light-up horns, similar to the menorah, but it also includes a storybook. Enjoy the inspiring story where Moshe encounters a moose with antlers that won't glow.
For the whole family
Celebrate together as a family unit this Hanukkah. Individual gifts can be fun but when you gift something that brings the family together, there's a chance you can make great memories to come. Create new family traditions or education your children on the ones passed down generations before so they can appreciate this holiday. Take family traditions one step further than just lighting the menorah this Hanukkah. Here are some gift suggestions that can bring your family closer together for the season and future months.
Hanukkah Matching Pajamas
Have the whole family celebrate Hanukkah in unison with this matching Hanukkah Pajama set. These pajamas are designed to show off a mix of printed menorahs and dreidels on tonal stripes to bring a festive feel to the soft jersey-knit Hanukkah symbols. Mom, Dad, the kids, and the family pet can be synchronized for a Hanukkah photo or worn casually during the eight days of celebration.
The Adventure Challenge Scrapbook Family Edition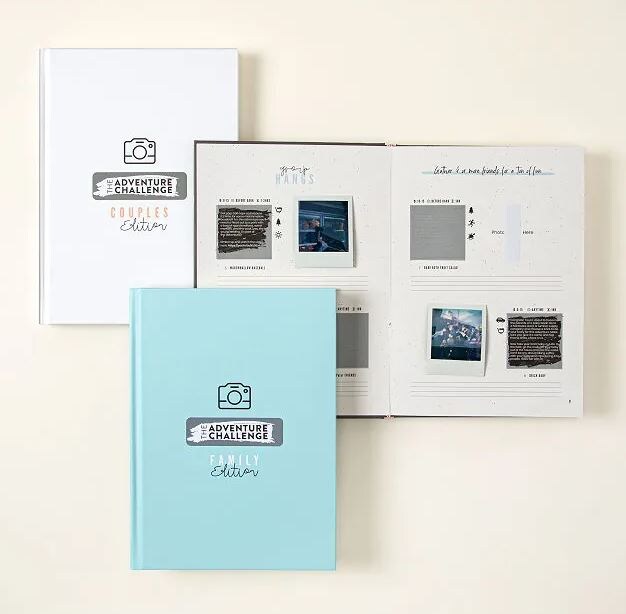 Be in it together, as a family this Hanukkah. The Adventure Challenge Scrapbook is a great way to bring families closer together. It's filled with 50 different opportunities to make some great memories with loved ones while doing things most would never think of. Pick a category, scratch off a hidden challenge, and complete whatever is revealed. The challenge can vary from something simple to baking a cake blindfolded to your next big adventure as a family unit.
Find the Perfect Hanukkah Gifts with MyUS
There are hundreds of stores in the US that may have the perfect gift for Hanukkah. By signing up for a MyUS address, you can buy any gifts from almost any retailer in the US and send them directly to your doorstep anywhere around the world. It's an easy process and will have you shopping within minutes!
How Does MyUS Work?
Our easy online registration will help you select and choose the best membership option to help you get the products and brands you love from the US. Over 7.7 million members trust MyUS with their international shipping needs - especially during the holiday season!
We always aim to bring our members the best shopping options available, but some of the products featured in this post may have purchase restrictions. Please visit the merchant's terms of sale, shipping guidelines, and terms and conditions to find more information.