Holiday Gift Guide for Hanukkah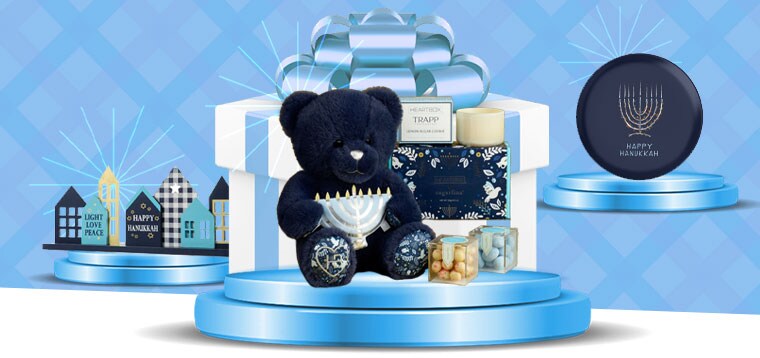 The Festival of Lights, Hanukkah, is celebrated around the world by many believers of the Jewish faith. It is celebrated on the 25th day of Kislev according to the Hebrew calendar, which may occur from late November to late December. This year, it is celebrated from December 18th through December 26th. There are several different ways one can celebrate this holiday that commemorates a miracle that lasted eight days.
One can share the story and history of Hanukkah with friends, children, and family. You can create delicious meals, play music, play dreidels, pass out coins (gelt), and more. As we approach the holiday season, we wanted to provide a share of gift suggestions you can gift to loved ones who celebrate this wonderful holiday.
For the Children
Education children on their cultural traditions are vital in keeping them alive for years to come. Hanukkah is a rich history and can be tough to explain to some younger children. One of the easier ways to get children to learn more is to find fun and creative ways to tell stories and get them involved through hands-on learning. Here are some gift suggestions we think would work best in spreading the joy and love of Hanukkah and Jewish traditions with young children.
Hanukkah Bear by Eric Kimmel
In this wonderfully whimsical tale, the Hanukkah Bear is the perfect holiday story time for children as an introduction to the traditions and customs of Hanukkah. In Hanukkah Bear, Bubba Brayna's legendary latkes lure an unexpected visitor to her home. This family favorite children's book also includes a traditional recipe for latkes along with interesting, digestible facts about the history and traditions of Hanukkah.
21-Piece Wooden Shabbat Set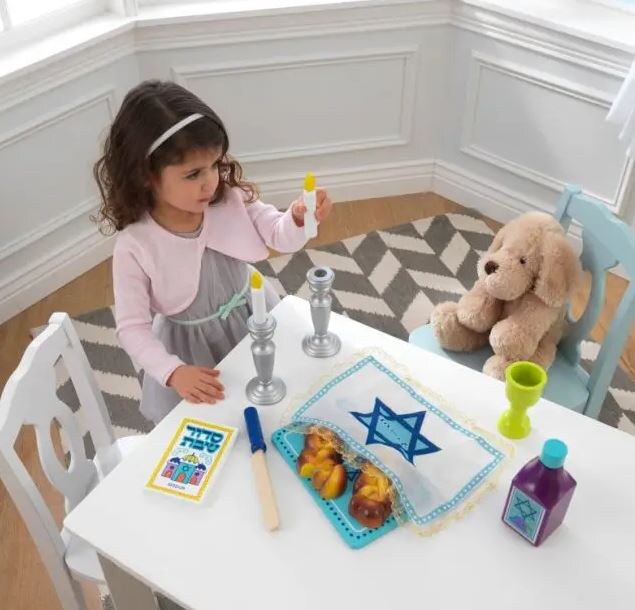 The KidKraft Shabbat Set is a great interactive toy set for children ages 36 months and up to enjoy during the Hanukkah season. No assembly is required, you can educate your children on the Shabbat tradition that is celebrated each week. It comes with 21 total pieces: 2 candlesticks, 1 goblet for wine, 1 wooden knife, 1 challah cover with Hebrew letters spelling Shabbat, and two special wooden, pre-sliced challah loaves with velcro attachments.
Hanukkah Decor
Christmas isn't the only winter holiday that calls for home decor to be set up around the home. Deck the halls for the Jewish observance with these lovely decor items you can reuse for years to come. Take traditional concepts and give them a modern, stylish upgrade with these holiday decor suggestions we feel will give your home a festive facelift during this holiday season.
Keraclay Stoneware Menorah Set
Take a stylish and unique twist on the Menorah with this Keraclay Stoneware Menorah Set. This modern piece that celebrates the festival of lights splits the menorah into 9 individual holders that allow you to customize the shape. When you purchase this piece, you are also supporting small businesses, specifically Keraclay. Keraclay is a ceramic lighting, tableware, and decor brand creating hand-built and wheel-thrown pieces that are both decorative and functional.
Glitzhome 20" Wooden Hanukkah House Table Decor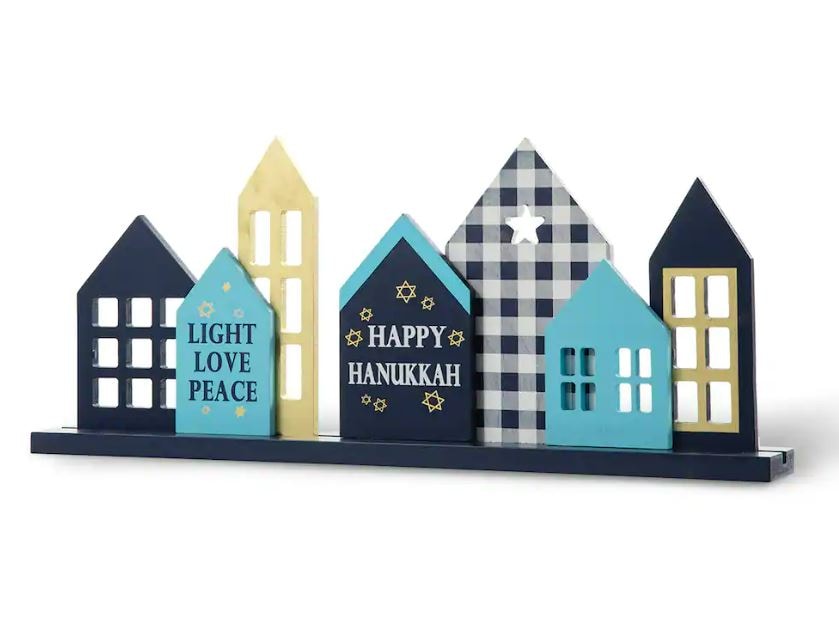 Decorate your home or dining area with the Glitzhome 20" Wooden Hanukkah House Table Decor. In festive colors, it has seven houses with cutout windows and holiday sentiments. It can be placed on a shelf, or a table to give your home a more Hanukkah feel and spirit. It can make a great gift to a host or for you to use every year to spruce up your home for the holiday season.
For the Traditional Hanukkah Dinner
There are over a dozen traditional Hanukkah recipes to make during the eight-day celebration. From latkes, sufganiyot, brisket, kugel to treats like gelt and cookies. Overall, traditional Hanukkah foods comprise fried foods, savory meats, and sweet desserts rooted in tradition, making them a meaningful part of the celebration. If you're struggling to find the perfect gift for Hanukkah, here are some items that would make for great gifts that can be used for years to come.
Hanukkah Table Runner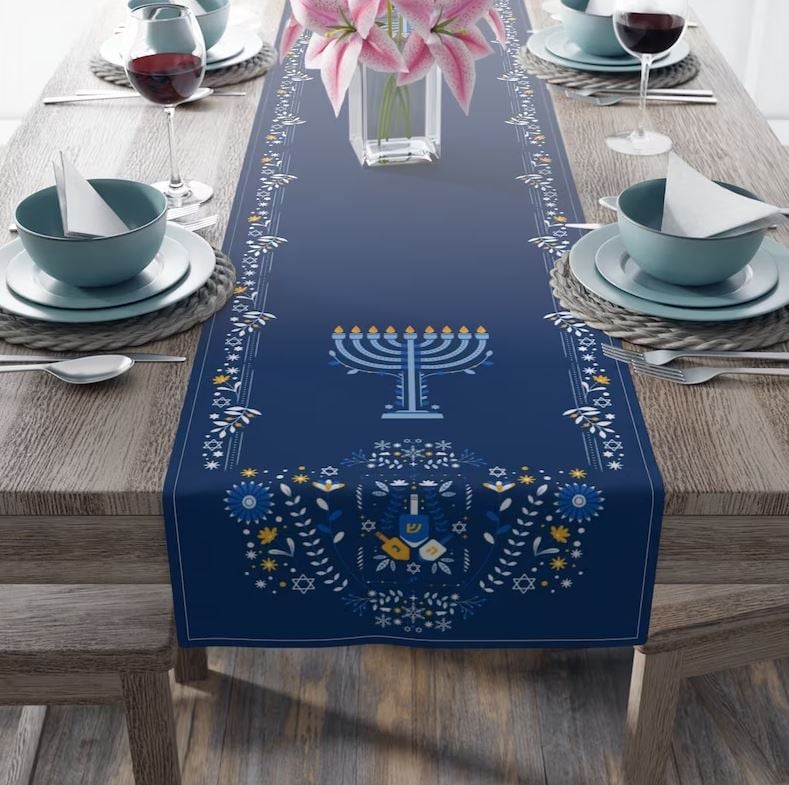 This navy blue Hanukkah table runner would make the perfect gift for the host or hostess of your next holiday party. Make the Hannukkah table that much more beautiful with this harmonious table runner. It is composed of two materials, cotton twill and polyester, and is machine washable for future use. The two size options available are 16" X 72" and 16" X 90" with hemmed edges.
Round Happy Hanukkah Serving Platter Blue
Enjoy a Hanukkah meal with loved ones using the Round "Happy Hanukkah" serving platter from Threshold. This blue stoneware serving platter features an illustration of menorahs along with the message "Happy Hanukkah" to add a festive vibe to your dinner. Designed in a round shape, it provides the perfect base for baked dishes and more. Its microwave- and dishwasher-safe design makes it perfect for reheating and when it comes time to clean up.
For the Memories
Is this the first Hanukkah season for your little one or convert? Make the most of the eight-day Festival of Lights by creating memories that they can look back on and appreciate for years to come. Here are some items you can add to your holiday shopping list that can be used for many more Hanukkah celebrations to come.
My First Dreidel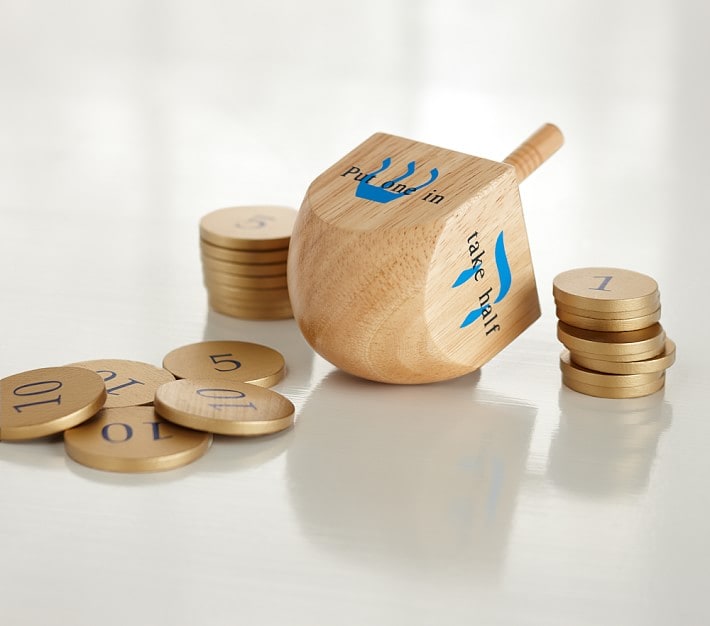 Teach your little one how to play the classic Hanukkah game with the My First Dreidel Set. Complete with a dreidel, coins, and a convenient bag to store it all, they'll have so much fun collecting their winnings and learning more about this cultural game. Educate your children on Hebrew letters, improve their hand-eye coordination, math, and how to play a game of chance with the dreidel. It will make lasting memories for the whole family.
Hanukkah Wishes Box
Is this someone's first Hanukkah? How else can you make a heart-warming good impression without the help of the Hanukkah Wishes Box from Build-a-Bear? Send warm wishes during the Festival of Lights with this curated gift box full of Hanukkah-inspired goodies. The Hanukkah Wishes Box includes a Hanukkah Wishes Bear, a Menorah Wristie, Sugarina 2 pc Bento Sweets Box, Trapp Lemon Sugar Cookie Scented Candle, and a HeartBox with Printed Band.
For the whole family
Celebrate together as a family unit this Hanukkah. Individual gifts can be fun but when you gift something that brings the family together, there's a chance you can make great memories to come. Create new family traditions or education your children on the ones passed down generations before so they can appreciate this holiday. Take family traditions one step further than just lighting the menorah this Hanukkah. Here are some gift suggestions that can bring your family closer together for the season and future months to come.
Hanukkah Matching Pajamas, Created for Macy's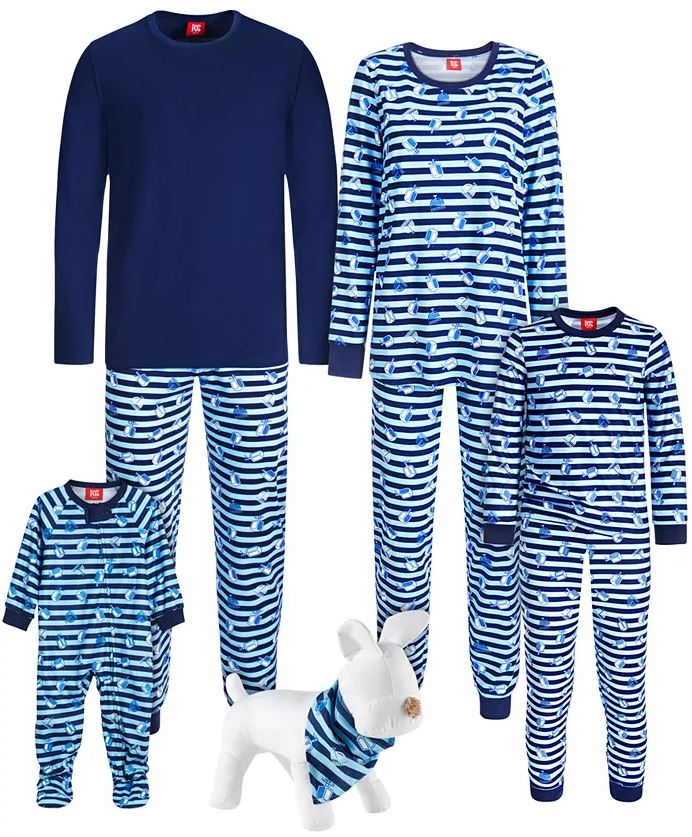 Have the whole family celebrate Hanukkah in unison with this matching Hanukkah set from Macy's, even the family pet can join in on the fun. These pajamas are designed to show off a mix of printed menorahs and dreidels on tonal stripes to bring a festive feel to the soft jersey-knit of Hanukkah stripes. Mom, Dad, the kids, and the family pet can be synchronized for a Hanukkah photo or wear it casually during the eight days of celebration.
The Adventure Challenge Scrapbook Family Edition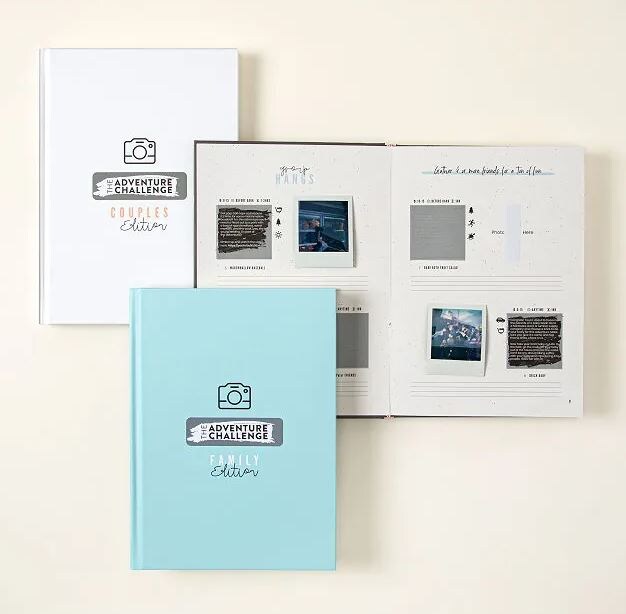 Be in it together, as a family this Hanukkah. The Adventure Challenge Scrapbook is a great way to bring families closer together. It's filled with 50 different opportunities to make some great memories with loved ones while doing things most would never think of. Pick a category, scratch off a hidden challenge, and complete whatever is revealed. The challenge can vary from something simple to baking a cake blindfolded to your next big adventure as a family unit.
Find the Perfect Hanukkah Gifts with MyUS
There are hundreds of stores in the US that may have the perfect gift for Hanukkah. By signing up for a MyUS address, you can buy any gifts from almost any retailer in the US and send them directly to your doorstep anywhere around the world. It's an easy process and will have you shopping within minutes!
How Does MyUS Work?
Our easy online registration will help you select and choose the best membership option to help you get the products and brands you love from the US. Over 7.7 million members trust MyUS with their international shipping needs - especially during the holiday season!
We always aim to bring our members the best shopping options available, but some of the products featured in this post may have purchase restrictions. Please visit the merchant's terms of sale, shipping guidelines, and terms and conditions to find more information.