Estimate your shipping costs
Get Shipping Rates
TruePrice™
Guaranteed Pricing
Our revolutionary pricing system calculates rates by weight only*, not dimensions.
Our revolutionary pricing system calculates rates by weight only*, not dimensions.
---
MyUS members save on average $360/year in shipping costs
Weight
1 lbs
Cost to ship
$25.07
Weight
1 lbs
Cost to ship
$25.07
Weight
2 lbs
Cost to ship
$27.67
Shipping Direct from Online Stores
Total Shipping Costs: $77.81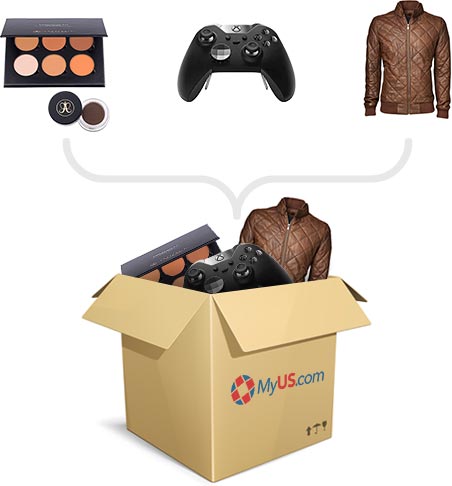 | | |
| --- | --- |
| Weight | 4 lbs |
| Cost to ship | $33.95 |
Bundling Parcels with MyUS
Total Shipping Costs: $33.95
56% less than shipping direct from stores!
Discover why MyUS is the Best Value for Your Wallet
At MyUS, we don't believe in charging confusing extra fees like our competitors and there's no comparison when it comes to service. We charge only by actual weight and even lower your shipping costs by consolidating all of your items into one box.
| | MyUS | Other Shippers |
| --- | --- | --- |
| Free parcel processing & repackaging | Yes | No |
| No fuel surcharges | Yes | No |
| Free parcel bundling/consolidation | Yes | No |
| 1 to 3 day shipping | Yes | No |
| 4.5 star customer service rating | Yes | No |
| Trusted since 1997 | Yes | No |
| TruePrice™ upfront pricing with no hidden fees | Yes | No |
| Dedicated customs & compliance support | Yes | No |
I'd give MyUS a 5 STAR rating. Packaging is superb and customer care is excellent. Finally, MyUS has given me a chance to shop from America's online stores.
The customer service is great. Shipping is easy. Trusted and reliable service. Thank you MyUS, you've made online shopping very enjoyable.
Great job, I was really impressed at how smoothly everything went and the speed you managed to receive my order and deliver on to me. I was genuinely very happy with your service.
I continue to be amazed at the level of service I receive from MyUS. Even outside office hours I see updates to my shipments and the information I provided for required updates being acted upon. Please continue to be awesome.
---
Cancel within the trial period and you will not be billed. After 30 days, your membership will automatically continue at $9.99 per month for as long as you remain a Premium member. No contracts or cancellation fees.
---
The MyUS Advantage
MyUS members are smart shoppers. They know there's more to the value of dependable, worry-free shipping than just a cheap price.
*Applies to international shipping from the USA via DHL, FedEx, and UPS and "Budget Carrier" option. Excludes oversized shipments and palletized shipments. Oversized shipments are those with linear dimensions (total Length + Width + Height) greater than 72 inches (183 cm). Items requiring some types of special packaging (e.g. crates), are not eligible for MyUS TruePrice pricing. MyUS TruePrice guarantee does not include additional or optional services such as insurance, dangerous goods fees, customs, duties or taxes. Prices are subject to change at any time without notice. These rates are valid on November 18, 2021. Costs shown in USD.
Ready to Shop & Ship?
All you need is a membership to instantly get your MyUS address.