Gift Guide for Holiday Decorations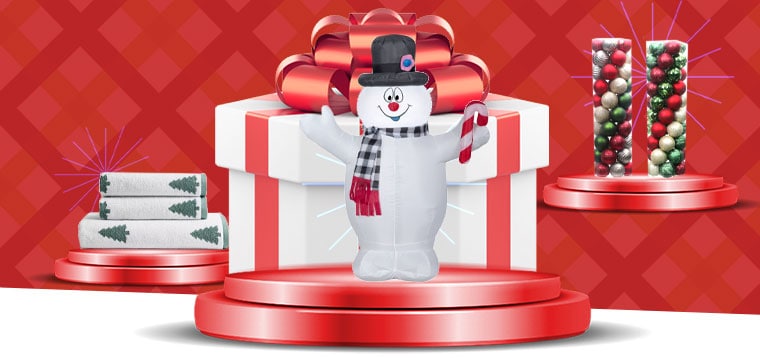 Some people love the holidays! It is the season for people to put up decorations like outdoor lights, blowup devices, silhouettes of reindeer, and more! If you love dressing your home up to fit the holiday season, this is the perfect gift guide to find gifts and decor you can reuse every winter! Here are some suggestions for the season.
Outside Decor
Decorating the outside of your home can be a fun way to show off your family's sense of style (or humor) during the holiday season. You can dress your home with a beautiful theme of a white Christmas or show off your love of holiday animated classics with characters from movies like Rudolph the Red Nose Reindeer, Frosty the Snowman, and more. The choice is ultimately yours, but if you're stuck trying to find that one piece that will tie all your lights and outdoor ornaments together, we have some festive suggestions!
Green & Multi-Color Pre-Lit Cone Tree Outdoor Decor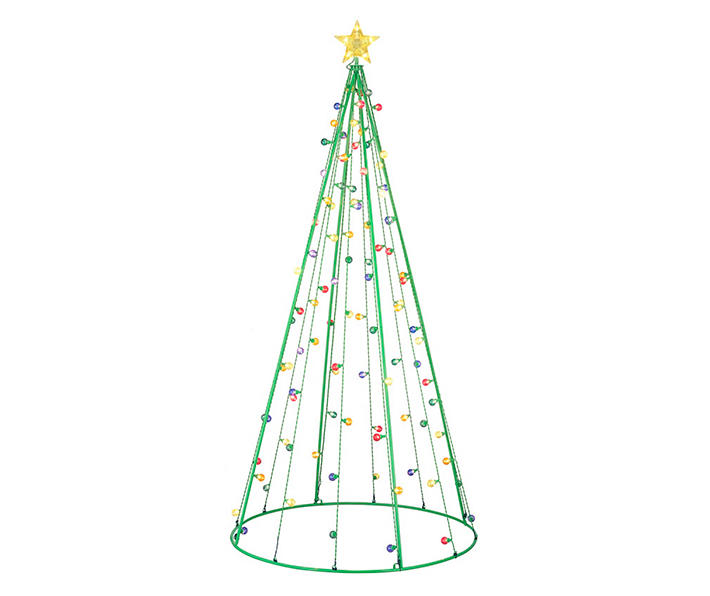 Brighten up the front of your home with the bright glow and seasonal style of this cone tree decor from Winder Wonder Lane. It's easy to set up and take down and features over 100 multi-color LED lights with a yellow star on top to brighten your yard. It also comes with ground stakes to secure it in place so it won't blow away with a strong winter breeze. Keep your home festive by turning on the sparkling light effect to turn some heads.
Rudolph Santa and Misfit Toys Sleigh Seasonal Outdoor Decor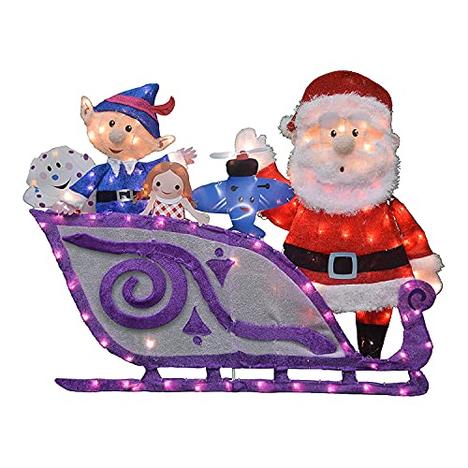 Are you a fan of the Christmas classics? Add this to your holiday decor inventory! Bring holiday cheer to your neighborhood with this 42 Rudolph Santa and Misfit Toys Sleigh Yard Art. Featuring your favorite characters, this illuminated yard art statue will fill hearts with Christmas joy!
Inflatable Frosty the Snowman Christmas Decoration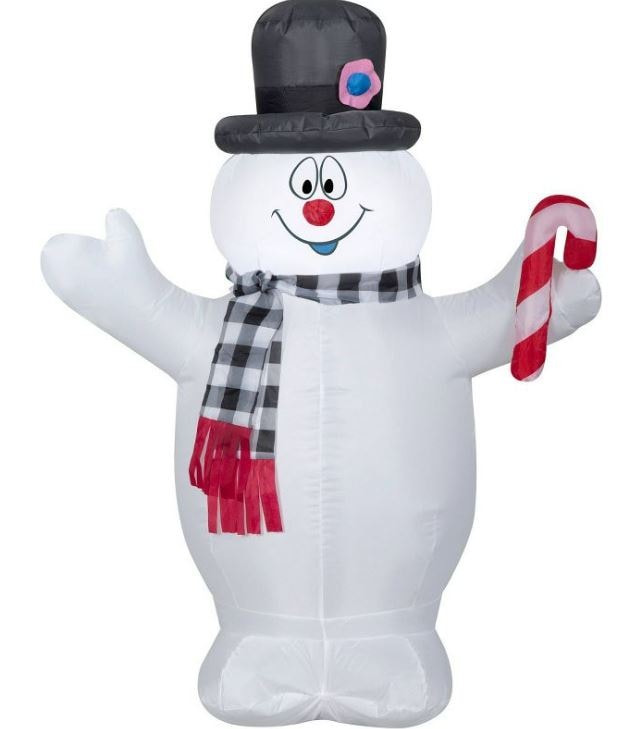 Sticking with the theme of favorite holiday characters, nothing brings in holiday cheer like Frosty the Snowman himself. So, celebrate the holiday season with an inflatable Frosty! Neighbors and passersby will love seeing their favorite character brought to life on your front lawn. This festive display makes an eye-catching addition that can be used as a stand-alone character or add in other inflatables to create a custom holiday scene. Just plug the decoration in, and it inflates and lights up in just a few seconds.
Dining Room/Kitchen Decor
Holidays meals are ways to make lifelong memories with loved ones. So keep the decor festive and make sure holiday cheer can be noticed in every room by updating the decor inside your home. From centerpieces to indoor wreaths, who said Christmas decor had to stop at the doorstep? Here are some decorative pieces you should use to bring holiday cheer to your dining and kitchen areas.
Pine and Swiss Dot Ornament Centerpiece in Crate
If you aren't filling the middle of your dining or service table with food - fill it with a centerpiece! Get into the winter holiday spirit with this decorative centerpiece that brings a touch of the tree to the table! This centerpiece takes rustic pine cones and bright ornaments together in a way that brings in the holiday spirit. It even has room to accommodate five pillar candles if you want to set the tone before your holiday dinner.
Holiday Cabinet Wreath Set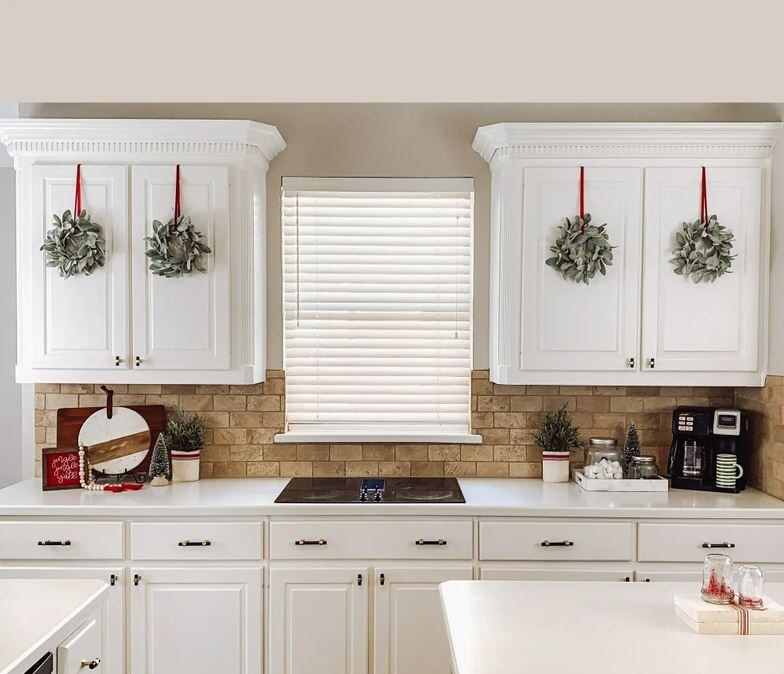 Holiday wreaths are just for the front door! With these four mini lamb ear Christmas wreaths, you can bring holiday cheer to your cabinets, interior doors, or even your pantry. Add a pop of greenery to your kitchen decor with these little festive wreaths, perfectly accented by a red velvet ribbon. In addition, it features clear command hooks that make it quick and easy to immediately hang up your wreaths as soon as you receive them!
St. Nicholas Square Christmas Cardinal Kitchen Towel 2-pk
You'll also need festive kitchen towels if you've already decorated the door, table, and cabinets! So deck the halls, or the kitchen, with these festive St. Nicolas Square Christmas Cardinal kitchen towels. They're almost too pretty to wipe down anything, but that's okay because they're only going to be used once a year!
For the Christmas Tree
Nothing says Christmas like decorating the Christmas tree! It only happens once every year, and you have the creative ability to decorate it with your unique style. Make it classy, festive, humorous, movie-themed, etc. We won't judge, but we will provide suggestions if you're stuck deciding what Christmas tree decorations you need. Tie it all together with our recommendations of items to add to your Christmas tree.
Snowman Hugger Tree Topper
Who said you're only supposed to put a star on top of your tree? Add humor to your tree with this nativity large snowman tree topper with a funny face and a top hat. The snowman's top hat features some felt holly and tiny red artificial berries to add color and cheer. The rest of your tree decor won't take away from the cuteness of this topper, who looks like they're giving your tree a warm hug.
Assorted 50 ct 2" Farmhouse Ball Ornament Set by Ashland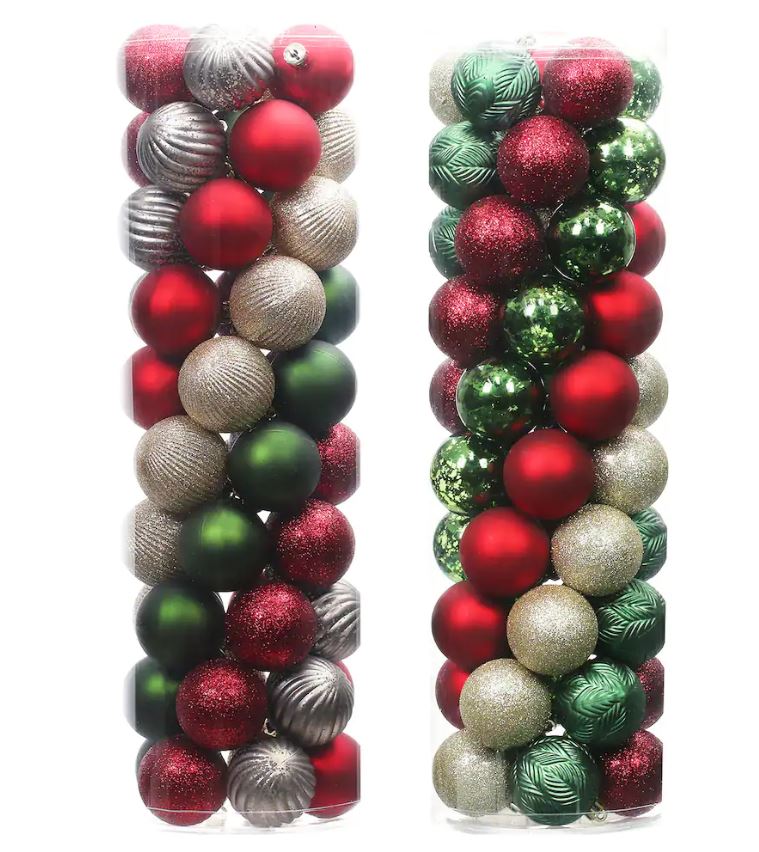 If you have a classy theme for your Christmas tree, ornaments are the best starting point. Consider adding festive Christmas colors to your tree with these beautiful farmhouse ball ornaments! Turn your tree into a glamorous piece of art in your living room with these 50 various plastic ornaments.
Steward Plaid Tree Skirt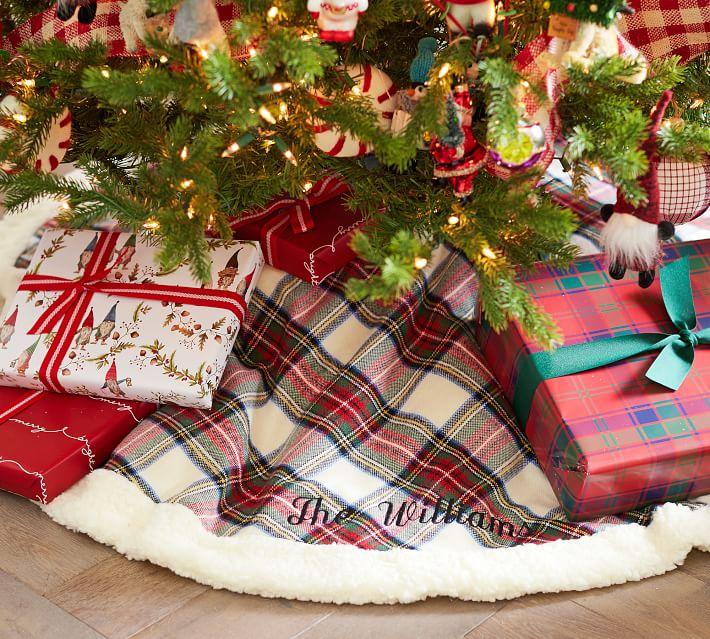 Christmas presents aren't the only thing that needs to be under the tree. You have to give it a skirt too! The Stewart plaid tree skirt is a favorite for decking the holiday halls. The tree skirt displays the timeless tartan in grand style and provides a festive backdrop for the presents on Christmas morning. It can even be personalized with up to 15 characters for an additional charge. Make this skirt uniquely yours with a name or something fun to add to the skirt and your tree.
Special Holiday Displays
While most people recognize and celebrate Christmas during this holiday season, we can't forget the other important holidays celebrated by others around the world. For example, Hanukkah and Yule are also recognized and honored by hundreds this time of year. If you observe these special holidays, here are some additional decorations you can add to your decor inventory.
Metal & White Marble Hanukkah Menorah
A classy take on the symbol of light - with a slight touch of glam. Do you know the story of Hanukkah, the menorah, its miraculous oil longevity, and its nine candles? If so, celebrate it with this metal and white marble menorah. This menorah is supported on a base of beautifully veined white marble, chrome-finished metal shapes, a slender stem, and semicircular branches.
Yule Father Odin Norse Pagan Statues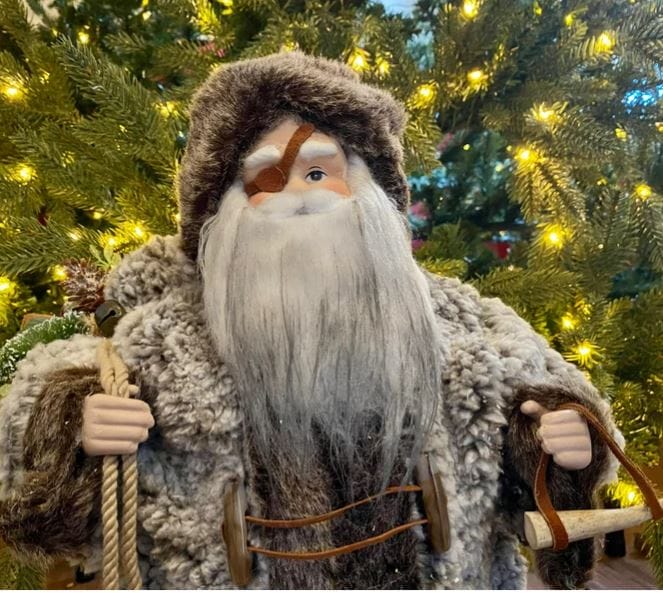 This isn't your average Santa Claus statue, but a Yule Father statue you can use to bring some yuletide cheer to your home. These customizable statues come in several variations of your choosing and can be used as a tree topper or a decorative piece to add to your decor.
Illuminated North Pole Table Top Advent Calendar Red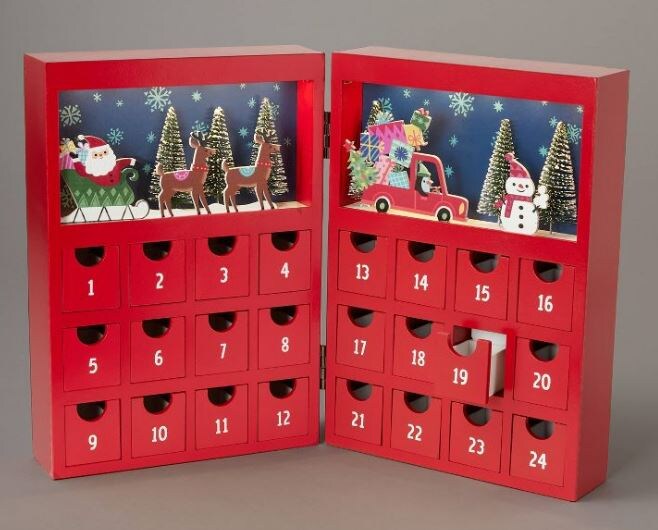 Countdown the days until Christmas with this fun and festive Advent Calendar. This Lit North Pole Table Top Advent Calendar is a great decorative piece that helps you track the days ahead. Its frame shape features a penguin-driven car, trees, presents, and "Merry Christmas" written on the front for a cute look, and it opens to reveal Santa riding reindeer, Christmas trees, snowmen, and more. Its reusable design makes it a piece your family will love to incorporate into your seasonal decorations for years to come.
Bathroom
Now for some people, the bathroom is a sanctuary and the holiday cheer should also be present there for the holidays. But if you're one of those people who love decorating the whole house, you can't just leave your bathroom bare! Bring the festivities into your guest or main bathroom with these fun holiday decorations you can use every year!
SpodeⓇTree Tartan Christmas Bath Towels & Accessories Collection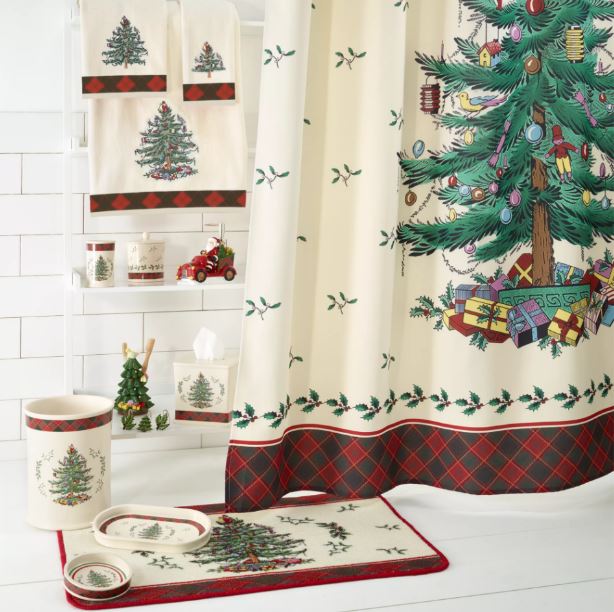 Spread winter cheer with these decorative towels and accessories. This Spode Tree Tartan Christmas Bath Towels and Accessories Collection includes a shower curtain, accessories, towels, and a bath rug. Collect the other items in the Spode Tree Tartan Christmas collection to create a jolly layout for your holiday bathroom display.
Holiday Pine Tree Bath Towels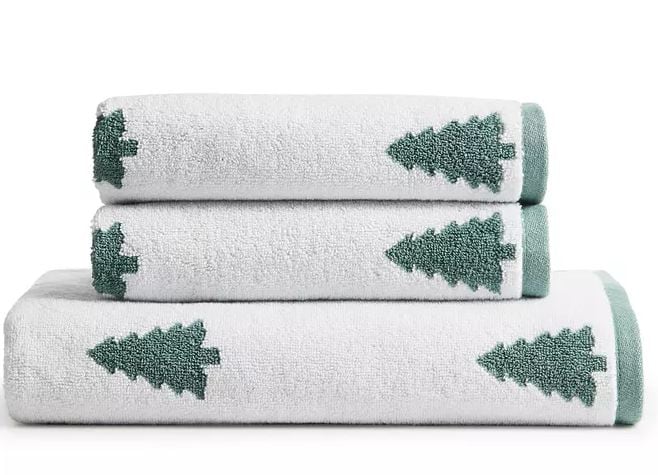 Add some holiday spirit to your bathroom with Charter club's Holiday Pines bath and hand towel set. Choose from three available styles (or get all three) to add a festive flare to your bathroom decor.
Holiday Bath Box - Stink. Stank. Stunk.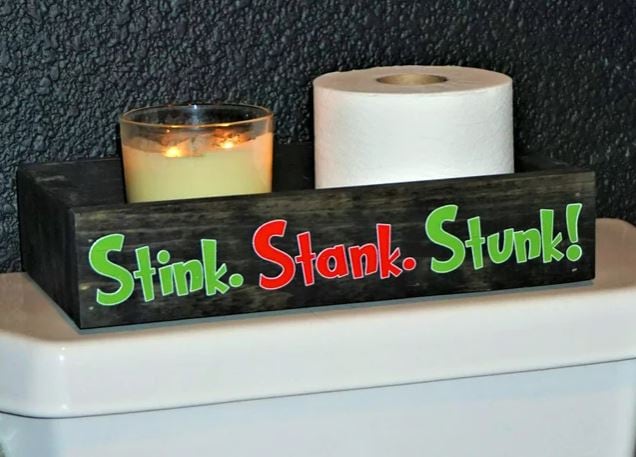 If you love the Grinch, you'll love this decorative bath box for your holiday decor. Humor bath boxes are an easy way to get a little chuckle or create a smile on someone's face. This "Stink.Stank.Stunk" holiday box is made with high-grade UV inks that dry hard, add texture, and last for decades.
Find the Perfect Decor with MyUS
There are hundreds of stores in the US that may have the perfect item that can make a gift for anyone who loves decorating for the season. By signing up for a MyUS address, you can buy any gifts from almost any retailer in the US and send them directly to your doorstep anywhere around the world. It's an easy process and will have you shopping within minutes!
How Does MyUS Work?
Our easy online registration will help you select and choose the best membership option to help you get the products and brands you love from the US. Over 7.7 million members trust MyUS with their international shipping needs - especially during the holiday season!
Sign up for a MyUS account & begin shopping today!
We always aim to bring our members the best shopping options available, but some of the products featured in this post may have purchase restrictions. Please visit the merchant's terms of sale, shipping guidelines, and terms and conditions to find more information.