Holiday Gift Guide for the Lunar New Year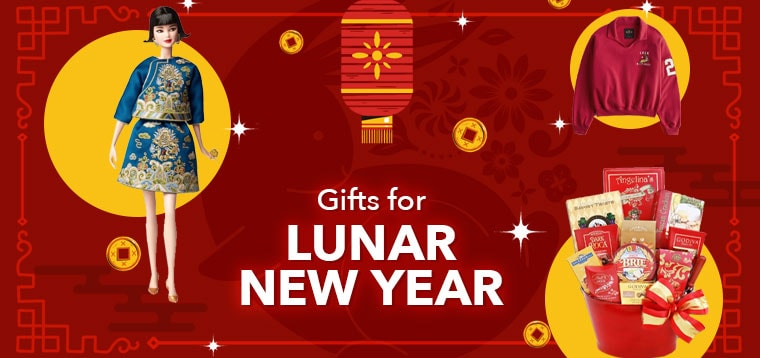 As of 2023, the Lunar New Year begins on January 22 and is the Year of the Water Rabbit. 2023 is predicted to be a year of hope, as the rabbit's sign symbolizes longevity, peace, and prosperity. The Lunar New Year also goes by several names, such as Tet, Chunjie, Solnal, Losar, and the Spring Festival.
In celebration of the Year of the Rabbit, it's a time to worship ancestors, remove anything bad and old, and welcome the new and good. In addition to participating in the traditional lion or dragon dances, temple fairs, and flower market shopping, it's also a time to celebrate and exchange gifts with friends and family.
Do you need help finding the perfect gift for your loved one this Lunar New Year? MyUS is ready to help you find what you need to celebrate properly! Follow our gift guide to find the best items you can utilize as a gift or decoration to celebrate the Year of the Rabbit!
Stylish Clothes In Traditional Colors
During the Lunar New Year, paying attention to the color of the gift and the color of the wrapping paper or box you are giving is essential. Avoid colors like white, black, or blue, as they are often associated with colors of death and funeral attire. Instead, choose colors such as red, yellow, and gold if you provide any gift, as they all symbolize wealth and prosperity.
Here are some stylish suggestions, perfectly customized to match the animal of this Lunar New Year.
Lunar New Year Rabbit & Carriage Crewneck Sweatshirt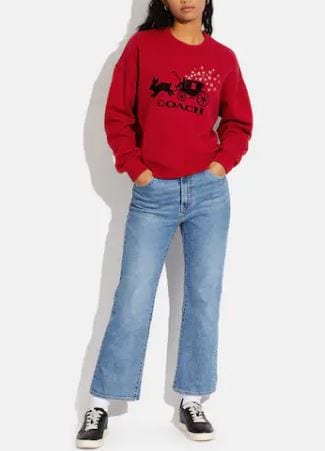 Create the perfect outfit for your Lunar New Year celebration with this comfortable, fashionable Crewneck Sweatshirt from Coach. This red sweatshirt is the perfect top to ring in the new year with prosperity and good fortune as it features the rabbit leading a carriage, representing the Year of the Rabbit. Pair with denim jeans or black cargo pants; you'll have a stylish outfit to wear during your festivities.
Shop For More Lunar New Year Items from Coach With MyUS
Lunar New Year Embroidered Logo Graphic Polo Collar Sweatshirt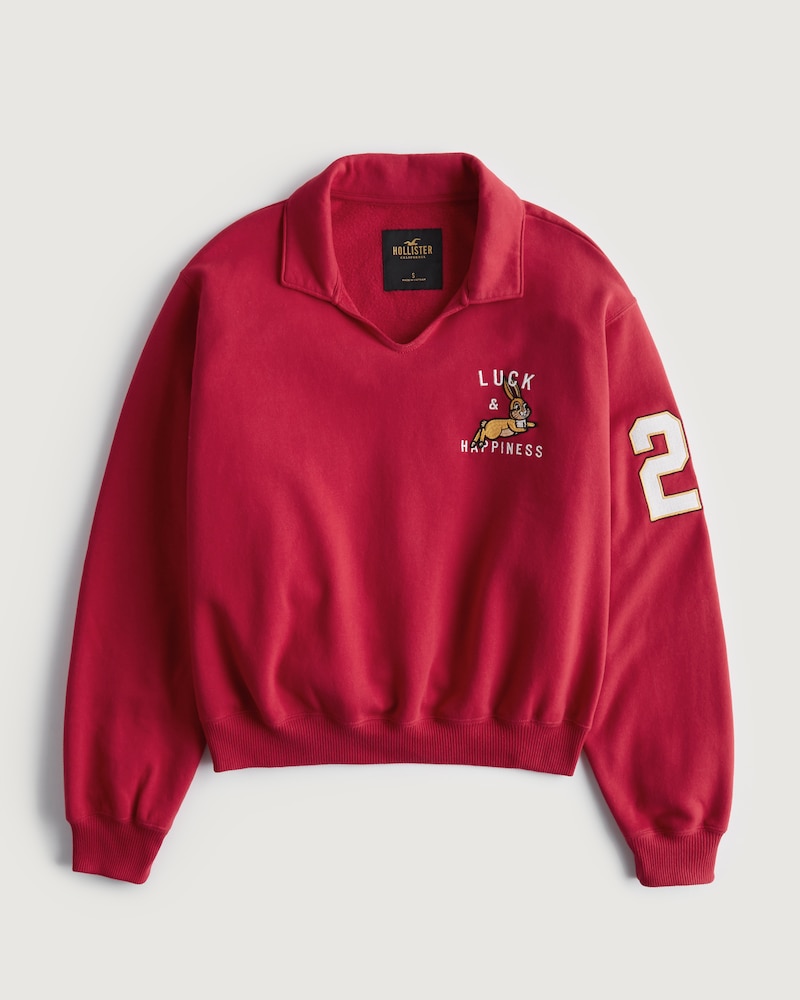 Ring in the new year with a stylish, comfortable sweatshirt that is perfect for the cool weather. This Lunar New Year Embroidered Graphic Polo Sweatshirt is made with super soft fleece and features a polo collar and embroidered logo of a rabbit; wishing you luck and happiness for the new year. This sweatshirt works perfectly with denim jeans and high-top white sneakers to pull off the best casual new year look you need.
Shop For More Lunar New Year Items from Hollister With MyUS
Women's Simply Vera Vera Wang Lunar New Year Graphic Tee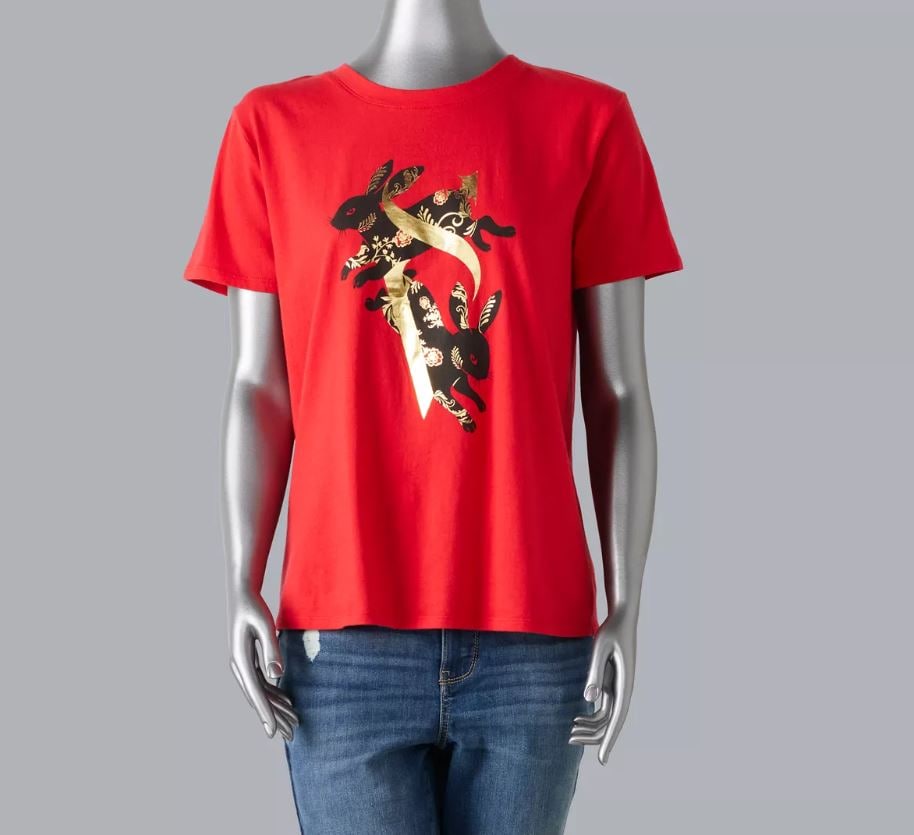 Celebrate the Year of the Rabbit in style this Lunar New Year with this woman's tee from Simply Vera Vera Wang. The short sleeves and crew neck provide a casual but stylish feel to make your outfit festive and comfortable. Simply Vera Vera Wang is designed for those who appreciate effortless style and know that the small signature details make all the difference in an outfit. So feel comfortable and stylish in this piece as you celebrate the New Year.
Shop For More Lunar New Year Items from Kohls With MyUS
Sweet Treats
Children (and adults) are encouraged to eat delicious sweets during this time of year as it can bring in fortune for the year to come. Many families will create their own "Cyun hap," a Lunar New Year Candy Box, or can purchase one online with eight essential treats. The eight sweets are candied fruits and veggies, including lotus roots, coconut strips or wedges, carrots, lotus seeds, winter melons, kumquats, and water chestnuts. These fortune candies symbolize bringing luck together and blessings. You can also purchase variations of these candies from the following US retailers below.
Lunar New Year 2023 8-Piece Candy Bento Box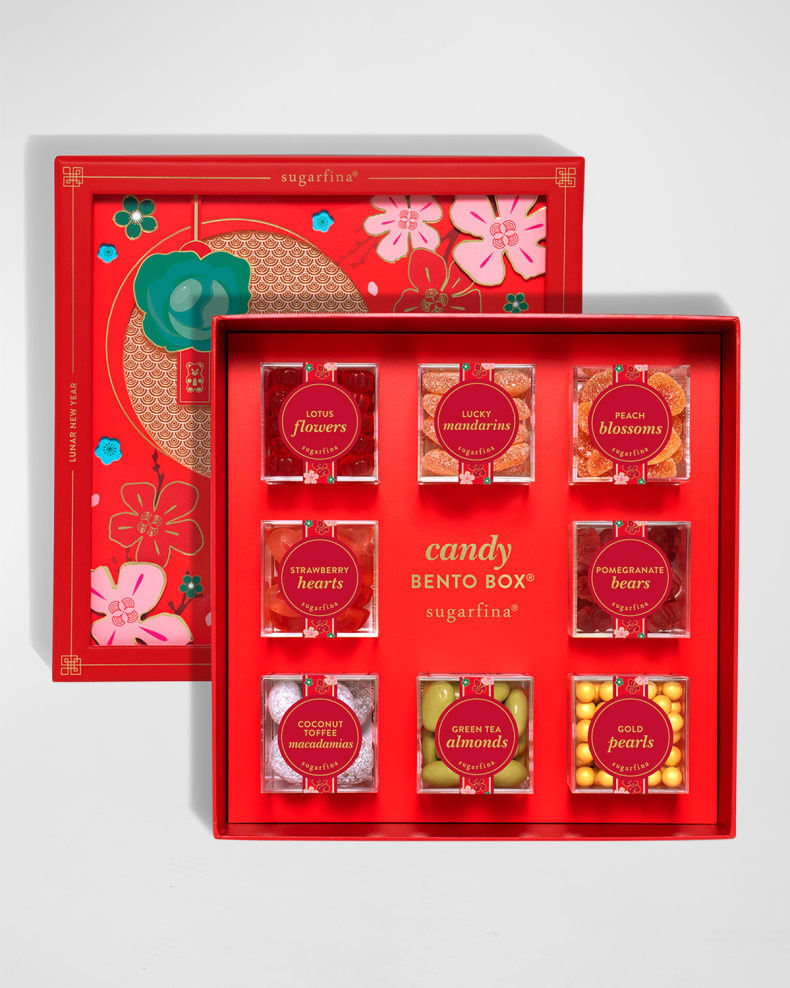 Celebrate the new year with a hand-crafted, limited-edition Lunar New Year 8-piece Candy Bento Box by Sugarfina. Filled with eight gourmet candies, spread happiness, prosperity, and good fortune to loved ones in the new year. This box includes a variety of candied treats like lotus flowers, lucky mandarins, pomegranate bears, strawberry hearts, peach blossoms, green tea almonds, gold pearls, and coconut toffee macadamias.
Shop For More Lunar New Year Products from Neiman Marcus with MyUS
Lunar New Year Gift Basket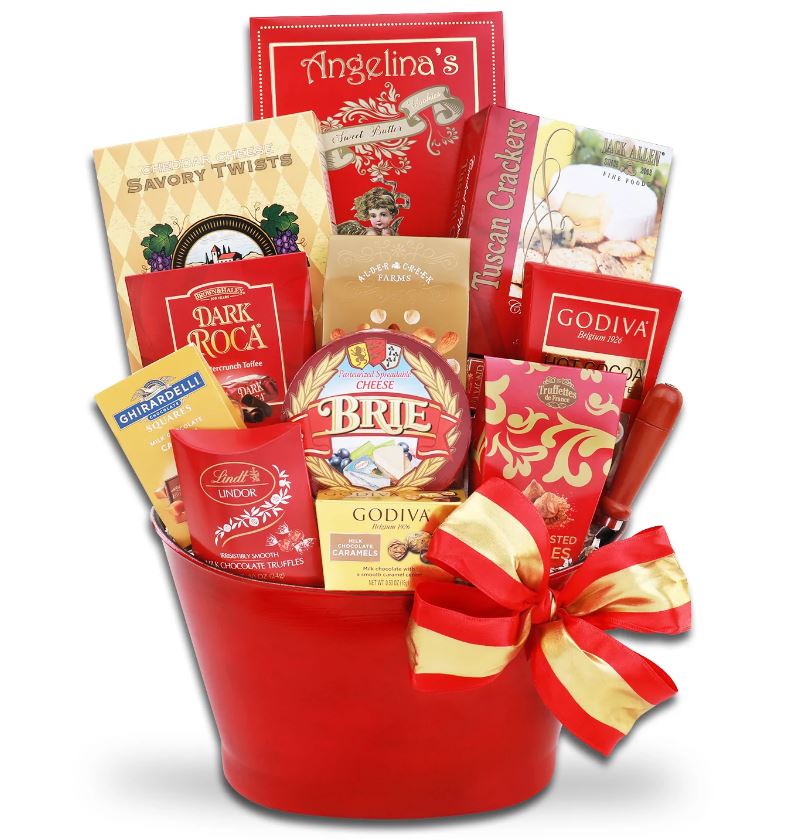 Delight your loved ones with a bright and glamorous display of treats for the Lunar New Year. This dazzling gift basket, sporting a gold and red color scheme, is filled with favorites like brie cheese, Lindt Lindor truffle chocolates, sweet butter cookies, French cocoa-dusted truffles, and more! You can even add a special gift message to the basket.
Festival Decorations
Almost everything in the Lunar New Year carries significance in the cultural festivities. From red lanterns to drive off bad luck to decorated kumquat trees - Lunar New Year decorations help maintain the Year of the Rabbit with images and symbolism that represent luck, good fortune, and blessings to all celebrating.
Chinese New Year Gold Spray Centerpiece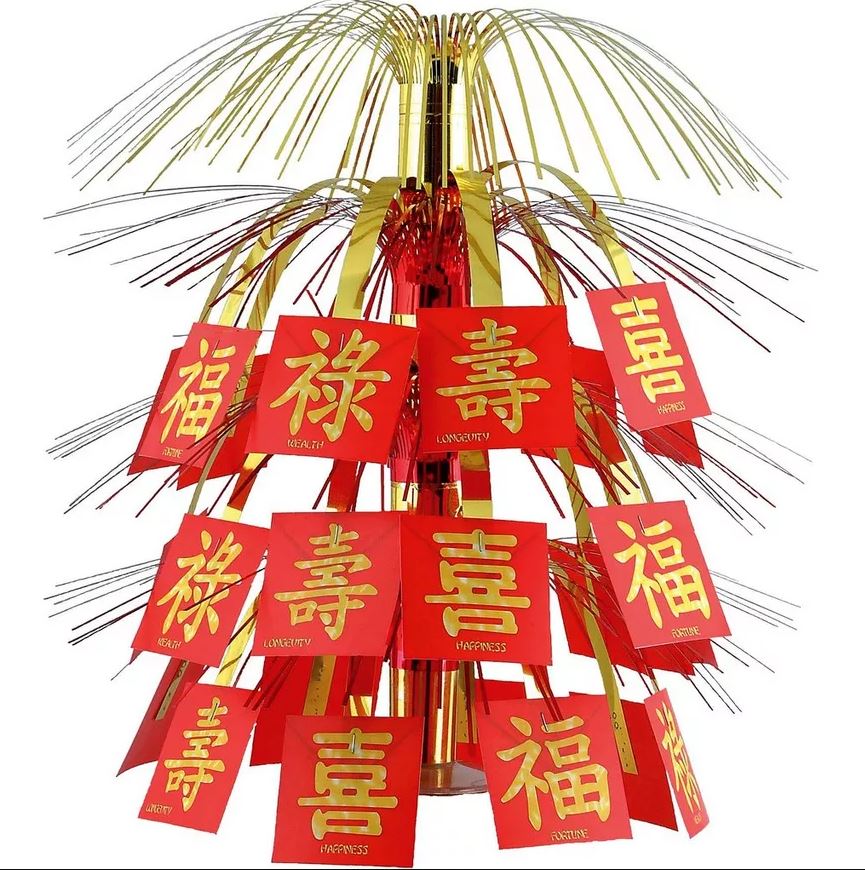 This Chinese New Year Gold Spray Centerpiece from Party City brings wealth and good fortune to your Lunar New Year feat. It features a sparkling cascade of gold foil streamers with gold coin cutouts. The bright cutouts are printed with various characters in red and black shades to create a fabulous centerpiece for your table.
Shop For More Lunar New Year Products from Party City with MyUS
2023 Lunar New Year Giant Circle Confetti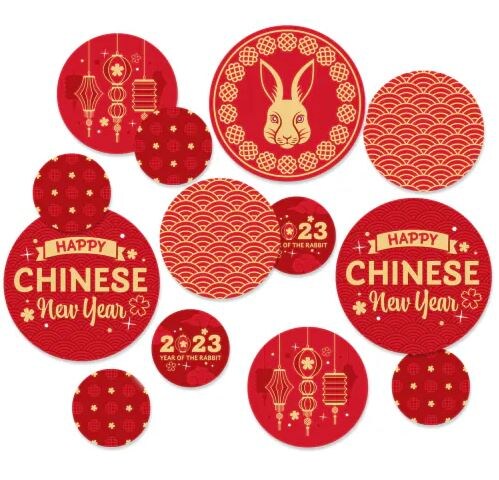 Decorate with these extra-large Giant Circle Confetti pieces from Bed Bath & Beyond. These confetti pieces can be used as decorations scattered on a table, strung together as a garland banner, or attached to favors or centerpieces. Show off these confetti pieces at your Lunar New Year celebration.
Shop For More Lunar New Year Products from Bed Bath & Beyond with MyUS
Toys for Children
Children will be excited about new clothes and red envelopes filled with money and jump for joy over the toys they may receive from family and friends. For kids, there is no happier thing than getting gifts. So make this Lunar New Year special with some toys they will love.
Traditional Spinning Pellet Drum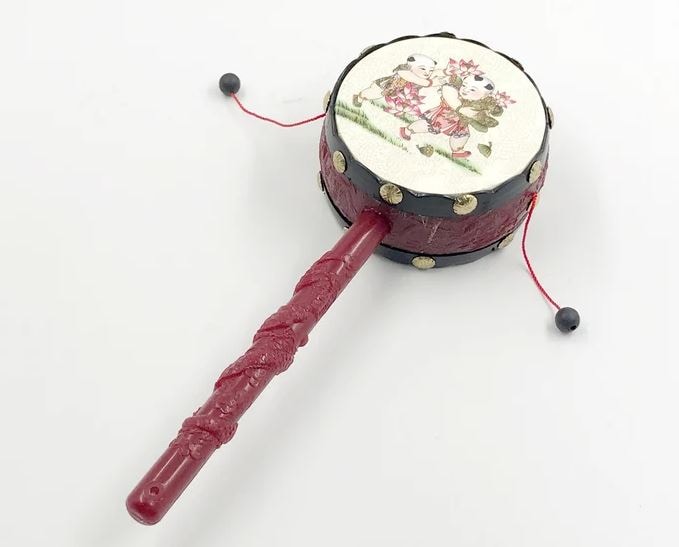 Celebrate culture and heritage with your children with a Traditional Pellet Drum that symbolizes happiness and fortune while bringing forth blessings for babies and children. This traditional toy is the perfect gift for babies as it helps exercise their hands, fingers, and wrist. By swaying it, the pellet drum will also send out rattling sounds, stimulating a baby's listening abilities while feeling connected to their culture.
Shop For More Lunar New Year Products from Etsy with MyUS
2023 Barbie Lunar New Year Doll Designed by Guo Pei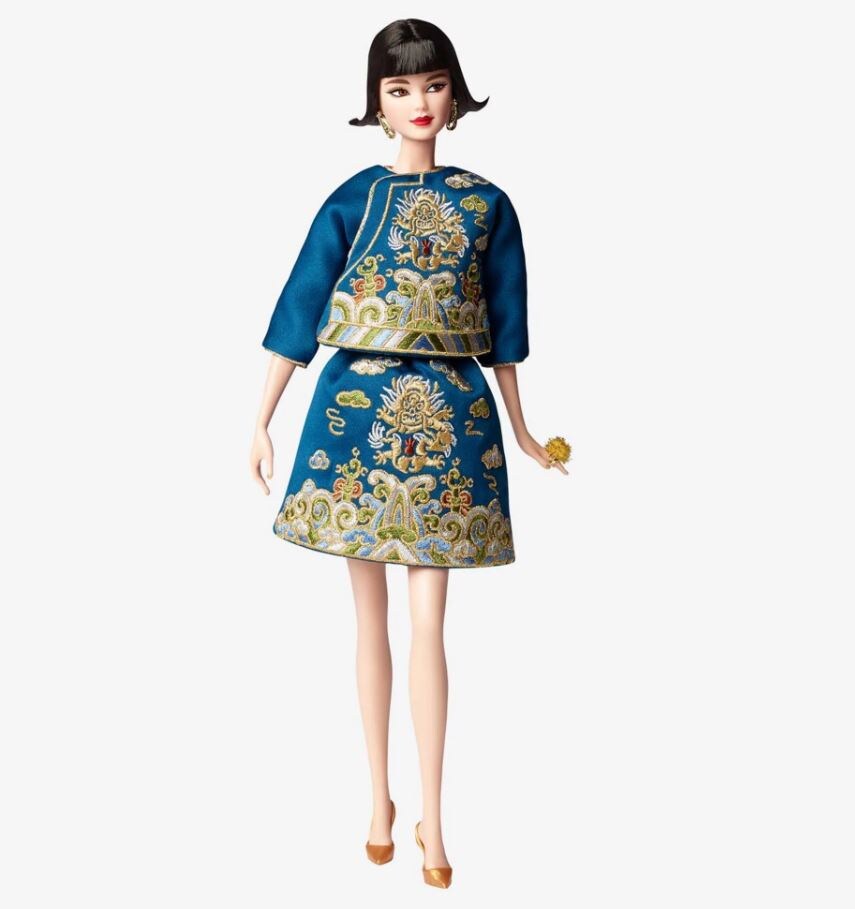 Mattel has partnered with renowned Chinese courtier Guo Pei to create a 2023 Lunar New Year Barbie doll that takes her past design collection to new heights. This pre-ordered doll is draped in classic royal blue and features a two-piece outfit with sumptuous embroidery, balancing heritage with contemporary innovation through Guo Pei's signature craftsmanship. The doll completes the ensemble with golden earrings, a sparkly statement ring, and gold-colored pumps that complement the creation.
Shop For More Barbie Lunar New Year Dolls from Mattel with MyUS.
Find the Perfect Lunar New Year Gift with MyUS
There are hundreds of stores in the US that may have the perfect gift for the Lunar New Year. By signing up for a MyUS address, you can buy any gifts from almost any retailer in the US and send them directly to your doorstep anywhere around the world. It's an easy process and will have you shopping within minutes!
How Does MyUS Work?
Our easy online registration will help you select and choose the best membership option to help you get the products and brands you love from the US. In addition, over 7.7 million members trust MyUS with their international shipping needs - especially during the holiday season!
We always aim to bring our members the best shopping options available, but some of the products featured in this post may have purchase restrictions. Please visit the merchant's terms of sale, shipping guidelines, and terms and conditions to find more information.