Gift Guide for Valentine's Day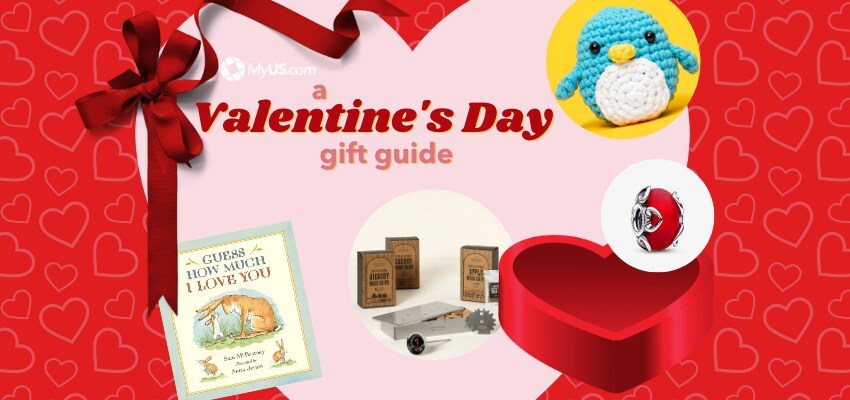 Do you need help finding the perfect gift for your loved one this Valentine's Day? MyUS is ready to help you find what you need to spread the love! Follow our gift guide to find the best items you can utilize as the perfect gift for that special someone!
Gifts for Her
Spoil that little lady in your life with spectacular gifts that will make her feel loved and beautiful. On top of flowers and chocolates, take your Valentine's Day gifts to the next level with some suggestions we found from your favorite US retailers. Make Valentine's Day one to remember with these gift suggestions.
Satin Notch Collar Pajama Set, $69.50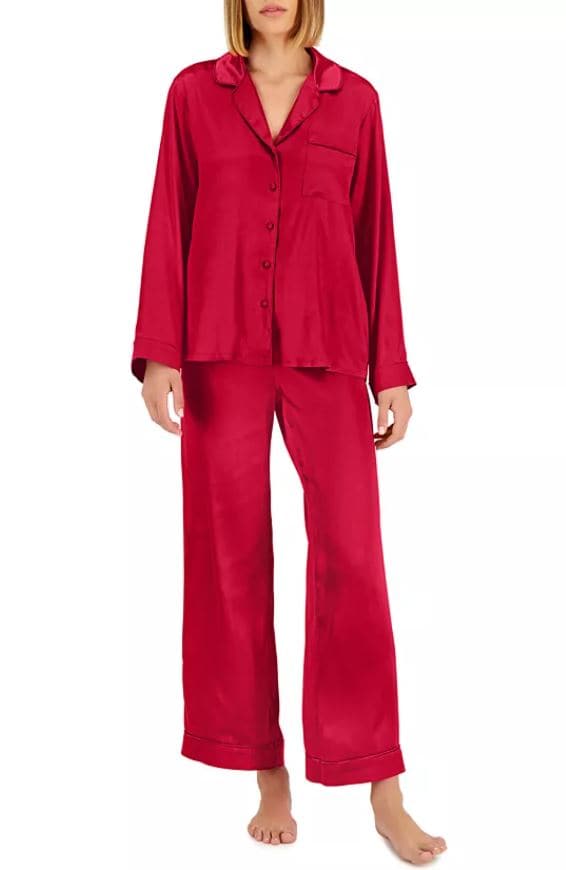 Give her a pajama set she'll love this Valentine's Day with this satin-felt outfit. Keep her comfortable and stylish for many nights to come. The modern fabrications and polished piping trim in this set from INC International Concepts® uplift the leisurely ease of a classic style.
Shop For More Gifts For Her From Macy's With MyUS
Frosted Red Murano Glass & Hearts Charm, $50
Fall in love with Pandora's Frosted Red Murano Glass & Heart Charm. It makes for a perfect addition to her Pandora bracelet. A sterling silver core covered with 24k solid gold foil casts a warm glow through the frosted red Murano glass, and multidimensional cut-out hearts represent how love radiates into the world. Create a red story on her favorite Pandora bracelet for Valentine's Day.
Shop For More Gifts For Her From Pandora With MyUS
Full of Heart Planner, $37
Help the woman of the house keep everything in order with this Full of Heart Planner from Papier. Brighten her year with this foiled hardback planner accented with raised, metallic details to give her desk some glow. Inside, she can organize her life with weekly, monthly, and yearly overviews, plus plenty of space for her goals, important dates, and to-dos.
Shop For More Gifts For Her From Papier With MyUS
Long-Sleeve Luxe Mock-Neck Swing T-Shirt for Women, $9.99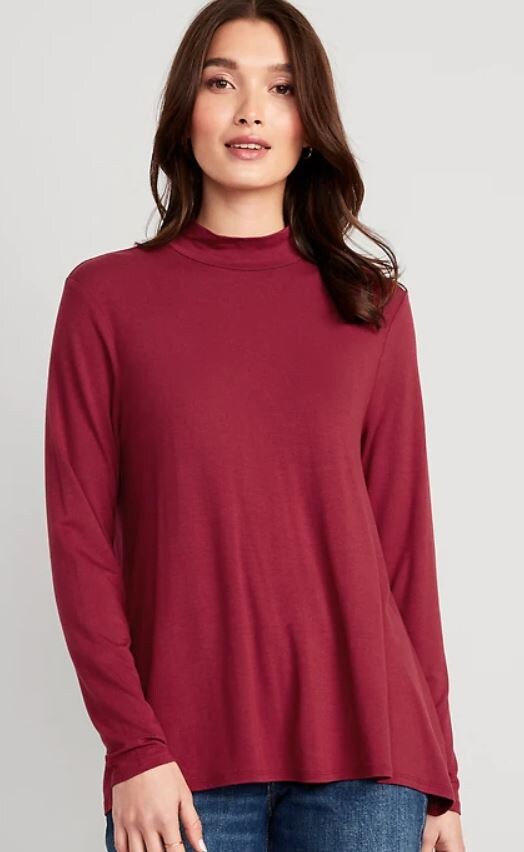 Give her something she'll enjoy wearing year-round. Red is the color of love and can be somewhat slimming when paired with some denim jeans. This Luxe T-Shirt is soft with a draped, flawless fit and a turtleneck collar. Let her feel comfortable and beautiful with this stylish shirt from Old Navy.
Shop For More Clothes From Old Navy with MyUS
Gifts for Him
Show some love and appreciation for the man in your life. We understand how difficult it can be shopping for guys with unique personalities. While not all gifts are universal, here are some suggestions we think would make a better impact than a simple card and chocolate.
Personalized Docking Station, $22.50+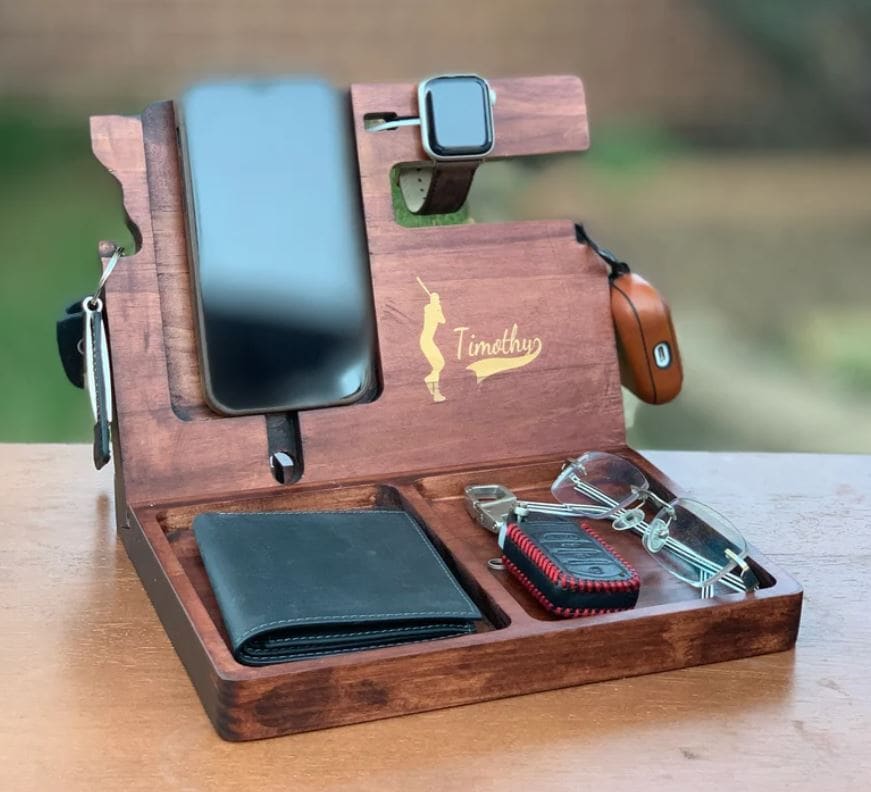 This personalized wooden docking station can help the man in your life organize his personal items. The item is made from high-quality solid wood, each part crafted, detailed, sanded, and hand-painted with wood stain and shellac. So he'll never lose track of his belongings again. The docking station offers spots to keep your wallet, keys, watches, jewelry, stationery items, and pen together in one place. It even has a place to rest your phone while it's charging. Gift this unique wooden structure to the man in your life.
Shop For More Gifts For Him From Esty With MyUS
Sharper Image Powerboost Move Massager, $67.49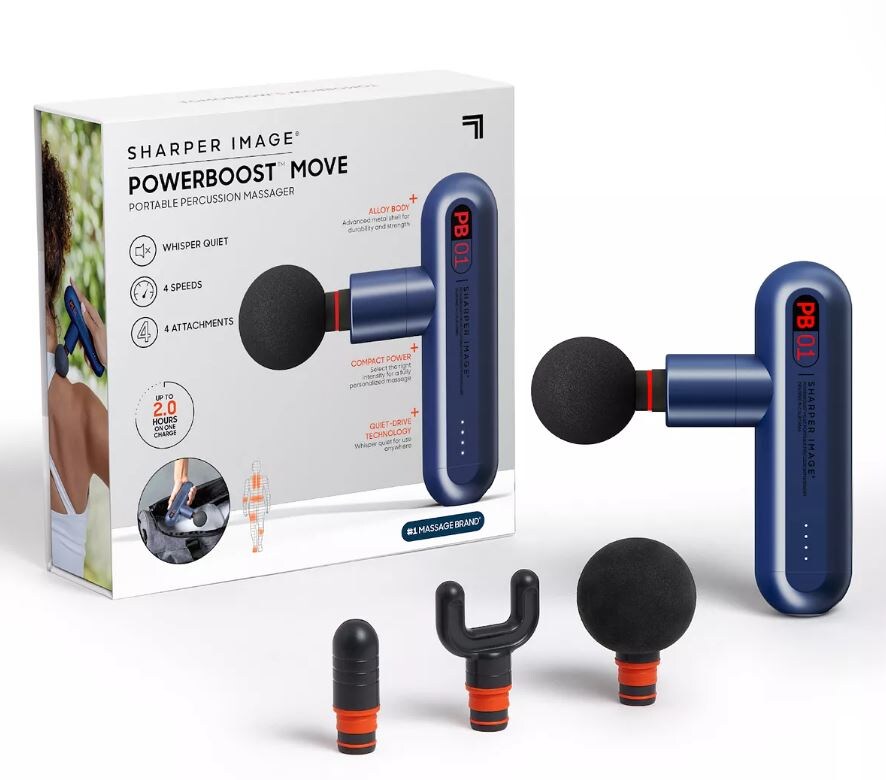 Gift him the perfect gift he can use every post-workout. The Sharper Image Powerboost Move Massager is a state-of-the-art massage gun with percussion to target sore muscles and tight knots. It is a great way to help him reduce soreness and unwind after an intense workout. The product includes four nodes and 5-speed settings to help loosen tight or stiff muscles. Help him break up the lactic acid that causes painful soreness with this handheld gift.
Shop For More Gifts For Him From Bed Bath & Beyond With MyUS
Carbonator III Sparkling Water Maker, $229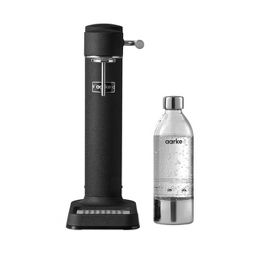 If he's trying to watch his diet and sugar intake, help him with a device he'll want to use constantly. The Carbonator is the first appliance with a seamless, minimalist stainless-steel enclosure in a classic steel finish. This unique device is made from premium materials with top-of-the-line safety valves and is designed to elevate the look and feel of your kitchen counter. Simply fit a bottle in the machine, push and hold the lever until you hear a buzz, then release it, unscrew it, and enjoy. Never buy soda from a grocery store again!
Shop For More Gifts For Him From Nordstrom With MyUS
Grill Smoker Gift Set, $50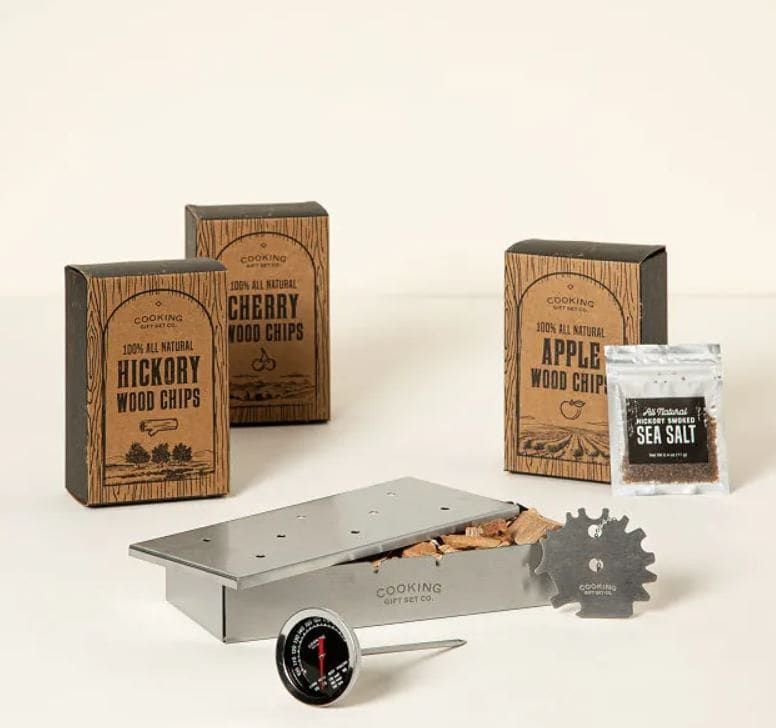 Give that gourmet grill master a little something he can use for months to come. With this Grill Smoker Gift Set, the man in your life will have all he needs to take the flavor to another level. The kit includes a smoker box, apple wood chips, cherry wood chips, hickory wood chips, hickory-smoked sea salt, a grilling thermometer, a grill scraper, and a bottle opener. It also provides instructions so the man in your life can give veggies, grillable cheeses, and meats that smoky flavor we all love.
Shop For More Gifts For Him From Uncommon Goods With MyUS
Gifts for Children
Though Valentine's Day's primary focus is that of your significant other, why not show your little one your love and appreciation for them? Your kids would love to feel more involved in the holiday and may be pleasantly surprised to receive gifts [not candy] from their parents on Valentine's Day.
Guess How Much I Love You by Sam McBratney, $15.99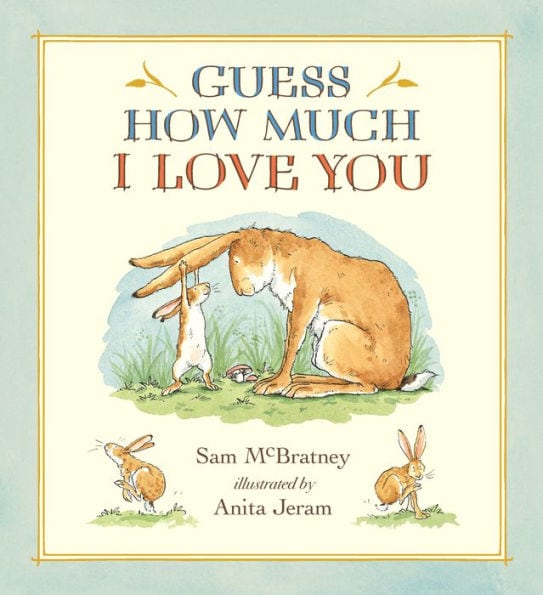 Sam McBratney's timelessly endearing story has captured the deep and tender bond between parent and child for over two decades. It tells the tale of unmeasurable love and the ability to describe it between the parent, Big Nutbrown Hare, and their beloved child, Little Nutbrown Hare. Thanks to the beautifully rendered watercolored illustrations from Anita Jeram, you and your little one can connect to the beautiful world and story of the Nutbrown Hares family and how they express their love.
Shop For More Children's Books From Barnes and Noble With MyUS
Fidget Keychains/Tie Dye Pop It Keychains, $4.49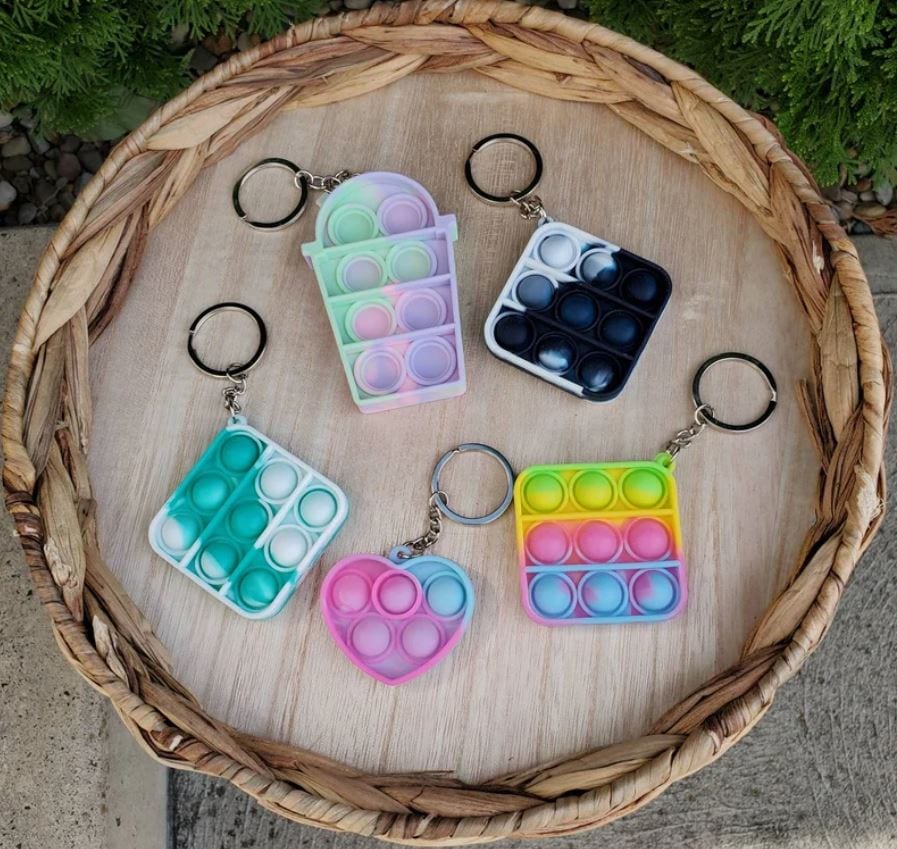 Keep active hands busy with these sensory-seeking toys. Think of it as having bubble wrap nearby for your children to keep them occupied for hours. All they have to do is press down on the bubble, which will make a pleasant popping sound. Then they can flip the keychain over and start it over again. It was created to help those with trouble focusing or "fidgeting" to release their nervous energy.
Shop For More Pop It Keychains From Etsy With MyUS
Unisex Cut Out ID Bracelet, $60-$470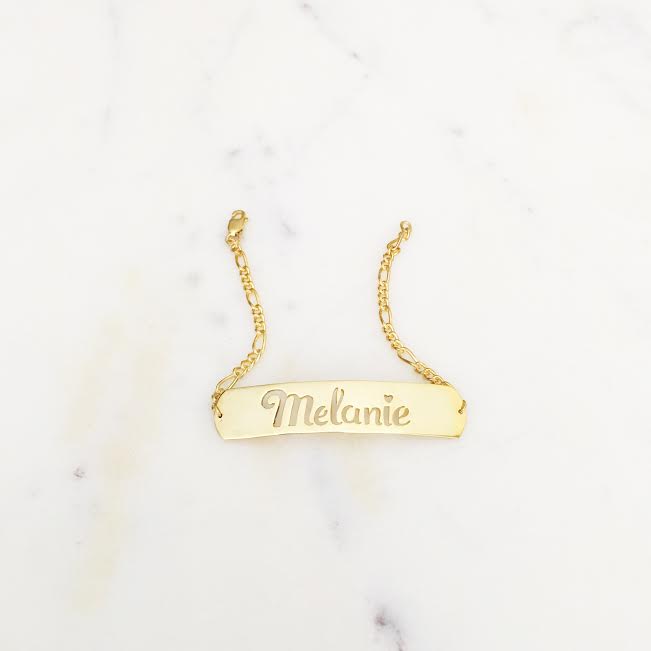 Bring back a classic early 2000s trend by getting your child an ID Bracelet. The classic, simple designs are meant to be worn by anyone and to go along with any outfit. Get a bracelet for a child as young as a newborn to about thirteen with a fabulous selection of product finishes. Gift your child something classy and extraordinary to make them feel stylish and one of the adults.
Shop For More Children's Jewelry From AnnDrew Marie With MyUS
Penguin Crotchet Kit, $30
Get your children into a hobby that will keep their hands busy and their minds active with imagination. This fabulous crochet kit comes with step-by-step tutorials, plastic eyes, stuffing, tapestry needles, a 4mm ergonomic crochet hook, and the penguin comes pre-started, so your child can get over the first hump of creating their stuffed friend. It works for left-handed and right-handed crochet beginners, and the easy-peasy yarn is custom-made to maintain ease throughout the crocheting process.
Shop for More Crochet Amigurumi Kits From The Woobles With MyUS
Find the Perfect Valentine's Day Gifts with MyUS
There are hundreds of stores in the US that may have the perfect gift for Valentine's Day. By signing up for a MyUS address, you can buy any gifts from almost any US and UK retailer and send them directly to your doorstep anywhere around the world. It's an easy process and will have you shopping within minutes!
How Does MyUS Work?
Our easy online registration will help you select and choose the best membership option to help you get the products and brands you love from the US. In addition, over 7.7 million members trust MyUS with their international shipping needs - especially during the holiday season!
We always aim to bring our members the best shopping options available, but some of the products featured in this post may have purchase restrictions. Please visit the merchant's terms of sale, shipping guidelines, and terms and conditions to find more information.