How to Shop Athletic Greens and Ship Internationally in 3 Easy Steps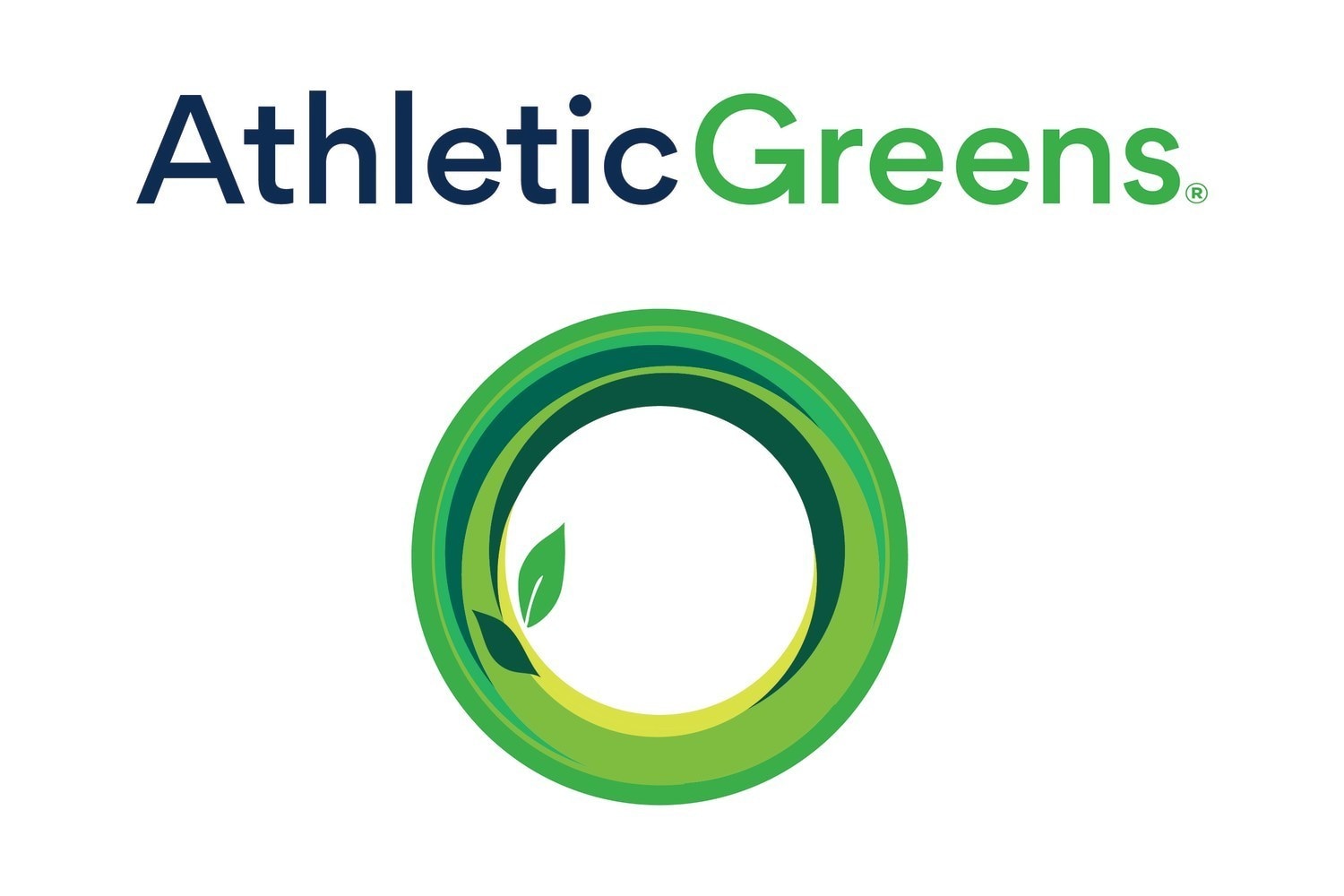 ©Athletic Greens
How Does MyUS International Shipping Work?
We'll show you how to get international shipping from Athletic Greens US. When you sign up for a MyUS address, you'll gain access to easily shop across one of the most popular retail stores in the US.
After following these quick steps below, you'll be able to ship from Athletic Greens to Australia, Canada, the UK, India, Germany, Brazil, Singapore, Japan, Israel, South Korea, or any other country*!
"drinkag1.com doesn't ship to my country."
Have you seen an item on drinkag1.com only to find out Athletic Greens doesn't ship to your home country? We understand that frustration, and we're here to fix it. Thanks to MyUS, you no longer have to ask, "Does Athletic Greens ship to my country?"
Even though Athletic Greens doesn't ship directly to all countries, MyUS has helped millions of online shoppers buy from Athletic Greens by providing MyUS members with a US sales tax-free US shipping address (and a UK address). Ship your Athletic Greens purchases to MyUS, or items from thousands of other stores, and we reship to you anywhere in the world!* A MyUS ship forwarding address is your access to shop US and UK stores.
"drinkag1.com does ship to my country, but it's really expensive."
Athletic Greens may ship to your country, but at a marked-up price. In addition to MyUS being an accessibility option for when Athletic Greens doesn't ship an item to your country, MyUS is also a cost-savings option for ordering an item from Athletic Greens, then reshipping to your home country often at a lower total cost than the shipping price Athletic Greens would charge.
If a store has an online presence in your home country, MyUS members also find their US address allows them to shop products and sales offered on the store's US site which may be unavailable on the store's website setup for your home country.
Accessibility to shop Athletic Greens internationally while saving money is at your fingertips with a MyUS shipping and forwarding address.
---
MyUS Membership Types
Single Package | Free Membership | Ship One Package From One Store
If you ship less frequently, a free Single Package membership might be what you're looking for. The free Single Package membership still gives you both US & UK shipping addresses while giving you the flexibility to only ship when you need to!
Single Package Benefits:
US and UK shipping addresses
US sales TAX-FREE shopping: Your MyUS address is sales tax-free. Automatically save 7% every time you shop!
Exclusive shipping discounts
Premium Membership

| Free 30 Day Trial | Ship Multiple Packages From Multiple Stores
If you need to ship multiple items from Athletic Greens, or even orders from other stores, you can save money with package consolidation by signing up for a paid Premium membership. Package consolidation allows you to combine items from multiple stores into one package at no additional cost, so you maximize your savings! When a package arrives in your MyUS suite, you can forward it to your home address immediately, or you can wait for additional packages to arrive in your suite and combine multiple items into one package. Why spend more shipping multiple packages when you can spend less by combining them into one package with MyUS? In fact, package consolidation can save you up to 80% off standard international shipping rates.
Another perk of Premium membership is you get a 30-day free trial and can cancel anytime. We want to earn your business. Your free trial is an opportunity for you to test MyUS out. No long-term commitment is required, so you have nothing to lose!
Your Premium Membership includes all the following perks at no additional cost to the monthly membership fee:
US and UK shipping addresses
FREE 30-Day Trial: After 30-day free trial, there are no commitments - cancel any time.
US sales TAX-FREE shopping: Your MyUS address is sales tax-free. Automatically save 7% every time you shop!
Discounted Ship Rates: Being a Premium MyUS member unlocks even lower ship rates than what's offered to Single Package customers.
Free Package Consolidation: MyUS packing experts will combine multiple packages into one for maximum shipping cost savings.
Free Package Repacking: MyUS packing experts repack every box to ensure your purchases are protected and packaged in the most cost-effective way.
Free Package Storage for 30 Days: Purchases are securely housed in our facility, allowing time for multiple package delivery and maximum consolidation savings.
Choose Your Shipping Experience
---
How to Shop Athletic Greens from Overseas in 3 Steps
Step 1: Get a MyUS Address
Step 2: Shop from Athletic Greens & Ship to Your MyUS Address
Step 3: Ship From MyUS to Your Home Address
Step 1: Get a MyUS Address
Sign up for a free Single Package or Premium membership by clicking here to get a US sales tax-free US address and a UK address with a suite number that's unique to you.
Step 2: Shop from Athletic Greens & Ship to Your MyUS Address
After going through the checkout process you can now enter in your MyUS shipping address and suite number (address line 2) as the delivery address: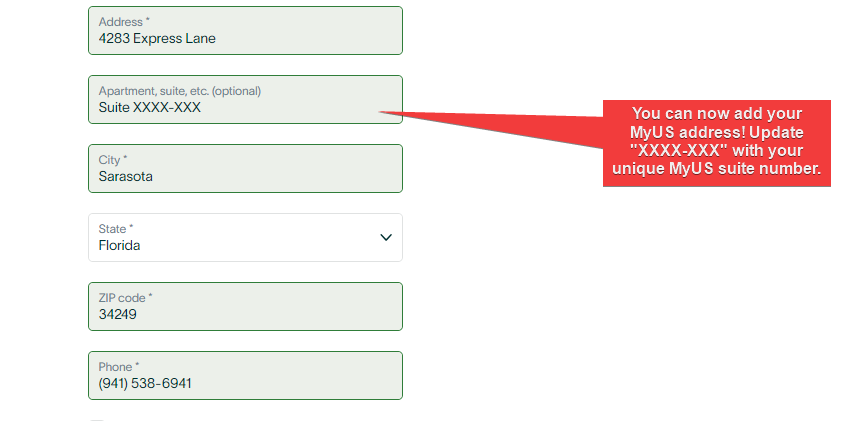 Step 3: Ship From MyUS to Your Home Address
After you place a Athletic Greens order with your MyUS address, we'll notify you once your item arrives at your MyUS suite, at which point, depending on your membership type:
For Single Package members, we'll automatically forward to your home address, making the hand-off seamlessly convenient for you.
Premium members have the option to either auto-ship the item to your home or elect to have MyUS store your items while you wait for more packages to arrive to then combine multiple packages into one shipment to your home.
Shop Athletic Greens & Ship MyUS
---
Athletic Greens Ingredients
Athletic Greens is a powdered supplement packed with vitamins, minerals, probiotics, and much more! Learn more about the power of their ingredients,
---
Athletic Greens Domestic US Shipping Policy
Athletic Greens delivers to a lot of countries worldwide. MyUS is a valuable option to you to combine Athletic Greens packages with packages from other stores before shipping directly to you.
A MyUS membership also allows you to compare MyUS international ship rates to Athletic Greens international shipping rates. Our members often find MyUS international ship rates are lower than the international ship rates offered through stores because MyUS has negotiated competitive ship rates with top global carriers.
Shipping prices were retrieved from drinkag1.com on July 19th, 2023.
---
Athletic Greens History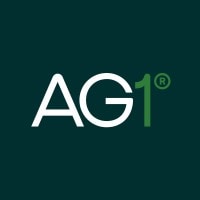 ©Athletic Greens
Athletic Greens was built around their mission, starting more than a decade ago, as a way to bring comprehensive and convenient daily nutrition to just about everybody. Their philosophy is to focus on a very small number of products based on what the latest science indicates is essential to human health. Athletic Greens believes that nutrition is a fundamental human right. That is why they are dedicated to providing the highest quality ingredients and manufacturing process. Athletic Greens is manufactured in TGA-registered, NSF Good Manufacturing Practice (GMP) registered facilities. It is NSF Certified for Sport, the gold standard for professional athletes who have to adhere to strict rules regarding supplements and nutritional products.
---
Athletic Greens FAQs
Does Athletic Greens ship internationally?
-Athletic Greens delivers to a lot of countries worldwide. See which countries they ship to here. MyUS members have found a MyUS ship address allows them to shop items and sales found only on the Athletic Greens website while perhaps unavailable on the international sites, also while paying $0 US sales tax. Stores that do ship worldwide often charge ship rates higher than MyUS' rates. MyUS Premium members also benefit from bundling their Athletic Greens packages with packages from countless other US stores, at no additional charge!
Availability to shop US sales tax-free, bundle packages from multiple US stores, and save on international shipping rates are all reasons why MyUS members love their MyUS membership!
Does Athletic Greens ship to package forwarders (such as MyUS)?
-Yes, Athletic Greens ships to package forwarders with no issue. In fact, Athletic Greens is one of MyUS' top stores in terms of shipment volume.
What are Athletic Greens Ingredients?
-Athletic Greens are full of over 75 vitamins, minerals, probiotics, and more! Learn more about each ingredient and its benefits here.
Are Athletic Greens Organic?
-All Athletic Greens ingredients are non-GMO. Some of the phytonutrients are organic, other ingredients cannot be classified as organic, by nature, such as minerals. All of their ingredients go through rigorous NSF Certified for Sport and third-party testing standards.
Is Athletic Greens Suitable for my diet?
AG1 has less than 1g of sugar per serving and is friendly for a variety of different diets and lifestyles, including:
Paleo (see more details)
Keto and low-carb
Vegan
Vegetarian
AG1 contains NO:
Dairy
Wheat
Gluten
Corn
Animal products
Artificial colors, flavors or sweeteners
Preservatives
Lactose or sucrose
Egg
Peanuts
GMOs
Herbicides or pesticides
If you have any concerns, please consult with a medical professional.
*MyUS shipping is limited or not available in the following countries/territories: Belarus, Cuba, Iran, Myanmar, North Korea, Palestine, Palestinian Territories, Russia, South Sudan, Sudan, Afghanistan, and Ukraine.