MyUS Premier Package Consolidation
We love being recognized for our top-rated member service, US sales tax-free shopping, and industry-leading experience and shipping expertise. But did you know MyUS is also the leader in saving its members money through package consolidation (or bundling, as it is also known)?
Total 2021 member savings through MyUS Premier Package Consolidation: $67.5 million*
Average 2021 member savings with MyUS Premier Package Consolidation: $1,227
Shopping US online stores means getting great products, but shipping multiple packages overseas direct from the merchant can be very costly. Instead, ship your purchases with MyUS, and our experts will bundle them into a single package, saving you up to 80% off standard international shipping rates.
How Consolidation Reduces Your Shipping Costs
(click to enlarge)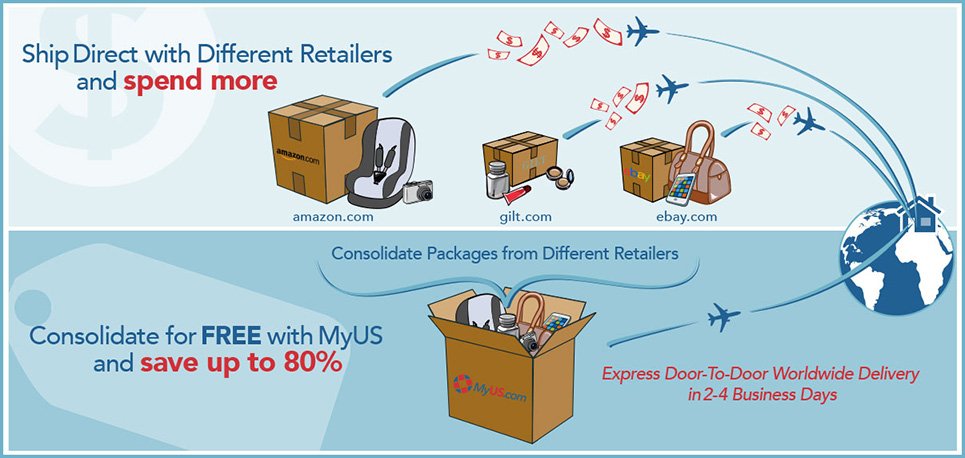 How It Works:
Shop online at US retail stores.
At checkout, enter your MyUS address as the shipping address.
Once your purchases have arrived in our facility, we bundle your packages and efficiently re-package them, saving you up to 80% on typical global shipping costs.
We re-ship the consolidated packages to your country of choice. We ship everywhere - from Australia, the Philippines, India, Puerto Rico, Colombia and New Zealand to Ireland, Iceland, France, Saudi Arabia, Iraq and beyond.
MyUS Makes International Package Consolidation Easy
Package consolidation services are 100% free for MyUS Premium members. Our goal is to get you the lowest global shipping rates possible, so we consolidate your purchases for free.
We hold your items so you can ship them together. Our Premium membership includes 30 days of free storage at our warehouse, so you can wait until multiple packages arrive, then ship them together.
Our experts ensure your merchandise is properly packaged. Many merchants will pack your goods in boxes that are too large, or not properly prepared for international shipping. Our experienced team will repack your items to best protect your items AND maximize your savings.
*Consolidation savings are based on MyUS members who consolidated two or more packages into one shipment. Cost savings are based on price of shipping each package individually vs. shipping them together.
All retailer logos appearing on this site are the property of their respective owners.