How to Ship eBay Internationally in 3 Easy Steps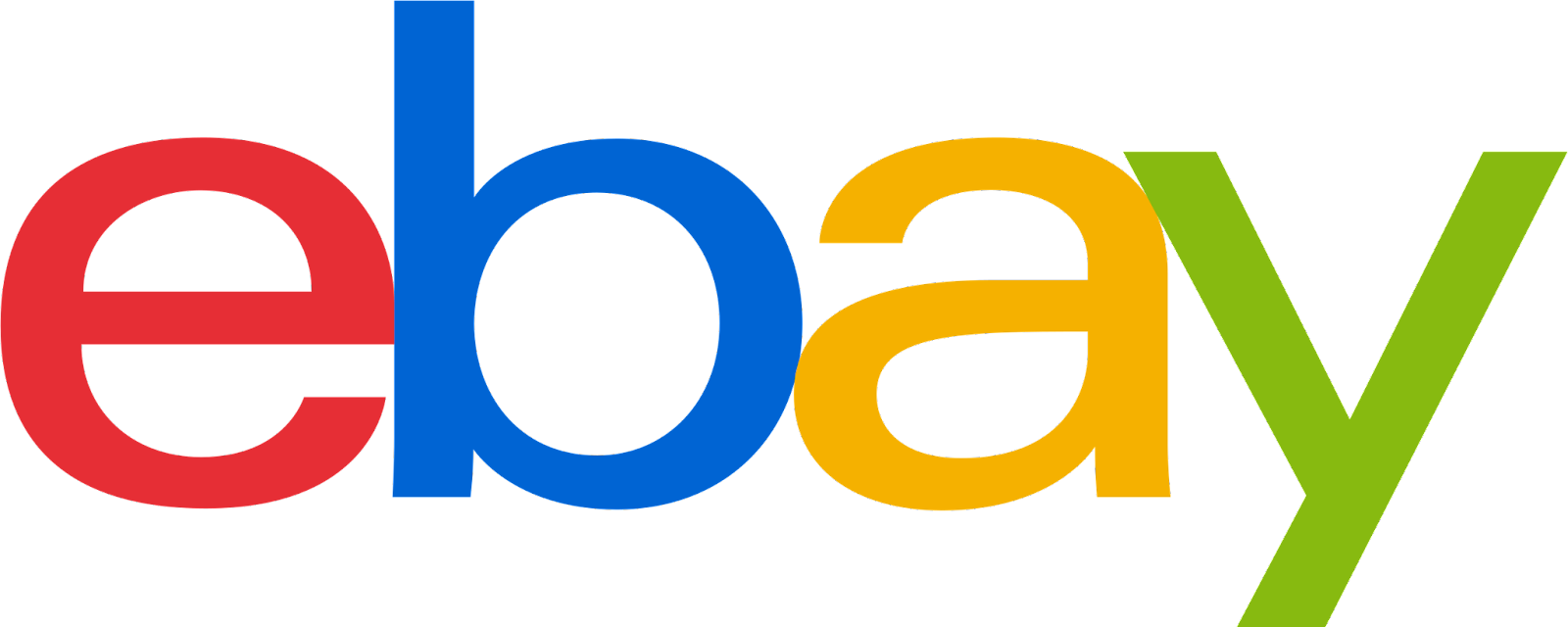 We'll show you how to get international shipping from eBay. When you sign up for MyUS, you'll gain access to easily shop across one of the most popular online stores in the US.
After following these quick steps below, you'll be able to ship from eBay to Australia, Canada, the UK, Angola, India, Germany, Brazil, Singapore, Japan, Israel, South Korea, or any other country*!
"eBay.com doesn't ship to my country."
Have you seen an item on the eBay marketplace and learned eBay doesn't ship to your home country? We understand that frustration, and we're here to fix it. Thanks to MyUS, you no longer have to ask, "Does eBay ship to my country?"
Even though eBay sellers don't ship directly to all countries, MyUS has helped millions of online shoppers buy from eBay by providing MyUS members with a US sales tax-free US shipping address (and a UK address). Ship your eBay purchases to MyUS, or items from thousands of other stores, and we reship to you anywhere in the world!* A MyUS ship forwarding address is your access to shop from top US and UK stores.
"eBay does ship to my country, but it's really expensive."
eBay sellers may ship to your country, but often at a marked up price. In addition to MyUS being an accessibility option for when an eBay seller doesn't ship to your home country, MyUS is also a cost-saving option for reshipping your eBay items at a lower total cost than the price offered by an eBay seller. Accessibility to shop eBay internationally while saving money is at your fingertips with a MyUS shipping and forwarding address.
---
MyUS Membership Types
Single Package | Free Membership | Ship One Package From One Store
If you ship less frequently, a free Single Package membership might be what you're looking for. The free Single Package membership still gives you both US & UK shipping addresses while giving you the flexibility to only ship when you really need to!
Single Package Benefits:
US and UK shipping addresses
US sales TAX-FREE shopping: Your MyUS address is sales tax-free. Automatically save 7% every time you shop!
Exclusive shipping discounts
Premium Membership

| Free 30 Day Trial | Ship Multiple Packages From Multiple Stores
If you need to ship multiple items from eBay, or even orders from other stores, you can save money with package consolidation by signing up for a paid Premium Membership. Lots of our members wonder how to combine shipping on eBay orders. Package consolidation allows you to combine items from multiple stores into one package at no additional cost, so you maximize your savings! When a package arrives in your MyUS suite, you can either forward it to your home address right away, or you can elect to wait for additional packages to arrive in your suite then combine multiple items into one package. Why spend more shipping multiple packages when instead you can spend less by combining into one package with MyUS? In fact, package consolidation can save you up to 80% off standard international shipping rates.
Another perk of Premium Membership is you get a 30-day free trial and can cancel anytime. We want to earn your business. Your free trial is an opportunity for you to test MyUS out. No long-term commitment is required, so you have nothing to lose!
Your Premium Membership includes all the following perks at no additional cost to the monthly membership fee:
US and UK shipping addresses
FREE 30-Day Trial: After 30-day free trial, there are no commitments - cancel any time.
US sales TAX-FREE shopping: Your MyUS address is sales tax-free. Automatically save 7% every time you shop!
Discounted Ship Rates: Being a Premium MyUS member unlocks even lower ship rates than what's offered to Single Package customers.
Free Package Consolidation: MyUS packing experts will combine multiple packages into one for maximum shipping cost savings.
Free Package Repacking: MyUS packing experts repack every box to ensure your purchases are protected and packaged in the most cost-effective way.
Free Package Storage for 30 Days: Purchases are securely housed in our facility, allowing time for multiple package delivery and maximum consolidation savings.
Choose Your Shipping Experience
---
How to Shop eBay from Overseas in 3 Steps
Step 1: Get a MyUS Address
Sign up for a free Single Package or Premium membership by clicking here to get a US sales tax-free US address and a UK address with a suite number that's unique to you.
Step 2: Shop from eBay & Ship to Your MyUS Address
eBay Member Checkout (for Guest Checkout scroll down to Step 2B)
If you have an eBay account, first sign into your account and then hover over your name / account button in the top left of your screen. Then click "Account settings":

(eBay Member Checkout): Now on your account settings page, in the left-hand column under "Personal Info", click "Addresses":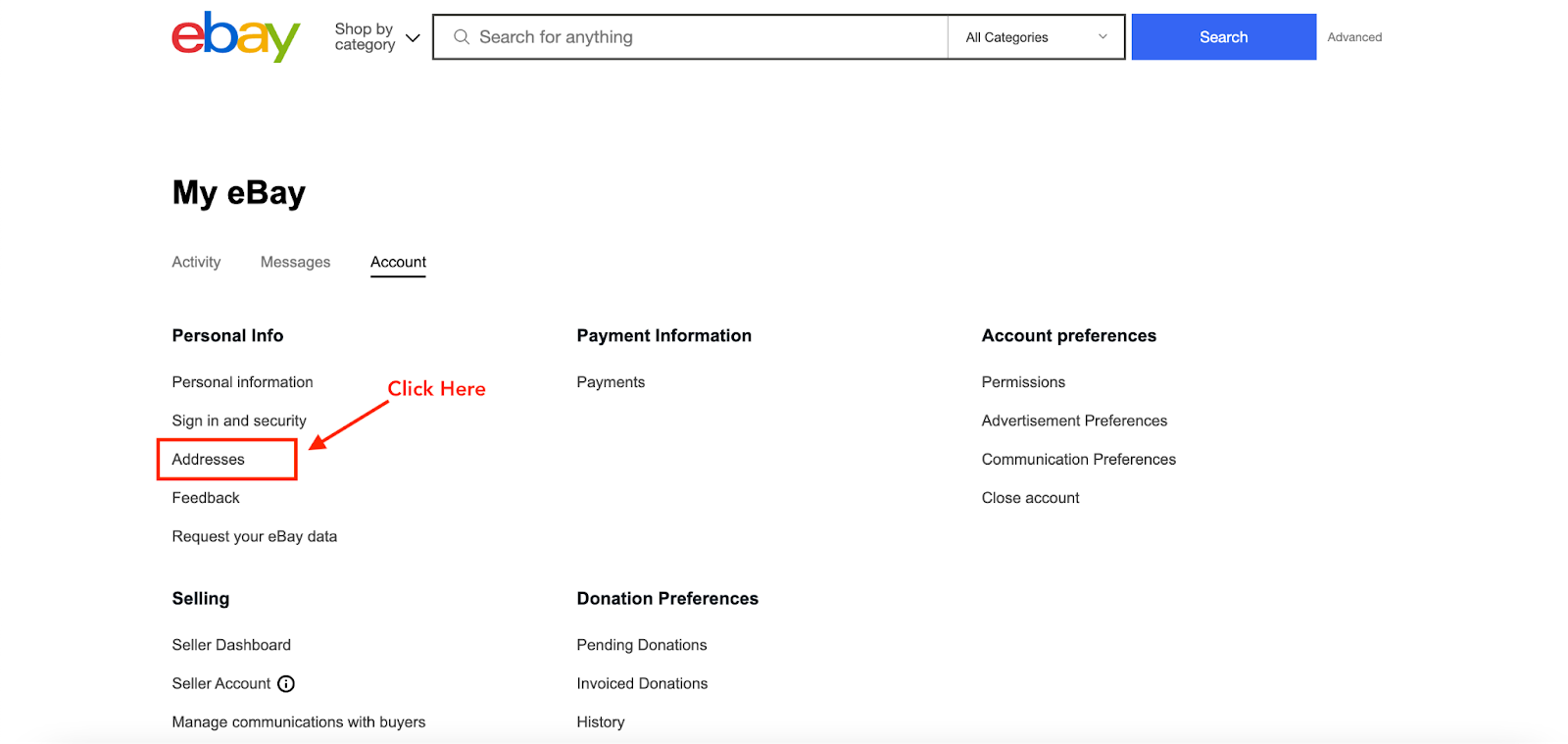 (eBay Member Checkout): On this page, click "Edit" next to "Shipping address":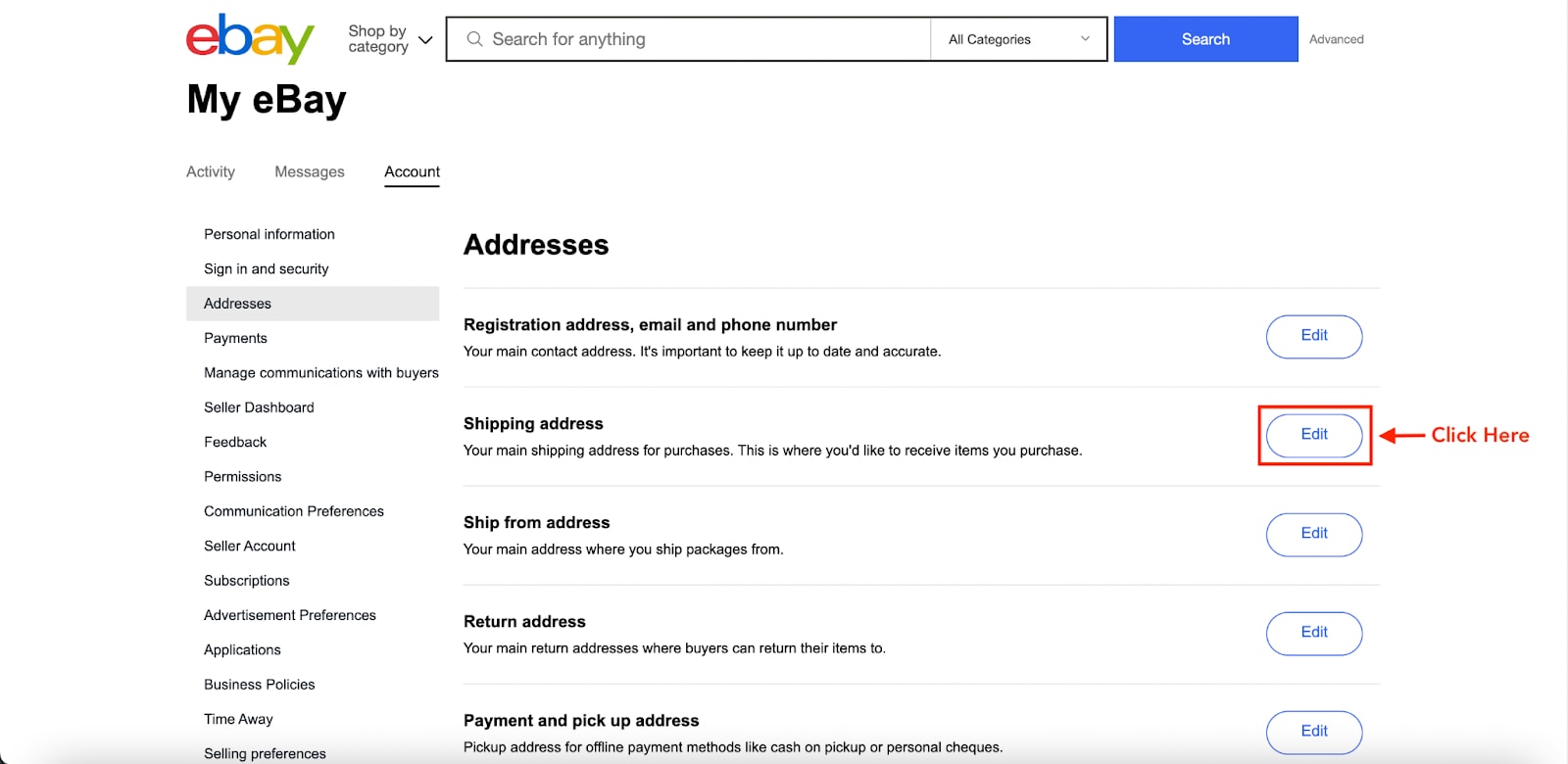 (eBay Member Checkout): On this page, click "Add another address":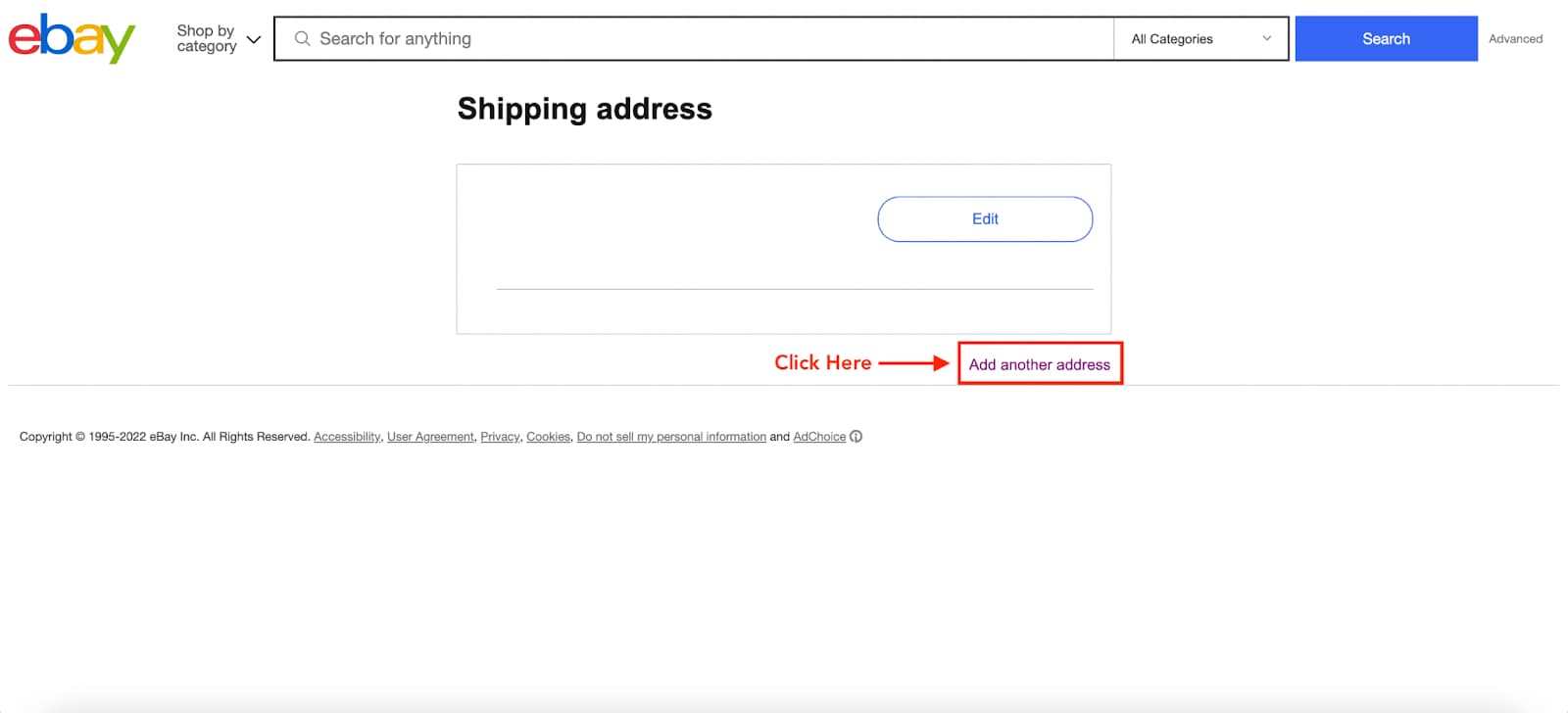 (eBay Member Checkout): You can now enter in your MyUS shipping address and suite number (address line 2) as the delivery address. Click the "Save" button at the bottom to store your MyUS address. Skip down to the "Final Step".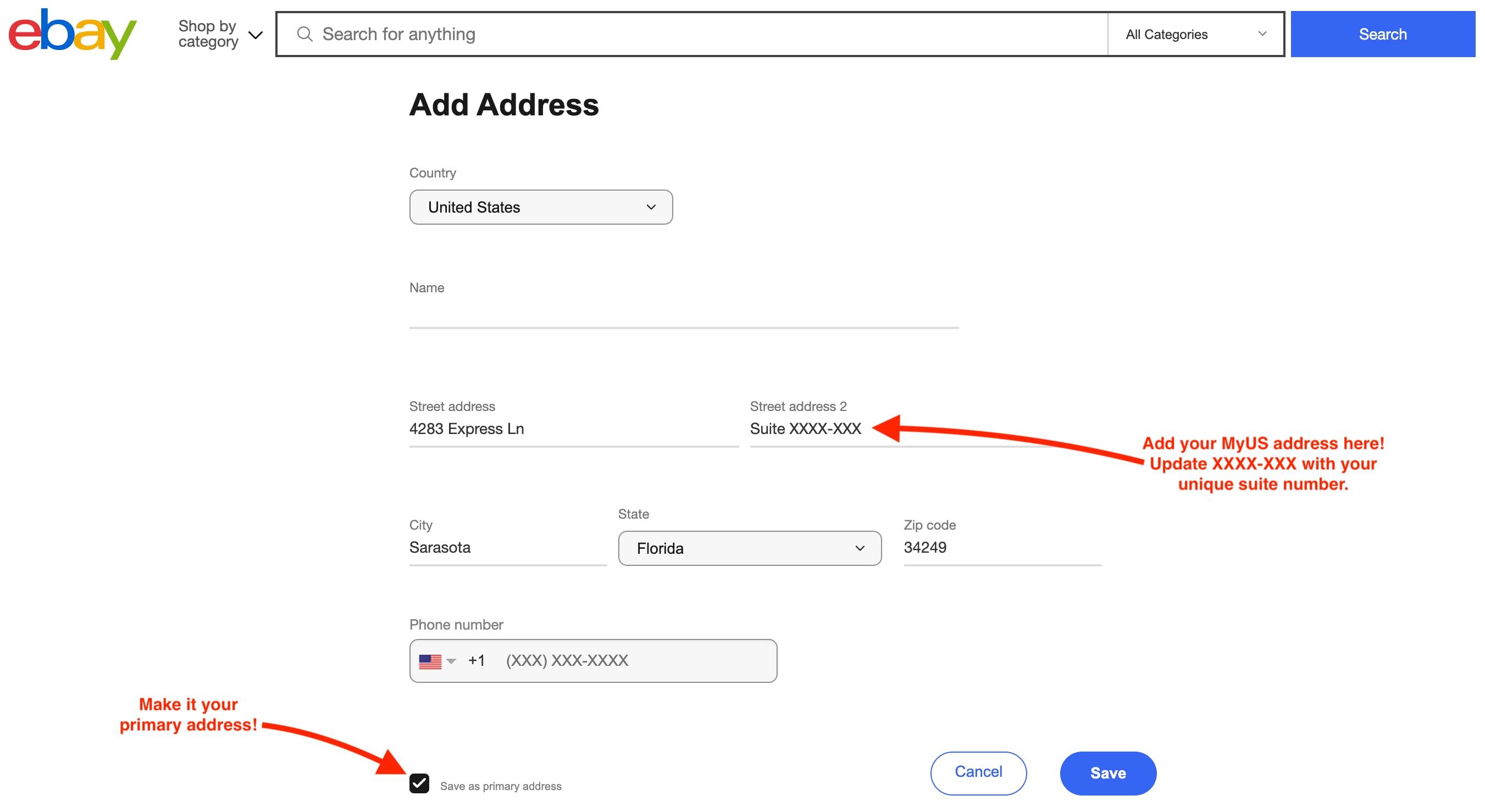 Step 2B: eBay Guest Checkout
If you don't have an eBay account and you're checking out as a guest, click the "Check out as guest" button after clicking the "Buy It Now" button: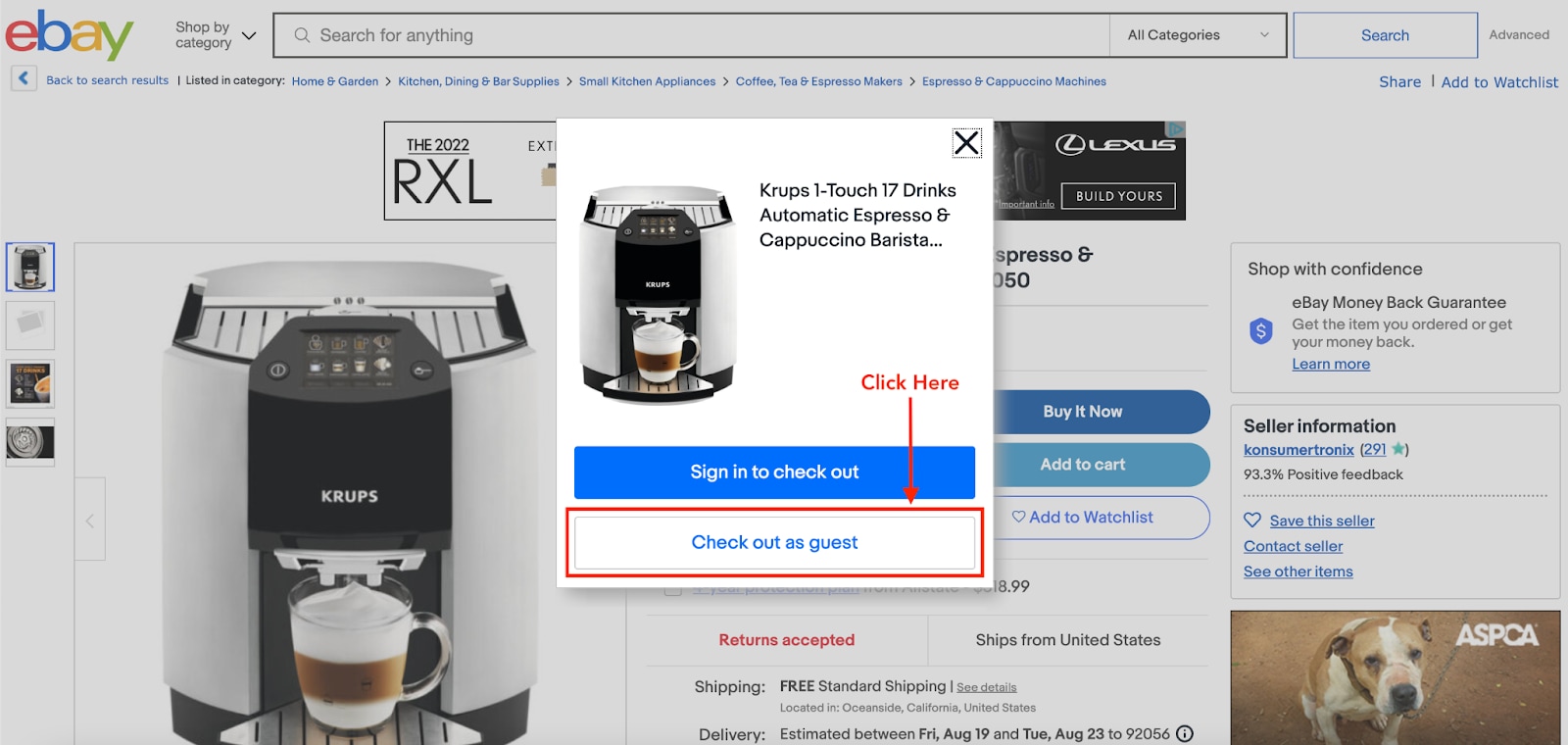 (eBay Guest Checkout): Here you can enter your MyUS shipping address and suite number (address line 2) as the delivery address. Click done at the bottom to seal the deal: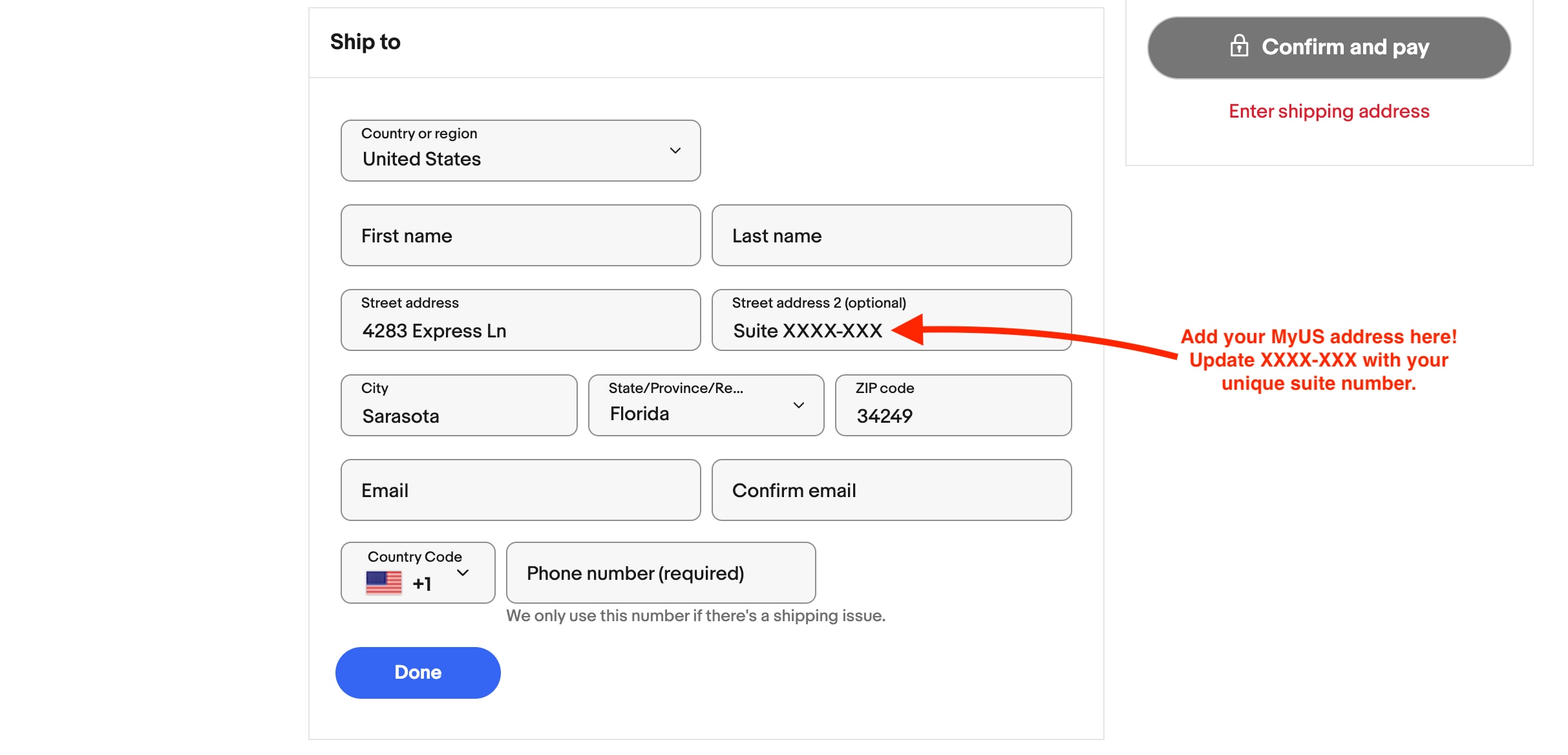 Step 3: Ship From MyUS to Your Home Address
After you place an eBay order with your MyUS address, we'll notify you once your item arrives at your MyUS suite at which point depending on your membership type:
For Single Package members, we'll automatically forward to your home address, making the hand-off seamlessly convenient for you.
Premium members have the option to either auto-ship the item to your home or elect to have MyUS store your items while you wait for more packages to arrive to then combine multiple packages into one shipment to your home.
---
Top eBay Product Categories
Now that you've added your MyUS ship address to your eBay account, here's some of eBay's best selling product categories
Automotive: eBay auto parts are a popular item MyUS ships. You can find the following car parts on eBay and ship through MyUS: exterior and interior parts & accessories, air & fuel delivery, starters, alternators, ECUs & wiring. lighting & bulbs, and motorcycle parts.
Clothing, Shoes & Accessories: Men's & Women's Clothing, Shoes & Accessories. Women's Bags & Handbags.
Business & Industrial: Industrial Automation & Motion Controls: PLCs & HMIs. Medical, Lab & Dental Supplies, Equipment, Devices & Instruments. Test, Measurement & Inspection Equipment.
Home & Garden: Small Kitchen Appliances. Outdoor Power Equipment and Equipment for Outdoor Heating, Cooking & Eating. Heating, Cooling & Air Equipment, Building Materials & Hardware for Home Improvement.
Jewelry & Watches: Watches & Watch Accessories, Parts, Tools & Guides. Vintage & Antique Jewelry. Fashion Jewelry: Necklaces, Pendants, Bracelets, Charms etc.
Health & Beauty: Fragrances. Sexual Wellness Items. Vitamins & Minerals.
Sporting Goods: Bicycles and Bicycle Components, Parts & Clothing. Scooters.
---
eBay History
Before becoming what it is today, eBay first hit the market under the name AuctionWeb. It was founded in California in September 1995 by French-born Iranian-American computer programmer Pierre Omidyar. One of the first items sold was a broken laser pointer for $14. Surprised, Omidyar reached out to the winning bidder to ask if he understood that the laser pointer was broken, and the buyer explained; "I'm a collector of broken laser pointers." It soon became the first online auction site allowing person-to-person transactions.
AuctionWeb was a hobby for Omidyar until his Internet service provider informed him he would need to upgrade to a business account due to the high site traffic. The monthly price increase from $30 to $250 prompted him to start charging eBay users, who still continued to use the site. In the whole year of 1996 there was a total of 250,000 auctions, then in just the month of January 1997 there were 200,000 auctions alone, and they continued to have exponential growth throughout the next decade. Omidyar had a consulting firm known as Echo Bay Technology Group, and considered the domain name echobay.com, but it was already taken by a gold mining company, so Omidyar shortened it to eBay.com in September 1997, and the rest is history.
---
eBay FAQs
Does eBay ship internationally?
Some eBay sellers ship internationally and some do not. It's up to the seller to decide whether or not they'll provide international shipping. Because many eBay sellers do not ship overseas, MyUS members use their MyUS ship address to buy from eBay sellers who otherwise wouldn't have shipped overseas.
Does MyUS ship eBay to Angola? Yes, MyUS frequently ships eBay to Angola. MyUS Angolan members love shopping eBay US and eBay UK while saving on shipping with MyUS. A MyUS membership gives you both a US address AND a UK address to shop from eBay US and eBay UK!
Does eBay ship to package forwarders (such as MyUS)?
Yes, eBay sellers can and do ship to package forwarders with no issue. In fact, eBay is one of MyUS' top stores in terms of shipment volume.
How to calculate eBay shipping?
Refer to the eBay website for cost to ship your eBay orders to your MyUS address. To see MyUS' costs for how much does eBay take to ship from MyUS to your home country, check our shipping calculator page to calculate shipping costs in advance.
What is the eBay Global Shipping Program?
eBay's Global Shipping Program (GSP) was created for UK based eBay sellers to more easily sell their products to worldwide buyers. To learn more about GSP, visit eBay's GSP info page. GSP may be an option for you to buy from UK sellers, but be aware combined postage with eBay is not available with GSP, so you may be better off with a MyUS Premium Membership to allow you to bundle multiple eBay orders along with orders from other UK stores.
Does eBay price match?
eBay sellers can offer a set price as a "buy it now" product listing, or sellers can make the product listing auction style where buyers outbid each other. But there is no traditional price match program per se.
How to cancel a bid on eBay?
Accidents happen. eBay allows bids to be retracted in some, but not all situations.
A bid can be retracted if:

The seller significantly changed the item description

You accidentally bid the wrong amount. In this case, enter the price you intended to bid as soon as you've retracted the incorrect bi

In addition to the above, timing is also important:

If there are 12 hours or more left before the listing ends, all bids.
If the listing is ending in less than 12 hours, you can retract your most recent bid so long as it's been less than 1 hour since you placed the bid.
Keep in mind you can't always retract a bid once it's made. Bids on trading cards and similar categories can't be retracted. If you're unable to retract a bid, you could also contact the seller to see if they'll cancel your bid on your behalf. The decision to cancel is at the discretion of the seller.
For more information on how to retract a bid on ebay, visit eBay's customer service page on the topic.
How to cancel an order on eBay?
Let the seller know as quickly as possible if you need to cancel an order. If the seller has already shipped your order, the seller won't be able to cancel it. If the seller has not yet shipped your order, it's up to the seller discretion whether to cancel the order. Visit eBay's customer service order cancellation page for more information on how to cancel eBay orders.
How to combine postage on eBay?
Purchases from different eBay sellers cannot be bundled/consolidated before reaching MyUS, but for Premium Members different eBay orders can be bundled at MyUS to save on international shipping to your home. A MyUS Premium membership is a great solution if you're wondering how to combine shipping on eBay orders shipped from MyUS to your home country.
Who owns eBay?
eBay is a publicly traded company meaning the shareholders own shares of the company. The founder, Pierre Omidyar, is the company's largest shareholder with 45,398,858 shares worth $1.8 billion according to a filing with the SEC in 2019. Source
What does the e in eBay stand for?
The "e" in eBay comes from "Echo Bay Technology Group", the consulting firm of eBay's founder, Pierre Omidyar.
What does EUC mean on eBay?
eBay marketplace contains both new and used items. When eBay sellers describe products as "EUC" which stands for "Excellent Used Condition". This means the item is used, but the condition is close to that of a new item.
*MyUS shipping is limited or not available in the following countries/territories: Belarus, Cuba, Iran, Myanmar, North Korea, Palestine, Palestinian Territories, Russia, South Sudan, Sudan, Afghanistan, and Ukraine.