How to Ship Gap Internationally in 3 Easy Steps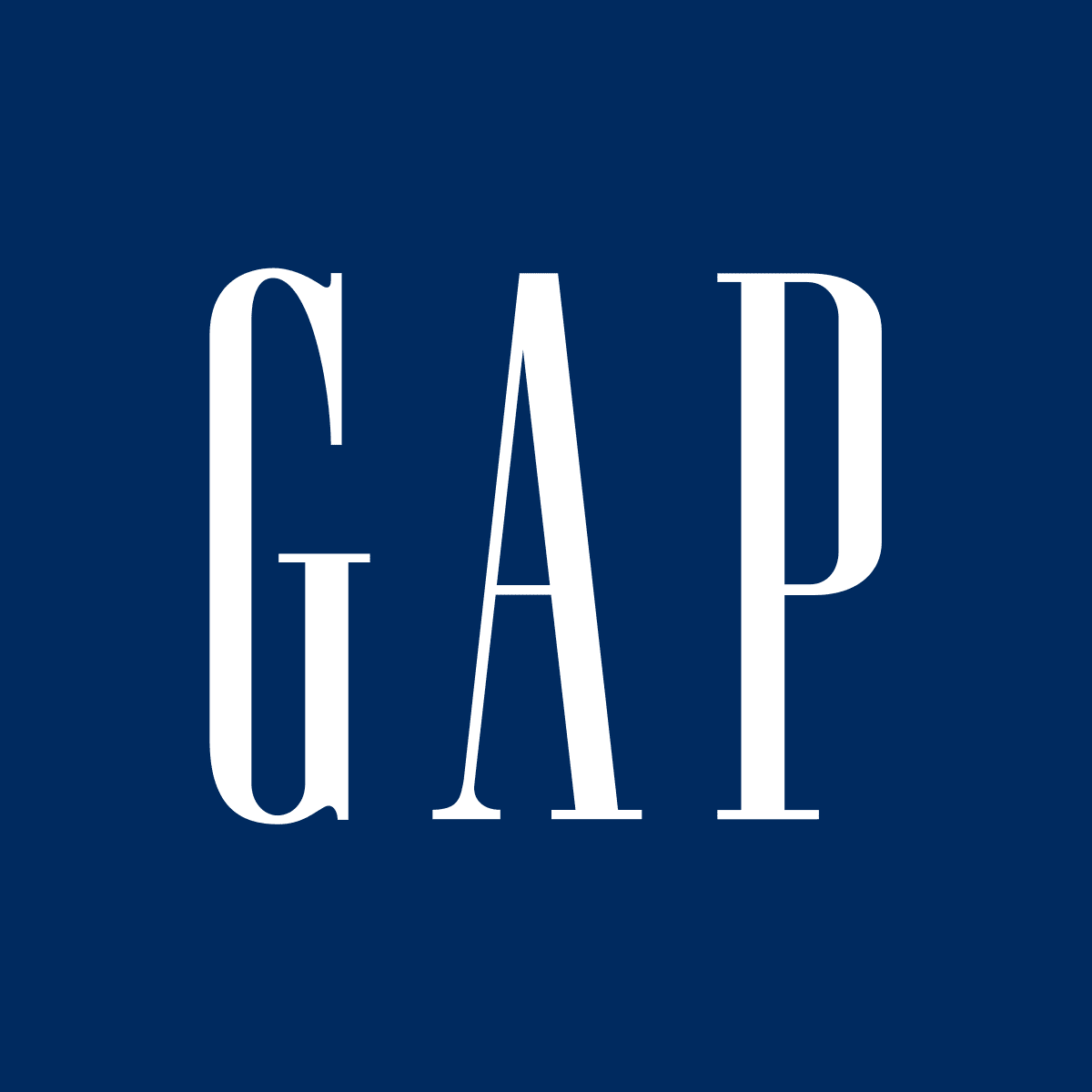 We'll show you how to get international shipping from Gap. When you sign up for MyUS, you'll gain access to easily shop across one of the most popular retail stores in the US.
After following these quick steps below, you'll be able to ship from Gap US to Australia, Canada, the UK, India, Germany, Brazil, Singapore, Japan, Israel, South Korea, or any other country*!
"Gap.com doesn't ship to my country."
Have you seen an item on Gap.com only to find out Gap doesn't ship from the US to your home country? We understand that frustration, and we're here to fix it. Thanks to MyUS, you no longer have to ask, "Does Gap ship to my country?"
Even though Gap doesn't ship directly to all countries, MyUS has helped millions of online shoppers buy from Gap by providing MyUS members with a US sales tax-free US shipping address (and a UK address). Ship your Gap purchases to MyUS, or items from thousands of other stores, and we reship to you anywhere in the world!* A MyUS ship forwarding address is your access to shop from top US and UK stores.
"Gap does ship to my country, but it's really expensive."
Gap may ship to your country, but at a marked-up price. In addition to MyUS being an accessibility option for when Gap doesn't ship an item to your country, MyUS is also a cost savings option for ordering an item from Gap and then reshipping to your home country, often at a lower total cost than the shipping price Gap would charge. Accessibility to shopping Gap internationally while saving money is at your fingertips with a MyUS shipping and forwarding address.
---
MyUS Membership Types
Single Package | Free Membership | Ship One Package From One Store
If you ship less frequently, a free Single Package membership might be what you're looking for. The free Single Package membership still gives you both US & UK shipping addresses while giving you the flexibility to only ship when you need to!
Single Package Benefits:
US and UK shipping addresses
US sales TAX-FREE shopping: Your MyUS address is sales tax-free. Automatically save 7% every time you shop!
Exclusive shipping discounts
Premium Membership

| Free 30 Day Trial | Ship Multiple Packages From Multiple Stores
If you need to ship multiple items from Gap, or even orders from other stores, you can save money with package consolidation by signing up for a paid Premium membership. Package consolidation allows you to combine items from multiple stores into one package at no additional cost, so you maximize your savings! When a package arrives in your MyUS suite, you can forward it to your home address immediately, or you can wait for additional packages to arrive in your suite and combine multiple items into one package. Why spend more shipping multiple packages when you can spend less by combining them into one package with MyUS? In fact, package consolidation can save you up to 80% off standard international shipping rates.
Another perk of Premium membership is you get a 30-day free trial and can cancel anytime. We want to earn your business. Your free trial is an opportunity for you to test MyUS out. No long-term commitment is required, so you have nothing to lose!
Your Premium Membership includes all the following perks at no additional cost to the monthly membership fee:
US and UK shipping addresses
FREE 30-Day Trial: After 30-day free trial, there are no commitments - cancel any time.
US sales TAX-FREE shopping: Your MyUS address is sales tax-free. Automatically save 7% every time you shop!
Discounted Ship Rates: Being a Premium MyUS member unlocks even lower ship rates than what's offered to Single Package customers.
Free Package Consolidation: MyUS packing experts will combine multiple packages into one for maximum shipping cost savings.
Free Package Repacking: MyUS packing experts repack every box to ensure your purchases are protected and packaged in the most cost-effective way.
Free Package Storage for 30 Days: Purchases are securely housed in our facility, allowing time for multiple package delivery and maximum consolidation savings.
Choose Your Shipping Experience
---
How to Shop Gap Overseas in 3 Steps
Step 1: Get a MyUS Address
Sign up for a free Single Package or Premium membership by clicking here to get a US sales tax-free US address and a UK address with a suite number that's unique to you.
Step 2: Shop from Gap & Ship to Your MyUS Address
Gap Member Checkout (for Guest Checkout scroll down to Step 2B)
If you have a Gap account, first sign in to your account and then click over your name/account button in the top right of your screen: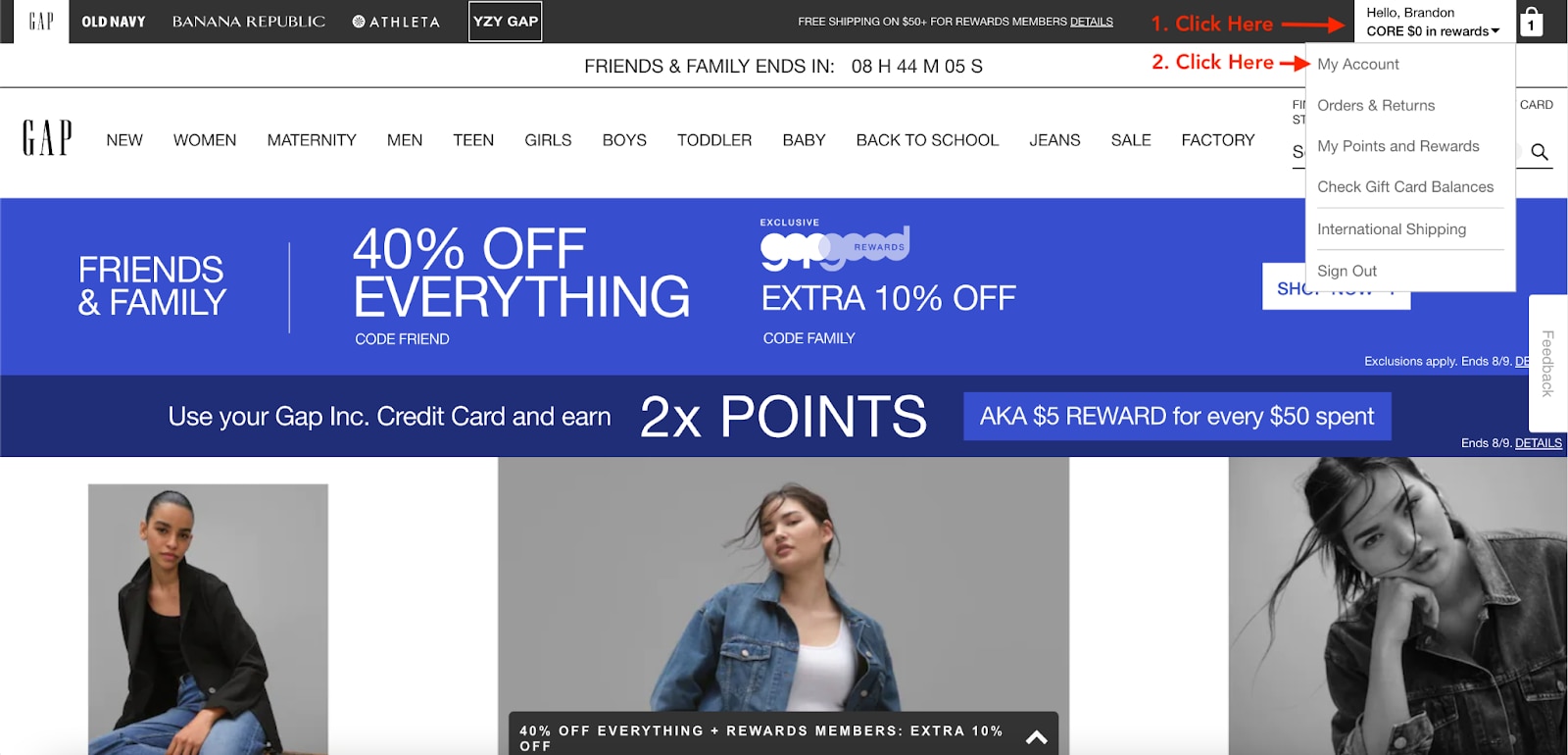 (Gap Member Checkout): Now on your account page, in the left-hand column click "Shipping Addresses":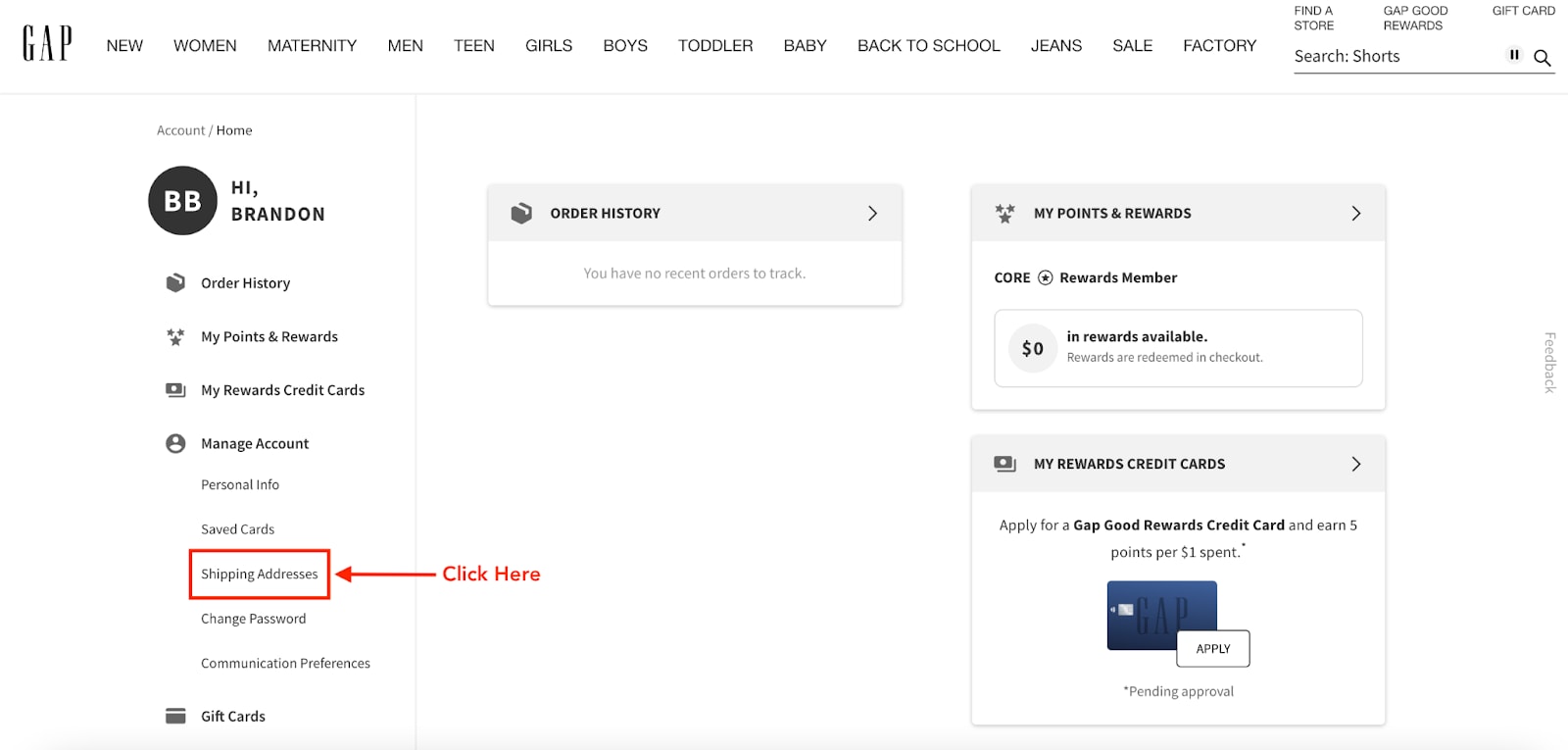 (Gap Member Checkout): On this page, click "Add an Address":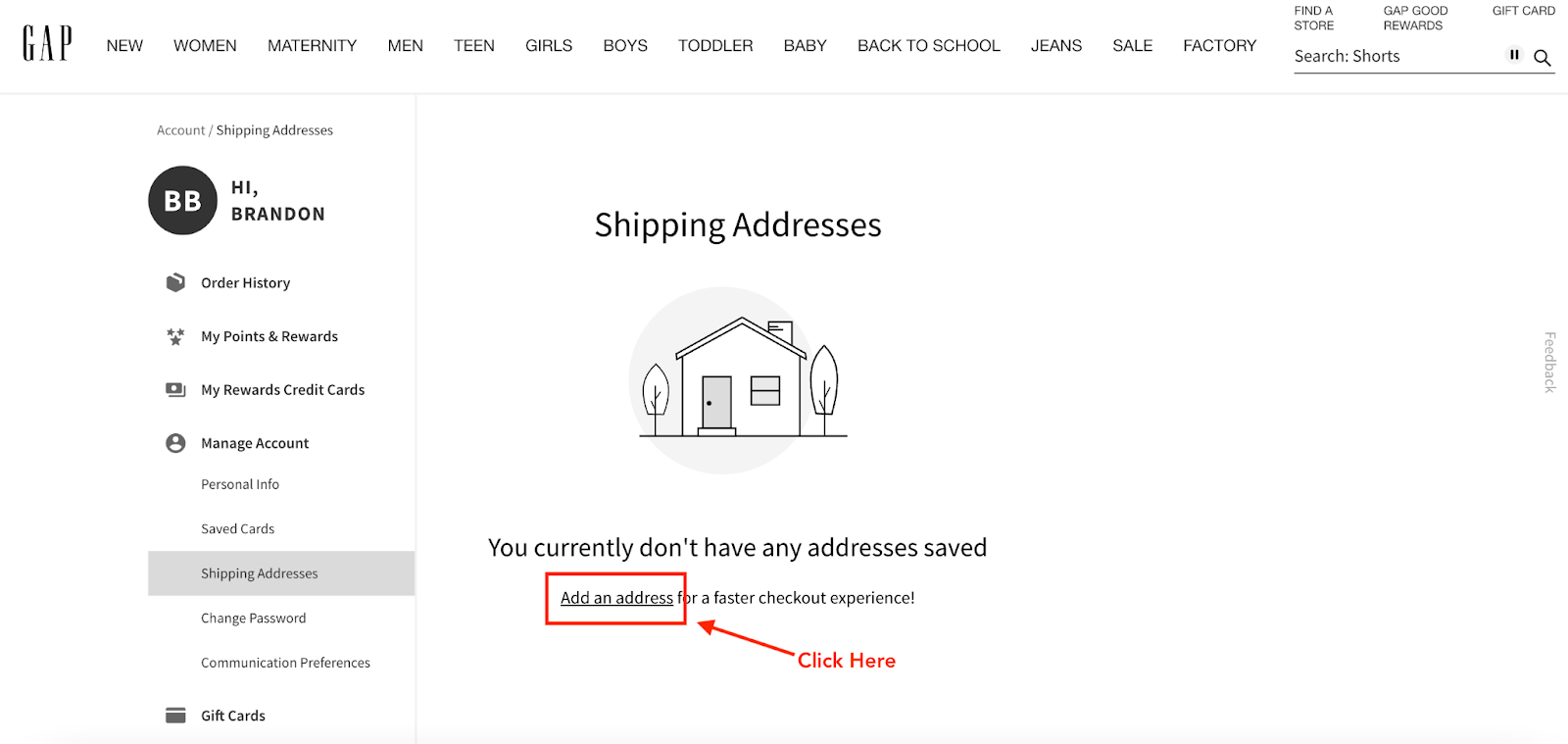 (Gap Member Checkout): You can now enter your MyUS shipping address and suite number (address line 2) as the delivery address. Click the "Save" button at the bottom to store your MyUS address. Now, skip down to Step 3.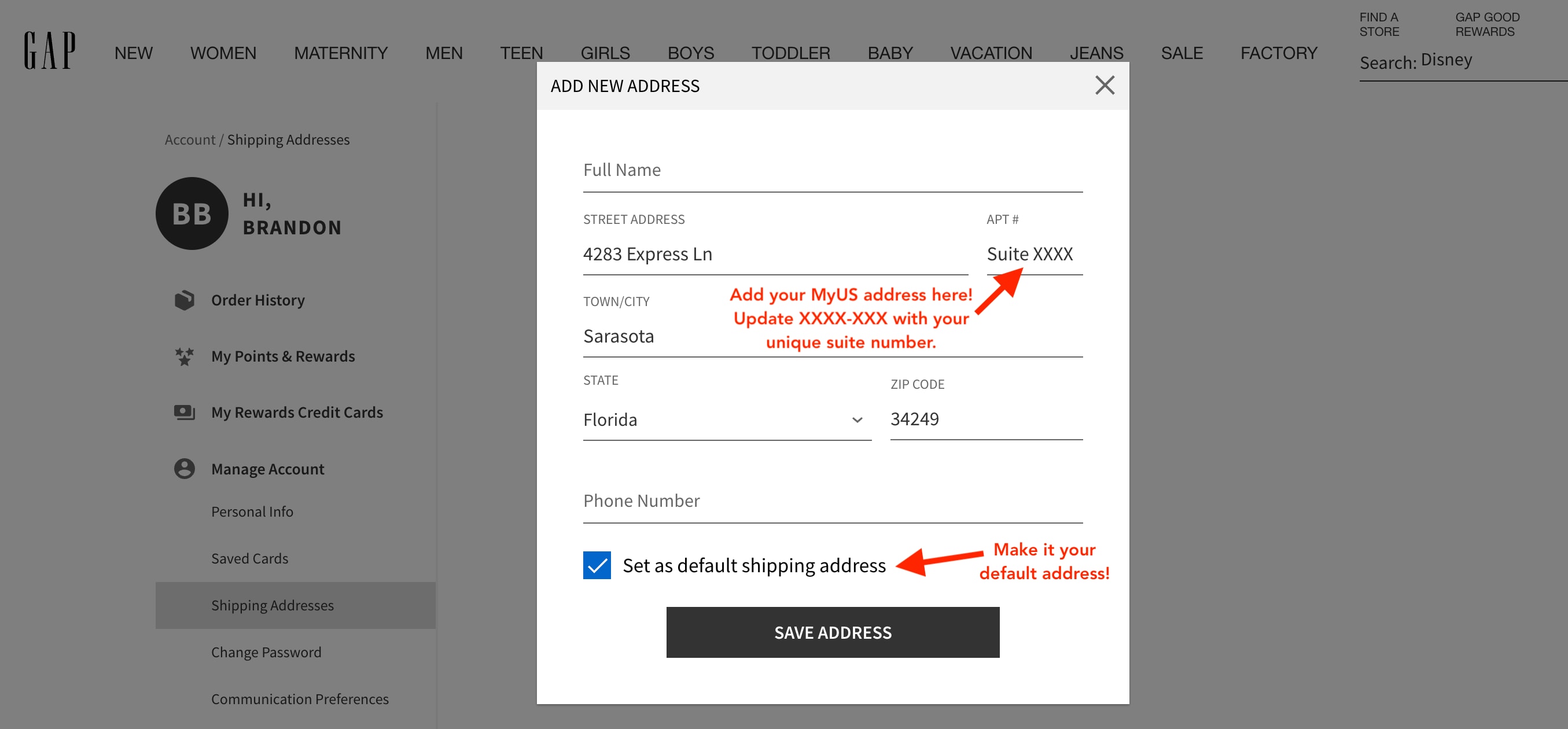 Step 2B (Gap Guest Checkout):
If you don't have an account and you're checking out as a guest, simply click the "Checkout" button (as of 8/2022 Gap offers free shipping for members on orders over $50, so it's worth signing up for an account rather than checking out as a guest):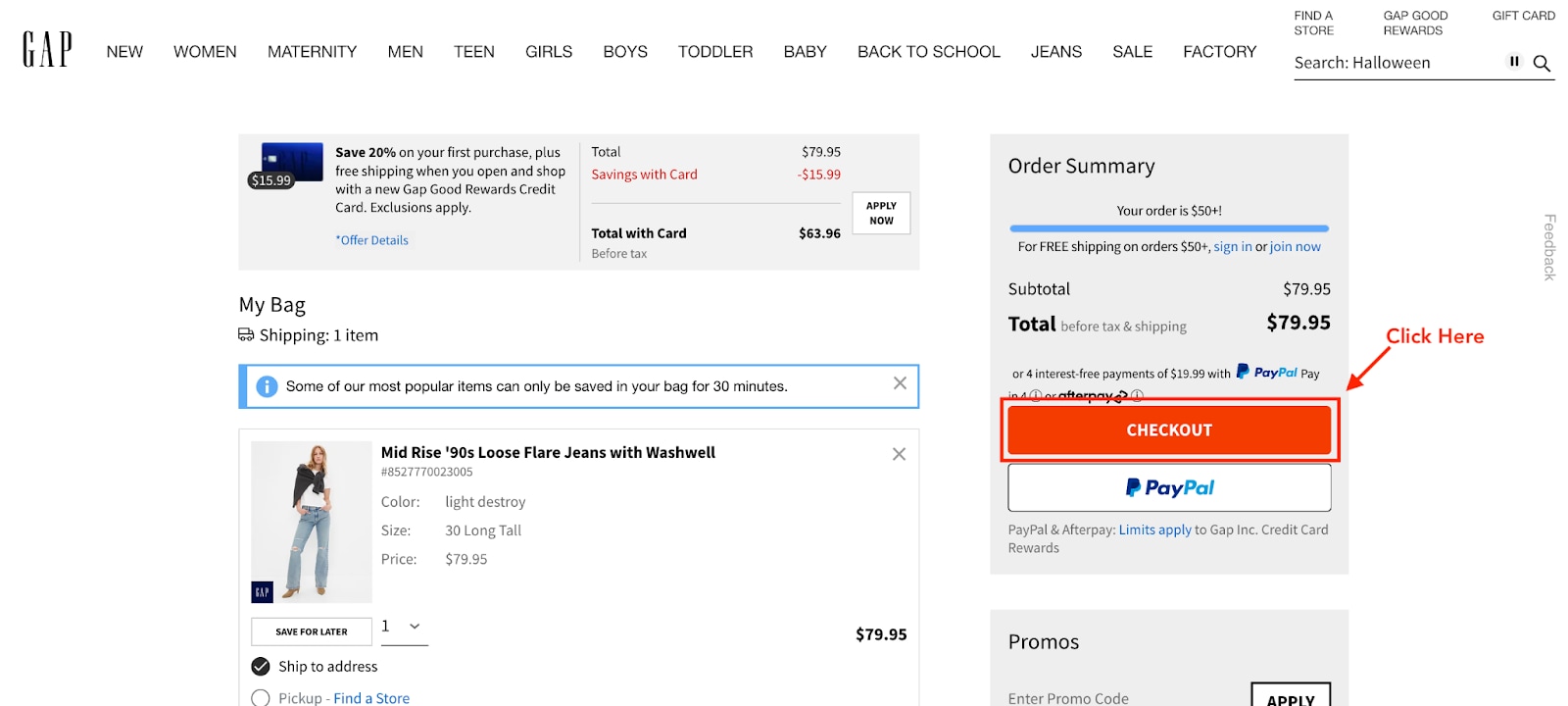 (Gap Guest Checkout): Here you can enter your email and click "Checkout As Guest":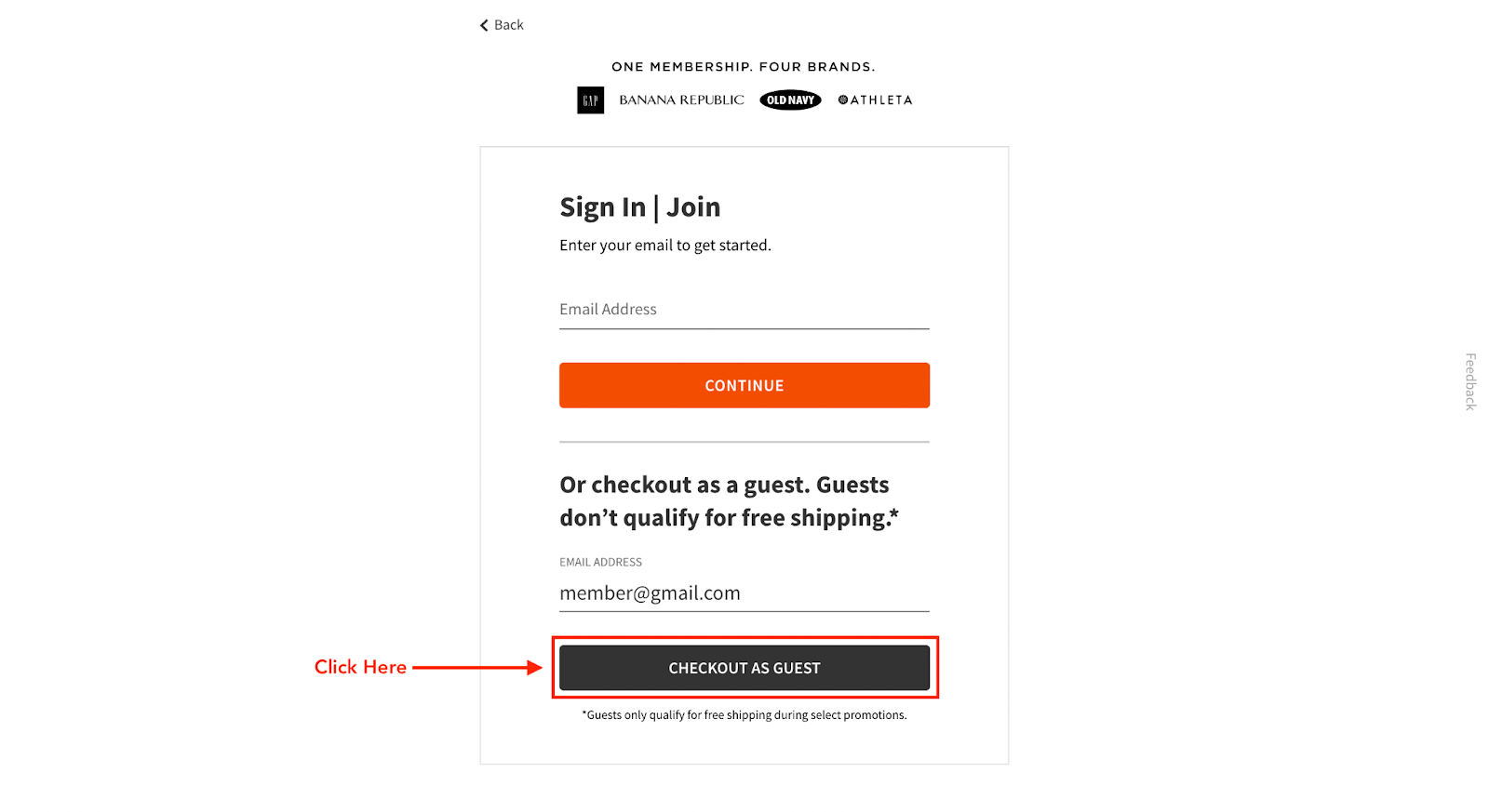 (Gap Guest Checkout): Here you can enter your MyUS shipping address and suite number (address line 2) as the delivery address. Click the "Save and Continue" button to seal the deal:

Step 3: Ship From MyUS to Your Home Address
After you place a Gap order with your MyUS address, we'll notify you once your item arrives at your MyUS suite, at which point, depending on your membership type:
For Single Package members, we'll automatically forward to your home address, making the hand-off seamlessly convenient for you.
Premium members have the option to either auto-ship the item to your home or elect to have MyUS store your items while you wait for more packages to arrive to then combine multiple packages into one shipment to your home.
---
Gap Shipping Policy & Prices
Please note – MyUS will charge for oversea shipping, but Gap.com has free shipping methods for members with orders over $50, so you won't have to pay for shipping from Gap to our MyUS Florida shipping hub.
Below are Gap's domestic US prices Gap would charge you to ship to your MyUS suite address. Gap.com currently does not support shipping outside of the United States.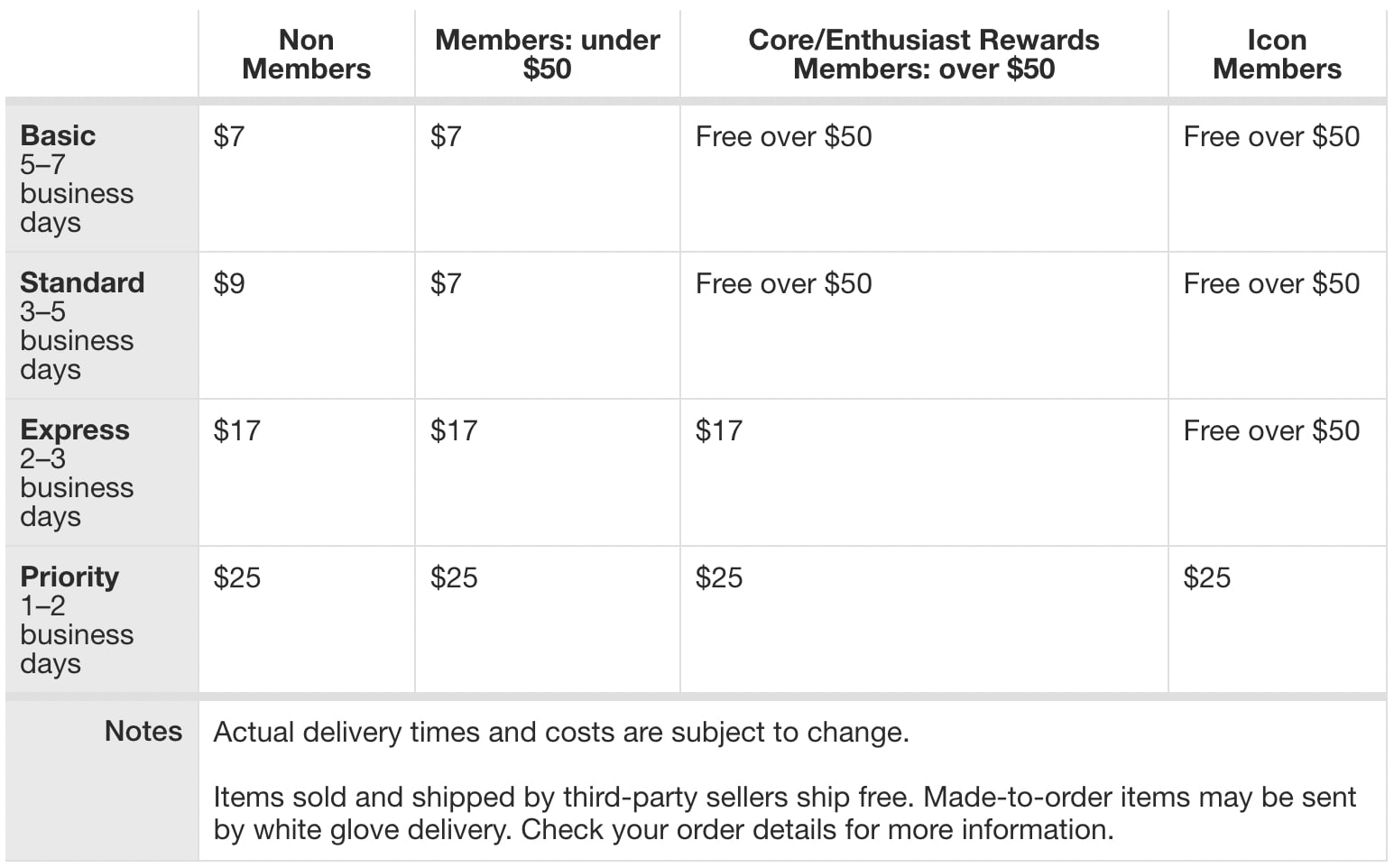 Shipping prices retrieved from Gap.com on December 12th 2022.
---
Gap History
Gap is an American brand of clothing and accessories. The brand was founded in 1969 by Donald and Doris Fisher in San Francisco, California, and is still headquartered there today. "The Gap" (named by Don's wife Doris Fisher) was a reference to the "generation gap." Fisher opened the first Gap store near City College on Ocean Avenue in Ingleside, San Francisco, on August 21, 1969; its only merchandise consisted of Levi's Jeans and records to attract teen customers. Gap owns and operates six primary divisions: Gap, Banana Republic, Old Navy, Intermix, Athleta, and Janie and Jack. Gap is the largest specialty retailer in the US and is 3rd in total international locations, behind Zara and H&M. As of September 2008, the company had approximately 135,000 employees and operated 3,727 stores. The Fisher family remains deeply involved in the company, collectively owning much of its stock.
---
Gap FAQs
Does Gap ship internationally?
-Gap states: "Gap.com currently does not support shipping outside of the United States."
Does Gap ship to package forwarders (such as MyUS)?
-Yes, Gap ships to package forwarders with no issue. In fact, Gap is one of MyUS' top stores in terms of shipment volume.
Can I ship Gap clothes to Mexico?
-US Gap.com doesn't ship to Mexico. Gap does have brick-and-mortar stores located in Mexico and a Mexico-specific website, however, MyUS members have found their MyUS ship address provides them access to larger Gap inventory and special Gap sales only available on the US Gap.com website.
Does Gap clothing ship to Australia?
-US Gap.com doesn't ship to Australia, but Australian shoppers use their MyUS address to access Gap.com deals and shop from thousands of other US stores.
What are some popular Gap clothing shipments?
- Some top Gap products MyUS ships include Gap baby clothes, Gap kids clothes, Gap womens clothes, Gap maternity, Gap workout clothes, and Gap dog clothes for our hairy friends.
What does Gap mean?
-"The Gap" (named by Gap's founder Donald Fisher's wife Doris) was a reference to the "generation gap."
Can you return Gap clothes to Old Navy?
-Returns or exchanges must be done at a store of the same brand as the items purchased. For example, if you purchased an item from Gap.com, it cannot be returned to an Old Navy store.
Where are Gap clothes made?
-Gap clothes are made in Bangladesh, Cambodia, Cambodia, Dominican Republic, Egypt, El Salvador, Guatemala, Haiti, Hong Kong, India, Indonesia, Jordan, Macao, Nicaragua, Pakistan, Philippines, Portugal, South Korea, Sri Lanka, Turkey, United States, & Vietnam.
*MyUS shipping is limited or not available in the following countries/territories: Belarus, Cuba, Iran, Myanmar, North Korea, Palestine, Palestinian Territories, Russia, South Sudan, Sudan, Afghanistan, and Ukraine.