How to Ship Walmart Internationally in 3 Easy Steps
We'll show you how to get international shipping from Walmart US. When you sign up for MyUS, you'll gain access to easily shop across one of the most popular retail stores in the US.
After following these quick steps below, you'll be able to ship from Walmart US to Australia, Canada, the UK, India, Germany, Brazil, Singapore, Japan, Israel, South Korea, or any other country!*
"Walmart.com doesn't ship to my country."
Have you seen an item on the Walmart US marketplace and learned Walmart doesn't ship to your home country? We understand that frustration, and we're here to fix it. Thanks to MyUS, you no longer have to ask, "Does Walmart ship internationally to my country?"
Even though Walmart US doesn't ship directly to all countries, MyUS has helped millions of online shoppers buy from Walmart by providing MyUS members with a US sales tax-free US shipping address (and a UK address). Ship your Walmart purchases to MyUS, or items from thousands of other stores, and we reship to you anywhere in the world!* A MyUS ship forwarding address is your access to shop from top US and UK stores.
"Walmart.com does ship to my country, but it's really expensive."
Walmart may ship to your country, but at a marked-up price. In addition to MyUS being an accessibility option for when Walmart doesn't ship to your home country, MyUS is also a cost-saving option for reshipping your Walmart items at a lower total cost than the prices offered by Walmart. Accessibility to shopping Walmart internationally while saving money is at your fingertips with a MyUS shipping and forwarding address.
---
MyUS Membership Types
Single Package | Free Membership | Ship One Package From One Store
If you ship less frequently, a free Single Package membership might be what you're looking for. The free Single Package membership still gives you both US & UK shipping addresses while giving you the flexibility to only ship when you need to!
Single Package Benefits:
US and UK shipping addresses
US sales TAX-FREE shopping: Your MyUS address is sales tax-free. Automatically save 7% every time you shop!
Exclusive shipping discounts
Premium Membership

| Free 30 Day Trial | Ship Multiple Packages From Multiple Stores

If you need to ship multiple items from Walmart or other stores, you can save money with package consolidation by signing up for a paid Premium membership. Package consolidation allows you to combine items from multiple stores into one package at no additional cost, so you maximize your savings! When a package arrives in your MyUS suite, you can forward it to your home address immediately, or you can elect to wait for additional packages to arrive in your suite and then combine multiple items into one shipment. Why spend more shipping multiple packages when you can spend less by combining them into one package with MyUS? In fact, package consolidation can save you up to 80% off standard international shipping rates.

Another perk of Premium membership is you get a 30-day free trial and can cancel anytime. We want to earn your business. Your free trial is an opportunity for you to test MyUS out. No long-term commitment is required, so you have nothing to lose!

Your Premium Membership includes all the following perks at no additional cost to the monthly membership fee:
US and UK shipping addresses
FREE 30-Day Trial: After 30-day free trial, there are no commitments - cancel any time.
US sales TAX-FREE shopping: Your MyUS address is sales tax-free. Automatically save 7% every time you shop!
Discounted Ship Rates: Being a Premium MyUS member unlocks even lower ship rates than what's offered to Single Package customers.
Free Package Consolidation: MyUS packing experts will combine multiple packages into one for maximum shipping cost savings.
Free Package Repacking: MyUS packing experts repack every box to ensure your purchases are protected and packaged in the most cost-effective way.
Free Package Storage for 30 Days: Purchases are securely housed in our facility, allowing time for multiple package delivery and maximum consolidation savings.
Choose Your Shipping Experience
---
How to Shop Walmart from Overseas in 3 Steps
Step 1: Get a MyUS Address
Sign up for a free Single Package or Premium membership by clicking here to get a US sales tax-free US address and a UK address with a suite number that's unique to you.
Step 2: Shop from Walmart & Ship to Your MyUS Address
Walmart Member Checkout (Walmart no longer offers guest checkout)
If you have a Walmart account, first sign into your account and then hover over your name / account button in the top right of your screen. Then click "Account":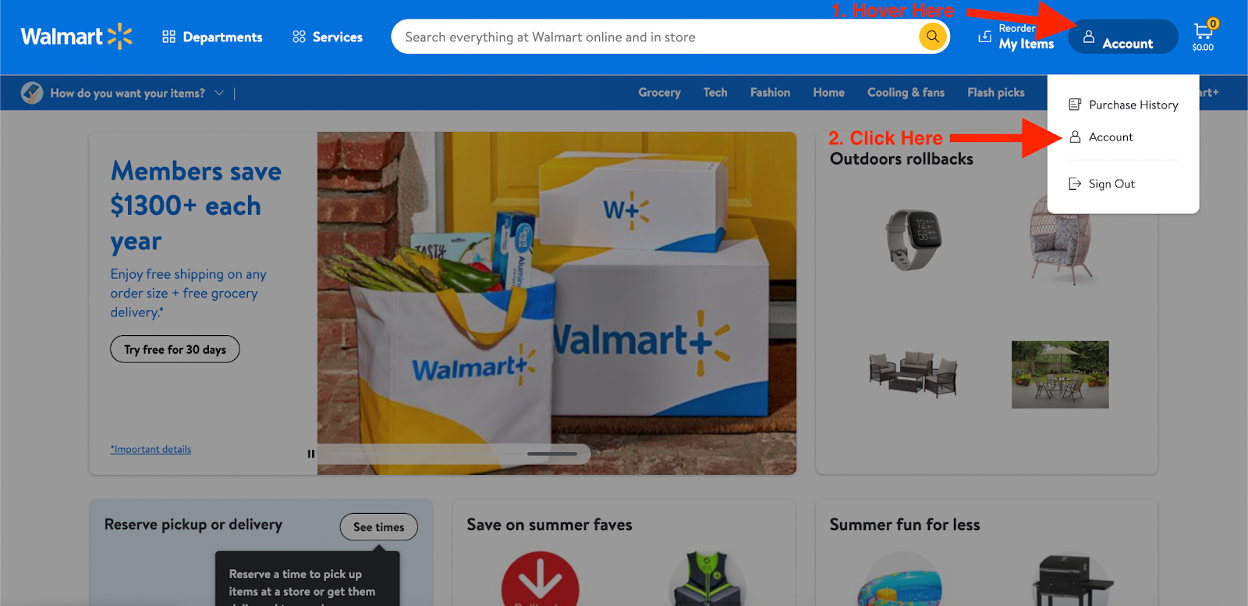 (for Walmart Members): Now on your account page, in the left-hand column under "Manage Account", click "Addresses":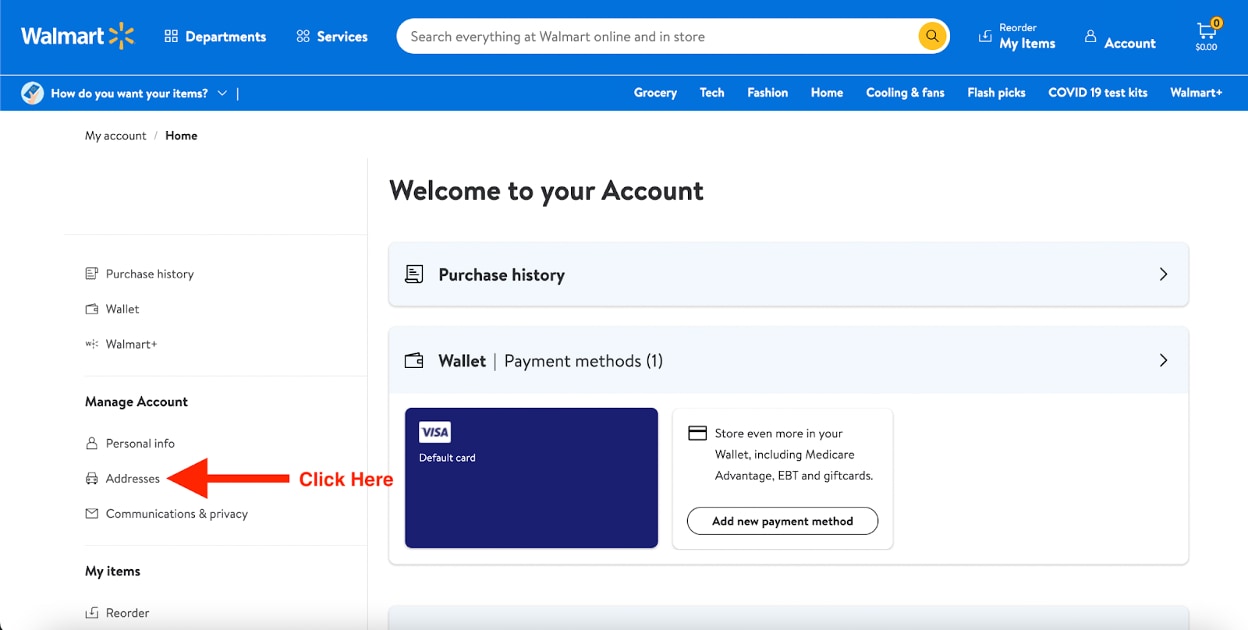 (for Walmart Members): On this page, click "+ Add Address":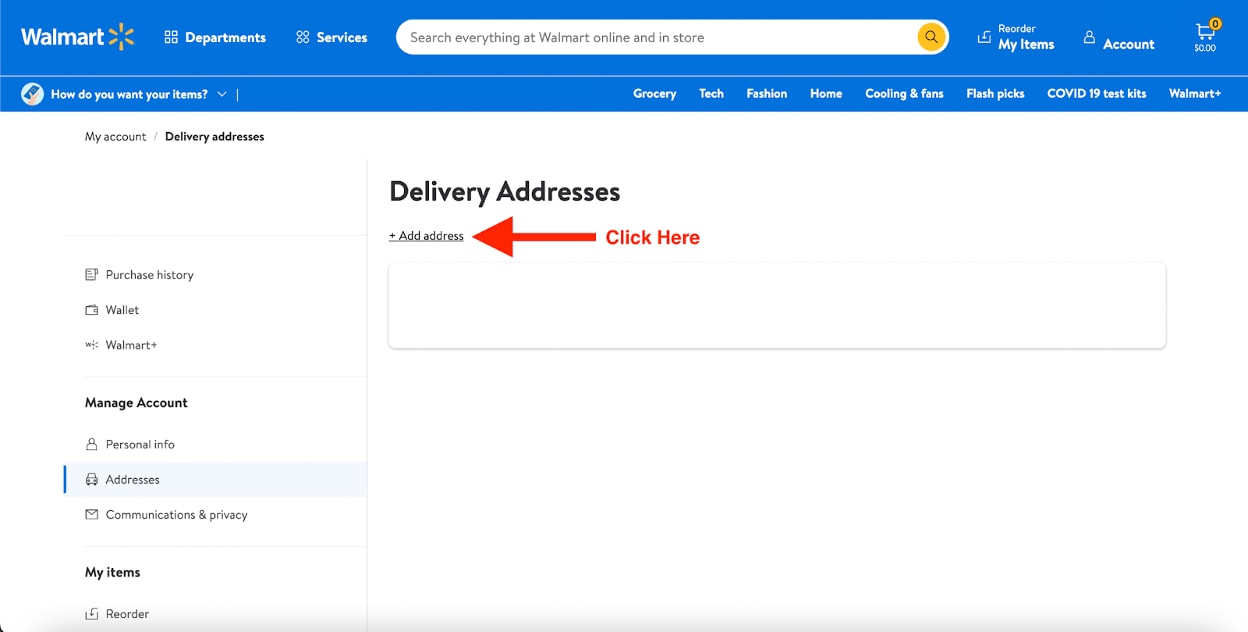 (for Walmart Members): You can now enter in your MyUS shipping address and suite number (address line 2) as the delivery address. Click the "Save" button at the bottom to store your MyUS address. Skip down to the "Final Step".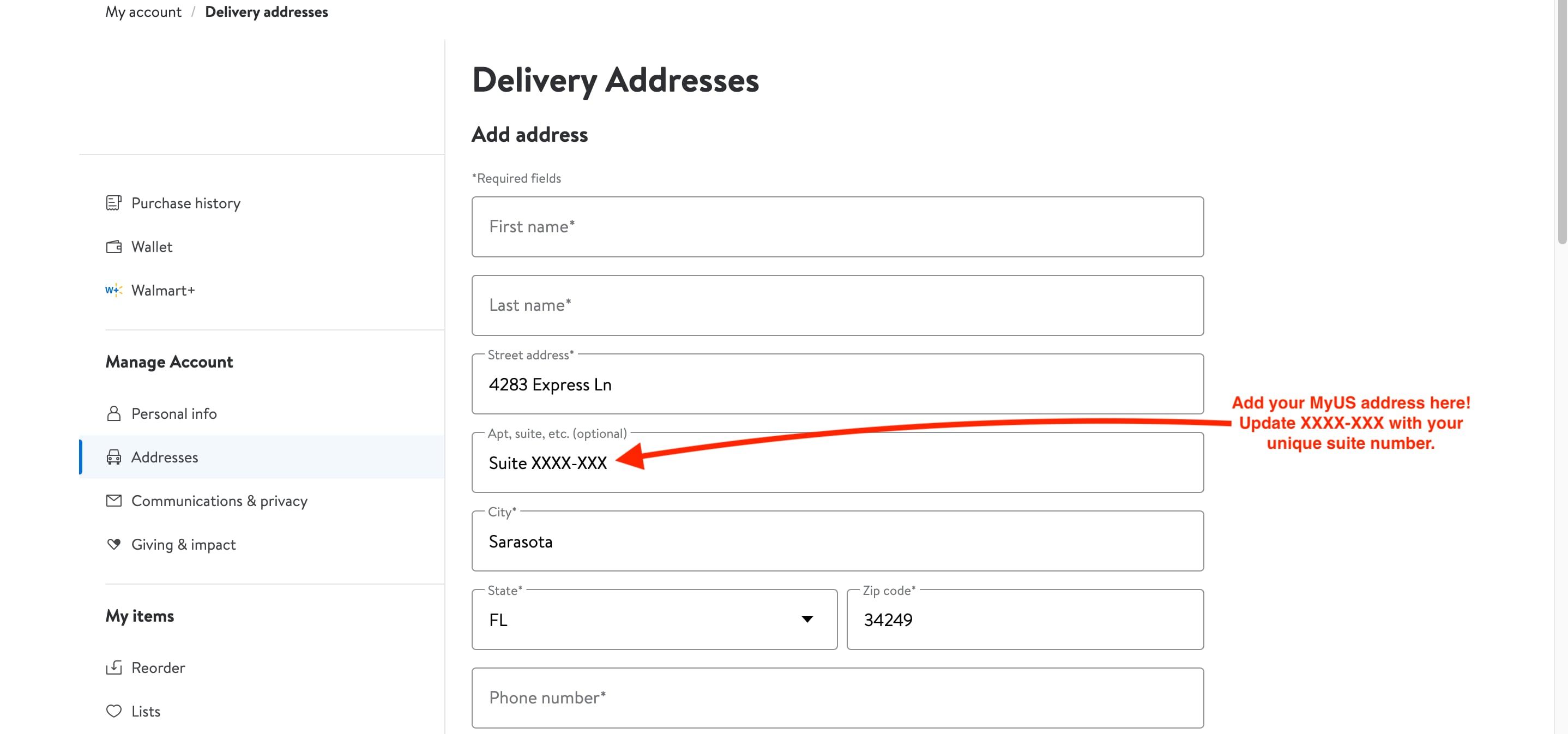 Step 3: Ship From MyUS to Your Home Address
After you place a Walmart order with your MyUS address, we'll notify you once your item arrives at your MyUS suite.
For Single Package members, we'll automatically forward to your home address, making the hand-off seamlessly convenient for you.
Premium members have the option to either auto-ship the item to your home or elect to have MyUS store your items while you wait for more packages to arrive to then combine multiple packages into one shipment to your home.
---
Walmart Shipping Prices
Please note – Although MyUS charges for oversea shipping from the US to your home, Walmart.com has free shipping methods, so you won't have to pay Walmart for shipping to your MyUS suite.
Next-day Shipping: This is Walmart's fastest delivery option and is available in qualifying postal codes. Free shipping on $35+ orders of eligible items – no Walmart membership fee!
Two-day Shipping: Two-day shipping for millions of select items online – no Walmart membership needed! Free on orders of $35 or more.
Standard Shipping: Get free shipping on everything, including qualified items not marked with two-day delivery. For items that do not qualify for free two-day delivery, Walmart also offers free 3 to 5-day shipping for orders of $35 or more. Marketplace & freight items count toward the $35, but shipping these items is case-by-case based on location.
---
Walmart FAQs
Does Walmart ship internationally?
Walmart US does not ship internationally, but that's where MyUS is at your service!
Does Walmart.com ship to Canada?
No, the Walmart US website does not ship to Canada. Get a MyUS address to shop from Walmart US then MyUS will ship your Walmart orders to Canada. However, Walmart does have a store presence in Canada, with Walmart Canada being established in 1994 and its headquarters in Mississauga, Ontario.
Is Walmart open on Canada Day?
Check local listings for a Canada store nearest you, but the Walmart US online store is always open for your shopping needs!
Does Walmart ship to Australia?
No, Walmart does not ship to Australia. With a MyUS membership, you get a US address to shop from Walmart, ship to your MyUS address, then MyUS will forward your packages to Australia.
Is there a Walmart Australia store presence?
As of 2022, Walmart has no stores operating in Australia.
Does Walmart ship to the UK?
No, Walmart US does not ship to the UK. Shop from Walmart with a MyUS address, then reship to you in the UK.
What is the ASDA Walmart relationship?
ASDA is a British supermarket chain founded in 1949 and headquartered in Leeds, England. ASDA experienced rapid expansion during the 1970s and 1980s. Walmart acquired ASDA in 1999 for £6.7 billion. In 2021, Walmart sold majority control of ASDA to the Issa brothers and TDR Capital.
Following the 2021 ASDA sale, Walmart retains equity in ASDA, a seat on ASDA's board, and an ongoing commercial relationship. ASDA is more of a grocery store than Walmart, so try MyUS shipping to access Walmart US products and sales!
Does Walmart ship to Germany?
No, Walmart US does not ship to Germany.
Does Walmart ship to South Africa?
No, Walmart US does not ship to South Africa. Get a US address from MyUS, order products from Walmart to your MyUS address, then MyUS can forward your orders to your home address in South Africa.
No, Walmart US does not ship to New Zealand. Get a MyUS address to shop at Walmart, ship to MyUS, then MyUS will forward your packages to New Zealand.
Is Walmart in India, or does Walmart ship to India?
Walmart operates stores in India under the name Best Price Modern Wholesale. Walmart US does not ship to India. With MyUS, you get a US address to order products from Walmart and then reship to India.
How much does Walmart shipping cost?
To see MyUS' costs for shipping Walmart to your home country, check our shipping calculator page to calculate shipping costs in advance.
How long does Walmart take to ship?
Walmart offers express delivery options to ship to MyUS in less than 1 day. MyUS then offers international 2-4 day ship options.
Does Walmart ship to package forwarders (such as MyUS)?
Yes, Walmart will ship to package forwarders with no issue. In fact, Walmart is one of MyUS' top stores in terms of shipment volume.
Does Walmart price match?
Yes, Walmart.com will price match, but with limitations. They state, "for items purchased on Walmart.com, we will match a lower price from select online retailers on an identical, in-stock product." The limitations can be found here. (Walmart last updated this policy on February 4th, 2022)
What is Walmart?
Walmart Inc. is an American multinational retail corporation which operates a large chain of supercenters and an extensive online marketplace, headquartered in Bentonville, Arkansas, United States.
Who owns Walmart?
Walmart's largest stock shareholder is the Walton family, who own more than half of all Walmart shares. The modern Walton family members are descendants of Sam Walton, the founder of Walmart.
---
Top Walmart Products
Now that you've added your MyUS ship address to your Walmart account, here are some of Walmart's best-selling products:
Toilet Paper
Slow Cookers
Televisions
Google Chromecast
Flushable Wipes
Disposable Washcloths
Paper Towels
Insulated Tumblers
Pillows
Crayons
---
Walmart History
The first Walmart store opened in 1962, in Rogers, Arkansas. At the time, it was called "Wal-Mart", with a hyphen, which incorporates the founder's last name into the company name - Sam Walton. Walmart started as a discount retailer of clothing, shoes, and household items, just a glimmer of what it would one day become. Walmart eventually introduced Sam's Club discount warehouses in 1983 and Wal-Mart Supercenters in 1988. Within ten years of adding grocery and merchandise Supercenters, Walmart had become one of the largest grocers in the US. By the 1990s, growth in popularity and smart business decisions made Walmart, the largest retailer in the US. Today, Walmart operates approximately 10,500 stores and clubs under 46 banners in 24 countries and eCommerce websites.
*MyUS shipping is limited or not available in the following countries/territories: Belarus, Cuba, Iran, Myanmar, North Korea, Palestine, Palestinian Territories, Russia, South Sudan, Sudan, Afghanistan, and Ukraine.