Artisan Soap Gifts for Ramadan
Offer artisan soaps to your loved ones this Ramadan! Whether you're looking for a small gift or need to add a last-minute item to a bundle, soaps are a beautiful item to receive and come in lovely packaging, unique shapes, and fragrant scents.
Shop the most lovely soaps from US stores, ship them to friends and family around the world, and pay no US sales tax when you become a MyUS member!
Handmade Vegan Cold Process Family Bath Soap $22.99
With four distinct scents and vibrant colors, this Handmade Vegan Soap Set is a colorful gift set for any occasion. All soap bars form a rich gentle lather that soothes all skin types as it cleans, and provides a subtle fragrance without overpowering the senses. Also, its activated charcoal produces zero wastage after each use for a fresh and eco-friendly wash.
"Smells amazing and lasts a long time! I will definitely order this set again." states 3-Pinner.
Personalised Eid Soap Gift for Kids $43.99
Need an assortment of party favors? Impress guests with a set of Personalised Ramadan Decoration Soaps. Each container comes with a colorful print topper that emphasizes "Ramadan Mubarak", crescent moons, and other themed designs. P=You can also place them around the house as ornaments or keep them for the next party!
"The perfect party favor and I had the label customized to perfection. Beyond pleased!" Yazmine says.
French Macaron Soap $5+
LoveLeeSoaps produce high-quality artisan soaps in the form of people's favorite foods. While they look identical to the real thing, this French Macaron Set is best used exclusively for bathing and decoration. Each macaron's scent is based on your favorite fruits and candy such as lemon, strawberry, cotton candy, and much more!
"This set is fabulous! They are so cute, the colors are bright and the smells are terrific." Dusty Brown comments.
Intentions and Gemstones Artisan Soaps $10.25+
Find serenity from the comfort of your home with this Intentions-themed soap set. Each soap bag contains hand-mixed and locally sourced ingredients with motivating messages, meanings, and precious gemstones. It's the ideal gift that's functional, fun, and thoughtful.
"I love these soaps! They are definitely worth the wait and shipping! They make my skin so soft and they smell AMAZING to boot! The stones that come in them are awesome as well!" Christina Hopkins raves.
Bali Soap Gift Set $15.95
Textured with natural botanicals, these Bali Soap gifts offer an invigorating exfoliating scrub. Its exotic blend of organic ingredients and creamy lather moisturizes and refreshes the skin. Give one or the whole variety pack for practically any gift exchanges.
"Love these!! They're thick and solid so I feel like I'm going to get a lot of use from one bar. All of the scents smell great - not too strong or very perfume like. Nice rich lather and my skin feel great after. I will be purchasing these again and I prefer these to the other brands I've tried." says Mare Edwards.
Soap Rocks $13
Add elegance to your bathroom décor and handwashing routine with these Soap Rocks. Choose from eleven dazzling colors, scents, and designs that replicate the earth's precious stones such as quartz, azurite malachite, opal, and more! It's a unique soap decoration that's eco-friendly, long-lasting, and fragrant!
"Can't get enough of these. They smell delicious and elevate my bathroom aesthetic. Love!" Alexandra55 states.
Mosaic All Natural Soaps $14.99
These Mosaic All Natural Soaps sport artistic packaging, produce lovely fragrance, and reduce bacteria and gem buildup with their hypoallergenic properties. Leave them in the box or choose which scents you want to keep or give away as small gifts.
"I bought these as stocking stuffers, and everyone was delighted with them. My young adult children were bickering with each other over their favorite scents and trading for them. They're exceptionally well-packaged in colorful and beautiful boxes that the recipients delighted in opening." Elucid Thursday writes.
Natural Soap Bar Gift Set $7.98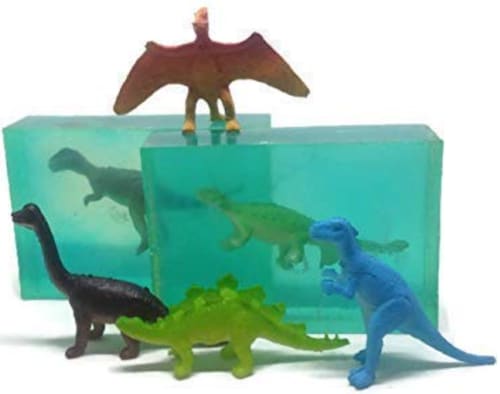 Get children excited for handwashing with this Natural Soap Bar. It contains one of many dinosaur figurines such as T.Rex, Stegosaurus, Brontosaurus, and much more! This gift will help little ones exercise cleanliness and reward themselves with a dinosaur toy.
"I'm a brilliant parent who found a great motivator for thorough hand-washing. Strong scent of apple, which I like." AAu says.
Shop popular and trendy handcrafted soaps from US websites and ship worldwide when you become a MyUS member.
We always aim to bring our members the best shopping options available, but some of the products featured in this post may have purchase restrictions. To find more information, please visit the merchant's terms of sale, shipping guidelines and/or terms and conditions.