Shop UK Stores with Ease Using Your MyUS Membership

All about your access to shop UK stores with your MyUS membership
MyUS members* now also have a MyUS suite located in the UK! This means you can shop UK stores, similarly to how you shop US stores with your MyUS suite.
Your UK address is available for you to use now with your current MyUS membership—at no additional cost! We are always looking for ways to help our members get what they need and want, so we are excited to share this new service with you.
Please Note: To accommodate for differences in export procedures and local laws, you will see some differences between your US and UK suites. Please read on to find answers to common questions about using your UK Address.
How It Works
The process to shop UK stores and ship purchases to your country is very similar to how you already shop US stores with MyUS. Instead of entering your US address at checkout, you will just enter your new UK address!
You can find your UK address in your online account. When you log in, just click the double arrows next to your US address in the top right corner to display your UK address.
Step 1: Shop stores based in the United Kingdom, and use your new UK address at checkout.

Step 2: Our UK warehouse will receive your items and let you know when they arrive in your suite.

Step 3: You manage shipping details and preferences in your online account. Just submit a ship request when you are ready to send your items.
UK Shipping Details
Due to the differences in procedures and regulations, shipping options and preferences for your UK suite may differ from what you're used to seeing in your US suite. We're always working to improve your experience so you may see new features or options added in the future.
Shipping Discounts and Promotions - Shipping discounts and promotional offers apply ONLY to shipments from your US suite. Discounts cannot be applied to shipments using your UK suite at this time.

Package Support Requests - Additional services are not available for packages in your UK suite. This means we are not able to provide extra services for your packages like we do in the US at this time, including, but not limited to, photos, verifying sizing, splitting packages, and providing extra packaging.

Shipping Rates - For UK shipments, the cost of shipping is based on the "dimensional weight" of the shipment, rather than the MyUS TruePrice system we use when shipping from the US. This means that the cost of shipping items from your UK suite is based on the size AND weight of your package. You can estimate your UK shipping costs in your online account, by viewing your Shipping Rate Calculator and selecting "UK Address" under "Where is your package shipping from?"

Duties & Taxes - The UK has different duty and tax requirements than you may be used to when shopping with your US suite. Import duty payments may be required in order for your items to be delivered from the merchant to your UK suite. If any of these duties apply, the amounts will be invoiced through your MyUS account.

Returns - If you buy something and have it delivered to your UK suite, but decide you do not want it, or do not wish to ship it, we can help you return the purchase to the retailer if a prepaid shipping label is provided.
Restricted Items & Item Processing Fees
Due to local laws, the products prohibited and allowed for export differ between your US and UK suites. Some items you are used to sending with your US suite may be restricted, or may have an additional fee applied when shipped from your UK suite. Please review the chart below for items that are commonly restricted or require an additional shipping fee.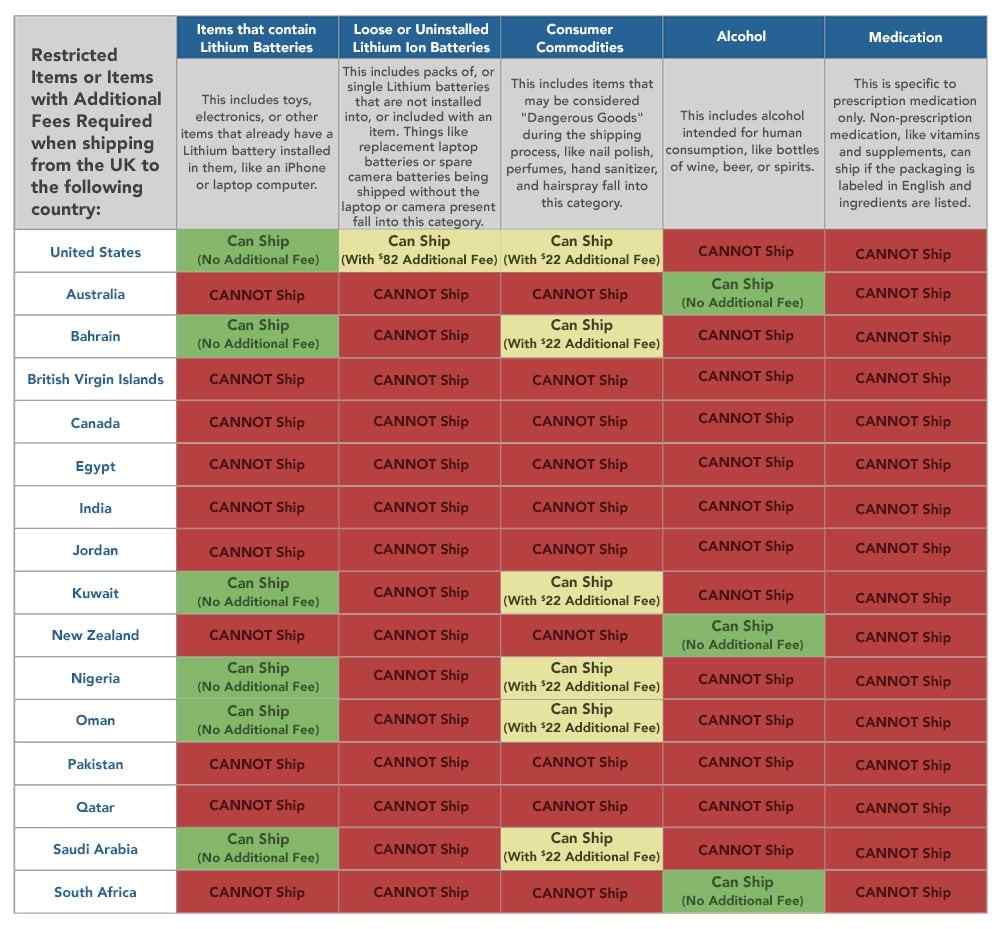 Troubleshooting
Your UK Address - make sure you are entering your UK address correctly when making purchases from the UK. And don't forget - you will still use your USA address when shopping USA retailers. Keep in mind that address styles differ from the US to UK, as shown below: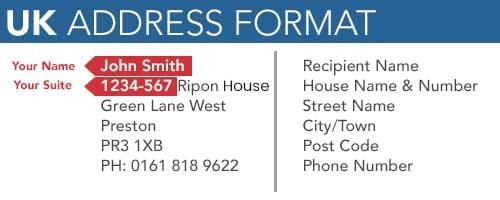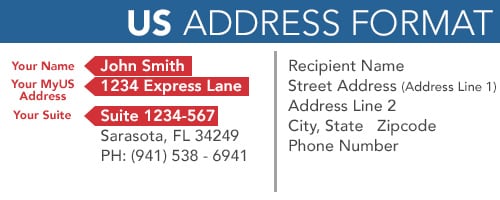 Address Not Found Errors - Because our UK suites are a brand new service, some retailers that use auto populating forms do not yet have the option to select your suite, or they may suggest incorrect alternate addresses. If this happens, disregard the suggested incorrect address, and attempt to use a manual address entry option, or just edit the suggested address. If a retailer requests "County" in the address form, you should enter "Lancashire". If the retailer requests "Country" for the order, enter "United Kingdom".

UK Phone Number - If you are trying to make a purchase, and the retailer requires a UK phone number in order to place the order, please use the phone number provided at the bottom of your UK address in your online account. If the retailer asks, this is a landline number. If you have entered the phone number correctly, but receive an error, you may need to remove the leading zero from the phone number. If the phone number is already preceded with +44, do not include the first zero of the phone number. If there is no +44 listed, then leave the first zero of the phone number in place. Please note: this number is only for use in shipping, and is not monitored for customer service or other inquiries.