Creative Products to Hold Your Phone
Sometimes, it's downright inconvenient to hold your cell phone.
Lucky for us, there are several clever products available that make it easier to do the things we do with our phone, like watch movies, record TikTok videos, or look up and use a new recipe.
Below, we've rounded up our favorites that can all be purchased from US websites and shipped worldwide with MyUS.
OMOTON Desktop Cell Phone Stand $10.99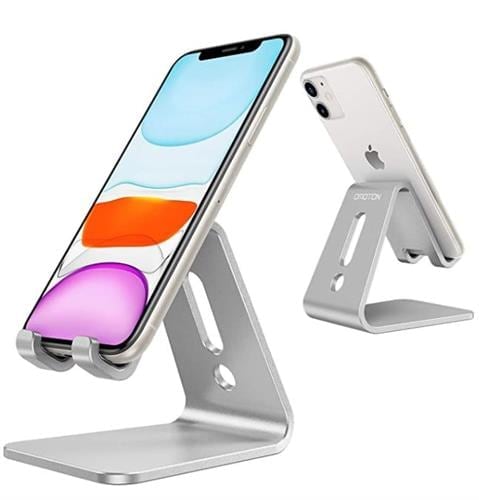 OMOTON's Desktop Cell Phone Stand is a sturdy yet elegant way to hold up your phone on your desk, nightstand, or kitchen countertop. It's compatible with cell phones of any size, e-readers, and even Nintendo Switch consoles with heavy duty cases on!
"Awesome! Bought one for the office and one for the night stand. I use it for my Samsung Galaxy Note 4 (no case) and my T-Mobile LG G Pad X 8.0 (with a rugged case). Holds each perfectly in both portrait and landscape. No issues with vertical clearance for the power cord, and I use braided cords with minimal flex. Completely stable when holding my devices even when I'm tapping or swiping the screen. Excellent product!" says LeRoy "Chester" Reynolds in his five-star review.
GoWith Universal Mobile Phone Stand $18.95
Need something that will hold your phone in even the most awkward of places? Try this Universal Mobile Phone Stand from GoWith. Nicknamed the "lazy bracket", it makes it easy to hold cell phones and tablets using a powerful magnet and rotating gooseneck phone stand. You can strap it around your neck, mount it in your car, tuck it in your mattress—the options are nearly limitless!
"This is a must have product if you use your smart phone or tablet to record your own video for YouTube or Facebook. I bought this item so I can be hand free and record myself while I'm working in order to add to my business portfolio. It's also great to have it around the house if you do video calls or while working and need both hands free." says M in their Amazon review.
Vproof Bluetooth Selfie Stick $13.99
Vproof's Bluetooth Selfie Stick is constructed of durable, aviation-grade aluminum alloy, collapses down to 6.5 inches and expands to 26 inches, and supports 90-180 degree angle adjustment to achieve the best shooting angle for any shot. It also quickly connects to your phone via Bluetooth and is compatible with most phones on the market.
"This is a great item! Incredibly easy to pack for trips. We had trouble with Bluetooth selfie sticks that needed charging, the battery is much more convenient. Handles easily, performs well." says Maj Dianne in her Amazon review.
Fugetek Portable All-In-One Selfie Stick & Tripod $24.99
Be ready to get any shot (whether it's a selfie, landscape, or group photo) and easily vlog or watch movies with Fugetek's Portable All-In-One Selfie Stick & Tripod. Use it as a selfie stick that measures 51 inches fully extended, or turn it into a tripod in seconds by extending the legs. This kit also includes a Bluetooth remote that's compatible with iPhone, Android, and most digital cameras so you can easily get it on the fun.
"I have been using for more than 6 mos now and I love it. So far, this is the best camera/phone accessories that I have. I have no problems taking selfies and even group photos. In addition, one of the best feature of this, it's very sturdy and well-made. It can handle my Motorola moto z2 play + hasselblad camera (in either vertical or horizontal position) without falling and even DSLR! What made it so versatile are the Quick flip locks – for adjusting the height, and the adjustable and removable mount – for easy finding the best angle of the photo. Perfect!" says MarkAaron20 in his online review.
PopSockets The Child Cup PopGrip $14.99
Enjoy a secure grip on your phone with everyone's favorite new Star Wars character, The Child, with The Child Cup PopGrip from PopSockets. It features a swappable PopTop that lets you switch out your PopTop for another design or completely remove it during wireless charging, and sticks to smooth hard plastic cases and glass backed phones.
"If there was an item in existence on the earth that could provide instant happiness, this adorable pop socket is it for me. Not only is it functional, it is ADORABLE." says RGY.JP in their five-star review.
LoveHandle Universal Grip $9.95
Take crisp photos (especially selfies!), shake-free videos and make one-handed phone use a breeze with the LoveHandle Universal Grip. It attaches with a strong but removable no-residue 3M peel-n- stick adhesive and features a patented slim-profile design that makes it pocket-friendly and lets you quickly flip your phone around to the back of your hand so you can use your hands while still holding your phone—genius!
"I am pleasantly surprised that this "lovehandle" works perfect for my needs. It gave me confident to hold and take selfie without dropping my phone. Also avoiding my phone from dropping on my face while checking my phone in bed. It does not give me the "bulky"feeling and there is no hard "ring" to hold. They glued to my phone case like superglue. I do not think it will come off any time soon." says Anne in her online review.
ENSHI Wireless Charging Stand with Bluetooth Speaker $46.99
Need a speaker too? The CENSHI Wireless Charging Stand with Bluetooth Speaker will hold your phone upright and charge it while delivering powerful, crystal clear sound through its built-in speaker. Compatible with iPhones (11, 11 Pro, 11 Pro Max, XS, XS Max, XR, X, 8, 8 Plus) and Samsung Galaxys (S10e, S10+, S10, S9, S9 Plus, Note 10, Note 9), and more.
"Charges fast, bluetooth works perfect and speaker sounds great! Very happy with it!" says Loretta Taylor in her five-star review.
Shop phone stands, tripods, grips and more from US websites and ship worldwide and US sales-tax-free when you become a MyUS member.
We always aim to bring our members the best shopping options available, but some of the products featured in this post may have purchase restrictions. To find more information, please visit the merchant's terms of sale, shipping guidelines and/or terms and conditions.