Guess the Number of Packages and You Could Win!
UPDATE: The contest has been extended until 16 November! The winner will be contacted on 17 November. Get your guesses in today!
At MyUS, we love delivering delight to our members with their favorite products from the USA! This holiday season, we're giving away 1 $500 Amazon eGift Card AND 10 $25 Amazon eGift Cards so you can continue to shop for more of what you love! Enter Here!
Guess how many packages are in this video & WIN!
11 Will Win! How It Works
The person who most closely guesses the number of packages shown in the video above will win a $500 Amazon eGift Card.
Ten other people who submit a guess will be selected at random to win 1 of 10 $25 Amazon eGift Cards.
Guesses must be submitted by Friday 16 November, 2018, 11:59 PM CST.
You can enter your guesses here!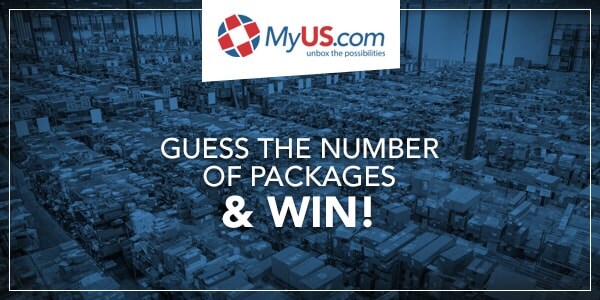 Wondering how to enter? It's simple!
Watch the video above and guess how many packages you think are shown in it.
Submit your guess (one guess per person) for how many packages are shown HERE.
That's it! After submitting your guess you are automatically entered to win.
Contest Details
PRIZES: One US $500 Amazon eGift Card and 10 $25 Amazon eGift Cards
Winner will be notified by 17 November, 2018 via email. MyUS reserves the right the change the winner selection dates and/or methods at its discretion. Only one guess per person will be counted.