Hair Ties That Don't Ruin Your Hair
If you have long hair, at some point you'll want to pull it back. But if you're reaching for an old-school hair tie (or *gasp* a rubber band), you're inviting hair creases and worse—damage and breakage.
Instead, check out the best hair bands on the market for every hair type. Some prevent breakage, others leave hair free of annoying creases, all of them are gentle on hair. Shop your favorites with MyUS and get fast international shipping!
Scunci No-Slip Grip Comfortable All Day Strong Hold Elastics $4.12
Scunci No-Slip Grip Comfortable All Day Strong Hold Elastics keep hair securely in place for hours with no adjusting needed! The secret is their no-slip technology on the inside of the band. These elastics are good for all hair types and come in a pack of 10.
"I specifically scoured amazon looking for these hair ties. I found them a few years ago and had ONE left that I hung onto for dear life. Until I found them here! I have long, thick hair and these keep my ponytails in place without making my scalp feel too tight." says Alyssa Johnson in her Amazon review.
Kenz Laurenz No Crease Hair Ties $8.98
These No Crease Hair Ties from Kenz Laurenz come in a pack of 50 and are bestsellers on Amazon because they make good on their claims and won't leave creases in your hair! Made from a soft and stretchy material that's been hand-dyed and knotted, they're super gentle and can also be worn as bracelets and anklets.
"These are the best thing ever invented for a woman's hair. They do not leave a dent or kink in your hair when you take them out. They do not pull out your hair when you try to take them out. they are soft enough to sleep in and you just wash them in your hand in the sink and hang dry over night and they are ready to go again. The elastic retains its shape and the colors do not fade even after washing numerous times. They are well worth the price." says KD in their five-star review.
L. Erickson Grab & Go Ponytail Holders $10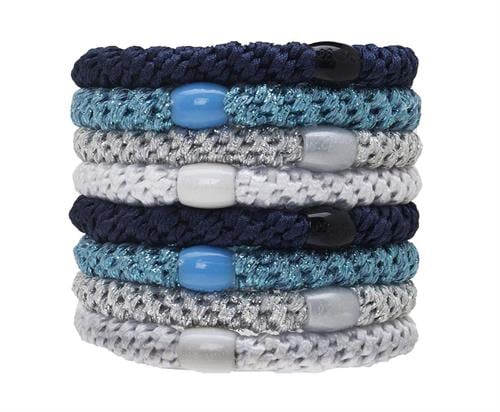 L. Erickson Grab & Go Ponytail Holders are a popular choice for those that like a little color in their hair bands, but still want gentle-yet-excellent hold. And because they're fairly smooth, they won't snag on hair, making them perfect for those with thin, delicate hair.
"By far and away the very best hair tie ever made! I have super long thick hair and I have never made it through an exercise class without fixing my ponytail over and over again... until now." says Tippie Jacks in her Amazon product review.
Invisibobble Rubber Hair Bands $7.81
Invisibobble traceless hair rings may look like retro telephone cords, but if you sleep with your hair up, they're a game-changer. While they may not be the best choice for a 5K run, they're perfect for sleeping and casual wear, because they leave no dents or bumps and won't cause breakage. They can hold hair of any texture, and let's face it, they look kind of cool, right?
"It sounds like hyperbole to say that these hair ties changed my life, but it's true. I sleep with my hair in a messy top knot using these elastics every night. In the morning, I just take my hair down, run a brush through it, and that's it. My hair is done, and more voluminous than ever before. I do have pretty low-maintenance hair in general (long, naturally straight) but I never thought it could be THIS EASY. " says Rachel P. in her glowing review.
Cyndibands Color Match Ponytail Holders $6.10
Super stretchy, soft and comfortable, Color Match Ponytail Holders from Cyndibands are made from no-snag seamless nylon and elastic to be gentle on hair, even when worn for hours. They come in sets of twelve and are available in a variety of colors to blend into your hair or stand out.
"These hair ties are amazing! They aren't so stretchy that you must wrap them again and again but they aren't too loose either. They are perfect! They don't have any metal that will damage your hair and can easily and comfortably be worn around your wrist without cutting off the circulation." says Kalex824 in their product review.
ElasticU Premium Polybands $6.99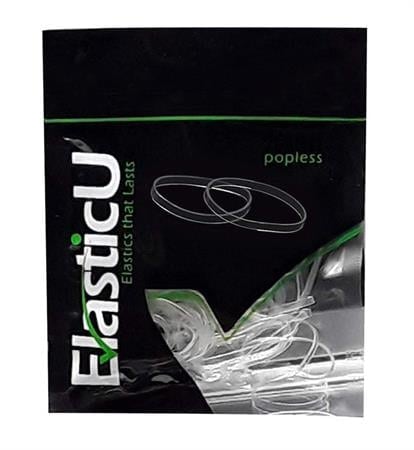 For fine hair, smaller ponytails, buns, or delicate braids, small clear elastics are the best way to go, but they tend to snap when securing your hair. Worry no more with Premium Polybands from ElasticU! Available in a pack of 70, they're "popless", odorless, reusable, durable, and glide out of hair when you're ready to remove them.
"I have thick hair and these elastics are just what I needed. They are strong and have the perfect size to try different hairstyles. I love them." says Roxana C. in her five star review.
Goody Ouchless No Metal Black Hair Elastics $8.17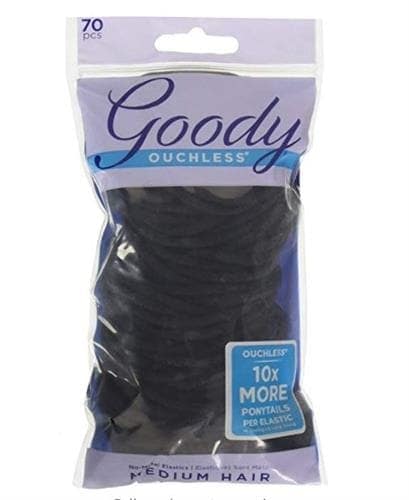 If you lose hair ties just thinking about them, you'll want a budget-friendly choice that comes in an economy size, like these Ouchless No Metal Black Hair Elastics from Goody. They don't pull on the hair shaft, so they're great for every texture, and you get a whopping 70 elastics for just $8.17 - that's almost a dime per elastic!
"These are the best ouchless ponytail holders around!" says Yvy in her five star review.
Swirly Curly Snappee Snap Hair Ties $24.99
If you have super thick or curly hair, you'll love Swirly Curly's Snappee Snap Hair Ties. While they are a bit pricey, they are hand-made of soft, stretchy material and have heavy-duty plastic snaps that make it super easy to remove from your hair. You can also connect multiple ties together to accommodate super thick ponytails or wear them as a headband. And when they stretch out, just throw them in the washing machine and they'll "snap" right back into shape!
"I have a lot of thick, course, natural,(no relaxers, or any type of chemicals), hair. A lot of hairbands that I've used, just weren't big enough, or they would get tangled in my hair, making me to sometimes get frustrated. These Snappees, they work wonders! Of course, one wasn't big enough, so after snapping 2 together, it's perfect! The material it's made of, you don't feel anything in your hair." says Desirer S. Dollar in her glowing review.
Shop bestselling hair ties from US websites today and ship worldwide and US sales tax-free when you become a MyUS member.
We always aim to bring our members the best shopping options available, but some of the products featured in this post may have purchase restrictions. To find more information, please visit the merchant's terms of sale, shipping guidelines and/or terms and conditions.