Shop and Support: World Wildlife Day
Many organizations work tirelessly to conserve vulnerable species and improve their habitat. Celebrate World Wildlife Day and support the protection of over 30,000 endangered and vulnerable species threatened with extinction. World Wildlife Day is celebrated for the ninth time this year and reminds us that a livable world is possible.
The below products are not only cute but also contribute to organizations that work tirelessly on conservation efforts and educate others! You can easily contribute to better wildlife conditions even if the merch is not available in your country—ship it internationally with MyUS!
Long-Sleeve Tiger $60 (donation to WWF)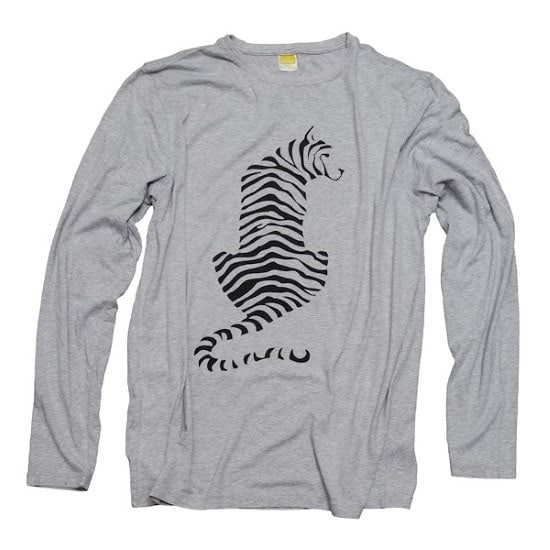 World Wildlife Foundation has a brilliant way of encouraging people to contribute to their conservation efforts around the world. The socially responsible apparel is made of organic material and features graphic wildlife designs. This week we present you the beautiful tiger design tshirt. By buying their merch, you also donate to the WWF projects.
"It will be rewarding to see endangered animals in the future and I will be happy knowing that I donated to a worthy cause to help save them," comments Vivian from Colorado.
LOVE Candle Koala Recovery $38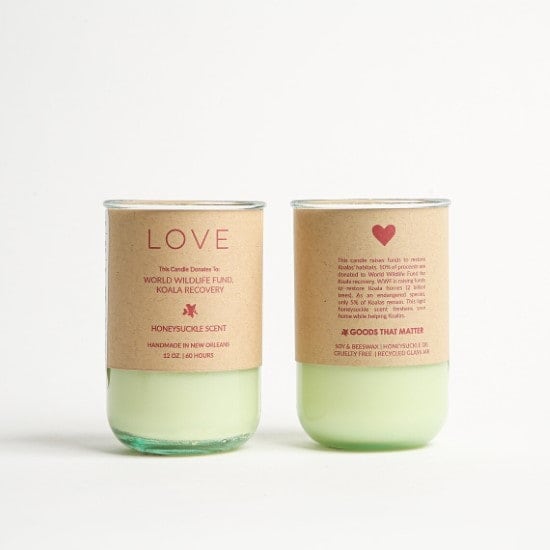 Another fundraiser for the World Wildlife Fund, this scented honeysuckle candle does its best for restoring Koalas' homes. With 60-hour burn time, the candle's poured into recycled glass jars and a blend of local beeswax. Its label is made of 100% recycled paper and designed to be easily removed so that you can reuse the glass jars over and over again.
"Great candle and well packaged! Thank you!" exclaims Kyle.
World Globe with Wildlife Animals of The World $14.99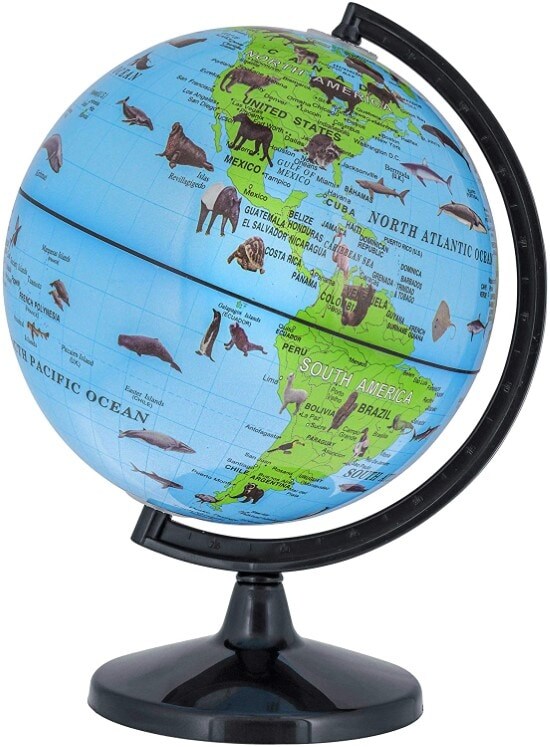 Globes are a fantastic resource to understand how our world revolves. With this world globe featuring wildlife animals from all across the world, you can introduce your children, students, or yourself to the exploration of the worlds' geography. The globe includes up-to-date Earth cartography, including brilliant blue oceans, multicolored landmasses, and international animal and fauna areas.
"This is such a nice little globe. I teach preschool and the kids love seeing where the different animals live all over the world," says Mary Mackowiak.
Protect the Animals Mugs $40
This series of unique custom mugs help give endangered animals a fighting chance. Each mug is hand-carved with fantastic detail and texture. For every mug sold, they donate $5 to Re:wild. Surprise your friends and family with their favorite animal and sip your coffee with delight.
JAG states, "After eyeing these mugs for a long time, I finally decided to buy one, then another, then another! I have the macaw, elephant, and rhino. I love these mugs! The colors are wonderful, the 3D is unique, they look great hanging on the mug rack on the counter, and I use them every day for coffee in the morning and tea in the afternoon. Great size and I love that they go into the dishwasher. I plan to buy the other mugs in this series soon!"
LEGO City Wildlife Rescue Camp Building Kit $99.95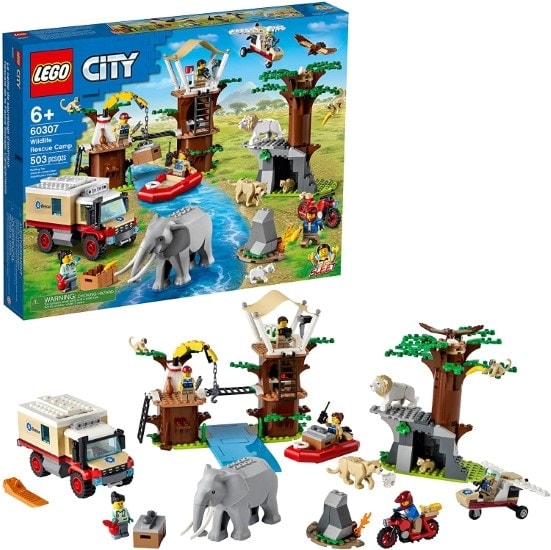 The LEGO City Animals Rescue Camp is yet another great approach to introduce young children to the world of wildlife. A toy treehouse camp, mobile research lab, motorbike, ultralight, and floating dinghy, as well as wildlife animal mini-figures, are included in this building kit.
This building kit is jam-packed with fascinating features and functions for exciting nature stories and role play with inspiring animals and characters, and it makes a wonderful birthday present.
"I bought this set for my autistic grandson that loves to hold little toys in his hands. I had a blast building the structures with him and he has been having a fun time filling the crates and putting the fire out (you will know what this is once you get to that build), flying the plane, and has taken the research car all over the house (have hardwood floors). Easy to assemble and hours of fun. I much recommend," reviews Erika Sumano.
Sea Turtle Legend Bracelet $29.99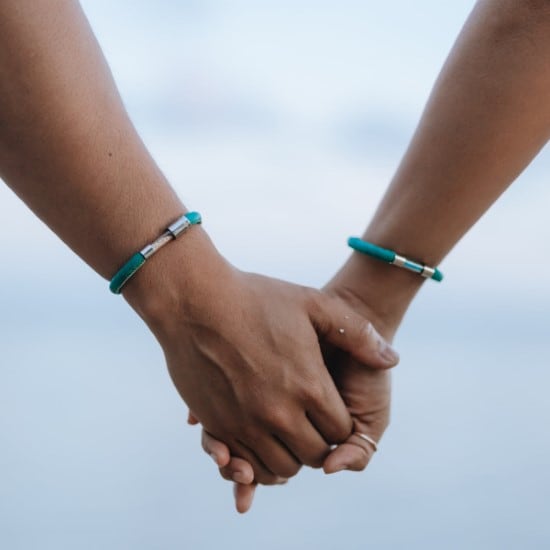 This Sea Turtle Legend Bracelet is a pretty big deal when it comes to brands donating to thoughtful causes. They partner with the Olive Ridley Project to help remove plastic ghost nets from the ocean and save injured sea turtles. Their idea is simple and meaningful: the bracelet comes with two capsules; one capsule is filled with a plastic fishing net removed from the Indian Ocean. The other capsule is empty so that you can fill it with something dear to you. It's completely crafted from eco-friendly material and each bracelet is uniquely handcrafted.
"Last year my son and I got Legend bracelets and we love them so much that we are gifting them to everyone this year for Christmas! They are super comfortable, cute, and reminders of great times we've had. Makes me smile every time I see it on my wrist," comments Nicole C., in their five-star review.
Shark Tracking Bracelet $24.99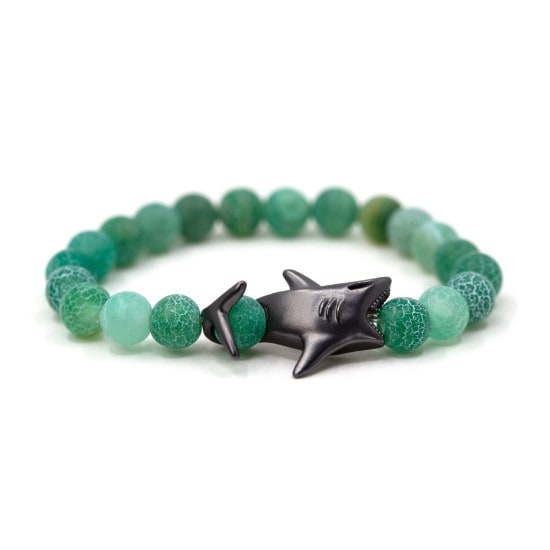 Another wonderful bracelet idea that offers you access to your own shark tracking page. That means that you'll get your personal information of a shark, GPS tagged by marine biologists to monitor their migratory patterns. With every bought Shark bracelet, you help support shark and sea turtle research programs.
"Was so excited to order and get this bracelet - it's fantastic!!! The bracelet itself is amazing but even more amazing is the information that I received on the shark I can track. I ordered one for my son also and we track our sharks together. We love watching them move around from place to place. Highly recommend!!" comments Stacy M.
DivinityLA Sticker Pack $3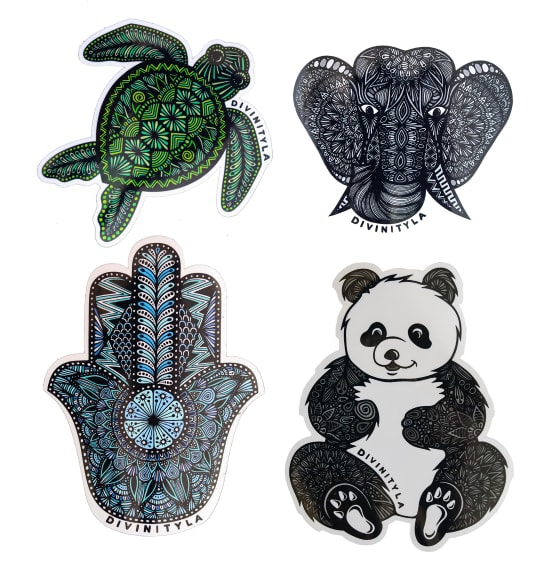 A group of Los Angeles artisans at DivinityLA create meaningful, handmade products from raw supplies with exceptional quality. Besides their cute bracelets, their themed sticker pack comes with designs that you can put on your water bottle, laptop, phone case, or anywhere you want! They donate a portion of each sale to Pandas International, Australian Koala Foundation, International Elephant Foundation, Water.org, and many other charities.
"I love the stickers. Very pretty colors and very big in size," remarks Leah M.
Shop and ship these beautifully crafted products all to pass great value to the next generations. With MyUS, get one step closer to saving the planet and making it an equally beautiful place for all living species.
We always aim to bring our members the best shopping options available, but some of the products featured in this post may have purchase restrictions. To find more information, please visit the merchant's terms of sale, shipping guidelines and/or terms and conditions.