Sizzling Summer Style: Seven Stylish Sundresses to Rock Your Wardrobe
As the sun starts to shine brighter and the temperature rises, it's time to embrace the season with some fabulous summer dresses! Sundresses are the perfect way to stay stylish, comfortable, and cool during these hot summer days.
For some, summer is the perfect season for all-day shenanigans, while others can't stand the heat and prefer to stay in the shade until the sun goes down. So, we put this together with both types of people in mind, and whether you're strolling along the beach, attending a garden party, or simply lounging in your backyard, these 7 handpicked sundresses available through MyUS Shopping will have you looking and feeling amazing.
"Floral Delight" - PRETTYGARDEN Women's V-Neck Floral Sundress, $42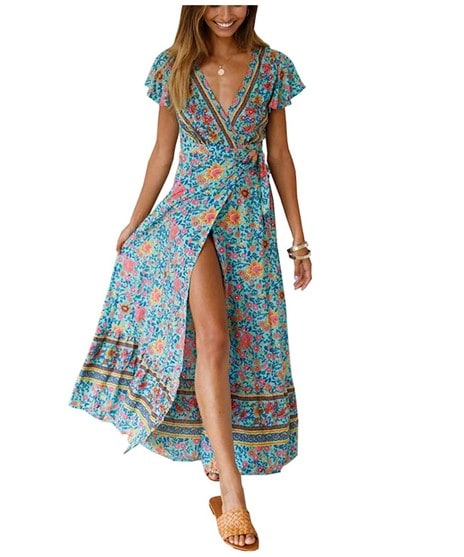 This colorful boho sundress features a vibrant floral print that screams summer. Its flowing A-line silhouette flatters any body shape, while the v-neckline and side split add a touch of femininity. Whether you're attending a picnic or a casual brunch, this dress is the epitome of fun and flirty summer style.
Customer Review: "I really like the way this dress fits, but it does show a lot of cleavage. Also when you walk the dress opens if you don't pin it or hold it, so you have to be careful of that. Otherwise, true to size, photographs well and flattering for a curvy build." – Amanda
"Tropical Paradise" - Milumia Women's Button-Up Flowy Maxi Dress, $44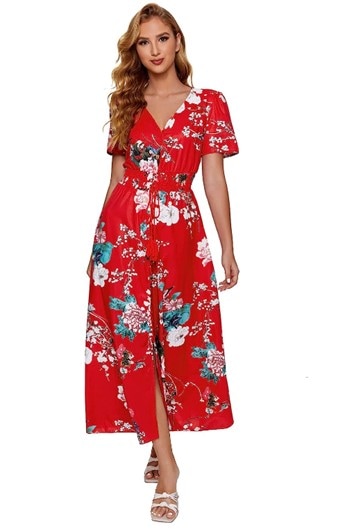 Escape to a tropical paradise with this stunning floral maxi dress by Milumia.
Its vibrant red color will make you stand out instantly, and its breezy fabric creates a sense of vacation wherever you go. The button-up front and high slit give it a playful edge, making it ideal for beach parties, sunset cocktails, or a romantic dinner by the sea.
Customer Review: "This dress is adorable! Very flattering and fits true to size. I am larger chested so I did sew the button area as they are fastened with elastic and it stretched across my chest. Simple fix with a stitch. I'd buy them all!" – Leanne
"Effortlessly Chic" - ZESICA Women's Bohemian Short Summer Dress, $41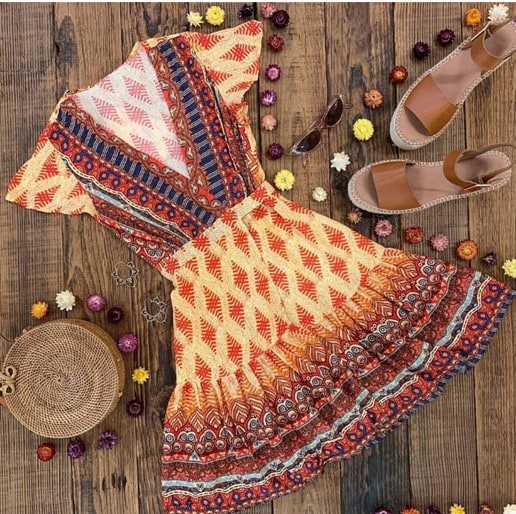 Embrace your inner boho goddess with this chic, short summer dress with a bohemian-inspired design combined with a flattering waistline. It makes it a versatile choice for both casual and semi-formal occasions, so you can wear it anywhere and look effortlessly chic.
Feel the breeze on your skin and channel those carefree summer vibes as you make heads turn wherever you go.
Customer Review: "This is not one of those bad buys where the picture bears absolutely no resemblance to what you get delivered. THIS dress was exactly as pictured, after a quick iron, it looked great. I would order a size up, though." – Cara R.
"Timeless Elegance" - Oten Women's Classic Ruffle Sleeve Wrap Dress, $41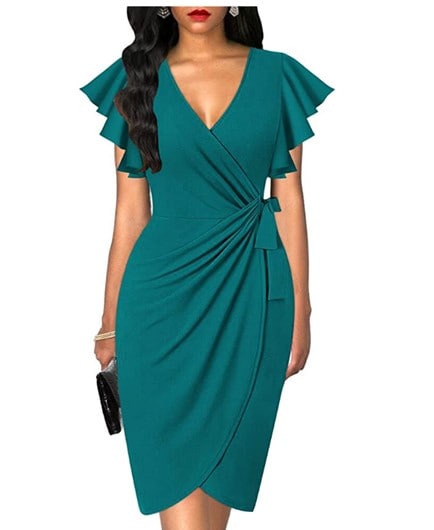 For a touch of timeless elegance, look no further than this classic wrap dress. With its figure-flattering silhouette and cap sleeves, it exudes sophistication and femininity that makes it just perfect for garden parties, brunches, a summer wedding or christening, etc. This dress is guaranteed to make you feel confident and like a true style icon.
Customer Review: "This fabric has some volume and is lined! Meaning the structure of the dress holds up much better! Fantastic find, I will be following this company for sure! It hugs the curves in all the right places. Absolutely stunning.... This will stop a room." – Keriann Y.
"Playful Polka Dots" - TWGONE Women's V-Neck Vintage Party Cocktail Dress, $24
Polka dots are a forever-favorite print, and this vintage cocktail dress takes it to a whole new level of charm. The V-neckline and flared skirt add a flirty touch, while the waist tie cinches your waist for a flattering fit. Wear it to summer parties, date nights, or whenever you want to feel playful and fabulous like a 1950s movie star!
Customer Review: "Received lots of compliments with the finished look. Photo is straight out the package. Very lightweight, a bit see through - wear a slip. Held up well when caught in a slight drizzle. 5"9, 160 lbs, 34 38 41" – Lela Lu
"Beachside Beauty" - Angashion Women's Boho Button-Up Midi Dress, $30
Okay, we love boho style, isn't it obvious? But just look at this boho-inspired midi dress! It is perfect for lazy days by the beach. Its lightweight fabric, button-up front, and adjustable straps make it a comfortable and versatile option, and our favorite navy-striped model (with pockets!) is simply the IT summer dress for 2023. Slip it on over your swimsuit or dress it up with some accessories for a seaside dinner. Let your inner beach babe shine!
Customer Review: "Love this dress. It's soft and comfy. And even with spaghetti straps, the bodice is still modest. I did go with medium while I am in between small or medium on midi dresses." – Mary O.
"Effervescent Elegance" - Romwe Women's Ruffle Off-Shoulder Summer Dress, $45
Feeling a bit seductive this summer? Then step into the world of effortless elegance and subtle seduction with this ruffle off-shoulder summer dress. The delicate ruffles, combined with a flowy silhouette, create a dreamy and ethereal look, while the off-shoulders give it just the right amount of sultriness. So, whether you're attending a garden soirée or a summer cocktail party, this dress will make you feel like the belle of the ball. And to be frank, we can totally see a modern bride in it!
Customer Review: "If you're wondering if you should get this dress, DO IT. I need one in every colour. It arrived and I didn't take it off after trying it on for about 2 hours." – Amazon Customer
Obviously, summer is the perfect time to show off your impeccable style and have some fashion fun. With our 7 stylish sundress suggestions, you'll be ready to conquer the season with confidence and panache.
So, why wait? Start your summer shopping now through MyUS Shopping and let your wardrobe bloom with fabulous summer dresses that make you feel amazing wherever you go.
We always aim to bring our members the best shopping options available, but some of the products featured in this post may have purchase restrictions. To find more information, please visit the merchant's terms of sale, shipping guidelines and/or terms and conditions.