The Best Baby Bibs to Buy in 2022
Sure, babies are adorable and fun, and your days will never be boring with one around, but can we talk about the mess for a minute? Changing clothes and diapers every few hours is definitely not fun. But it's worth it and life can get a little easier if we use quality and absorbent bibs for when they're teething and drooling or trying new foods.
As a MyUS member, you have access to all these great options below—plus even more from your favorite US baby retailers! Ship a new bib to you (or your new mom friends around the world) using fast, reliable international shipping by MyUS.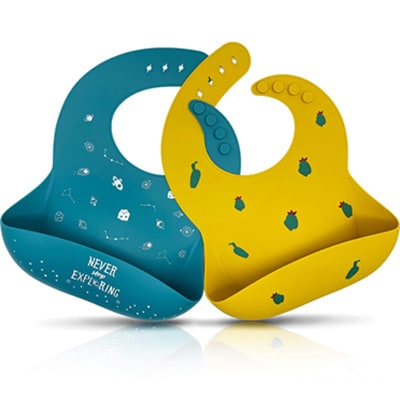 Silicone baby bibs are every new parent's savior for so many reasons. They're waterproof and very easy to wash, usually have pockets that catch falling food, are easy to put on and adjust, and they're very durable! We know that some bibs become useless after a few washes, but not the Moonkie Silicone Baby Bibs! On top of that, their color options are vibrant and adorable, and practically a steal for the price.
"I've tried several brands of silicone bibs on my twins, and these are some of my favorites - they are strong and thick and sturdy and have reinforced holes in the strap. They are indistinguishable from my mushie bibs at a much lower price," comments Jenny P.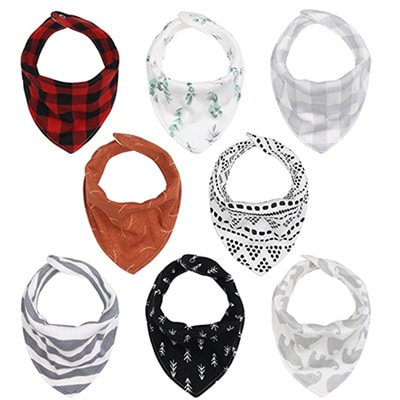 Your baby will look adorable with a bandana bib around their neck, and that's a fact! The Peanutshell Bandana Drool Bibs were designed to make drooling look cool and nobody will ever notice any stains thanks to their super soft and absorbent cotton material. These are unisex, come in a pack of 8, and have adjustable metal snaps to keep them in place.
"We use this for the drool now that we are starting to teethe. I love how soft they are and adorable on," writes Elizabeth Roeser.
If your baby or toddler is very active, then a pull-over bib can save the day! This pack of 3 Pull-Over Stay-Dry Bibs from Green Sprouts will cover your youngling's back and front, so they can play, eat, and even finger paint at the same time without making a mess on their clothes. Plus, they are super soft and dry fast
"I love this bib as my baby won't be able to rip it off unlike the ones with buttons. Plus you know there's no harmful dyes or materials that went into making these. Worth the purchase! Would recommend this :)" claims an iHerbCostumer.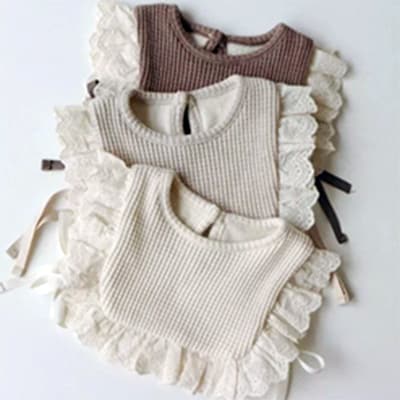 This is a unique and delicate baby bib for the little princesses (and princes!) out there, as it doesn't only act like a regular bib, but it's also a great accessory to any outfit. The neutral colors, soft cotton blend, and lace details make the Charlotte Bib look rich and sophisticated. The bib is available in 3 colors: Chocolate, Blonde, and Coffee.
"I asked seller how long my granddaughter could wear it and she said her 1 year old still wears it comfortably. It is good as a bib but really pretty as a added decoration to a plain dress or outfit," shares suegauxt2.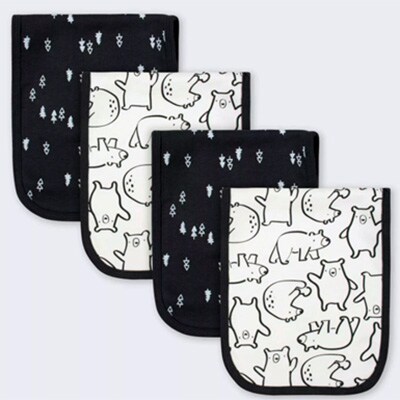 Black and white are good color options that go well with everything and that's why we recommend the cute set of 4 Bear Interlock and Terry Burp Cloths with a teddy bear and miniature firs prints. The fabric is machine-washable and easy to clean.
"Cute & love the design can't wait for my baby boy to get here to use these," says Beckuh.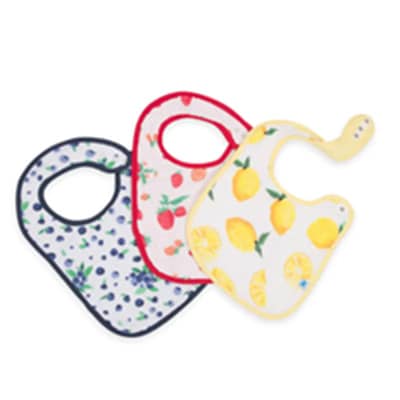 If you prefer to keep it traditional and classic, we definitely recommend the 3-Pack Classic Cotton Muslin Bibs from Little Unicorn. They are your usual 100% cotton-muslin blend bibs that come in a variety of different colors and patterns. Best of all? Just pop them into the washing machine, tumble dry them, and you're ready for more adventures.
"Extremely soft and even prettier in person than in the picture. Absolutely love and will definitely order more!" recommends Meghan B.
This will make a great gift for new parents with a sense of humor. The plain white, double-layered Funny Personalized Baby Bib is made from 100% cotton, which means it's your usual bib but with a funny twist.
"Excellent purchase. Delivered very quickly. The fabric is soft and comfortable for kids. Very impressed. Would highly recommend," reads lisamcinnesx's review.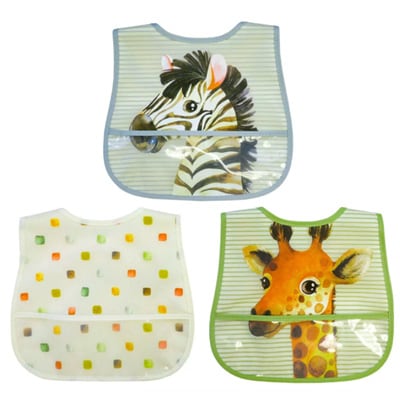 Get your animal-loving baby or toddler this adorable set and they will not want to leave the house without their new favorite bib. The Neutral Safari Neat Solutions Baby and Toddler Bib Set is great for both boys and girls because of its soft, neutral colors. The bibs have Velcro snaps, water-resistant top layers, and crumb catchers in front, so eating (and cleaning up after) will be much easier.
"These are easy to wash and dry and lay flat on my little ones' chest so the high chair tray still fits. Would buy again," reads the review by Mls618.
We hope these bibs help you push through the most challenging months of parenthood. Check out all the options and stock up using your MyUS membership!