Gift Guide for Easter
Easter is a special time of year for many people worldwide, and many thoughtful gifts can be given to friends and family members to help them celebrate this important occasion. It is a time to gather and learn of the original story of Easter, celebrate with friends and family, eat delicious food, and participate in Easter egg hunts for cool toys and prizes. Whatever your Easter tradition, we're here to help you enhance your celebrations.
MyUS is ready to help you spread joy with gifts that are for the whole family but also respectful of the customs and traditions of Easter. Follow our gift guide to find the best items you can utilize as the perfect gift for Easter.
Easter-Themed Candy
You can never go wrong with delicious chocolate and other sweet Easter-themed candy. It's time to bust out the chocolate eggs or sweet-shaped Easter bunnies. Easter candy can make for a classic gift that everyone will enjoy.
Twizzlers, Cherry Flavored Bunnies, $2.50
Enjoy these cherry-flavored bunny-shaped Twizzlers treats during your Easter celebrations. You can enjoy these bite-sized candies straight out of the bag or pour them into any covered Easter candy dish to maintain your Easter theme. This low-fat, kosher treat can add a hop of sweetness to your holiday celebrations, whether you eat them one by one or by the handful.
Shop For More Easter Candy From Walmart With MyUS
Tony's Chocolonely Chocolate Eggs Carton 12 Piece, $6.99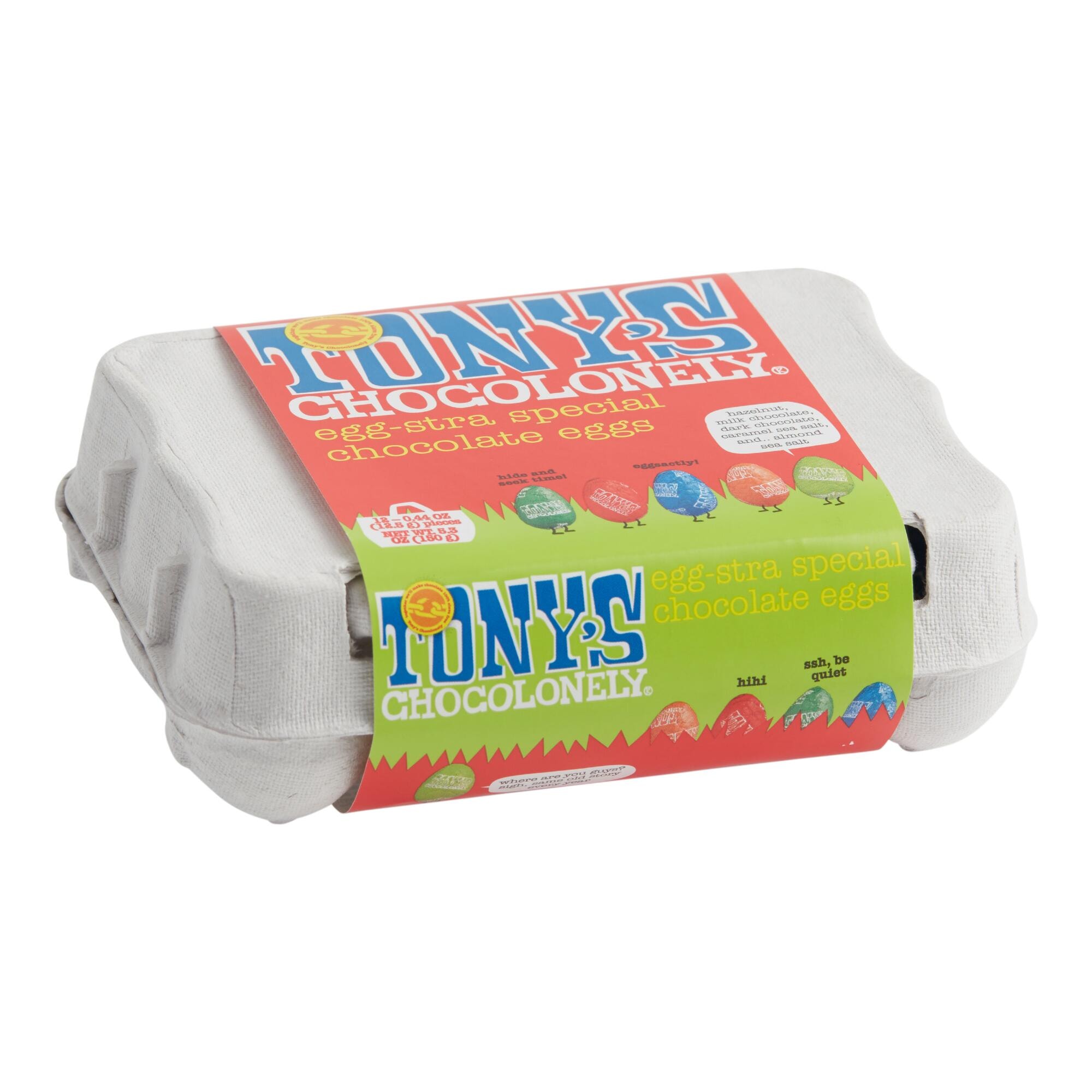 The kids don't have to go hunting for these delicious chocolate eggs. Tony's Chocolonely eggs consist of mini milk and dark chocolate eggs mixed with scrumptious additions like crunchy caramel bits, pecans, almonds, and coconuts, wrapped in festive foil and packaged in this adorable carton.
Shop For More Easter Candy From World Market With MyUS
Personalized Easter Basket Items
Personalized gifts like custom-made jewelry or Easter baskets are a great way to make someone feel special. You can personalize anything from a mug to a t-shirt to a stuffed animal, blanket, or brightly colored Easter basket.
Peter Rabbit Easter Basket Liner and Basket, $62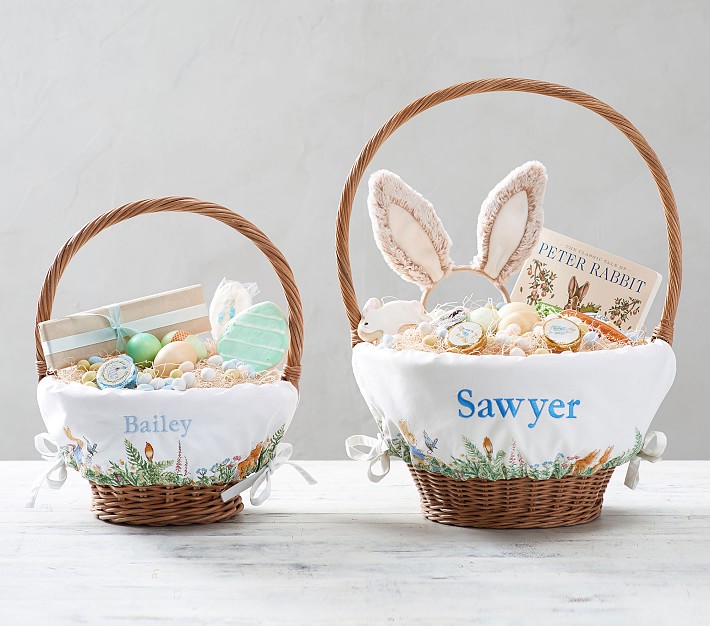 Make a special Easter basket for the little one in your life with this adorable Easter basket liner. With soft lines and colors true to the original artwork of Peter Rabbit, this sweet Easter basket portrays your favorite characters frolicking through a garden. Have your child's name embroidered above the sweet storybook scene to create a keepsake your family will enjoy for years.
Shop For More Easter Baskets From Pottery Barn Kids With MyUS
Colorful Easter Pattern Personalized Easter Basket, $31.49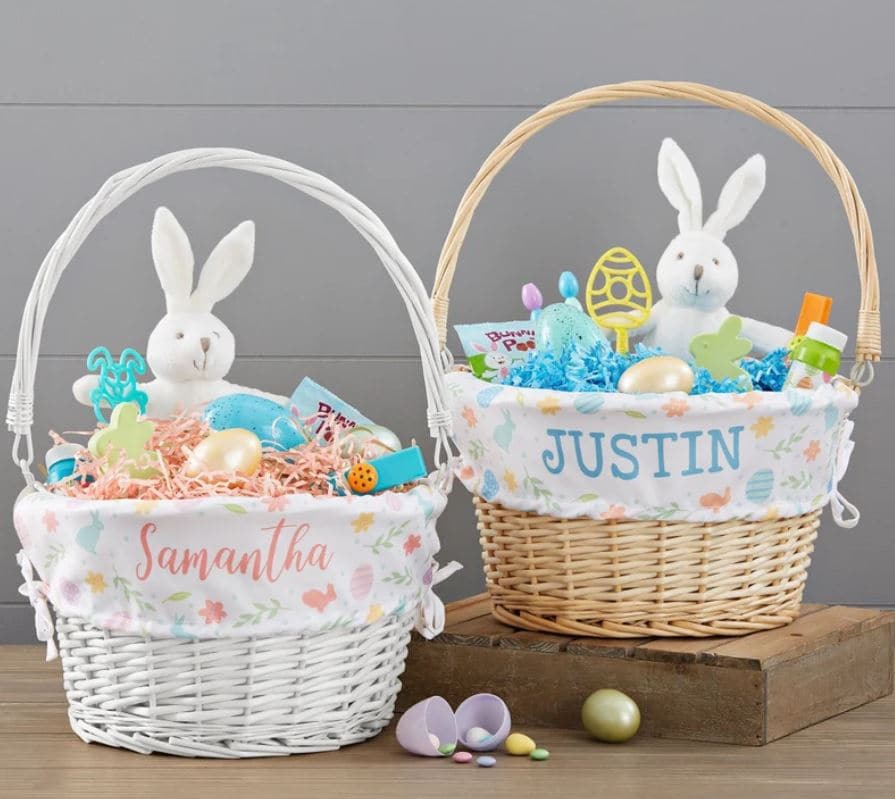 Customize the perfect colorful basket that can fit all the best Easter goodies. The basket liner features a playful bunny character and egg icon design, making it the perfect choice for any child. Choose from two main designs: a pink design with a script font or a blue design with a bold font. Just add your child's name, and you'll have a great Easter keepsake.
Shop For More Personalized Easter Baskets From Esty With MyUS
Faux Flowers
Spring flowers are a great way to celebrate Easter. You can choose beautifully crafted faux flowers from tulips, daffodils, hyacinths, or any other colorful flower. Remember, we cannot send live plants, so faux flowers make for a long-lasting flower alternative that can be reused past the Easter season.
Peach & Yellow Tulip Bush by AshlandⓇ, $1.99
Make your own Easter bouquet with these beautiful faux tulips. These flowers also come in various colors to have endless combinations. Create a beautiful centerpiece with these brightly colored faux flowers to bring springtime to your home.
Shop For More Faux Flowers From Michaels With MyUS
Hydrangea and Mix Floral Arrangement in Pot, $138.99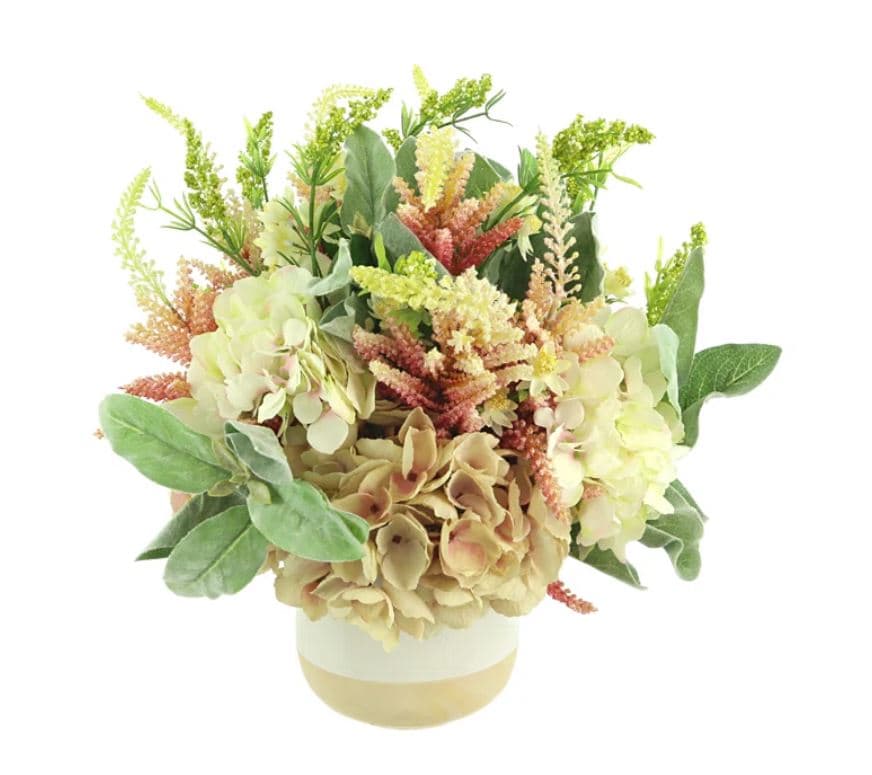 Add a touch of elegance to your Easter decor with this hydrangea floral arrangement. These artificial faux flowers display like a lifeline floral arrangement on any table or shelf to accent the decor in your home. No watering or maintenance is needed, so your floral arrangement will look lovely for years.
Shop For More Faux Flowers From Wayfair With MyUS
Easter-Themed Baking Supplies
If you have a friend or family member who is an amateur pastry chef, provide them with various Easter-themed baking supplies like cookie cutters, cupcake liners, or a cake pan in the shape of an Easter bunny or egg.
STIR Easter Silicone Egg Lollipop Mold, $4.49
Instead of purchasing candy, make Easter-themed candy from the comfort of your home. With this adorable egg-shaped lollipop mold, you can make delicious lollipops or cake pops for your Easter Party. Purchase this for yourself or for that creative baker in your life.
Shop For More Easter Baking Supplies From Joann's With MyUS
Easter Egg & Bunny Silicone Chocolate Mold. $1.79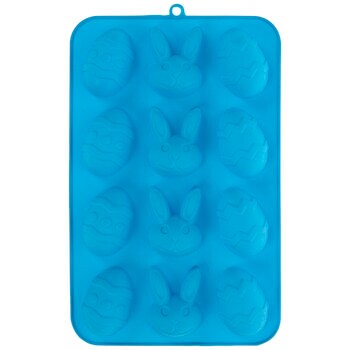 Make more than just colored eggs with this wonderful Easter-themed chocolate mold. Make sweet treats from the comfort of your home in the shape of adorable bunnies and decorated eggs. This silicone mold is safe for use in the microwave, oven, refrigerator, and freezer. Use it to make chocolate, ice, candy, and more!
Shop For More Easter Baking Supplies From Hobby Lobby With MyUS
Easter Crafting Supplies
If you know someone who enjoys crafting, consider giving it to them to create adorable Easter items. Leave it up to their imagination and provide them with various Easter-themed crafting supplies like egg decorating gifts, a DIY wreath kit, or items to help them create their bunny ears. Whatever they want to create for a holiday, help them with high-quality crafting supplies.
Easter Bunny Decor Kit, $13.13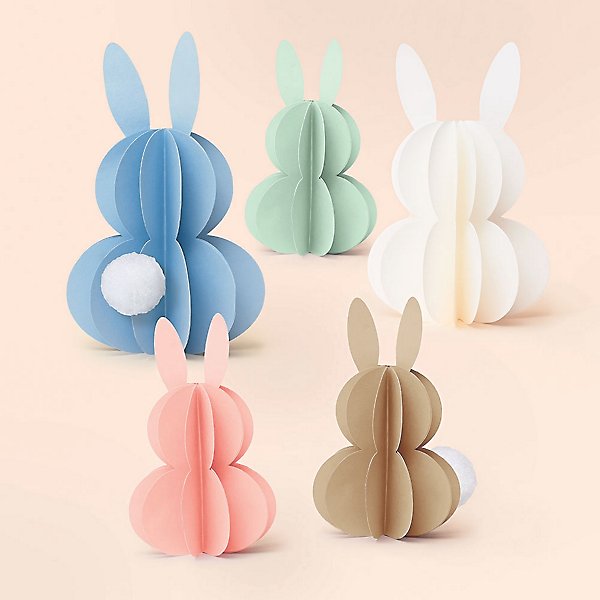 Get crafty and create your own Easter decorations with this adorable bunny decor kit. These pastel and spring-colored paper bunnies are pre-cut for easy assembly. All you need are glue sticks, double-stick tape, and scissors.
Shop For More Easter Craft Kits With MyUS
Confetti Egg Crayons, $9.74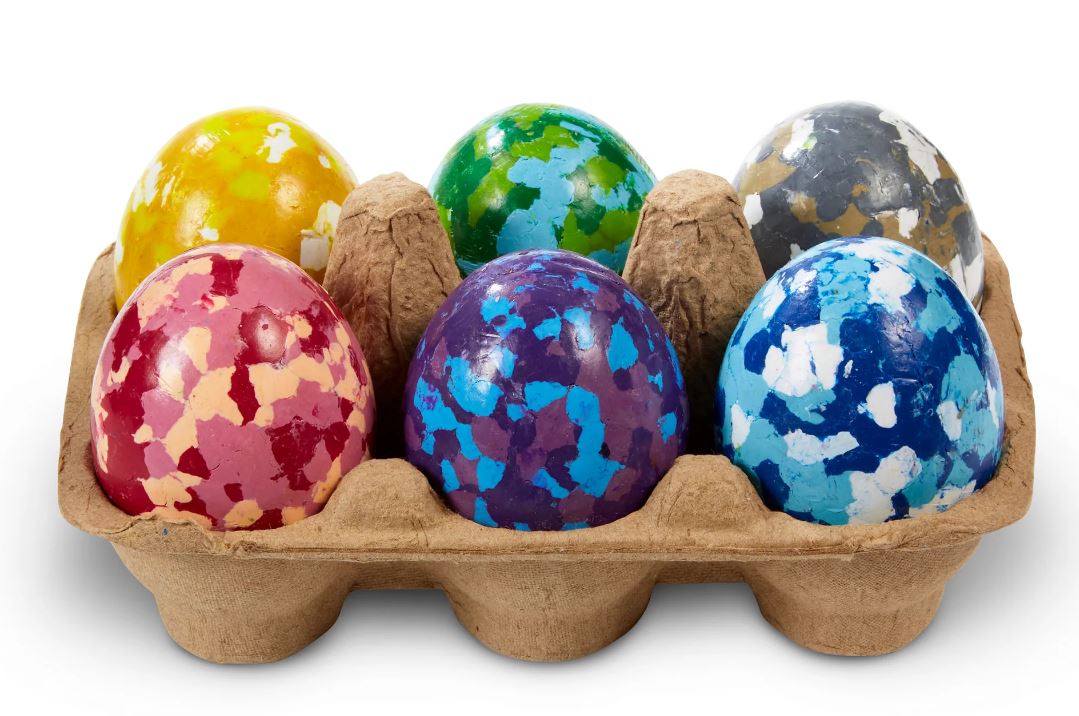 This set of six confetti egg crayons feels great in the hand and glides effortlessly across paper. This is the perfect Easter-themed crayon set that can put anyone in the mood to craft bunnies, baby chicks, and other holiday drawings. These unique crayons feature playful color combinations that will blend into an array of tones as you color. They're perfect for little hands developing motor skills and fun for anyone ages 3 and up.
Shop For More Easter Craft Kits from Kid Made Modern With MyUS
Easter Clothes
Pastel colors work well during this spring-season holiday. You can find Easter-themed clothing for kids and adults from your favorite US retailers. From cute bunny t-shirts and pastel-colored dresses, you can create a whole new springtime wardrobe with these popular retailers.
Easter Outfits From Macy's, From $29+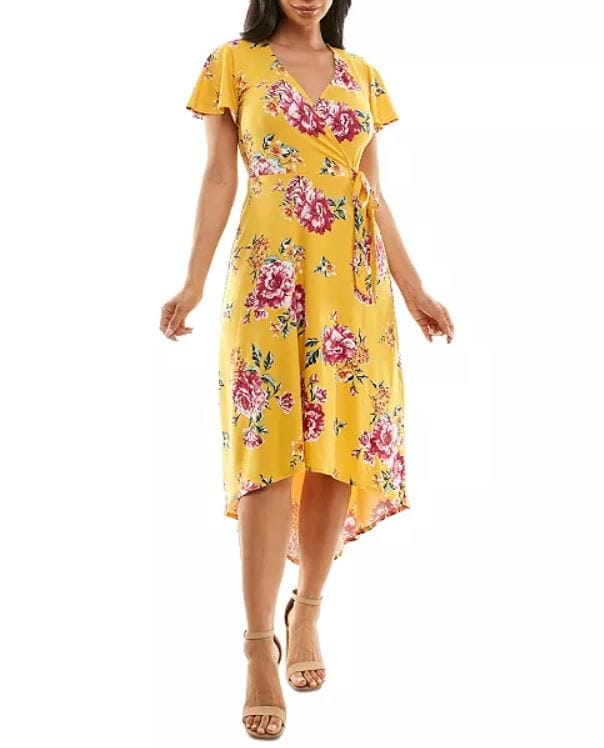 Brighten up your wardrobe with a variety of cute and stylish outfits from Macy's. From dresses to blazer-pants combinations, these outfits are made for the Spring season. If you love pastels, florals, and all things Easter or Spring themed, these outfits are made for you, your teenagers, and your little ones
Shop For More Easter & Springtime Outfits from Macy's with MyUS
Easter Outfits From Old Navy, From $14.99+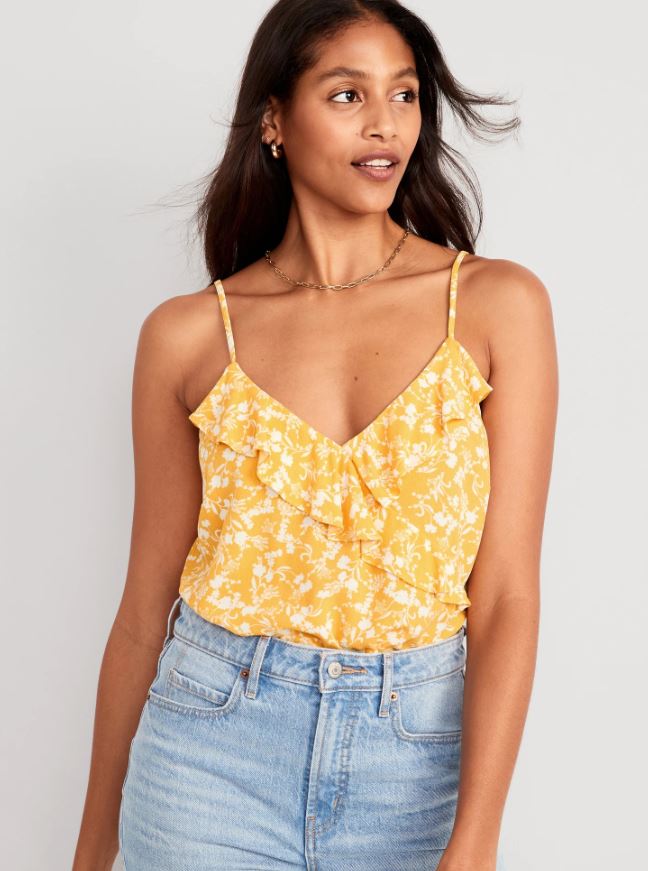 Bring the Old Navy style to the whole family with these fabulous Spring and Easter outfits. Check out the stylish shoes, beautiful dresses, shirts, and more! Take advantage of ongoing sales, and save up to 50% off pants, dresses, and shirts today!
Easter Toys & Games
Easter is a time to spend with family and friends, and bringing out toys and board games is a fun way to pass the time. You can gift an Easter-themed game, a classic board game, or adorable stuffed animals any child or adult can love.
Floral Pawlette™ Easter Gift Set, $39.60
Gift your little one with a cute Springtime bunny that will make any Easter basket shine brighter. This classic plush bunny even comes with its own personalized outfits, scents, sounds, and accessories.
Shop For More Easter Stuffed Animals From Build-A-Bear With MyUS
Stitch Plush Easter Bunny, $29.99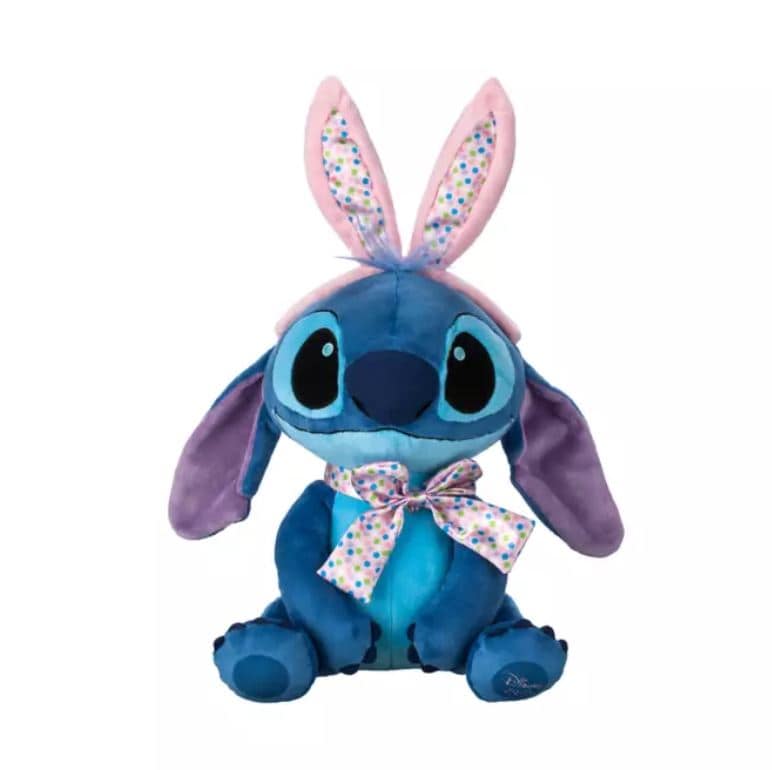 Gift your little one with a furry intergalactic friend who is ready for Easter. This soft-stuffed Stick is costumed with a pair of adorable furry bunny ears and a satin bow tie to blend in with the Springtime festivities. Make the most of special family moments during this holiday with this adorable space alien.
Shop For More Easter Toys From Disney With MyUS
Find the Perfect Easter Gift with MyUS
There are hundreds of stores in the US that may have the perfect gift for Easter. By signing up for a MyUS address, you can buy gifts from almost any US and UK retailer and send them directly to your doorstep worldwide. It's an easy process and will have you shopping within minutes!
How Does MyUS Work?
Our easy online registration will help you select and choose the best membership option to help you get the products and brands you love from the US. In addition, over 7.7 million members trust MyUS with their international shipping needs - especially during the holiday season!
We always aim to bring our members the best shopping options available, but some of the products featured in this post may have purchase restrictions. Please visit the merchant's terms of sale, shipping guidelines, and terms and conditions to find more information.