How to Ship Amazon Internationally in 3 Easy Steps
We'll show you how to get international shipping from Amazon. When you sign up for MyUS, you'll gain access to easily shop across one of the most popular retail stores in the US.
After following these quick steps below, you'll be able to ship from Amazon to Australia, Canada, the UK, India, Germany, Brazil, Singapore, Japan, Israel, South Korea, or any other country!*
"Amazon doesn't ship to my country."
Have you seen an item on the Amazon US or Amazon UK marketplaces and learned Amazon doesn't ship to your home country? We understand that frustration, and we're here to fix it. Thanks to MyUS, you no longer have to ask, "Does Amazon ship internationally to my country?"
Even though Amazon US or Amazon UK doesn't ship directly to all countries, MyUS has helped millions of online shoppers buy from Amazon by providing MyUS members with a US sales tax-free US shipping address (and a UK address). Ship your Amazon purchases to MyUS, or items from thousands of other stores, and we reship to you anywhere in the world!* A MyUS ship forwarding address is your access to shop from top US and UK stores.
"Amazon does ship to my country, but it's really expensive."
Amazon may ship to your country, but at a marked-up price. In addition to MyUS being an accessibility option for when Amazon doesn't ship to your home country, MyUS is also a cost-saving option for reshipping your Amazon items at a lower total cost than the prices offered by Amazon. Accessibility to shopping Amazon internationally while saving money is at your fingertips with a MyUS shipping and forwarding address.
---
MyUS Membership Types
Single Package | Free Membership | Ship One Package From One Store
If you ship less frequently, a free Single Package membership might be what you're looking for. The free Single Package membership still gives you both US & UK shipping addresses while giving you the flexibility to only ship when you really need to!
Single Package Benefits:
US and UK shipping addresses
US sales TAX-FREE shopping: Your MyUS address is sales tax-free. Automatically save 7% every time you shop!
Exclusive shipping discounts



Premium Membership

| Free 30 Day Trial | Ship Multiple Packages From Multiple Stores
If you need to ship multiple items from Amazon or other stores, you can save money with package consolidation by signing up for a paid Premium membership. Package consolidation allows you to combine items from multiple stores into one package at no additional cost, so you maximize your savings! When a package arrives in your MyUS suite, you can forward it to your home address immediately, or you can elect to wait for additional packages to arrive in your suite and then combine multiple items into one shipment. Why spend more shipping multiple packages when you can spend less by combining them into one package with MyUS? In fact, package consolidation can save you up to 80% off standard international shipping rates.
Another perk of Premium membership is you get a 30-day free trial and can cancel anytime. We want to earn your business. Your free trial is an opportunity for you to test MyUS out. No long-term commitment is required, so you have nothing to lose!
Your Premium Membership includes all the following perks at no additional cost to the monthly membership fee:
US and UK shipping addresses
FREE 30-Day Trial: After a 30-day free trial, there are no commitments - cancel any time.
US sales TAX-FREE shopping: Your MyUS address is sales tax-free. Automatically save 7% every time you shop!
Discounted Ship Rates: Being a Premium MyUS member unlocks even lower ship rates than what's offered to Single Package customers.
Free Package Consolidation: MyUS packing experts will combine multiple packages into one for maximum shipping cost savings.
Free Package Repacking: MyUS packing experts repack every box to ensure your purchases are protected and packaged in the most cost-effective way.
Free Package Storage for 30 Days: Purchases are securely housed in our facility, allowing time for multiple package delivery and maximum consolidation savings.
Choose Your Shipping Experience
---
How to Ship Amazon Globally in 3 Easy Steps:
Step 1: Get a MyUS Address
Sign up for a free Single Package or Premium membership by clicking here to get a US sales tax-free US address and a UK address with a suite number that's unique to you.
Step 2: Shop from Amazon & Ship to Your MyUS Address
Separately from MyUS, sign in to your Amazon.com account. Access your shipping addresses by clicking the area in the top left that says "Deliver to", as seen in the screenshot below: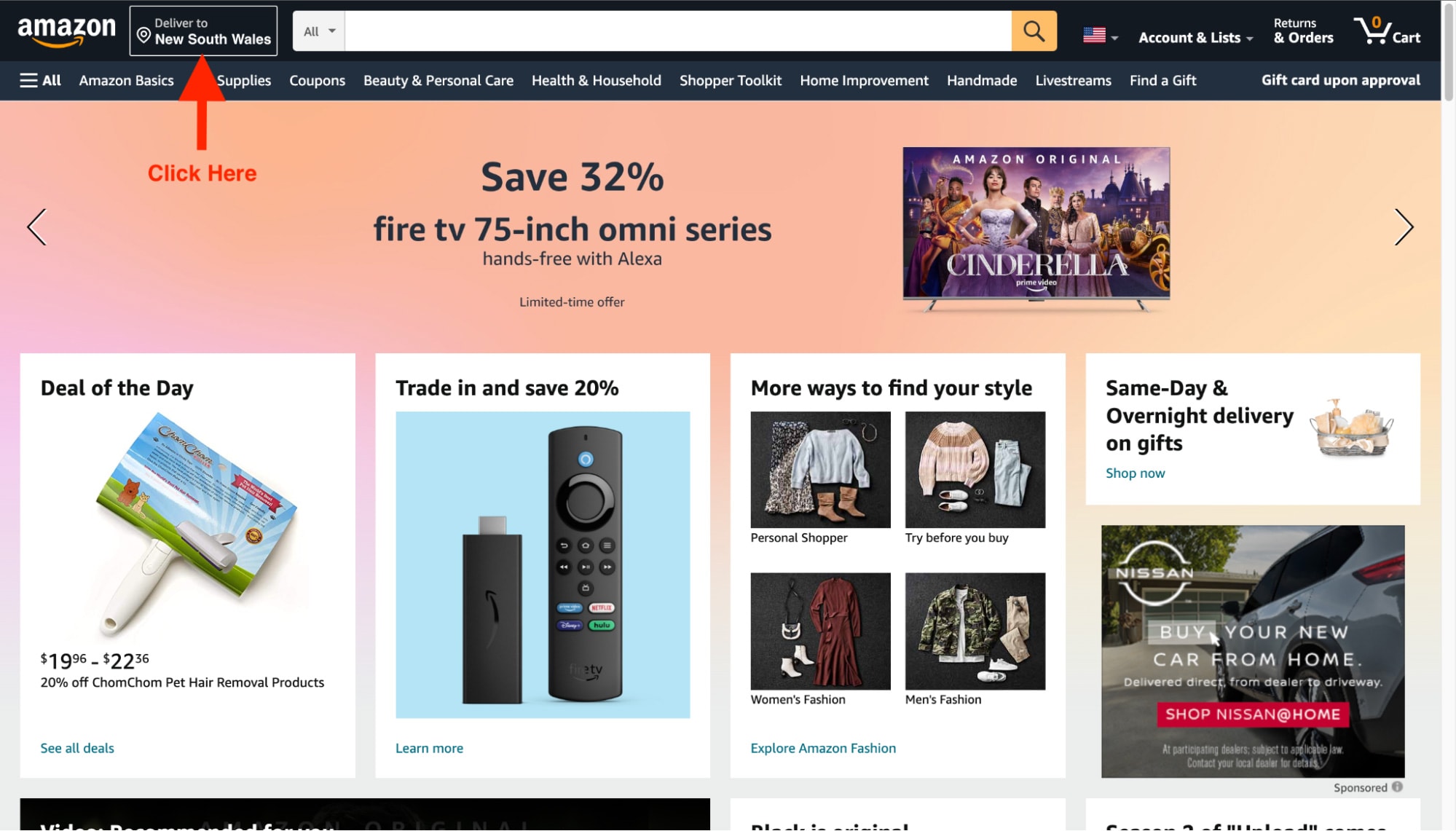 Next, a popup will display on the screen where you can select "Manage address book":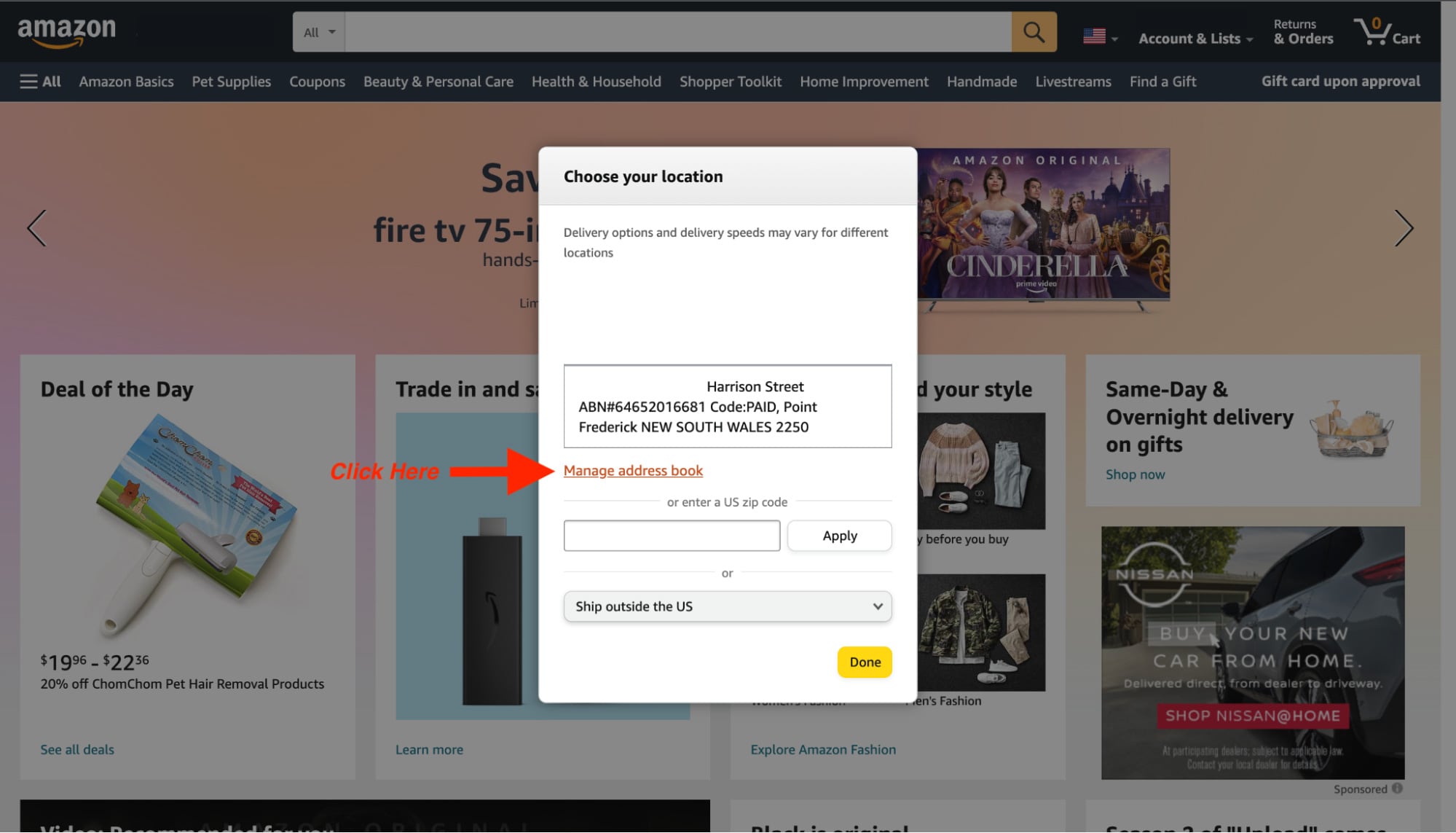 On this page, you'll click the button saying "Add Address":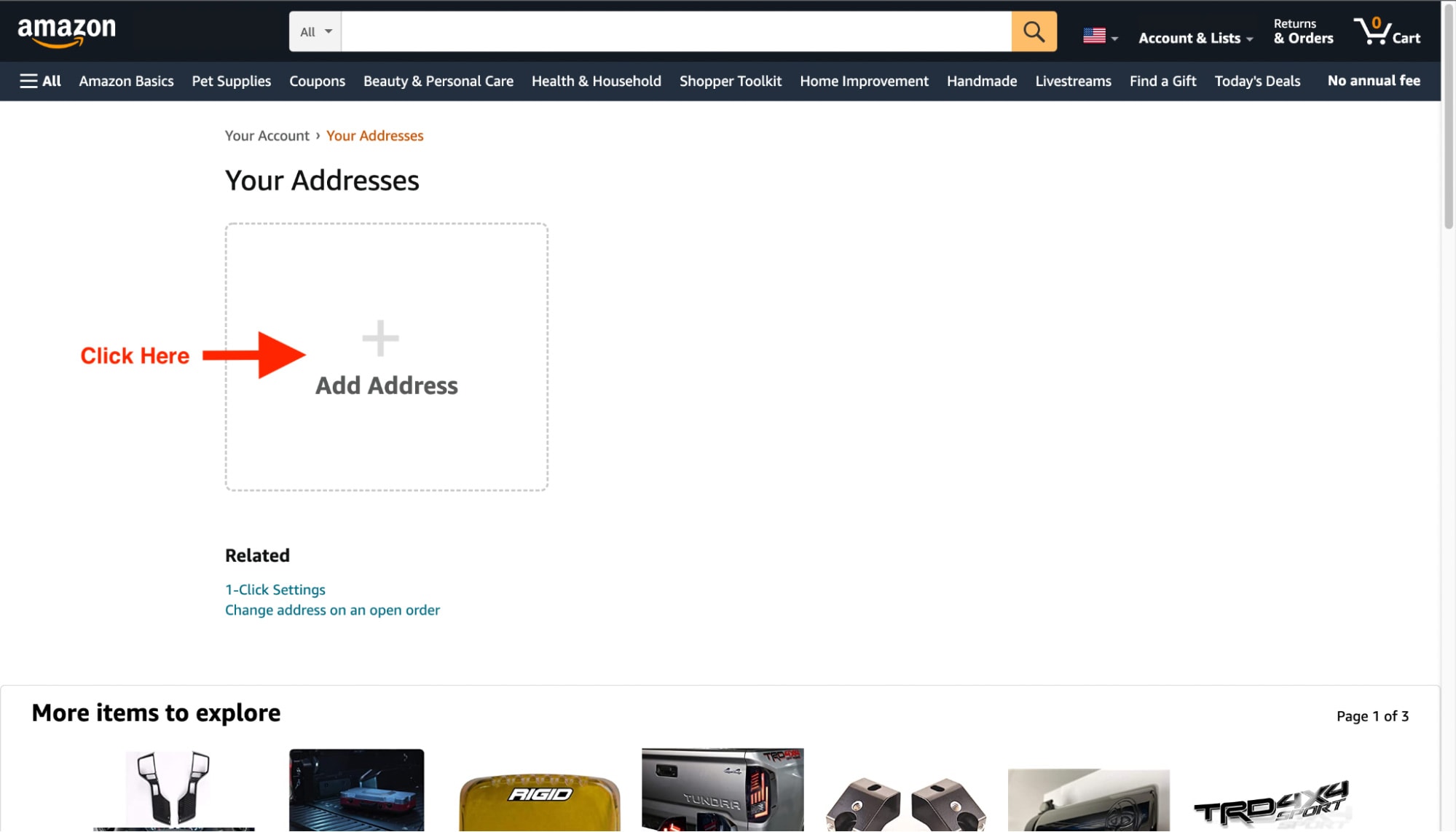 You can now enter your MyUS shipping address and suite number (address line 2) as the delivery address. Click the "Add address" button at the bottom to lock it in. Now you can shop Amazon US and Amazon UK using your MyUS USA and UK shipping addresses!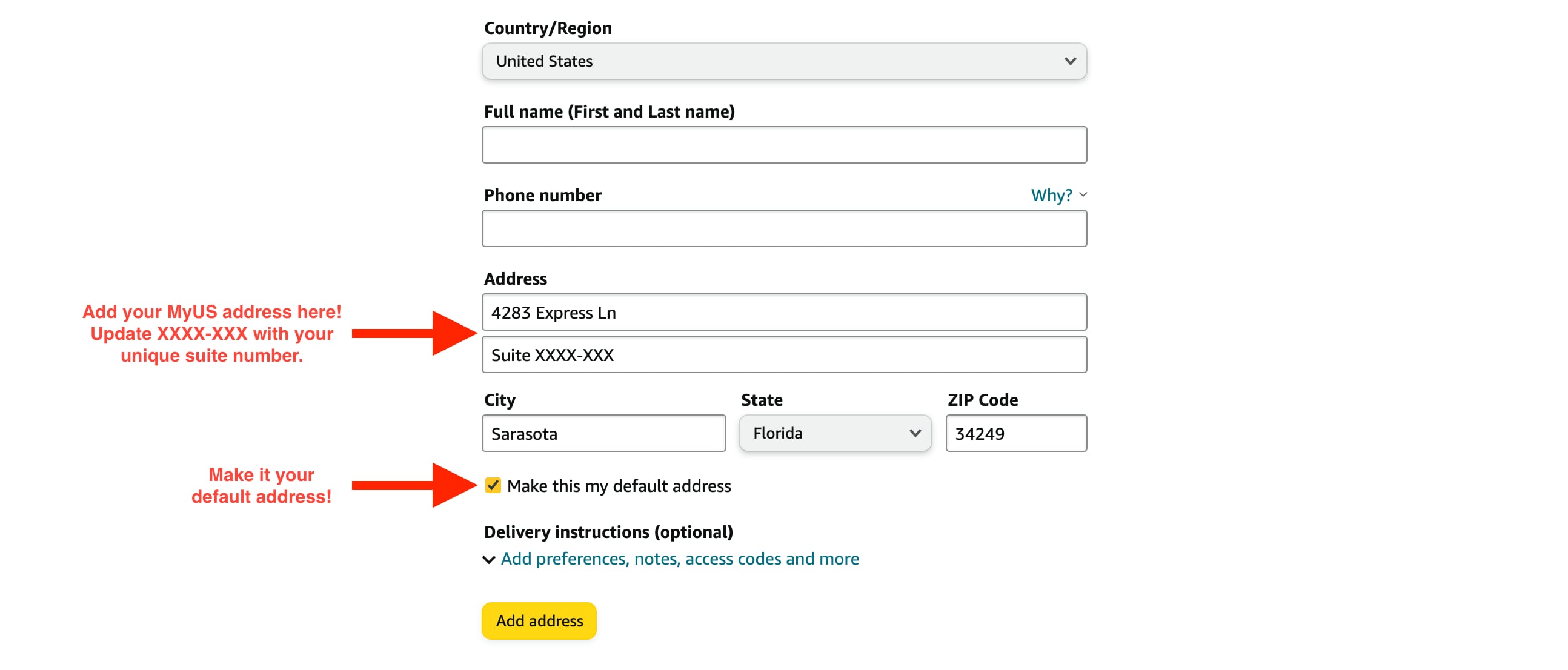 Step 3: Ship From MyUS to Your Home Address
After you place an Amazon order with your MyUS address, we'll notify you once your item arrives at your MyUS suite.
For Single Package members, we'll automatically forward to your home address, making the hand-off seamlessly convenient for you.
Premium members have the option to either auto-ship the item to your home or elect to have MyUS store your items while you wait for more packages to arrive to then combine multiple packages into one shipment to your home.
---
Amazon Shipping Prices
Amazon Prime members always get free, fast domestic US shipping on Prime products. Shipping prices for non-Prime products vary and are set by the sellers of those products.
Please note – Although MyUS charges for oversea shipping from the US to your home, Amazon.com has lots of free shipping methods within the US - that means you often won't have to pay Amazon for shipping to your MyUS suite.
---
Amazon FAQs
What is Amazon Prime? Amazon Prime is a paid membership that gets you benefits on shipping (such as free rush shipping), streaming (such as Amazon Prime Video), shopping (such as Whole Foods discounts), reading (such as Prime Reading), and more (such as Amazon Photos).
Does Amazon ship internationally? Amazon US does not ship internationally, but that's where MyUS is at your service!
Does Amazon US ship to Australia? No, Amazon US does not ship to Australia. With a MyUS membership, you get a US address to shop from Amazon US, ship to your MyUS address, then MyUS will forward your packages to Australia.

​​How to ship from Amazon UK to Australia? With a MyUS membership, you get a UK address to shop from Amazon UK, ship to your MyUS address, then MyUS will forward your packages to Australia.

Does Amazon US ship to NZ? No. Neither Amazon US nor Amazon UK ships to New Zealand. With a MyUS membership, you get US & UK addresses to shop from Amazon US or Amazon UK, ship to your MyUS address, then MyUS will forward your packages to New Zealand.
Does Amazon US ship to UK? No, Amazon US does not ship to the UK. With a MyUS membership, you get a US address to shop from Amazon US, ship to your MyUS address, then MyUS will forward your packages to the UK.
How much does it cost to ship Amazon to Saudi Arabia? MyUS frequently ships from US Amazon to Riyadh and Jeddah along with the rest of Saudi Arabia. Check out our full shipping rates by visiting our International Shipping Calculator page.
How to ship Amazon to Angola? MyUS allows you to shop Amazon US from Angola, ship your Amazon purchases to your MyUS suite, then MyUS will forward your Amazon orders to you in Angola.
How to get free shipping on Amazon? For Amazon Prime members, Amazon offers free domestic shipping for Prime products. This means you wouldn't have to pay Amazon for domestic shipping to your MyUS suite for purchases of Prime products.
What is Amazon Smile? Amazon Smile is a fantastic way shoppers can support their favorite charities! Amazon donates a portion of eligible purchases to a charity of your choosing, at no additional cost to you. Amazon Smile has donated millions of dollars to over a million charities. Visit Smile Amazon to learn more and shop qualified items.
Will I spend more on Amazon Smile items? No. You'll be able to shop the same items at the same price, so you won't be charged anything additional by participating in Amazon Smile.
How much will Amazon Smile donate? On eligible items, Amazon will donate 0.5% of the item's cost to your selected charity organization.
MyUS Social Responsibility: While our MyUS members love supporting Amazon Smile, MyUS itself has been committed to positively influencing the communities where we work and live, as well as the global community.
What does renewed mean on Amazon? The Amazon Renewed section includes pre-owned, refurbished, or open-boxed items. Renewed items are often discounted in price but are thoroughly inspected and tested to ensure quality. To learn more, visit the Amazon Renewed customer service page.
How to cancel an order on Amazon?
Within your Amazon account, go to Your Orders and select the order you want to cancel.
Select Cancel items. Note: For seller orders, you see Request Cancellation. If you no longer see Request Cancellation, contact the seller for instructions. Go to Contact Third-Party Sellers.
Select the check box of the item that you want to remove from the order. To cancel the entire order, select all of the items.
Select Cancel selected items in this order when finished.
Can I cancel an Amazon order after it ships from Amazon? After ordering from Amazon and before the item arrives at MyUS, you can cancel an Amazon order by first logging into your Amazon account and canceling the order.
If the cancellation option is not available within Amazon, then Amazon may have already shipped it. Go to Your Orders and select Track package, and then cancel the delivery.
---
Top Amazon Products
Now that you've added your MyUS ship address to your Amazon account, here are some of Amazon US's best international sellers from Amazon's top categories:
Check out some of the individual Amazon products below:
---
Amazon History
Amazon was founded by Jeff Bezos from his garage in Bellevue, Washington, on July 5, 1994. The company was created as a result of what Jeff Bezos called his "regret minimization framework", which described his efforts to fend off any regrets for participating sooner in the internet business boom during that time. In 1994, Bezos left his employment as vice-president of D. E. Shaw & Co., a Wall Street firm, and moved to Seattle, Washington, where he began to work on a business plan for what would become Amazon.com. Bezos' parents invested almost $250,000 in the start-up.
Bezos initially incorporated the company in Washington state with the name Cadabra, Inc. After a few months, he changed the name to Amazon.com, Inc, because a lawyer misheard its original name as "cadaver". Bezos selected this name by looking through a dictionary; he settled on "Amazon" because it was a place that was "exotic and different", just as he had envisioned for his Internet enterprise. The Amazon River, he noted, was the biggest river in the world, and he planned to make his store the biggest bookstore in the world. Additionally, a name that began with "A" was preferred because it would probably be at the top of an alphabetized list.
Bezos created a list of 20 products that could be marketed online. He narrowed the list to what he felt were the five most promising products, which included: compact discs, computer hardware, computer software, videos, and books. Bezos finally decided that his new business would sell books online, because of the large worldwide demand for literature, the low unit price for books, and the huge number of titles available in print. Eventually, Amazon expanded into selling all types of products.
*MyUS shipping is limited or not available in the following countries/territories: Belarus, Cuba, Iran, Myanmar, North Korea, Palestine, Palestinian Territories, Russia, South Sudan, Sudan, Afghanistan, and Ukraine.