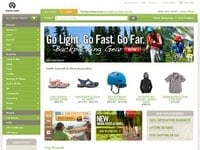 Let Your Passion Define Your Path Welcome to Altrec.com where we share your passion for the outdoors. Like you, the team at Altrec.com is comprised of outdoor enthusiasts, explorers and adventurers. That's why we seek out the best stories, the best information and the best clothing and equipment available today. Whatever path you choose, we hope to help you along the way. The Altrec.com Web site launched in March 1999 with the belief that spending time outside - whether climbing a mountain or taking a quiet hike - helps us to live a healthy, balanced life.
Shopping Info
Main Address
725 SW Umatilla Ave
Redmond, OR 97756-7117
USA
Shopping Categories
Sports & Outdoor
Additional Information
Many international customers pay higher prices than American customers when shopping at US websites. To ensure you get the same low pricing and shopping benefits as American customers, read our Top Shopping Tips for how to save at Altrec.
If Altrec does not accept your international billing address or your preferred payment method, select the merchandise you want and then use our Personal Shopper service and we will buy the merchandise for you.