MyUS members don't pay US sales tax when they ship internationally!
Pay 0% US sales tax when you ship overseas with MyUS! Thanks to our first-rate reputation and the millions of packages we've shipped, we're one of the only companies of our kind to earn a US sales tax-free status.
Just use our exclusive postal (ZIP) code when shopping online, and everything you buy and ship internationally is sales tax-free!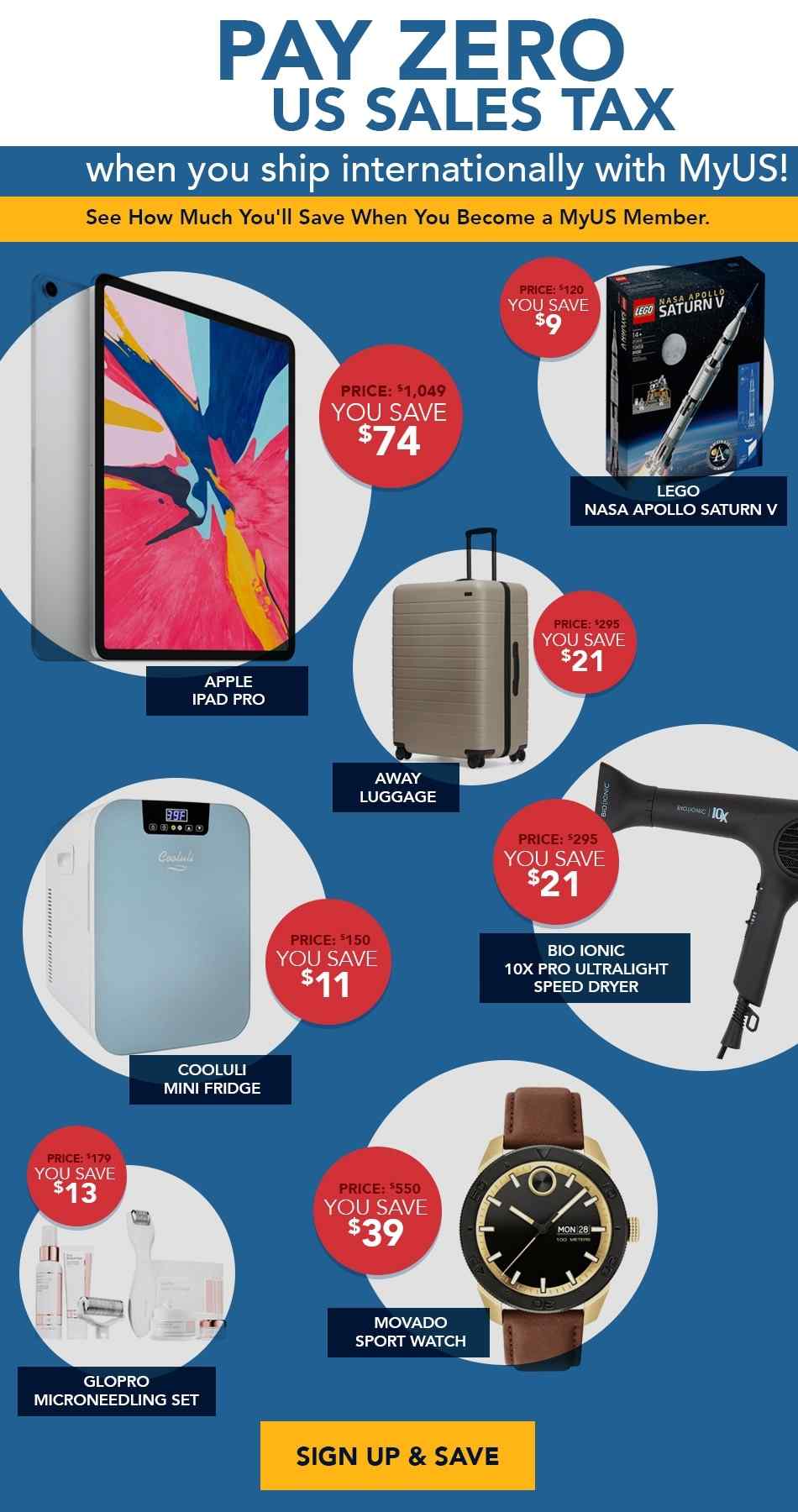 Save Every Time You Shop!
It's like everything is on sale when you shop without US sales tax and more stores are joining the list every day. Stretch your shopping dollars by NOT paying sales tax at these top US stores*, and many more!
How Can Global Shoppers Avoid Paying Sales Tax?
Get A MyUS Shipping Address!
A MyUS address gives you US sales tax-free shopping status. Perfect for international shoppers. :)
How Much Will You Save?
MyUS members save 7% on every purchase by paying NO sales tax!
LEGO NASA Apollo Saturn V, price: $120. You save $9 in taxes!
Apple iPad Pro, price: $1,049. You save $74 in taxes!
AWAY Luggage, price: $295. You save $21 in taxes!
Dyson Supersonic Hair Dryer, price: $400. You save $28 in taxes!
Cooluli Mini Fridge, price: $150. You save $11 in taxes!
GloPRO Microneedling Set, price: $179. You save $13 in taxes!
Movado Sport Watch, price: $550. You save $39 in taxes!
Ready to start shopping US websites sales tax-free and get cheap international shipping to your door?
Join MyUS today to get your very own (tax-free) US shipping address.
*US stores must update their shopping cart software to recognize our new tax-free status. US sales tax-free status applies only to international shipments. Questions? Please contact us, and we'll be happy to help.