10 Awesome T-Shirts That Support Good Causes
What's better than finding a great new t-shirt? Finding a great new t-shirt that supports a fabulous cause with every purchase!
We've rounded our favorite companies that create fashion forward apparel with proceeds going to good causes. Whether you shop for yourself or need a gift, these tees will be a hit - and with international shipping from MyUS, you can make a fashionable statement with purpose in as little as 2-4 days!
10. Accomplish The Impossible T-Shirt from Humanity Unified $13
This unisex t-shirt is made with 70% bamboo and 30% organic cotton for a silky soft feel - and 100% of Humanity Unified's net profits are donated to Humanity Unified International to empower communities to rise out of poverty through education, food security projects and economic opportunities. Buy it here.
9. Thrive Women's Muscle Tank $32
This muscle tee from Sevenly has a feminine touch, perfect for layering or wearing on its own, and each purchase of this shirt plants 7 trees through Arbor Day Foundation reforestation programs. Buy it here.
8. Do Good T-Shirt from Cotopaxi $23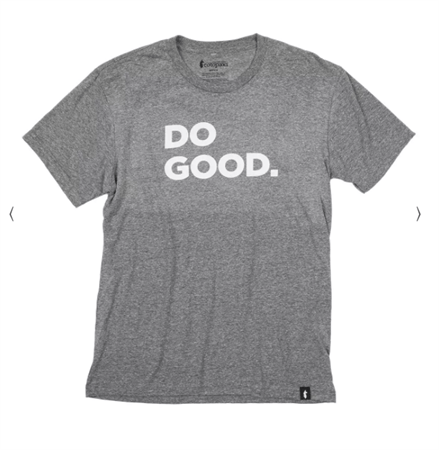 'Do Good' has become the mantra of Cotopaxi, so it adorns their most popular t-shirt, and each piece of Cotopaxi clothing is tied to a humanitarian cause. Buy it here.
7. Change Muscle Tee from Givida $27
Created by Ryne and Kelly Olson, this activewear brand is dedicated to ending world hunger. Purchase any piece in the collection, including their 'Change' muscle tee, and it will provide between six and fifteen life-saving supplement meals to malnourished children in Uganda. Shop their styles here.
6. Original LV Tee from Vivid Roots $25
Vivid Roots is a lifestyle brand on a mission to inspire and create a sustainable impact on the world by selling awesome gear, like their original LV tee. Every purchase from their shops helps provide people in need with clean water for life. Shop their online store here.
5. Saving Animals Is Kinda My Thing T Shirt $23
Arm the Animals creates edgy t-shirts and raises money for animal care organizations. They have a huge selection of killer t-shirts, and they all raise money to help animals. Shop their site here.
4. Ivory Ella Paisley Tee $36
With a relaxed fit and longer length, this long sleeve tee from Ivory Ella is perfect for Spring, and 10% of their proceeds goes towards Save The Elephants. Buy it here.
3. Giving Back is the New Black Tee
Giving back is always in in fashion! Show off your fight against hunger and inspire others with this super soft tee. Each purchase of this tee provides 7 meals to a child in need, and Society B also donates 10% of every purchase to the charity the customer selects at check-out, with options including Kids in Need Foundation, Water.org., and Action Against Hunger. Buy their Giving Back Tee here.
2. TOMS Logo Unisex Grey Tee $28
Every TOMS purchase benefits a person in need with their One for One program. Buy their logo tee here.
1. Perspectiv Tee $35
Two Blind Brothers makes designer clothing from all natural fibers to fund blindness research and be part of finding a cure. Their 'Perspectiv' tee is super soft, made with their tri-blend of premium bamboo (66%), cotton (28%) and spandex (6%). Buy it here.
We enjoy helping our members find products that support great causes, but some of the t-shirts featured above could have purchase restrictions, or may not take every form of payment. Find more information by viewing merchant's terms of sale, shipping guidelines and/or terms and conditions.