Get the Best Coffee Every Morning with a New Coffee Maker!
Brewing coffee at home is not only convenient, but it can also be a BIG money-saver. If your home coffee maker has you heading to the nearest coffee shop, it's time to upgrade your machine. Whether you prefer drip coffee makers, cold brew, or convenient pods, we've got you covered.
Check out the best coffee makers and machines from US websites, and ship your favorite worldwide in as little as 2-4 days with MyUS. And remember, as a MyUS member, you never pay US sales tax on purchases from US websites!
10. Nespresso Vertuo Coffee and Espresso Machine Bundle with Aeroccino Milk Frother $184
Skip the line at the coffee shop and brew your favorites at home with Nespresso's coffee & espresso machine and milk frother. It brews fresh coffee with crema as well as delicious, authentic espresso, in two cup sizes at the touch of a button, and the included milk frother creates the perfect finish for your coffee creation. So easy! Buy your Nespresso machine here.
9. Cuisinart 12-Cup Coffee Maker and Single-Serve Brewer $141
Want the ability to brew single cups of coffee on busy weekday mornings and full pots of coffee on leisurely weekends? You can have it with Cuisinart's combination brewer. It features a fully programmable 12-cup coffeemaker on one side and single-serve coffeemaker on the other with the option of 6, 8, or 10 oz. brew size! Get yours here.
8. Mr. Coffee One-Touch CoffeeHouse Espresso Maker and Cappuccino Machine $260
Espresso and Cappuccino at home? Yes! With a simple press of a button, you can make espressos, cappuccinos, and lattes within minutes with this espresso and cappuccino maker from Mr. Coffee. Choose from single or double espresso shots, and steam the milk of your choice into a light and airy foam in just minutes. Buy it here.
7. Black+Decker 12-Cup Thermal Coffeemaker $48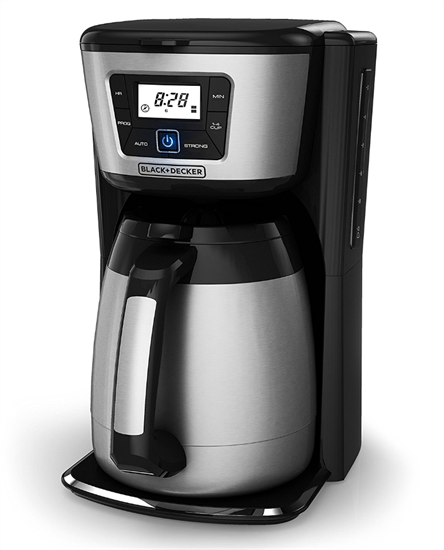 Be ready for guests this holiday season with this large capacity thermal carafe coffee maker from Black+Decker. It brews 12 cups of coffee straight into a double-walled and vacuum-sealed thermal carafe that will keep your coffee at optimal drinking temperature for hours. Buy one here.
6. Keurig K-Mini Plus Single Serve K-Cup Pod Coffee Maker $100
Short on space? At less than 5 inches wide, Keurig's K-Mini Plus with built-in storage for 9 k-cups is perfect for small spaces and can brew between 6-12 ounces per cup! Buy one here.
5. Technivorm Moccamaster Coffee Brewer $309
With an exposed reservoir and retro/mid-century modern vibe, the Moccamaster looks great, but more importantly, it brews a fantastic cup of coffee. It's also simple to operate, has a quiet brewing process, and brews a full carafe in just 6 minutes, making it perfect for busy mornings. Choose from a variety of colors here.
4. Cuisinart Pour-Over Coffee Brewer $158
For coffee-bar quality at home at a better price-point, we're loving Cuisinart's Pour-Over coffee brewer. It pre-wets coffee grounds before brewing to let the flavor 'bloom' and has temperature and flavor set controls for complete customization. Buy the Cuisinart Pour-Over coffee brewer here.
3. Black & Decker 5-Cup Coffeemaker $20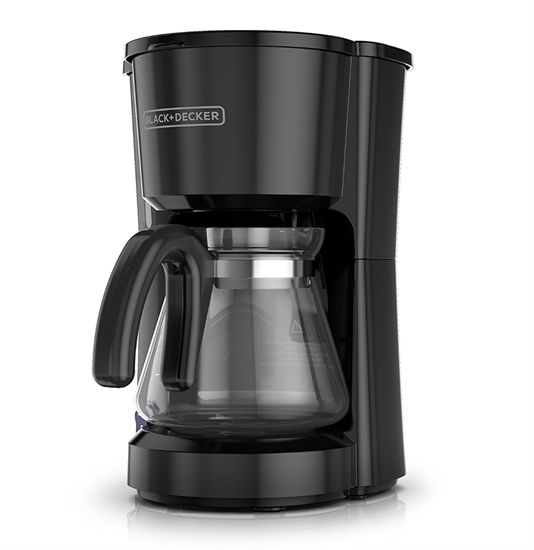 If the Moccamaster and Cuisinart PurePrecision won't fit your budget, try the Black & Decker CM1100B. It may not last for years like one of the pricier brewers, but it brews a smooth and tasty pot of coffee and has some very useful features, including "sneak-a-cup" and a permanent filter for coffee grounds. Best of all, it's only 20 US dollars! Buy the Black & Decker 5-Cup Coffeemaker here.
2. Takeya Deluxe Cold Brew Iced Coffee Maker $19
Love cold brew coffee, but not how expensive it is at the local coffee shop? Make your own at home with this cold brew iced coffee maker from Takeya. It's super-simple to use and at just 19 US dollars, it's a great investment! Buy one here.
1. Keurig K575 Single Serve K-Cup Pod Coffee Maker $150
Our favorite k-cup brewer is definitely Keurig's K575. It has a massive 80 oz. water reservoir, the option to brew a full carafe for guests, and a large, easy to navigate touchscreen that can be used to adjust everything from cup size to temperature and coffee strength. It's also easy to use, quick to brew and remarkably quiet for a K-Cup machine. Buy yours here.
We strive to bring our members the best shopping options available, but some of the coffee makers featured above may have purchase restrictions. Find more information by viewing merchant's terms of sale, shipping guidelines and/or terms and conditions.