11 Icelandic Photographers You Need In Your Instagram Feed
With its midnight sun, Northern Lights, and out-of-this-world landscape, it's no wonder Iceland has become one of the hottest tourist destinations on the planet.
Whether you're planning a trip yourself, enjoy breathtaking photography, or are native to the Nordic island, you owe it to yourself to check out Iceland's most famous photographers.
Serving up insane amounts of wanderlust daily, these are the insta-photographers from Iceland you need to know about:
Benjamin Hardman
For a taste of Iceland's wild and untamed landscape, meet Australian freelance photographer Benjamin. He photographs Iceland's most obscure landscapes; the barren, cold and volatile environments that are inhabited by colossal ice structures, carved volcanic mountains and resilient wildlife and shares them on his blog and Instagram account. Simply stunning.
Lurie Belegurschi
Born in Moldova, Lurie Belegurschi moved to Reykjavik in 2006 to study tourism and hospitality, and soon founded Iceland Photo Tours, the country's biggest accredited photography workshops travel agency. Check out his website to enjoy his photographs and learn about his workshops, and follow him on Instagram and Facebook to enjoy his work regularly.
Gunnar Freyr
Although he was raised in Denmark, Gunnar Freyr always had a love for Iceland and a desire to live in his home country, so in 2014, he quit his corporate job, sold his belongings, and moved to Iceland. As a self-taught photographer, he captures the raw beauty of the island, doing projects that range from landscape and wildlife to lifestyle and product. Enjoy his work yourself by following him on Facebook and Instagram and checking out his website.
Ragnar Axelsson
Icelandic photojournalist Ragnar Axelsson has been photographing the people, weather, and landscape in some of the most remote and isolated regions of the Arctic including Iceland, Greenland, and Siberia for the last 35 years and his work has been featured in numerous publications, including LIFE, Newsweek, and National Geographic. Follow him on Instagram for a daily dose of Iceland or head over to his website to purchase one of his books.
Siggeir
Based in Iceland, Sig Vicious, better known as Siggeir, is a designer, photographer, and location scout known for his unearthly and moody Icelandic landscapes. View his visual portfolio on his website and follow him on Facebook and Instagram to check out his "Iceland Invasion" series depicting alien spacecraft taking over Iceland's most breathtaking landscapes. Intriguing, right?
Inga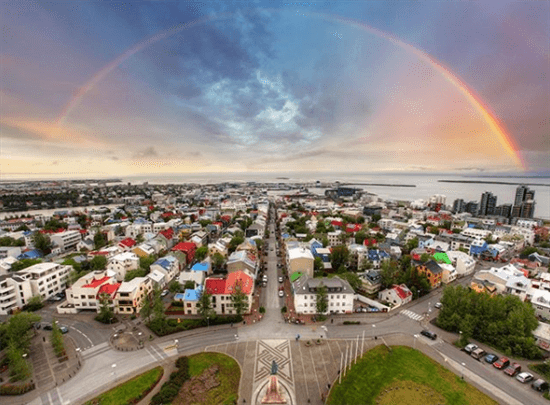 Inga is the founder of Tiny Iceland, a website that shares stories, travel tips, tours, videos & photos about Iceland. Use her website to plan your trip to Iceland, and view her colorful and animated photographs on their Facebook and Instagram accounts.
Garðar Ólafsson
Garðar Ólafsson is a professional photographer and filmmaker that specializes in photography and video services, aerial filming, and location scouting. Check out his website for information on how to book his services, and follow him on Facebook and Instagram for incredible images of Aurora Borealis, lava fields, icebergs, black beaches, and much more!
Snorri Gunnarsson
Want to enjoy incredible and hard-to-believe-they're-even-real photographs of the Northern Lights, icebergs, and waterfalls from anywhere in the world? You need to follow professional photographer Snorri Gunnarsson on Facebook and Instagram. Based out of Reykjavik, he's dedicated his life to capturing the beauty of Iceland's landscape and people. For a more intimate look, head over to his website to view galleries of all his work.
Ozzo Photography
Ozzo is a talented commercial and landscape photographer based in Reykjavik that shares his love for his country through photographs on his Instagram account. Best known for his images of winter scapes and night photography, you can book his photography services through his website, Ozzo Photography. And if you're looking for a guide that will go the extra mile to get good shots, you can request him as your own personal guide through Iceland Photo Tours.
Páll Jökull Pétursson
If you're traveling to Iceland and want to capture beautiful photographs for yourself, it's a wise investment to hire a professional guide like Páll Jökull Pétursson. He's an Icelandic professional landscape photographer with in-depth knowledge of photogenic places in Iceland, and he offers photo guides to both amateur and working professional photographers. View his portfolio and learn more about his services on his website, and treat yourself to his photography daily by following him on Instagram and Facebook.
ÁRNI VÍĐIR
Want a taste of everyday life in Iceland? Follow Icelandic landscape photographer ÁRNI VÍĐIR on Instagram and Facebook. He beautifully captures Iceland's most well-known and sought after landscapes, but he's also a master at finding beauty in everyday life around the island, shooting bright summer views of rivers, sheep returning home after roaming the highlands of Iceland, and architectural wonders like the Pedestrian bridge over River Elliðaá in Reykjavík.
Who are your favorite photographers from Iceland?
If we missed any of your favorites, we would love to hear from you! Let us know on Facebook or Instagram who should be added to the list.