The Best Websites for Buying a Laptop Online (Cheap Prices, Best Brands)
It's the perfect time to buy a laptop! They are more affordable than ever—especially if you buy them from an online store. There's a much better selection online for you to explore.
Most of the time, you will find better deals online compared to store prices. Read the reviews to compare your favorite laptops to help you decide on your purchase.
With MyUS, you can shop the best laptop websites and ship home to any country in the world (even if the store doesn't ship directly to your country).
Combine these online sales with MyUS' low international shipping rates and you're going to get a great deal!
The Best Websites for Buying the Best Laptops at the Cheapest Prices
When it comes to finding great laptops at incredible prices, you can't go wrong with these online stores. Bonus savings tip: Sign up for stores' email newsletters—they often promote sales that way!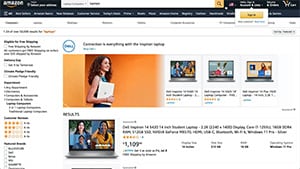 Find all the great names in laptops, including Apple Macbooks, at the world's largest online retailer. You can often get free shipping to your MyUS address too!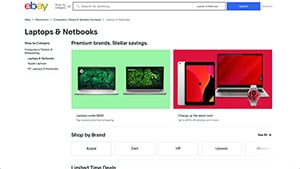 Bid on a computer or "Buy it Now". We recommend buying from featured, trusted sellers with many positive reviews.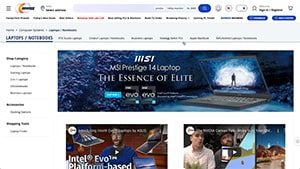 Today's great technology at yesterday's prices. Check out their "Shell Shocker" deals for jaw-dropping savings on computers of all types, sizes, and capacities. For even more value, check out their outlet center, full of open box and refurbished laptops.
This retailer knows all about saving its customers money on the brand-name merchandise they love. Their computer selection is no different. There are even more savings available if you check out their clearance and refurbished options.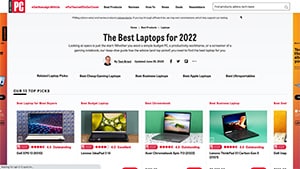 PC Mag is a great resource for reviews, insights, upgrade ideas, and—best of all—where to find incredible deals on all brands. Check out the featured "Deal of the Day".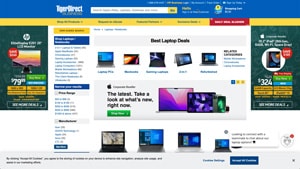 With laptops starting at $158, you've come to the right site if you're looking for a cheap computer. From low-cost, basic laptops to high-tech machines, this site has something for everyone. Look for even more savings with a click on the Deal of the Week.
Happy shopping!
MyUS has made every effort to provide the best available shopping options for our members. However, some merchants listed may have established purchase restrictions, may not take all forms of payment, or may restrict purchases to certain countries. Always check the merchant's site for terms of sale, shipping guidelines, or terms and conditions for more information.