Art Supplies for the Burgeoning Artist
Want to shop for high-quality art supplies from US websites? It's easy with MyUS!
From markers and pencils to brushes, easels, portfolios, and more, you can find all the art supplies you need to let your creativity run free, and ship them to your international doorstep with MyUS. Even better, as a MyUS member, you'll pay no US sales tax on your purchases!
Copic Premium Artist Markers $231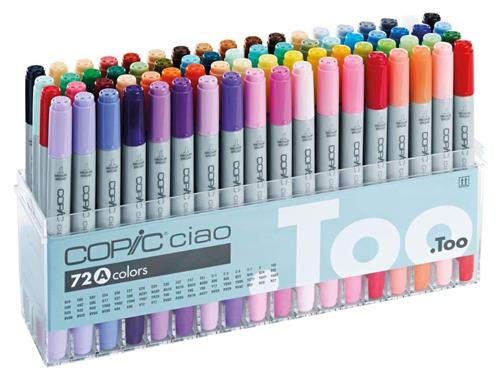 Alcohol markers are ideal for a variety of artistic uses—including architectural design, advertising rendering, landscape, underlining, highlighting, and other forms of comic design—and Copic markers are the gold standard. This set of 72 Copic Premium Artist Markers are refillable with replaceable nibs, and come packaged in a clear plastic case for easy organization. Each marker is ultra-blendable, with colors mixing on the surface to deliver the wonderfully rich blends they're known for.
"I got these markers two days ago, and they are so good! They work really well for blendings, hardly smudge, and don't run out of ink within five minutes. Worth every penny I spent on them!" says Joslyn Acevedo in her online review.
Caliart Artist Dual Tip Alcohol Art Markers $28.89
Looking for alcohol markers that are a little more budget-friendly? Give yourself a rainbow of colors with Caliart's Artist Dual Tip Alcohol Art Markers. The set includes 99 colors with dual tips and 1 colorless blender in a beautiful form-fitting black carrying case perfect for traveling and storing.
"The Caliart alcohol ink markers are awesome! They are so EASY to use and blend so we'll! I have attached a pic of a few graphics I have done. And in 1/2 the time it takes me to use water color pencils and blender tool, or normal die base inks! And...they did not bleed the outline ink!! These are definitely my go-to when it comes to coloring graphics! I don't know about Copic markers, everyone seems to like them, I have never used them. They are 6-9.00 each, depending where you buy them! Not in my budget.☺️ Let me tell you, for the money, these by far, are hands down. Maybe if I was a pro, I might feel differently, I don't know😁." says Candie in her five-star product review.
ARTEZA Professional Colored Pencils $39.99
ARTEZA Professional Colored Pencils have sturdy, comfortable barrels, soft, break-resistant cores. This 72-piece set delivers a broad range of brilliant, saturated colors that glide on paper and blend beautifully. Perfect for detailed lines, hatching, sketching, and coloring books.
"I live for colored pencils with vibrant colors! These are it!! Beautiful colors that blend surprisingly well! I would highly recommend to anyone who loves to color or sketch. I'm no professional artist, but I enjoy coloring as a hobby and these pencils have easily became a favorite! I have tons of colored pencils, including prismscolor and the colors of these pencils are extremely nice!" says Felicia Jones in her online review.
Benicci Paint Brush Set $19.97
For professional quality paint brushes at a great price, reviewers love Benicci's nylon paint brushes. Unlike other nylon brushes lose their bristles, Benicci's brushes have double clamped bristles with extra strong ferrules so the bristles won't fall out. This Paint Brush Set comes with 16 brushes in a variety of shapes and sizes, a mixing knife, an art sponge, a carry case you can prop up, and a tin box for easy storage.
"Beautifully made, professional-grade artists brushes for an incredibly low price!" says Sabine Rabiller in her product review.
ARTEZA Acrylic Paint Set $62.99
Acrylic paints are a staple for any painter, and this Acrylic Paint Set from ARTEZA is a great set for beginners. It includes 60 highly pigmented colors, including Lemon Yellow, Phthalo Blue, and Crimson Red that go on smooth and produce true, consistent shades that are ideal for painting on canvas.
"If V. VanGogh was alive today, he'd be ordering this paint set on a daily basis. Beautifully organized and constructed, travel ready, and overall vivid colors." says Triangle Jack in their glowing review.
Tangkula French Folding Easel $79.99
Whether you're painting at home or like to venture out to new locations, Tangkula's French Folding Easel has everything an artist needs, including fully adjustable legs, a sliding drawer with divided compartments to hold supplies, a removable wooden palette, and an adjustable shoulder strap for easy transport. Made of real beech wood and finished with brass hardware, it's small enough to store in a closet yet large enough to hold a 34" canvas.
"Really great product. Great easel from home or the road. High quality for such a reasonable price. Highly recommend." says Greg Brooks in his five-star review.
AG Art Portfolio Carrying Case $32.99
Keep your artwork protected anywhere you go with AG's Art Portfolio Carrying Case. It measures 28x20 inches and has an interior "X" strap to keep artwork in place, a full length pocket for pads or presentation materials, a carry strap, and button feet to protect the portfolio when it's set down.
"Sturdy, well made portfolio with water resistant finish. Easy to get into and light to carry. Perfect for running around campus. I can carry my drawings and my supplies in one case." says Pam Boardman in her online review.
Castle Art Supplies Artists Sketch Books $21.99
Draw and sketch anytime, anywhere with Artists Sketch Books from Castle Art Supplies. You'll get two sketch books with 100 sheets each of blank, acid-free, ph-neutral, 60gsm paper that are spiral bound to make turning pages easy. And when you need to take a sheet out, conveniently perforated edges make an easy job of it.
"My daughter likes the product , she says there is nothing she dislikes about it. She is eleven years old and a budding artist. She uses it primarily for her art work!" says Maxine in her five-star review.
Shop art supplies from US websites and ship worldwide and US sales-tax-free when you become a MyUS member.
We always aim to bring our members the best shopping options available, but some of the products featured in this post may have purchase restrictions. To find more information, please visit the merchant's terms of sale, shipping guidelines and/or terms and conditions.
More from the MyUS blog