Add Extra Fun to Playtime with the Best Dollhouses
Let's be honest. It's impossible to cut screen time completely out of a child's life. Cutting down the screen time can be hard for some children but with the correct approach, it's manageable and can be even more fun. Challenge your family for finding new activities to do together such as family board games and puzzles—and don't hesitate to join them in the fun.
Melissa & Doug, a leading company in making sustainable dollhouses recommend this type of child-led play as it encourages imagination & creativity, vocabulary development, life skills, fine motor skills, problem-solving, and organization skill. It can also provide a safe space for children to freely work through life's issues. Become a MyUS member so you'll have access to the largest range of dollhouses to support your child's growth. Find them a playset from US stores and have them shipped to your international address—even if the company doesn't ship to your country!
---
Rainbow High House 3-Story Wood Doll House, $99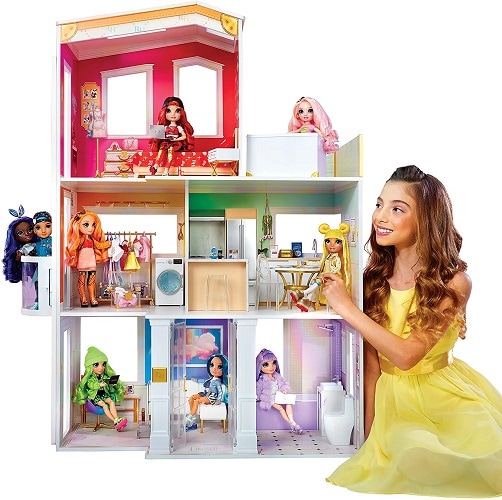 The fully furnished Rainbow High House Playset brings fashion and glamour to playtime with six rooms, all-angle play, and over 50 accessory pieces. Some interesting facts: Both the shower and the sink spray water if they have been filled. Fill the hot tub with water, press the button, and watch the bubbles appear! The elevator moves up and down and accommodates two dolls! And last but not least, the washing machine is super fun to watch while it spins.
"I am impressed with this doll's house, I had no quality issues everything fitted/looks/ worked perfectly," comments Nat. "It's a sturdy piece, took me 90 minutes to put together, easy instructions to follow and my little girl is over the moon with it. Definitely recommend but one thing to note is the cardboard box has the name on it which could have spoiled the surprise!"
---
KidKraft Zoey Dollhouse With Ez Kraft Assembly, $109.99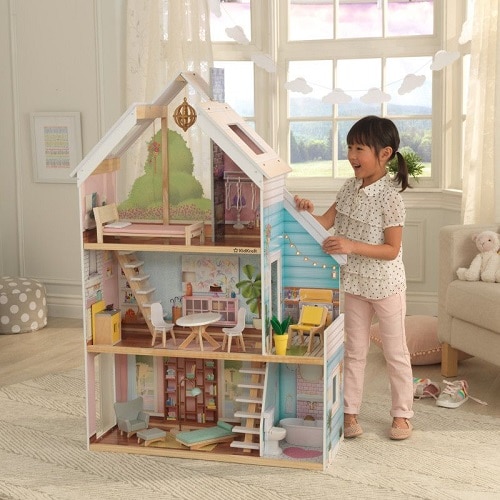 Another dollhouse featuring three levels of play, The KidKraft Zoey Dollhouse with EZ Kraft Assembly, is equipped with realistic accessories and innovative technology. The curious kids will love the toilet with flushing noises and the patio with colorful string lights. Luckily for the parents, assembly is very simple and you can start the fun in no time.
"Pretty straightforward installation. You do need to use some brainpower to make sure the pieces are facing the correct way. Our 4 yr old loves it. She loves being able to stand and play with the dollhouse," recommends Bekim in his five-star review.
---
LOL Surprise OMG House Real Wood Dollhouse, $239.99

Children who are obsessed with the LOL dolls will adore this wood three-story house that has six rooms, a real pool, and a hot tub. The living room also has a real working lamp! Our favorite accessories are the pianos in the bedroom that transform into bunk beds. Fashion-lovers can also dress up their dolls in the huge walk-in closet and show off their elegance at parties on their bougie rooftop.
If you want them to get more involved, children can take part in the assembly process as they unbox the furniture from the included moving truck package.
Joni says, "This turned out to be a much bigger dollhouse than I expected". She adds "my granddaughter was thrilled with it. The furniture and details are great! Any child would enjoy this!"
---
Barbie 3-in-1 DreamCamper Vehicle with 60 accessories, $99.99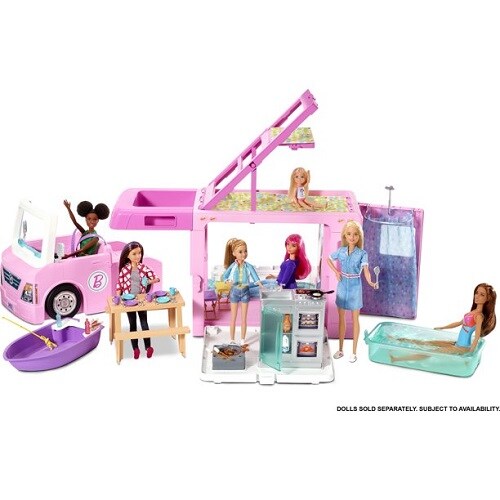 Why stay in one place when you can take the fun wherever you go? The Barbie 3-in-1 DreamCamper offers a different experience of dollhouse fun. Roll the camper wherever your imagination takes you and transform the front into a pickup truck and the back into a camp area when the dolls need a rest. With room for four dolls, this camping RV would reveal an open-air kitchen, lounging area, a bathroom with a pop-up shower, a pool, and even a boat for fishing! The roof-top bedroom is for star-lit dreams.
"Hours and hours of playtime with this purchase!! It's awesome! Kept even the big kids enthralled during our camping trip. My 10-year-old got it for her Birthday and everyone loved it, especially her!!!" states Amber, a highly satisfied customer.
---
Fold & Go Mini Dollhouse, $59.49

For a more minimalistic and compact approach, we recommend Fold & Go portable dollhouse to take wherever you go. It affirms that children don't need massive toys for creative fun.
Tammy remarks: "Simple but beautiful and well made. Big enough for creative play but small enough to store easily!!"
---
Laser Cut Victorian Doll House, $129.99

For the more advanced child who is still fascinated by dollhouses, include them in the assembly process of this Laser Cut Victorian Doll House kit. Cut from Baltic Birch, it comes unassembled with detailed numbered instructions. With a little time and wood glue, you'll have completed a very impressive DIY project together! Simply paint it or leave it unfinished.
"Absolutely fantastic! What quality workmanship. I can't wait to finish it off. you will love it..thank you," says Judith Hegan, a verified customer.
---
Schleich Adventure Tree House Farm Playset for Kids, $68.90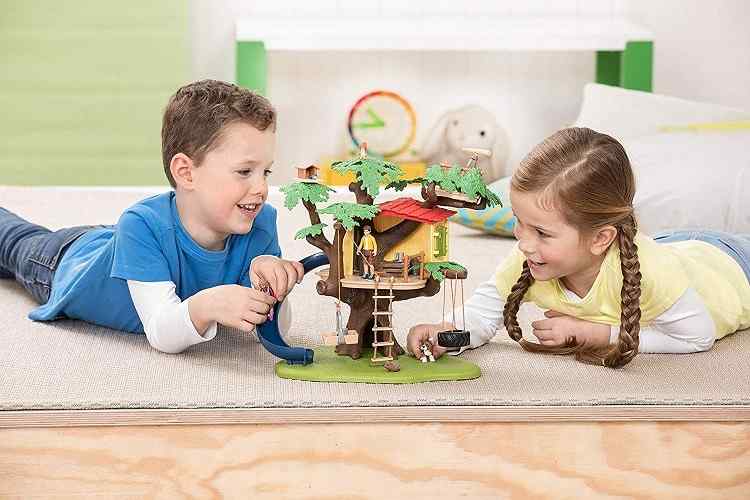 Another dollhouse that is bold enough to think outside of the box, The Adventure Tree House from Schleich is designed to inspire safe and creative pretend-play for kids of every age—especially for children who love animals! It is both a great standalone toy with a variety of accessories or when added to a larger collection to expand their play world.
"I got this for my 5-year grandson. He could not wait to open a new door every day. The adorable animals work great with the rest of his Schleich toys. Hours and hours of healthy imagination fun. (The tiny kitten is my favorite..and the pig.. ;)" comments Yaki-D, who recommends this product.
---
Go with the classics or choose a novel idea in the dollhouse universe. We are sure that whatever your decision is, the children will love the slow-paced playtime recommended by child development experts. Shop smart and ship the highest quality toys with MyUS international shipping.