The Best Wireless Chargers
Looking for a wireless charger that will make it fast and easy to keep your phone juiced up and ready to go?
We've rounded up our favorite wireless chargers below, and each one can be shipped to your international doorstep from the US with MyUS. And remember, MyUS members never pay US sales tax on their purchases!
Anker PowerWave Stand $12.99
Anker's PowerWave Stand has a simple, streamlined look and delivers a fast charge in both portrait and landscape mode, so it doubles as a phone stand! It can also charge through most protective cases and comes with a worry-free 18-month warranty.
"Fantastic two-coil wireless charger. Charges my Samsung S9 very quickly in both regular and landscape positions. Perfect for my work desk; would be equally perfect in the kitchen or on a nightstand to use your phone as an alarm clock. Pairs very well with my Anker Quick Charge 3.0 18W USB Wall Charger." says Big Papa Jon from Cincy in his Amazon product review.
Powlaken 3-in-1 Wireless Charger $28.99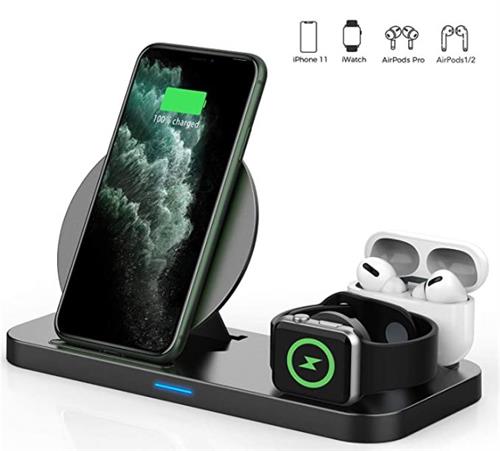 Have multiple items to charge, like your phone, watch, and AirPods? This 3-in-1 wireless charger from Powlaken is a great choice. It makes it easy to charge your Apple iPhone, Watch, AirPods wireless cases (even AirPods Pro), Samsung Galaxy, or any other Qi-enabled device. It has a wide charging range that more effectively covers the charging area for vertical or horizontal charging for your mobile devices. It also folds flat so it's easy to travel with too!
"If you're like me, and a majority of the world, you have multiple Apple products. AirPods, Apple watches, and at least the second to last generation phone. I love my products, by charging them is an absolute pain. Wires, wires, and more wires!! In comes an elegant and affordable solution! Very simple to set up and you have all your electronics in one place. There are plenty of options out there, but the prices vary wildly! I purchased this and happily never looked back!" says Terry Bates in her five-star review.
Yootech Wireless Charging Pad $11.95
Prefer a charging pad that makes it easy to juice up a variety of accessories? Try Yootech's Wireless Charging Pad. It's easy to use (just set your phone or accessory on the center of the pad), works through protective cases, and is sleep friendly by turning off the LED light when it recognizes your phone is charging. Also charges Apple AirPods and AirPod Pros!
"I purchased the iPhone XS Max and wanted a 7.5w wireless charger that was it too expensive for my nightstand. The Yootech fit the bill. It was easy to setup and use - just plug it into the wall adaptor (not included) and place the iPhone on the charging pad. Works through my iPhone silicone case and I like the green light which shows it's charging. I've been using the Yootech for over two months without an issue. Charges fast and easy without the hassle of plugging in each time." says Chris Pepin in his product review.
LETSCOM Ultra Slim Wireless Charger $8.99
Our favorite budget-friendly wireless charging pad is this Ultra Slim Wireless Charger from LETSCOM. It has a super slim design (just 0.3 inches thick) making it easy to bring anywhere, offers super fast charging with a QC 2.0/3.0 PD car charger (not included), and it's compatible a wide range of phones from Samsung, iPhone, Google Pixel, AirPods, and all Qi-enabled phones and earbuds.
"I highly recommend this product for your office/desk, kitchen, living room/dining room, etc where you need that quick charge but don't want to go find your charging cable that's compatible with various phones in the household. This will make life so easy!" says Anjali in his five-star review.
TOZO W1 Ultra Thin Aviation Aluminum Unibody Wireless Charger $14.99
If you're looking for the most aesthetically pleasing wireless charging pad, our vote hands-down is the TOZO W1 Ultra Thin Aviation Aluminum Unibody Wireless Charger. Made from aviation aluminum with a super slim design, it has a durable mirror panel top for a sleek look, and intelligent foreign object detection that stops it from charging when other metallic objects are in the charging zone—avoiding overheating!
"One of the most aesthetically pleasing wireless chargers I've ever seen & used. I've tried different ones and they either take too long to charge & gets hot or are bulky. This one is perfect for leaving at home, work and taking with you to travel." says Ken in his product review.
CHOETECH Wireless Charger Stand & Charging Pad 2-Pack $22.99
Can't decide between a stand or a pad? Get both with this Wireless Charger Stand & Charging Pad 2-Pack from CHOETECH. Use them at home, at the office, share with family, the options are nearly endless! Qi & ETL certified, it has an integrated smart chip inside that offers protection from over-charging, over-heating and short-circuiting. This gives you a safe and secure charging environment for your smartphone or wireless accessories.
"The price is great considering you're getting two chargers, one sits upright and the other one lie flat. I'm very happy with the products. They've got very sleek design. Charging speed is awesome. They do the job as promised. I recommend this product and will buy again." says Pong Polston in her online review.
Shop wireless chargers from US websites and ship worldwide and US sales-tax-free when you become a MyUS member.
We always aim to bring our members the best shopping options available, but some of the products featured in this post may have purchase restrictions. To find more information, please visit the merchant's terms of sale, shipping guidelines and/or terms and conditions.