Cool Motorcycle Jackets for Women
Leather jackets may not be everyone's go-to jackets, but surely most people have at least tried to see how they would look in one. The moment you put a moto jacket on, the irresistible feeling of power, dominance, and coolness surrounds you. This feeling reminded us to take a look a what's happening on that end of fall outwear. You may be a regular leather jacket wearer, someone that hasn't worn one for a long time or maybe you want to try for the first time. Below we've rounded up the very best models for everyone's taste and preferences.
Check these items out and shop them with ease by becoming a MyUS member. With our package consolidation, you can even shop for everyone in the family and ship all the store orders as one—saving you money!
Leather Moto Jacket $259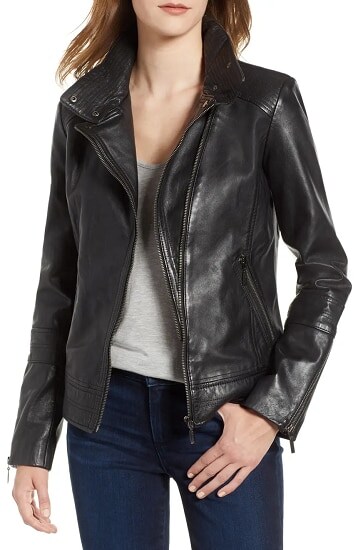 Crafted from genuine leather, this modern moto jacket is super soft and feels almost lived in right from the first wear. The inside has a smooth lining and it also includes all the classic moto buttons and zippers. You can dress it up for work or dress it down by wearing it with your favorite casual clothes.
"I've been hunting for the perfect leather jacket for years and thought I'd never find the right fit. This jacket fits like a GLOVE. It's so beautiful and the leather is so soft. The color is slightly darker than the photo on the listing, which makes me even happier. I ordered a medium after reading the reviews and I'm happy with it open and zipped. It's roomy enough for a light sweater underneath now, though that will make it a little snug in the arms (not terribly). I feel like based on the leather, after a few wears, it'll loosen up a bit and be just right. For reference, I'm 5'6 145lbs 34C. I usually wear a small in tops and a 6-8 in pants," reviews rebexlynn.
Keep It Together Moto Jacket $25.99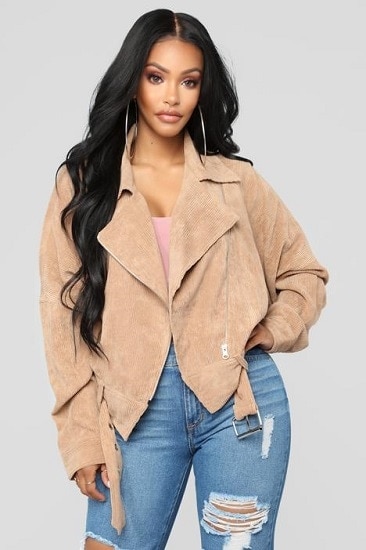 If you don't like the sheen of leather, but would love to wear a moto jacket, check out Keep It Together Moto Jacket. With a buckle, zipper, and unique cut, it gives you the feeling of a moto jacket and the comfort of a cozy cotton jacket.
Mayla M. is so happy with her decision of buying it. She comments: "Love this jacket. I could dress it up or down! So comfortable! And I'm usually picky with this style but I'm glad I made this purchase."
Whet Blu Leather Moto Jacket $300
This classic-cut jacket designed to hit just below the waist is like a dream come true. The well-cut design is made to fit your body and make you feel wonderful. Lambskin leather's irresistible softness is ready to elevate your stylish outwear.
"I was AMAZED at how beautiful, well made, and soft this black Moto jacket is. It fits perfectly. I am 76 years old, 5'5", 152 lbs, and short-waisted with narrow shoulders. I am pear-shaped. I ordered a Large. I think this jacket is very stylish. Every time I wear it, I am always told that it is a gorgeous jacket. I always wear it open," states Cat Lady
Levi's Asymmetrical Motorcycle Jacket $120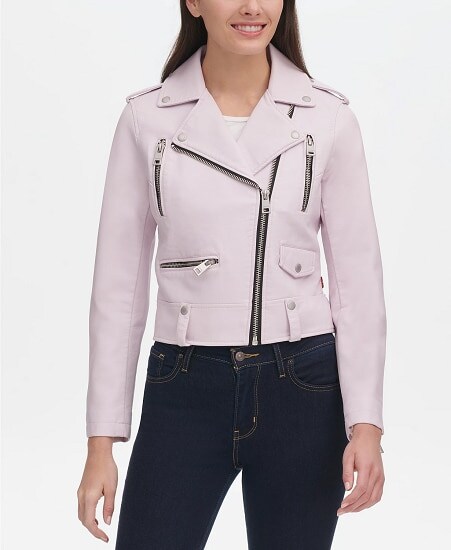 The faux leather makes this contemporary asymmetrical motorcycle jacket a staple in every woman's closet. It is perfect to transition between seasons or to use as a layering piece. Asymmetrical center front zipper with snap-down lapels and epaulets for added detailing. Two chest zipper pockets, a lower welt zipper pocket, and a pocket with snap for viable storage and safekeeping
"I bought this as a b-day gift for my daughter and she loves it! I ordered the Small (she is 5 ft 4,109 lbs) and it fits her perfectly with a little extra room left for a heavier shirt or sweater. She loves the black & silver & it really does look like actual leather. A nice quality jacket, we are both very happy with this purchase!" exclaims Inklady.
Deadwood Joan Leather Cropped Moto Jacket $420
To be paired with rigid dark blue denim and a white T-shirt for a simple, stylish fit this fall, the leather moto jacket from Deadwood is the perfect choice. The zippered pockets, belted hem, and silver metal detailing make this fine piece of moto jacket art a chic addition to your outfit!
"This jacket is everything I wanted it to be. I was looking for a lightweight casual leather jacket, and the cropped version made it even more perfect!" comments GG0367.
Michael Kors Leather Moto Jacket $250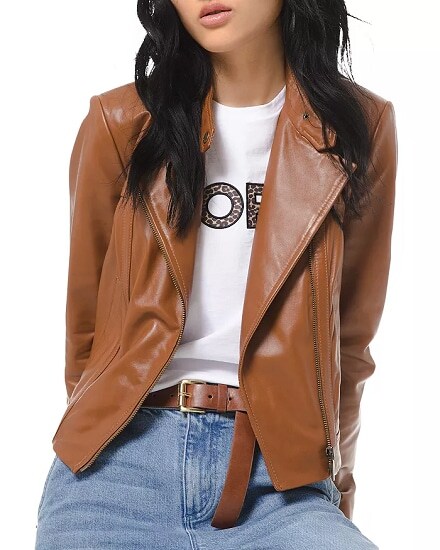 Get ready to shake your definition of the moto jacket. Made of 100% lamb leather this jacket features a notch lapel with snap collar, zip cuffs, asymmetric zip front—and looks great either open or closed. Feel good in your shape.
Angelicness is very happy with her purchase and she has some big plans for it: "I absolutely adore this jacket!! The leather is soft and smooth. It sits just above my hips, just the perfect length for my body shape. I have an hourglass body shape and am a 38C. I needed something to wear over a summer dress I purchased for our Boho / Edgy / Urban engagement shoot in Lisbon, and this jacket adds that perfect touch. It covers me just perfectly up top not making it look like I'm top-heavy, which is how I feel without the jacket on. I love it so much, I'm planning on wearing it either on our wedding day or the day after during another photoshoot. It looks great with jeans as well as a leather skirt. I can't say enough good things about this jacket, seriously, haha!!"
Animal-Print Patchwork Leather Moto Jacket $795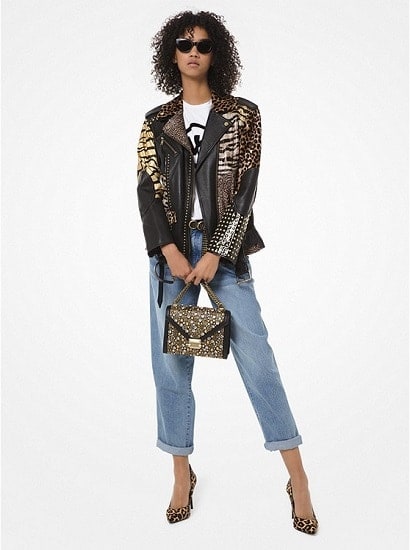 Rendered in a graphic mix of animal-print calf hair, leather, and glossy patent panels, this moto jacket is elegantly edgy with eclectic accessories. Rewrite the definition of fashion and feel the power of patchwork with this jacket.
Balle Cattleya comments, "I just could not resist. I order an M and it fits perfectly. I have my leopard sunglasses and my clutch to match. I'm all set for fall. Can't wait to wear it all together. Thank you, Michael! I love the fall collection."
We hope that you enjoyed our small selection of the customer-favorite moto jackets for women this season. Enjoy exploring them and many more from US stores with the convenience of MyUS.
We always aim to bring our members the best shopping options available, but some of the products featured in this post may have purchase restrictions. To find more information, please visit the merchant's terms of sale, shipping guidelines and/or terms and conditions.