Dussehra Festival Gifts for Your Loved Ones
Dussehra, also known as Vijayadashami, is a vibrant and culturally significant festival celebrated with great enthusiasm in India and by Indian communities around the world. This joyous occasion signifies the triumph of good over evil, with its roots tracing back to the ancient Indian epic, the Ramayana. As the holiday is almost here, people come together to celebrate the victory of Lord Rama over the demon king Ravana. The festival's spirit of unity, love, and renewal is best expressed through the exchange of thoughtful gifts.
In this article, we will explore five gifts inspired by Dussehra, each carrying its special meaning and charm, making them ideal choices for your loved ones.
Ram Darbar Statues
These beautiful statues depict Lord Rama, his consort Sita, his loyal brother Lakshmana, and the devoted Hanuman. They symbolize the ideals of righteousness, dharma, and the victory of good over evil. Crafted with intricate details, the statues are not just religious symbols but also works of art. They serve as a constant reminder of the triumph of virtue and make a stunning addition to any home.
Customer Review: "Earlier I purchased a lot of idols from other popular brands. But this one is top among all . Product as well as the packaging also wonderful. I recommend this to everyone and in future I will buy more from this brand." – Varun
Saffron-Scented Candle
The warm, comforting fragrance of saffron evokes purity, spirituality, and devotion, making it a perfect choice for Dussehra celebrations. These candles create an atmosphere of peace and tranquility, enhancing the spiritual ambiance of your home during the festival. Light them during prayers or meditation to set a serene and sacred mood.
Customer Review: I have tried many candle brands & this one beats most by far. The scent is strong enough to be pleasant but not overwhelm. I have ordered this candle several times & have never been disappointed. Burns evenly. A fabulous buy! – Jewels
Dussehra Decorations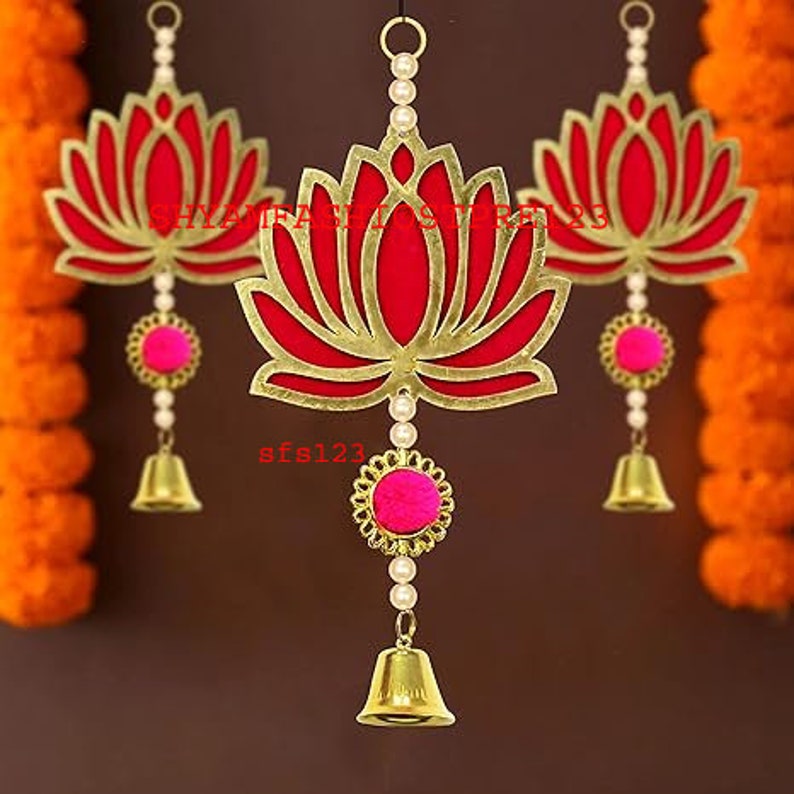 Enhance the festive ambiance of your celebrations with the 100 Piece Beautiful Lotus Hangings. Perfect for Dussehra, these intricately designed lotus hangings add a touch of elegance to your Puja Decor, Templace space, or Indian Wedding decorations. Create a stunning party backdrop or present them as a thoughtful new home gift, elevating the spirit of Dussehra with these vibrant and symbolic lotus decorations.
Customer Review: Good quality product and the colorful design was perfect. - Stephanie Danieli
Sandalwood Incense Sticks
Sandalwood is considered auspicious in Hindu culture, signifying purity, devotion, and protection. Rest, assured that these incense sticks will fill your surroundings with a soothing fragrance and are perfect for prayers and meditation. The calming scent of sandalwood creates an ambiance of serenity and positivity – something we all need in this day and age.
Customer Review: Just wanted to say these Incense burn better than ANY incense I've ever had, These are what I call REAL incense, They are definitely worth every penny (if not more)!! – Angie
Traditional Indian Sweets
In the spirit of sharing joy and happiness, gifting traditional Indian sweets like gajak or revdi is a common practice during Dussehra. These treats not only taste great, but they also symbolize the sweetness of victory. Treating yourself (pun intended) is a delightful and delicious way to celebrate the festival with your loved ones and get a taste of Indian culture and tradition, evoking a sense of togetherness and celebration.
Customer Review: Authentic Indian taste and flavor. Excellent quality and packaging. Peanut chikki is the best of all the packs. One suggestion is to make a combo without besan ladoo and else include something else like gud paare. Overall extremely satisfied with quality and taste. – Ravi007
Dussehra is not just a festival but a celebration of values, traditions, and the eternal battle between good and evil. By selecting gifts that encapsulate the spirit of the holiday, you can convey your love and best wishes to your loved ones. Whether it's a piece of art, scented candles, or sweet treats, these Dussehra-inspired gifts carry profound meaning and cultural significance.
Don't wait up; Embrace the joy of giving and sharing during this festive season with MyUS today!
We always aim to bring our members the best shopping options available, but some of the products featured in this post may have purchase restrictions. Please visit the merchant's terms of sale, shipping guidelines, and terms and conditions to find more information.