Prepare for the Fall Season with these Home Decorations
Autumn is the perfect season for drinking hot apple cider, playing in Fall leaves, preparing for Halloween, sitting around the bonfire, traversing through a corn maze, and picking apples. It's also the best time to get fun and creative decorating your home to coincide with the transition from Summer to Autumn.
If you're looking for ideas to spruce up the living room, home office, porch, or backyard, MyUS has you covered with Autumn accessories. As a MyUS member, you can check out the best products popular US stores have to offer and ship your favorites in time for Fall festivities.
Fall Leaves String Lights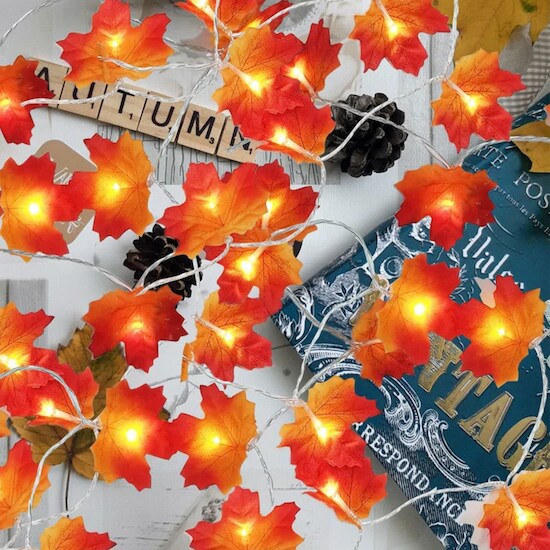 These Fall Leaves String Lights are the perfect Autumn-themed decoration that fits on porches, tables, doorways, and fireplace mantels. They add a bright and elegant look and a comforting atmosphere to your home during the day and night. Adjust the wires to any arrangement you see fit, and watch them illuminate the whole house. Enjoy a warm and joyful Fall feeling with these string lights this season!
Customer Review: "I love these lights! They bring such coziness to my home as the days get shorter and colder!" - Melissa
Pumpkin Clove Glass Jar Candle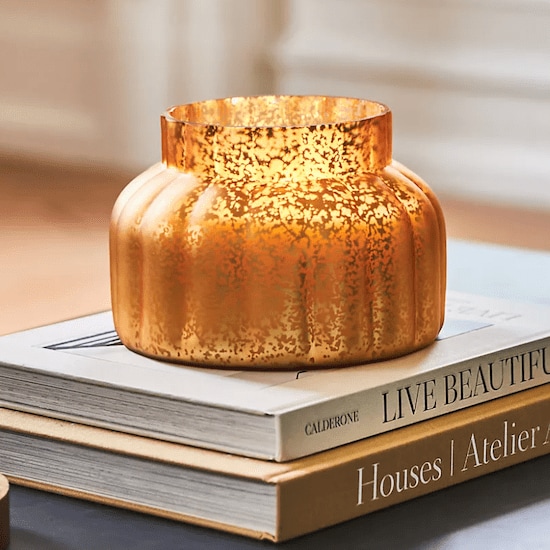 Bring in fresh aromas and fragrances that best describe the Fall season with this Pumpkin Clove Glass Jar Candle from Anthropologie to your home. The candle's ingredients contain a buttery pumpkin scent with orange zest, savory vanilla, and cinnamon for an elegant smell that impresses owners and guests. The pumpkin-shaped glass also adds a decorative element to the candle, representing the Fall season. Place a few around the house or give them to friends and family as gifts.
Customer Review: "I love these candles. The pumpkin is amazing. I had to buy it after shopping in the store and smelling it. Even in August, I couldn't resist!" - Anime
Fall Family Friends Coir Doormat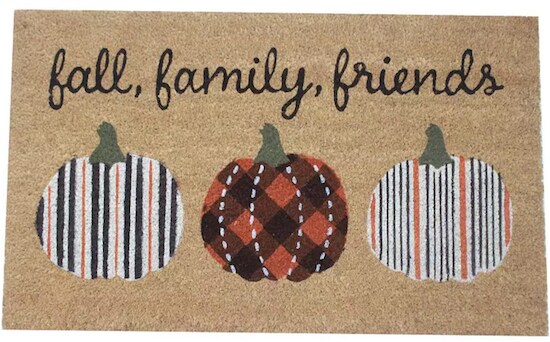 Welcome friends, family, and guests to Fall festivities with this Celebrate Together Autumn-themed Coir Doormat at your doorstep during the next few months. This eco-friendly woven pile with PVC backing is a lightweight but sturdy decoration that's durable and long-lasting from daily use. Place them in front of the door or inside for people to keep their shoes clean before entering your home.
Customer Review: "So happy with this fall mat. It is even cuter than the picture!" - Jan1
Primrue Silk Wreath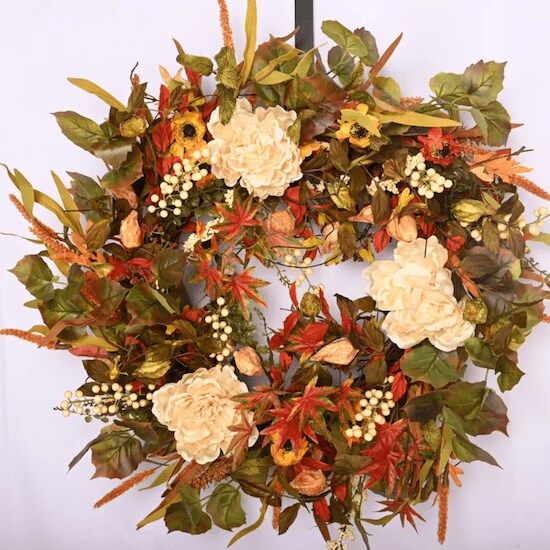 While you see wreaths in front of doors during winter, especially during Christmas parties, that shouldn't stop you from applying a Primrue Silk Wreath to your door throughout Autumn, Halloween, and Thanksgiving. This artificial decoration allows homeowners to use it for outdoor decorating for years without needing a replacement. The multicolor leaves and flowers make it a lovely and remarkable addition to your Fall-themed collection.
Customer Review: "Primrue's Silk Wreath is exceptionally beautiful and filled with warm colors just in time for the holiday season. A perfectly beautiful wreath." - Carolyn
Fall Throw Pillow Covers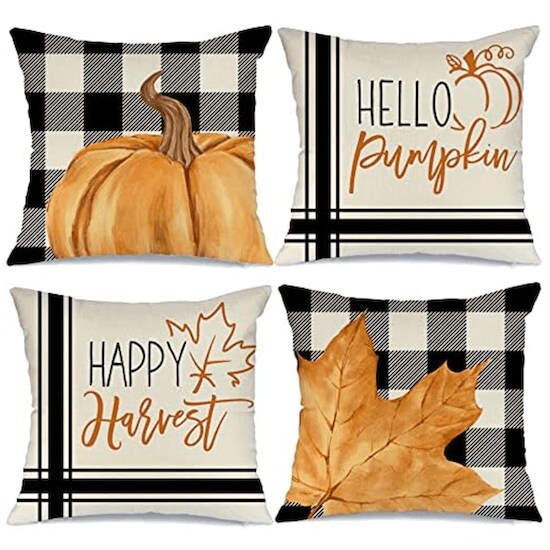 Whether you're celebrating the beginning of Autumn at home, school, or work, these Fall-themed Throw Pillow Covers are ideal for small spaces that lack a front and backyard for decorating. They work well as additions for pillows in the bedroom, living room sofa, or welcoming area for friends and family. Easy to unfold, zip up, wash, and store for occasions throughout Fall! These covers add variety and color to your furniture setting without heavy redecorating around the house.
Customer Review: "Love everything about these. They look exactly as the photos show. Definitely spruced my couch up for the fall. Nice quality and the price was fair. Will be ordering more from this seller." - Andrea
Flora Harvest Decor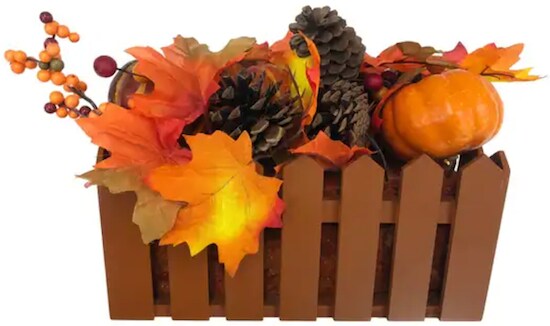 If you need that final accessory that completes the entire Autumn-themed ensemble at home, look no further than this Flora Harvest Decor full of faux pine cones, leaves, and pumpkins. Place it as the main centerpiece of a coffee table, dining room table, nightstand, or bookshelf for a friendly and pleasant accessory. This item also perfectly matches accompanying Thanksgiving wreaths, pumpkin candles, and Fall-colored tablecloths for a finished festive-season lifestyle.
Customer Review: "Love this table centerpiece. Fits perfectly on my kitchen table. Really makes you think of fall and at a great price. Glad that I purchased this." - Lobie
The Fall season has an abundance of decorations and accessories that make homes welcoming and adjusted to the Autumn spirit. Using MyUS can help you search and shop for the perfect and ideal decorations from popular US stores and ship them straight to your doorstep in time for any occasion. Reliable and fast consolidated shipping, carefully selected stores to browse from, and a wide array of products make MyUS the go-to place for last-minute or early shopping. Become a member today and start searching for the latest decorations for your home during the Autumn season!
We always aim to bring our members the best shopping options available, but some of the products featured in this post may have purchase restrictions. Please visit the merchant's terms of sale, shipping guidelines, and terms and conditions to find more information.