Stylish, Empowering & Confident: Corporate Fashion Styles to Try Out during Fall & Winter
Dark blazers, slimming trousers, and classic blouses are quintessential components of corporate attire. Anyone can mix and match various styles to create professional, versatile, and fashionable outfits for the work week.
However, finding the perfect pieces that are comfortable and appropriate for the changing seasons can be difficult. The workplace fashion world provides new trends, influencing how individuals complete their ensembles of garbs and garments from 9 to 5 jobs.
With Fall and Winter around the corner, it's time to add trending clothing items for the office. MyUS offers customers elegant designer clothes they can wear at different price ranges. New members access lightning-quick international shipping from popular US stores to over 220+ countries. Receive your brand-new work attire at your doorstep from stores such as Macy's, Nordstrom Rack, Saks Fifth Avenue, and much more!
Pinstripe Slim Leg Pants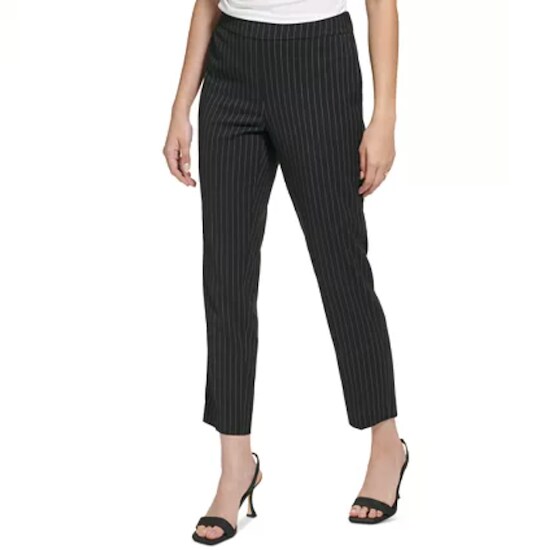 Whether you want to wear a creative or business-casual ensemble for work, almost everything matches perfectly with a pair of Pinstripe Slim Leg Pants. Add a matching blazer, any colored button-up, any type of footwear, or a colorful cardigan-shirt combo to these pants for a complete look.
Incorporating pinstripe pants into corporate fashion makes anyone look approachable and confident in and out of the office. If you want to make a subtle change that enhances the look of your business attire, look no further than Pinstripe Pants by Calvin Klein!
Customer Review: "These pants are exactly what I was looking for. Good quality. Fits perfectly. I also bought the matching jacket. I'll wear it as a set to the office, and will wear the pants with a sequin crop top for going out. ;)" - Linda 93
Regent Blazer in Four-Season Stretch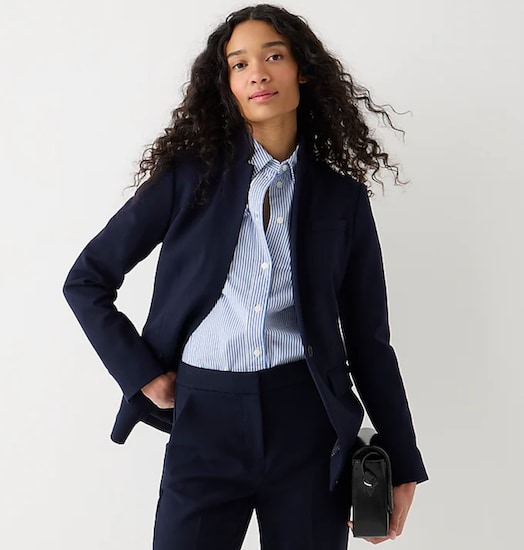 Are you looking for a sleek, comfy garment that works well with button-ups, blouses, dresses, and slacks? J.Crew presents their Regent Blazer in Four-Season Stretch appropriate for Fall and Winter corporate fashion. The clean lines, popped collar, and slightly longer length make this blazer a go-to cover for chilly days. Also, the blazer's elastane fabric material offers extra stretch without compromising comfort. If you want to own one or a couple to mix and match work outfits, check out more office clothing options from J.Crew here!
Customer Review: "This jacket did not disappoint. It is beautifully made with a terrific fit! I really appreciate the unique style of the collar," - Angel
Double Breast Trench Coat
When you need to work outfits to transition from the Fall to Winter, this Sam Edelman Double Breast Trench Coat checks off all marks. The water-resistant finish protects your work clothes during chilly, rainy, and windy days commuting from home to work and back. It also adds an extra layer of style and sleekness to your corporate fashion collection. Whether you want to look laid-back or sophisticated, this trenchcoat accomplishes any look for the workplace.
Customer Review: "This coat was a nice surprise. I'm 5'10" 130 and the small was a great fit (if anything it was a little big but in a good way for wearing a sweater underneath). The Olive color (almost brown) will look good for workwear and I can wear it with jeans and tennis shoes," - Jule22
Everyday Open Front Cardigan
Bundle up for work in the winter with a brand-new Everyday Open Front Cardigan with your corporate clothes collection. Choose between seven colors that perfectly match your style and pair them with your favorite shirts and trousers. The merino-wool-rich sweater provides a lightweight and warm alternative to blazers and jackets during the Fall. Easy to put on as a last-minute ensemble for errands in and out of work.
Customer Review: "The Cardigan is warm, drapes beautifully, and works perfectly as both a work sweater, a run around with errands sweater, and a travel sweater. The Merino Wool wicks sweat so it doesn't smell and you can wear it longer. And the pockets can hold a phone. It's my workhorse cardigan," - RobinED
Striped Combination Knit Dress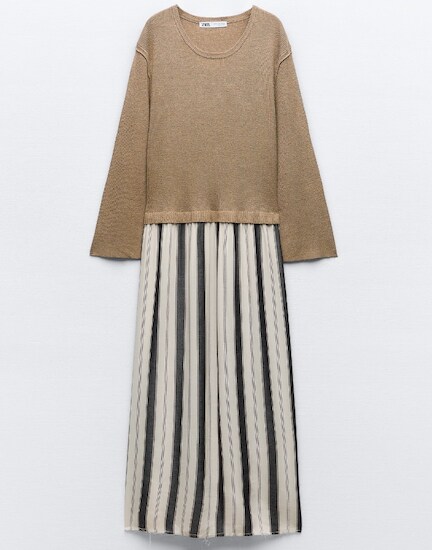 Are you searching for the perfect outfit for the office that's easy to assemble for the winter? Add this Striped Combination Knit Dress from Zara to your collection. It's a quick and efficient outfit that makes anyone look their best before working in the office or attending virtual meetings from home. The shirt and dress combination provides an elegant and conservative look during the Fall and Winter seasons.
Customer Review: "This is so cute. True to size and it is a dress. I love it. It is thick and looks so cute with boots." - Ana C
T.LA Puff-Sleeved Pullover
If you're looking for a loose-fitting, business-casual top that feels dressy, try out this T.LA Puff-Sleeved Pullover from Anthropologie. Add solid-color and dyed variations of the work blouses to your work garments, and inspire yourself to dress creatively and colorfully at work. The puffed sleeves offer a charming and laidback look to the short-sleeve blouse. Pair this pullover with skirts, slacks, jeans, heels, and open-toe shoes for the ideal outfit at the workplace.
Customer Review: "This is super cute with jeans to transition into fall. Very comfortable and cozy." - pinksparklebirdie
Dressing in corporate-appropriate fashion makes employees feel productive, stylish, and organized. With Fall and Winter approaching, it is time to browse stores for clothes that match the changing seasons. Fortunately, MyUS assists customers in finding the ideal clothing options for corporate work at home or the office from popular US stores.
Become a member today and utilize lighting-quick international shipping from your favorite stores to your doorstep for endless stylish fashion options and more!
We always aim to bring our members the best shopping options available, but some of the products featured in this post may have purchase restrictions. Please visit the merchant's terms of sale, shipping guidelines, and terms and conditions to find more information.