Fancy for Fall: 5 Must-Have Jackets for Every Budget
If you can't stand the heat, you're probably ecstatic that the summer sun is fading and the leaves are slowly turning. This is also a great time to start thinking about your autumn wardrobe essentials and grab some pieces for much less money before the season really kicks off.
One key piece that should never be overlooked is a transitional jacket. A well-chosen jacket keeps you warm and adds a stylish touch to your outfit.
Whether you're strolling through colorful foliage or sipping pumpkin spice lattes, these top 5 women's autumn jackets available from MyUS partner stores will have you covered in terms of style and budget.
Classic Trench Coat from GAP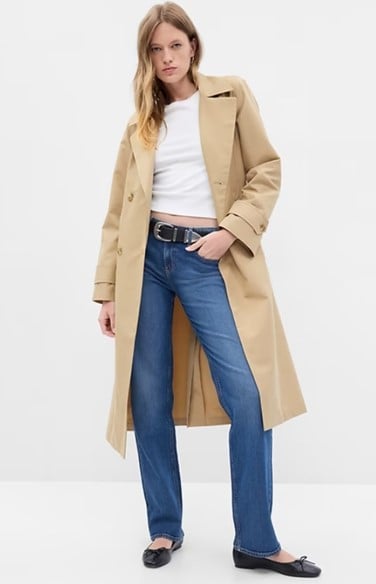 The timeless tan trench coat from GAP is a quintessential autumn jacket that effortlessly combines elegance and functionality. With its tailored silhouette and lightweight fabric, it's perfect for layering over sweaters or dresses during those chilly autumn days. Its neutral tones make it versatile enough to complement a wide range of outfits, from casual jeans to more formal dresses, and the adjustable belt cinches the waist, providing a flattering silhouette for all body types. Get one here.
Customer Review: "My favorite coat by far. I can't bring myself to wear anything else ever since I bought this one." – Kay8
Versatile Neutral Bomber Jacket from Revolve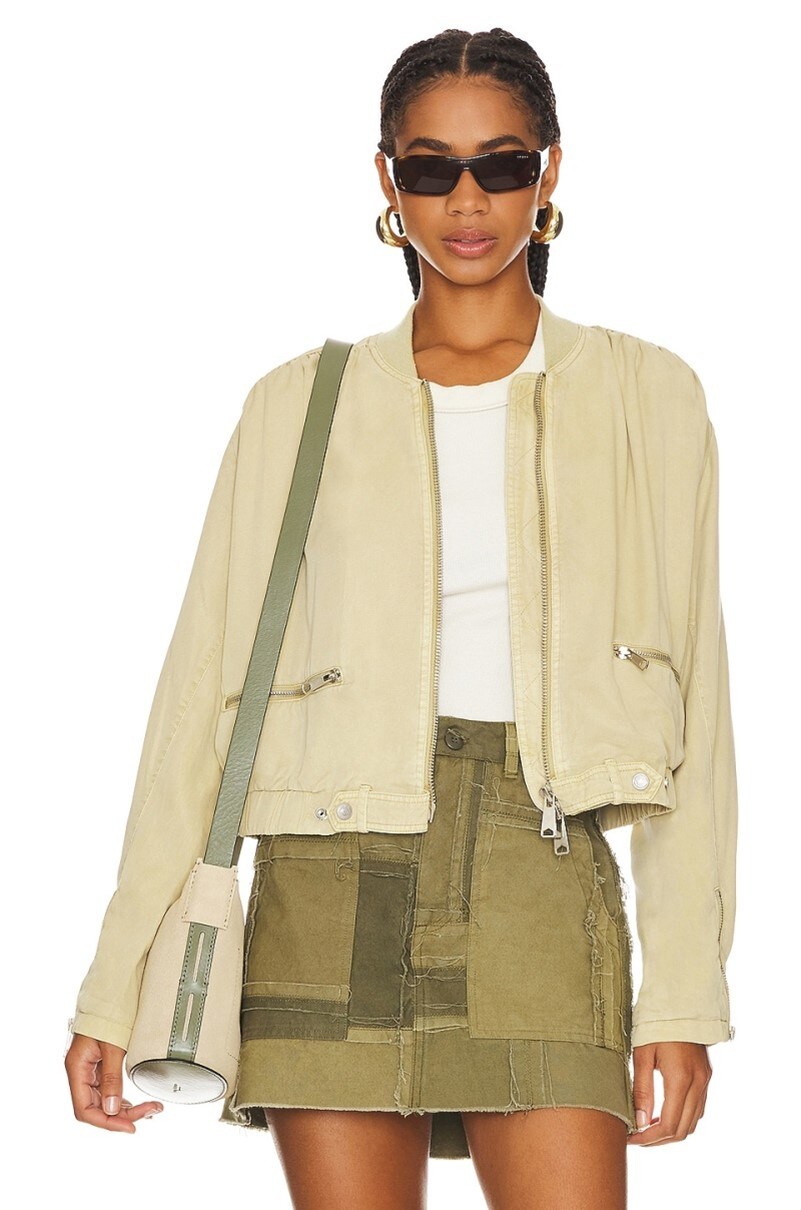 The neutral bomber jacket from Revolve is a true style chameleon. With its clean lines and modern design, it adds an urban edge to any outfit. Crafted from high-quality materials, it offers both comfort and fashion-forward appeal. Its versatility shines as it pairs equally well with jeans and sneakers as it does with a skirt and ankle boots. The neutral color ensures it complements various hues in your wardrobe, making it an excellent transitional piece. Get one here.
Customer Review: "This jacket is so much prettier than online. It's very cool with nice detailing. Fits great hangs beautifully on and is lightweight enough to wear on a cool summer night or in spring/fall." – Jaye
Faux Leather Jacket from Urban Outfitters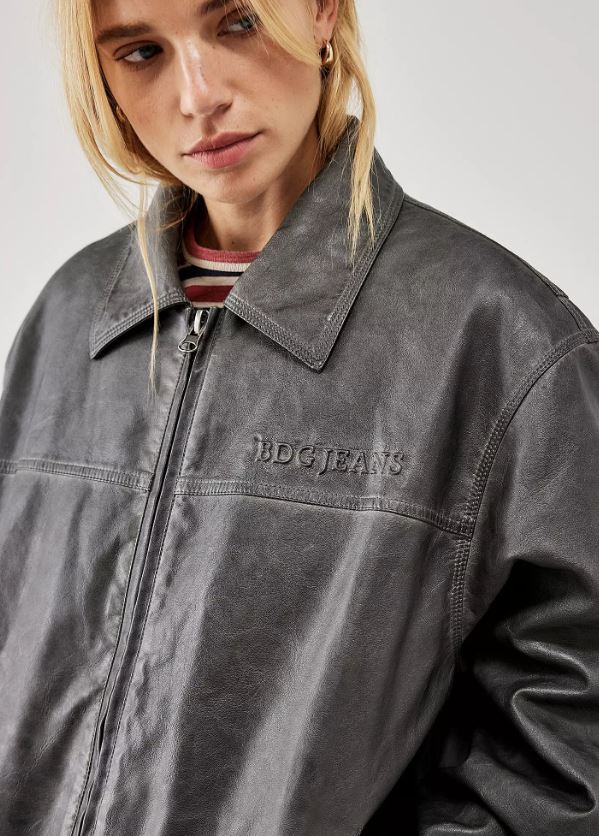 Now that we have so many options to choose from, it's our duty to embrace a cruelty-free approach to style. And who needs to wear animal skin when you have amazing faux leather jackets like our choice from Urban Outfitters?
With its edgy design and buttery-soft faux leather, it adds a touch of rebellion to your autumn ensemble. Leather jackets are iconic for a reason, and now you can enjoy the same style without compromising your values. This jacket brings attitude to any outfit, whether you're going for a rocker vibe or mixing it with feminine pieces. Faux leather is not only ethical but also offers a lightweight option for those brisk autumn days. Get yours here.
Customer Review: "I love this jacket so much. It's got a nice vintage look to it. I wanted it to be slightly oversized I ordered my usual S due to reading other reviews saying it comes up larger and it was the perfect oversized fit. I'd say order it!!" – Kelly1990xo
Oversize Quilted Puffer Jacket from Zara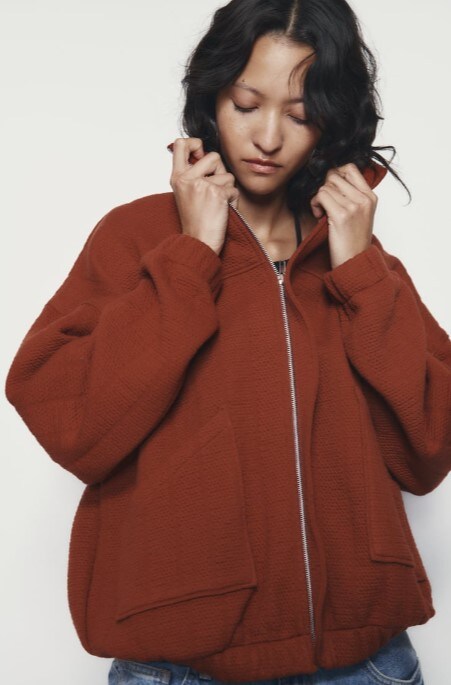 Stay warm and stylish with the quilted puffer jacket from Zara. Its contemporary design, complete with a high collar and quilted pattern, provides both insulation and on-trend flair. As temperatures drop, a puffer jacket becomes a cozy necessity, and this quilted option brings a modern twist to the classic puffer, making it suitable for both urban outings and outdoor adventures. Shop here.
Customer review: "Lovely jacket, kept me warm even when I wore my crop top underneath." – CassieLou
Wool Blend Wrap Coat from Nordstrom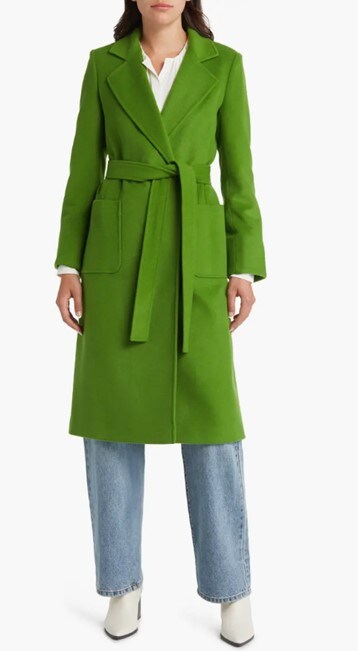 Just because it's autumn, it doesn't mean that you have to wear dark and dull colors. On the contrary, we encourage you to elevate your autumn look with the clover green wool-blend wrap coat from Nordstrom. Its luxurious fabric and draped silhouette exude sophistication and warmth, while its color gives it a breath of fresh air.
Wrap coats are renowned for their elegance and comfort, and they flatter various body shapes, so we think we have a clear winner here, no? If you agree, you can buy one here.
Customer Review: "I absolutely love this coat - the cobalt color is stunning. I found it ran just slightly small, but the next size up was too big. Looks great open or belted, and I love that the most functional button is actually a snap." – VTSarah
Autumn is a season of change, and updating your wardrobe with a new jacket is the perfect way to embrace the shift in style. From classic trenches to edgy faux leather options, these top 5 women's autumn jackets cover a range of budgets and styles.
So don't wait for the heavy rain - start your autumn shopping now and find your look for the crisp days ahead. Stay cozy and stay stylish!.
We always aim to bring our members the best shopping options available, but some of the products featured in this post may have purchase restrictions. Please visit the merchant's terms of sale, shipping guidelines, and terms and conditions to find more information.