Spooky, Scary, and Fun: Festive Halloween Decorations for the Fall
Halloween is a fantastic time when people dress up, hop from house to house in the neighborhood, receive tons of candy, watch scary movies, and throw parties with friends. October 31st is a day many look forward to in the Fall, an event many take more seriously than other holidays. Whether you're participating in the Halloween fun, handing out candy to trick-or-treaters, or hosting gatherings, create a spooky and amusing atmosphere with themed decorations that capture the Halloween spirit!
You can start decorating your home with light-up pumpkins, witch cauldrons, LED candles, string lights, and special effects today with MyUS! As a member, you can access hundreds of quality costumes, ornaments, and goodies from popular US stores and ship them straight to your doorstep in time for Halloween!
Coffin Letter Board
Greet guests and trick-or-treaters from the front door or the entryway with this customizable Coffin Letter Board during the Fall season! Jot down spooky and creative messages to make friends and family feel the Halloween spirit. It's up to your imagination and creativity to use the included 500 characters and 80+ emojis however you see fit!
Customer Review: "I adore the creepy symbols that come with this board! I use this at my table at craft fairs and vendor markets and always get so many positive comments on the felt board! It's absolutely delightful and well made." - Desiree Nicario
Floating LED Candles
Add a flair of mystery, fantasy, and brightness to your home during the month of Halloween with these Floating LED Candles. They feature a realistic flickering effect similar to real candles without melting wax. Suspend them from the top of your doorways, tree branches, and ceiling areas for the best fixtures for your Halloween-themed house!
Customer Review: "These were everything I was hoping for and more! I can't wait to order another set for outside." - Bailey Beaulieu
Skeleton Wall Decor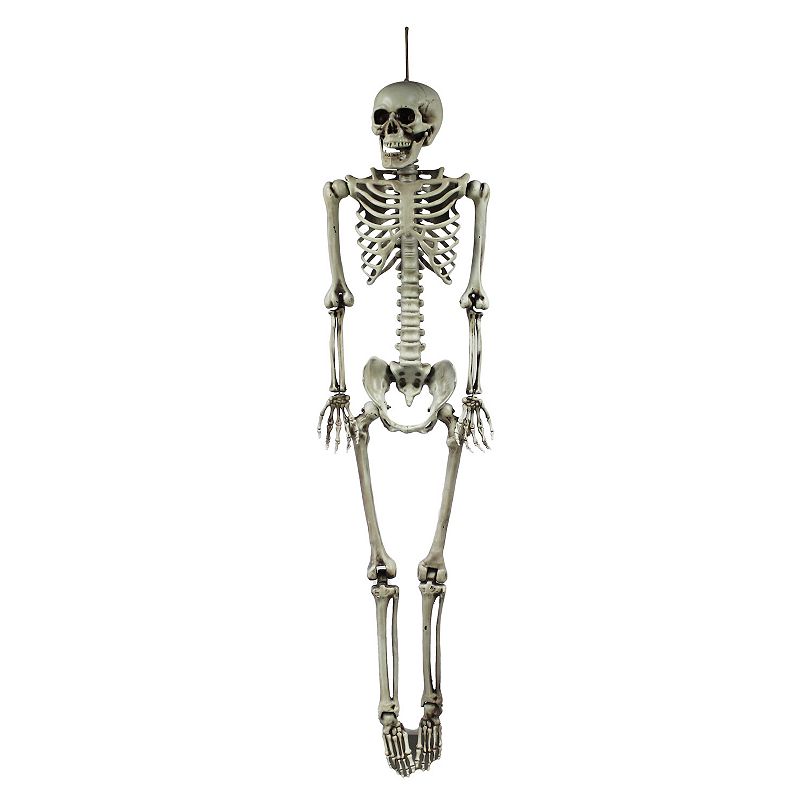 If you want to add more fright to your home during Halloween, this Skeleton Wall Decor should do the trick as a festive and terrifying piece! The jute rope offers a free-floating skeleton that completes any Halloween-themed event. Place it on the wall to fill up negative space between other decorations, or prop it on a chair in front to greet trick-or-treaters and guests who dare approach your doorstep for Halloween fun!
Customer Review: "I ordered this to put on my front porch bench for the Halloween season, I think my five-year-old grandson will love seeing it when he comes to visit. It is big and on the heavy side, but seems to be made well. Large enough to see it well from the street which is what I wanted. Love it!" - Frenchu
3-Piece Cauldron Decorations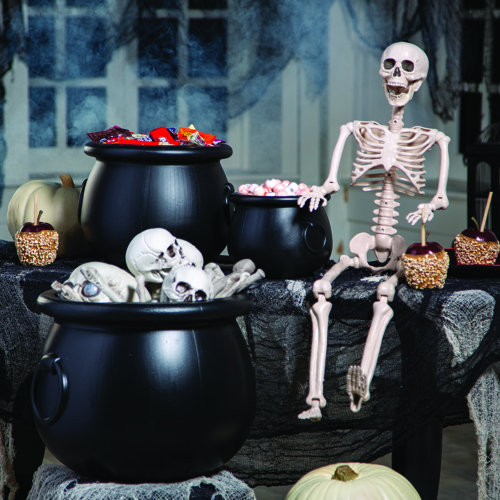 Spread out the spooky spirit of Halloween with this festive 3-Piece Cauldron Set and fill each with treats, additional props, and sweets. Each cauldron is perfectly sized for indoor and outdoor use to complete haunted houses of your design. You can get creative and add an assortment of souvenirs, gifts, and decorations to enhance the Halloween experience!
Customer Review: "Perfect for my Halloween projects! I can't wait to get started on them! The size and quality of the cauldrons is amazing!" - Brandi
Magic Owl Lantern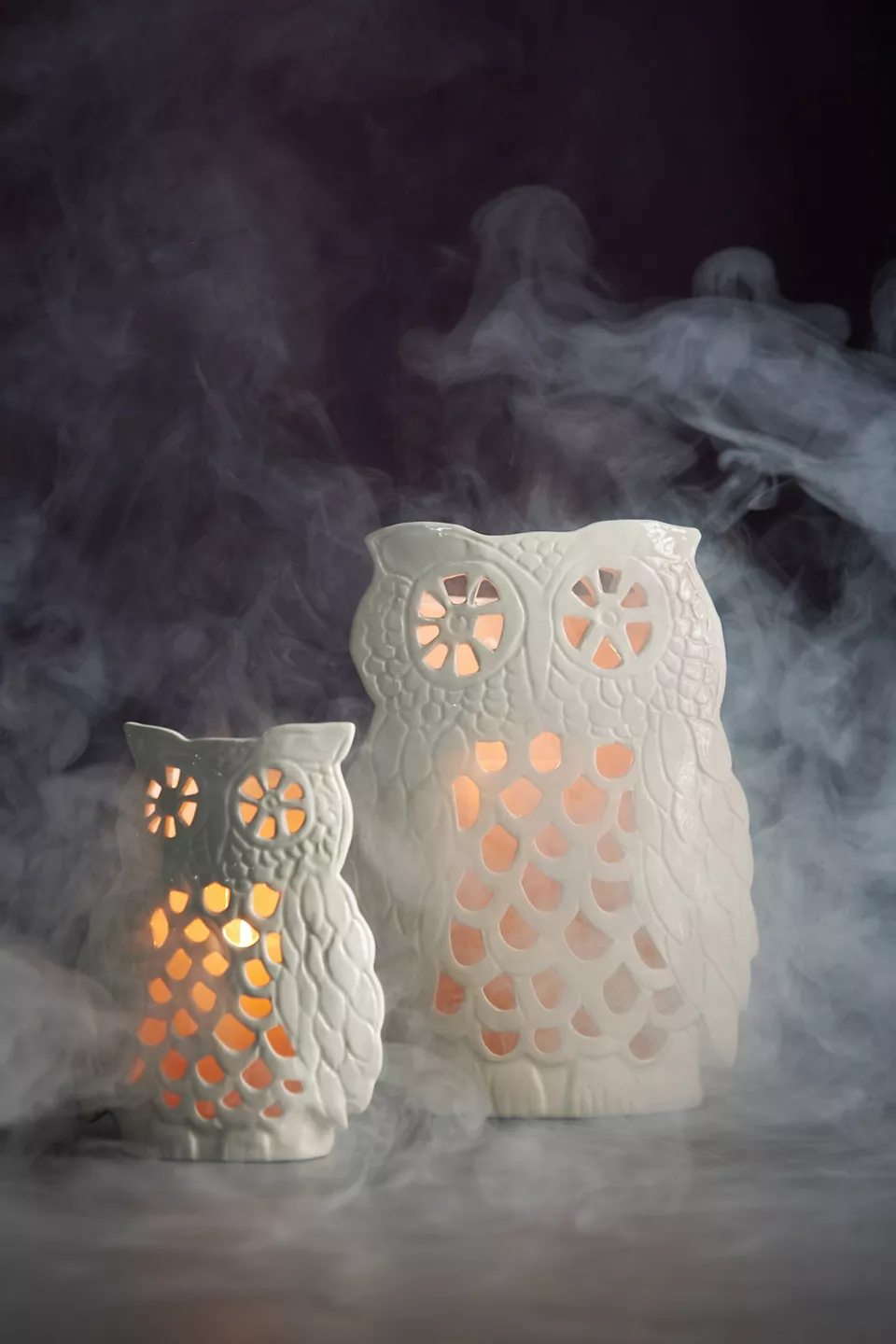 Who knows when you might need a Magic Owl Lantern from Anthropologie in your Halloween collection? The scalloped cutouts and open-top create a warm, eerie, and magical atmosphere in your living room, tabletop, nightstand, and fireplace mantel. When you dim the lights or leave the lantern outside at night, the glow makes this accessory stand out from other lanterns and themed candles.
Customer Review: "I love that I can use these for both fall and Halloween decor! I purchased both sizes." - Sunshine2
Outdoor Spooky Ghosts Decorations
Do you need a guide or two that leads people to your home for trick-or-treating or a party? These Outdoor Spooky Ghosts are the ideal Halloween ornaments that are distinct, amusing, and chilling to see while on display. Ghosts, ghouls, and spectres are synonymous with Halloween and horror stories, so enjoyers, enthusiasts, and party organizers recognize the value of these ghost decorations around their homes.
Customer Review: "These two are absolutely spooktacular! Easy to put together and easy to take apart. They fit easily back in the box. I can hardly wait to start decorating. Glad I purchased them early. I will not be surprised if they become unavailable very soon. Very reasonably priced - might purchase another set!" - Veronica Brown
October 31st is an essential year for costume lovers, horror fanatics, candy enthusiasts, and partygoers of all ages. Families begin a friendly rivalry to compete for the best-decorated house and the most candy variety to hand out in the neighborhood. If you are hosting a Halloween party or getting into the spirit of the Fall season, now is the time to search for decorations and ornaments to organize around your home. As a MyUS member, customers can access thousands of costumes, candy dishes, candle holders, decorative pumpkins, and other Halloween ornaments from carefully selected popular US stores. After finding the must-have items, MyUS offers lighting-fast shipping to over 200+ countries, including your doorstep!
Become a member today and create the best scenery and party atmosphere for this year's Halloween festivities!
We always aim to bring our members the best shopping options available, but some of the products featured in this post may have purchase restrictions. Please visit the merchant's terms of sale, shipping guidelines, and terms and conditions to find more information.