Fun & Educational Toy Trends of 2022
Surprise your kids now with new toys that will not only excite them but will contribute to their development! Research shows that playtime is incredibly important in gaining skills that serve us for a lifetime. The toy trends of 2022 certainly agree with this direction. So, we present you with the most-wanted toys this year.
Take your pick from a selection of crafty, magical, just plain FUN toys and ship them internationally by becoming a MyUS member. With your MyUS suite, you'll be sure to have all the latest gadgets and toys for all the little ones in your life.
Crafty and Artistic Toys
Many kids don't realize that they are artistic or crafty if they don't have a chance to experiment at an early age. This year pick some crafty and artistic toys to unleash and boost your kids' creativity.
The Water Marbling Paint Art Kit encourages youngsters to create, which aids in the development of their creativity and imagination as well as their color and aesthetic cognition. Simply place a few drops of paint into the water, then swirl the paint around with a stick to produce different effects, then transfer to paper. The non-toxic pigments are safe for your children. You can also enhance the fun by transferring the art piece to surfaces like wood, fabric, or plaster.
"This was a great gift we received! Kept the kids busy for hours of fun! The paint was easy to work with and washed out of their clothes super easy! I would say a definite yes!" exclaims Brittney Kilian.
The Yarn Elephants Kit from Craft-tastic was created to encourage creativity and imagination in kids, tweens, and early teenagers. Two lovely elephants may be made with this kit. This is the ideal gift for a craftsman who is intermediate to advanced. Crafters will make two yarn-wrapped elephants with time and patience. This package comes with everything you'll need for a productive and fun afternoon.
"I purchased this for my 8-year-old grandson who loves to craft, and he got excited just looking at the box. This is a project that is easy to handle for young fingers and satisfying because they can do it on their own with very little help or supervision," remarks Susan R. Williams.
Magical Toys
Hocus Pocus! Children love magic. The irresistible appeal of the unknown alerts the natural explorers. Magical toys have always been trending, and they continue to keep their place near the top of every ranking this year.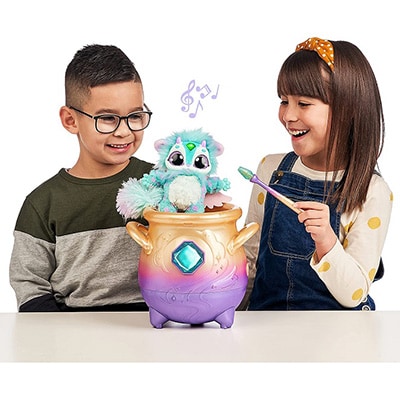 Double, double toil and trouble; Fire burn, and cauldron bubble! Experience real magic with this interactive toy—just mix your potion and make your pet! Who will you magically create? This set includes all the magic ingredients for kids to experience real *magic* and have a fun time mixing potions and casting spells.
An Amazon customer tells us why they love this toy in this detailed review: "Ok so this toy is so much fun! You have to charge it before using. The sound and lights make this amazing. Follow the directions and tap 3 times when prompted. The whole process is almost ten mins long. The smoke comes at the end and then the bowl flips over and your creature is born! The water can be emptied by unscrewing the bottom. The best part is it can be reused! We have used just water to pretend to make a new potion. I also screw the toy back in the bottom each time. We have done it 4 times without buying any refills of any kind and we have gotten actual smoke all 4 times!!! It's amazing. Not sure how many more times it'll smoke without the refill but for now we will just keep using it until It's empty. Then we'll add the refill! I highly recommend this toy!"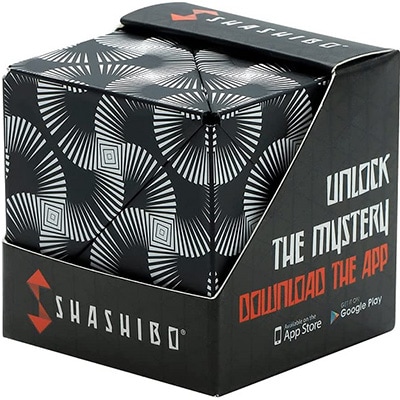 The award-winning Shashibo fidget box, which features 36 rare earth magnets and morphs into over 70 shapes, will test your kids' senses as well as their motor skills and coordination. Each magnetic puzzle has four different creative patterns of colorful, fascinating artwork for a never-ending display of splendor. A toy that engages the intellect, the body, and the imagination. *Make sure to supervise playtime with this toy for safety!
W. Black says, "It's beautiful, well made, and geometrically interesting. The magnetic planes have a very nice feel to them, as they're moved around into different shapes. There's nothing quite like this toy; easy enough for older children to enjoy, intriguing and beautiful for adults to manipulate. It's not so much a puzzle per se, but once you make a couple of changes to the geometry it will take some time and some experimenting to get it back into cube shape again."
Outdoor Toys
The Covid pandemic influenced our kids' lives as well. Normally, kids love to go outside and explore the real world. So it's no wonder outdoor toys are becoming trendy this year. Let your children meet with the world and enter the growth zone safely by offering them engaging and fun toys that they can play with outside.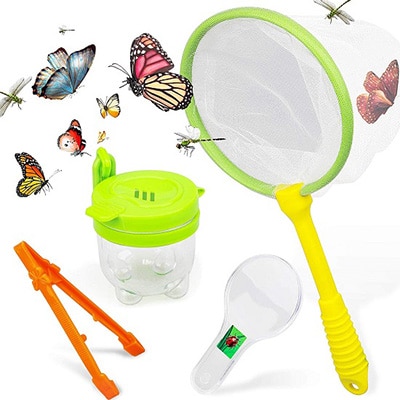 Your young outdoor adventurer is up for an unforgettable and fun learning experience. Spend meaningful time with your children determining what bugs or insects they have encountered. While they fill their insect containers, keep an eye on your kids while they enjoy their time in the sun with this backyard exploration kit.
"The wilderness must be explored and this is the perfect accessory for my exploring toddler! He's 3 1/2 and loves this kit! Would be an awesome gift for any outdoor-loving child!" happily reviews Amber Copeland.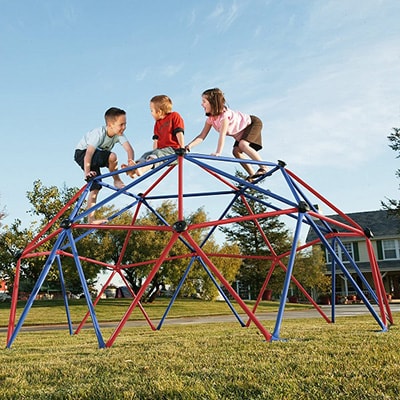 After a long period where children were confined to indoor play, The Lifetime Climbing Dome makes a fantastic place to go for outdoor activities and entertainment. The rock climbing hand grips aid in the development of strong muscles and coordination in your children. You can upgrade the dome by covering it with fabric to make the most magical backyard tent for the youngsters.
"I absolutely love this climbing frame. It's strong and sturdy like the one I used to have in my playground as a kid. It was easy to put up, it took a couple of hours. Bought for my grandchildren but the adults have had a go too. I hang my washing on it when not on use so dual-purpose", comments PriscillaV in their five-star review.
Minimalist and Sensory Toys
Minimalist toys are already popular but they deserve credit for making incredible contributions to boosting children's imagination. What's more, they tend to be highly sustainable and eco-friendly too! This makes for a perfect opportunity to teach kids some core values on protecting the environment.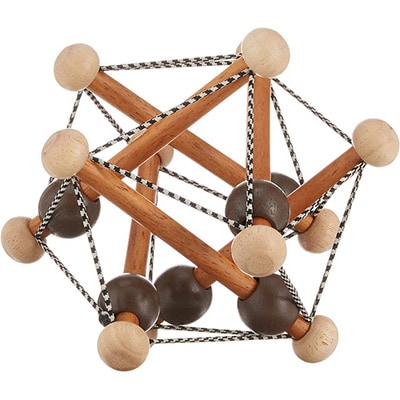 The elegant wood construction and elastic connections of this rattle and teether allow it to flatten or "squish" and always returns to its original shape. It is lightweight, allowing little children to easily slide the beads back and forth on the dowels. Playtime with this toy creates a pleasant rattling sound, helping the infant explore sounds and learn cause and effect from the activity.
"This was a great find! Immediately caught the baby's attention, it was one of the first toys we tried with our newborn, she will soon be 3 months old and she can still watch it for about 10 minutes non-stop. It makes a pleasant quiet sound and is not overwhelming. It also looks good and stylish on the Baby shelf. Now she is working on holding it, and it's really easy to grab. The adults like it too, when they visit they also spend quite a bit of time studying it too," remarks Y. Grosheva.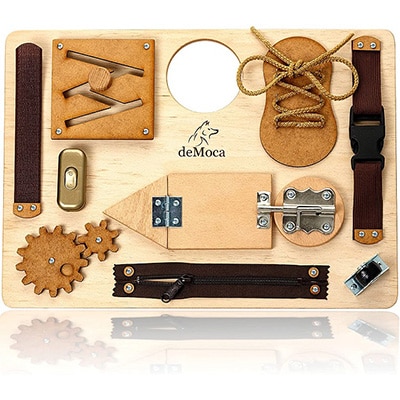 A great way to pull your kids away from their screens, the deMoca Busy Board includes fun tasks including solving the labyrinth, spinning the gear wheels, and "clicking" the switch button. It helps toddlers develop their fine motor skills with ten preschool activities, including zipper snaps and a shoe tying instruction kit for youngsters. Play and learn at the same time. It's the ideal toy for keeping kids occupied on long car rides too!
"Car activities toy while traveling! We keep this busy toy in our car! It's more than enough to keep my toddlers busy on the way to nursery. Activities are challenging and educational, at the same time. The board is nice and well made, so my kids can easily hold it on their lap while they are in their car seats. Also, a very nice thing is that the pieces are not detachable so they can't lose them. It was a real challenge to make the kids give up their devices, and for me as well to give up on their moments of deep silence, but I've truly realized that these kinds of toys increase the kids' attention. There is more interaction between us and less frustration when our journey ends. More connected to the real world and ready for their day to start. Another big win- No more annoying sounds from digital devices," remarks Adriana.
We hope you enjoyed exploring the newest toy trends. After all, every kid has a unique taste in toys and games. Shop their favorite toys and ship them internationally with MyUS for quality, educational, and most importantly, fun playtime