Gifts for Your Mawlid Celebration
Mawlid, also known as Eid Milad-un-Nabi, is held on the 12th day of Rabi-ul-Awwal, the third month of the Islamic lunar calendar. Muslims all around the world feel that the day has a particular meaning in their calendar. Mawlid dates back to the early days of Islam, when a few disciples of the Prophet Muhammad, known as Tabi'un, began organizing poetry and singing sessions to commemorate their leader's birthday.
Muslims mark the event by sporting new clothes, praying, and exchanging presents. Special meals are prepared at mosques and at home with friends and family to commemorate the day. This year, gather to celebrate this important event by offering meaningful gifts to your loved ones.
With MyUS, shop unique and exceptional gifts and have them delivered internationally with low shipping expenses. Use our international shipping calculator to find the best rates!
Metal Shiny Large Ayat al Kursi, Islamic Wall Art, $129 (was $139)

This Metal Ayat al Kursi Islamic Wall Art is a unique design that will bring warmth to any room. Designed with beautiful Arabic calligraphy, the item features words that describe the beautiful traits of Allah and would add a spiritual elegance to your home decoration.
"Really good quality, beautiful color! Looks gorgeous on my wall. Very satisfied with this purchase Alhumdulillah!" exclaims Jimmy Akbar
Sterling Silver Two Tone Gold/Silver Ayat al Kursi Bangle Bracelet, $195.00

According to Islamic religious doctrine, anyone who recites the Ayat al Kursi enters God's protection and security. Exquisitely carved gold-plated sterling silver two-tone bangle bracelet with the entire Quranic Ayat al Kursi (protection verses) in a gorgeous filigree form that will not only be an accessory but also will hold spiritual meaningfulness. This work of art is a wonderful way to show your loved ones how much you cherish their presence in your life. The sophisticated design is packaged in a black gift pouch.
"The two-tone bracelet is very intricately designed & will be a treasured piece of jewelry. Love it," says Rashida T.
Mosaic Turkish Lamp White Large, $69.95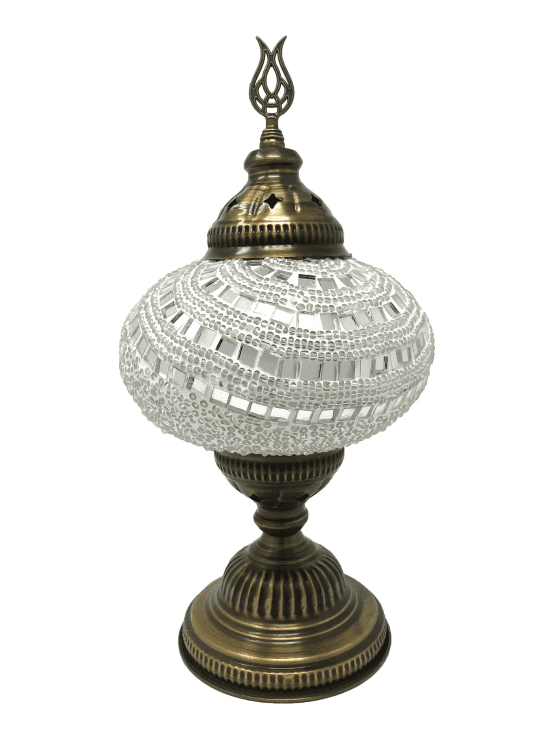 This handcrafted Turkish-style lamp is composed of high-quality metal and ultra-fine cut colored glass, and it will complement any décor. The one-of-a-kind lampshade is ideal for mood or accent lighting, creating a warm environment of romantic intrigue. Furthermore, the lamp comes with a battery-powered LED lighting bulb that does not require a power connector. You can put it anywhere and at any time.
"I am so pleased with my purchase! Will definitely purchase more in the future," remarks Saja K.
Handmade Muslim Prayer Rug, $299.50
This handwoven prayer rug has gorgeous patterns of plants and flowers embroidered on the borders and graceful geometrical patterns in the middle. This rug is made of organic handspun wool and is simply stunning. The wool is colored with natural and vegetable dyes in extremely high ovens at 250°F, resulting in a lustrous and long-lasting hue. Every handmade rug is distinct in its own right; no two carpets are alike. It makes a perfect durable gift for anyone.
"Absolutely beautiful!!!! It is just like the picture!! The colors are vibrant... I just kept looking at it!" exclaims Zzzulick
IQRA Arabic Metal Bookend (Black), $34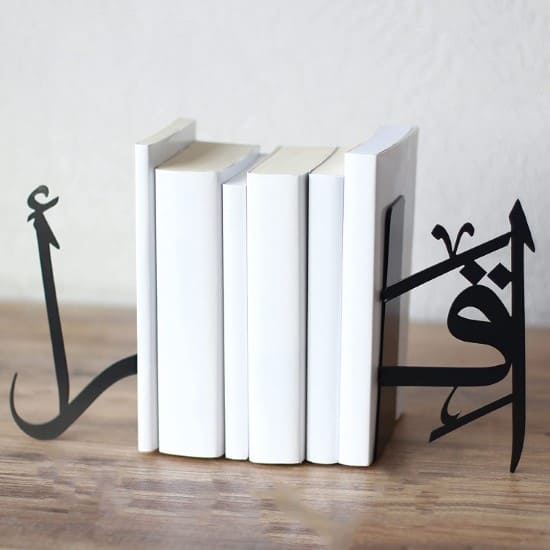 The IQRA Arabic Metal Bookend will create a wonderful décor item that will entice your guests to check out your library, making it a perfect present for bookworms. While keeping your books arranged, you can create a stylish atmosphere in your living area. Choose the color that best suits your needs and enjoy the view.
Hirr3 is one of many satisfied customers who recommend this product: "This pair of bookends added the finishing touch to my collection of tafsir books. Perfect for the Islamic theme. The seller shipped the items very promptly and they arrived in mint condition. Thank you."
Luxury Mini Quran & Tasbih Set, $15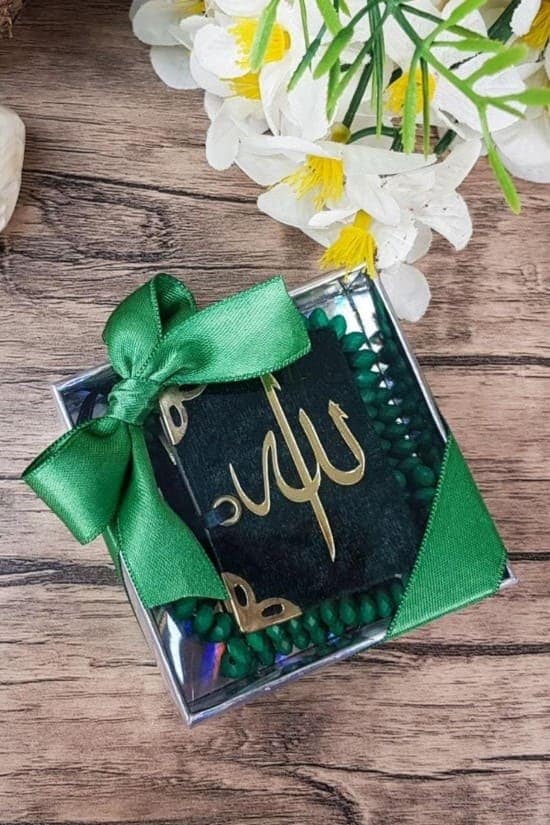 This Luxurious Mini Quran and Tasbih Set are created and packaged as an impressive package to be given during Mawlid as a gift. This little Quran set is made of high-quality materials and superb craftsmanship, and it is quite portable. Its lightweight design only adds to the convenience it offers, letting you read comfortably wherever you are. It comes with a lovely pearl tasbih, making it an ideal companion for your regular Quran recitations.
"This is so cute; I can easily put it on my purse. Thank you for this," comments Qamara, in her five-star review.
Islamic Table Decor 99 Names of Allah Kaba Clock Tower Replica, $48.98
If you're looking for a gift that will stand out, we recommend this gorgeous item. The 99 names of Allah are carefully inscribed in Arabic calligraphy across the replica of the Kaba and the clock tower in Al Masjid Al Haram with dazzling rhinestones. The working clock at the top of the tower adds the finishing touch, completing and bringing together this ultimate showcase! This home décor piece is the perfect addition to any home, whether it's for you, your friends, or your family!
"I purchased two of these as gifts. The recipients were thrilled when they opened their packages. Both agreed (with me) that this is a quality constructed product and is also an extremely beautiful item of decor. Also, I would not hesitate to again make a purchase from Modefa. The items were securely packed and arrived promptly," says Steven A.
Have you found your perfect gift for Mawlid Celebrations yet? Share your recommendations with us. Over 7.7 million members worldwide trust MyUS with their international shipping needs. Become a MyUS member today, and enjoy great discounts.
With MyUS, get everything you love from the USA with one easy checkout! Add items from multiple stores to your MyUS Shopping cart and international shipping is included at checkout.
We always aim to bring our members the best shopping options available, but some of the products featured in this post may have purchase restrictions. Please visit the merchant's terms of sale, shipping guidelines, and terms and conditions to find more information.