Insta-Worthy Pool Floats!
Pool season is in full swing, and with it comes lounging, pool parties, fun cocktails, trendy swimsuits, and of course, super-fun pool floats. No, not that plain rectangular square you've had for years. We're talking about giant, wacky floats that are basically screaming to be in your next selfie.
This summer, instantly up your Instagram game with a new fun (and photogenic) pool float. We've rounded up the cutest pool floats of 2019 below, and each one can be shipped worldwide in as little as 2-4 days with MyUS.
Luscious Lip Pool Float $17
Full of lip-smacking fun and personality, this Luscious Lip Float with colorful glitter is perfect for selfies and group shots in and out of the pool!
"Took this with me to Jamaica 3 weeks ago and it was a HIT!" says Joy in her five star Amazon review.
Parrot Pool Float $59
Channel your inner pirate with this oversized Parrot Pool Float from Urban Outfitters. It'll bring a tropical mood to your pool, and best of all, this parrot doesn't talk back!
Pretzel Pool Float $17
This Pretzel Float is carb-free heaven for those of us that are obsessed with baked goods - and how absolutely yummy will this floatie look in your Instagram feed?!
"love this pretzel!!! 1 adult, 1 teenager and 1 kid... Kept us all afloat. Super comfy to relax on with one person also!!" says oakland in their Amazon product review.
Avocado Pool Float $22
Because everyone needs an Avocado pool float!!! This supersized Avocado Pool Float made of durable raft-grade material, comes with an inflatable ball (think Avocado pit!) for added fun and easily inflates with a hairdryer or toy air pump. #avocadopoolfloat
"This is by far the most popular float in our pool thus far! It is a decent size so it will hold a full adult. It was easy to inflate thanks to the multiple option/large inflate tube that other floats don't have!" says Miramar Systems in their five-star review.
Swan Pool Float $35
Swan floats are true classics in the pool, and this Swan Pool Float from GoFloats is made of premium UV treated raft grade vinyl is strong enough to withstand multiple seasons and comes with a bonus swan float for your drink!
"Honestly, the material is awesome. I'm 100 percent satisfied and the drink float is adorable and also sturdy. Definitely going to buy GoFloat products in the future!" says Anthony's mom in her glowing product review.
The Rosé Floaté Pool Float $50
Rosé the day away (and get some FABULOUS Insta shots while you're at it) with The Rosé Floaté Pool Float. This uniquely designed float is so happening, it has it's own Instagram following! #rosépoolfloat
"Basically the greatest thing I've ever bought," says Shelly O'Donnell in her more-than-pleased Amazon product review.
Mermaid Tail Pool Float $21
Live your dream of becoming a mermaid with this Mermaid Tail Pool Float that feels like it's custom made for amazing selfies.
"Cute float for the pool. Fun to capture a photo of guests and family as they enjoy being a mermaid. Quick ship, great product. Thanks!" says C. Schneider in their Amazon review.
Glitter Tiger Pool Float $49
Assume your rightful place as "King of the Pool" with this translucent Glitter Tiger Pool Float. Designed rider-style and filled with glitter, he's more than Insta-worthy!
"Love this pool float for summer. The glitter adds a fun touch. Definitely durable and built to last." says a reviewer on Urban Outfitters.
Unicorn Pool Float $35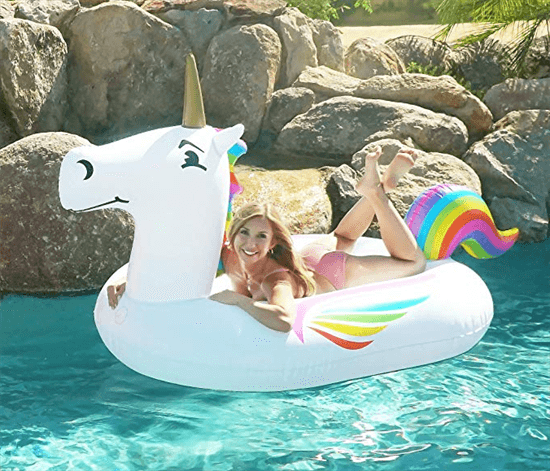 Oversized and made of premium grade materials, this Unicorn Pool Float from GoFloats proves that unicorns really DO exist - at least in the pool!
"These floats are so fun. Really made a splash at Indian Lake. All of our family were fighting over the two we bought so we have just purchased 2 more!" says Angela Szaruga in her review.
Ship these pool floats worldwide and US tax-free when you join the MyUS community.
We always aim to bring our members the best shopping options available, but some of the products featured in this post may have purchase restrictions. To find more information, please visit the merchant's terms of sale, shipping guidelines and/or terms and conditions.