Jean Jackets That Look Great Year Round
Jean jackets are more than just an outer layer to keep you warm. They're filled with a bit of nostalgic Americana and have a classic look that makes them a staple in wardrobes around the world.
Ready to dive into a new style? We've rounded up our top jean jacket picks of 2018, making it easy to find your next favorite. Shop and ship with MyUS from US websites to enjoy US tax-free shopping and shipping in as little as 2-4 days!
10. Madewell Jean Jacket $95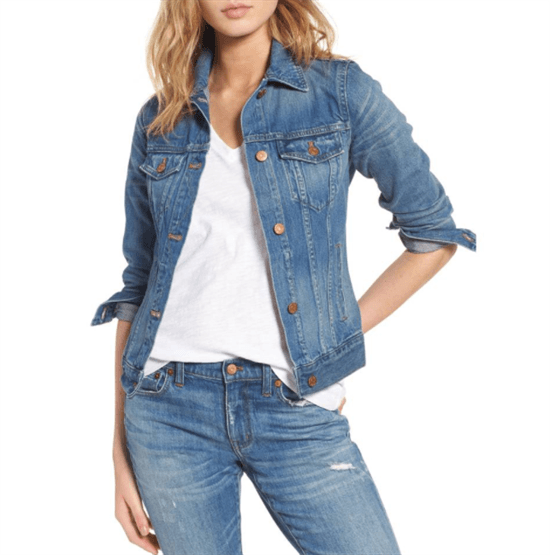 Made with softly distressed denim, this jean jacket has the styling of a classic: felled seams, glistening metallic buttons, and a relaxed silhouette. Buy it here.
9. Old Navy Classic Jean Jacket $37
This classic denim jacket from Old Navy is made of soft, medium-weight denim with a bit of stretch for a comfy feel. Buy it here.
8. Peplum Denim Jacket $90
With a mandarin collar and a perky peplum, this jean jacket can take you just about anywhere with great style. Buy it here.
7. Star & Stud Denim Jacket $36
This playfully faded and shredded jean jacket has antique star and dome studs for a touch of Americana. Buy it here.
6. Old Navy Plus-Size Denim Jacket $42
In a medium wash with a bit of stretch, this fitted jean jacket hits just below the waist for a super flattering fit. Buy it here.
5. Twill Ruffle Jacket $375
Looking for something special? This splurge-worthy jean jacket in classic white has ruffled cuffs, a ruffle-trimmed spread collar, and gorgeous detailing for a truly unique look. Buy it here.
4. Floral-Embroidered Denim Jacket $39
Love the look of embroidery, but don't want to break the bank on a jacket? Get ready for compliments with this slightly fitted jean jacket with delicate floral embroidery on the shoulder. Buy it here.
3. Mama Denim Maternity Jean Jacket $128
Don't want to give up the look and feel of your favorite denim during pregnancy? This weathered denim jacket with a slightly oversized fit allows for layering and looks fabulously chic. Buy it here.
2. Embellished Boyfriend Trucker Jacket $398
Stand out from the crowd with this Levi's Made and Crafted jean jacket with intricate beading and floral embroidery. Buy it here.
1. Icon Denim Duster Jacket $69
This duster made of premium non-stretch denim has an elongated, straight silhouette with an easy fit - perfect in any season! Buy it here.
We love helping our members fabulous new products, but some of the jackets featured above could have purchase restrictions, or may not take every form of payment. Find more information by viewing merchant's terms of sale, shipping guidelines and/or terms and conditions.