Merino Wool Sweater Dresses to Flatter Every Figure
Warmth? Check. Comfort? Check. Style? Double-check! Merino wool sweater dresses have become an in-demand clothing item over the past few years. Looking cute while staying warm is a top priority, so let MyUS help you shop for the best options and ship them to your wardrobe in any of the 220+ countries we service—FAST!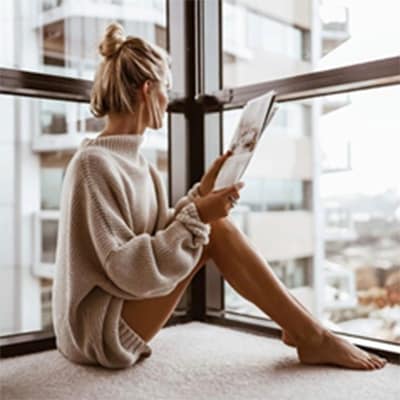 If comfort and warmth are your top priority, we recommend this gorgeous Oversized Merino Wool Sweater Dress that comes in three colors (beige, black, and blue) and regular and petite fit. The dress is handmade from pure Merino wool and natural yarn, which means there are no additional synthetic materials, making it very biodegradable if you're thinking long-term.
"Such an amazing quality and the fit is super cool and comfy - it`s definitely worth the price! I`m also in love with the story of the brand - nice job," writes Lena Söllner.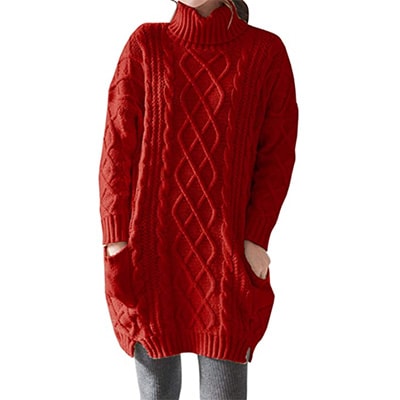 This blend of Merino wool and viscose makes the dress a very affordable option that's still super soft. Combine it with your favorite belt, leggings, and boots, and you've got yourself a stylish combo. The Merino Wool Oversized Turtleneck Pullover Sweater Dress is available in 10 different colors, and more importantly – it has pockets!
"I'm 5'7, 150 lb, got size L, fits as expected. Very soft and cozy. The sweater arrived on the second day. Loved it, ordered another two different colors to were at home and about. Perfect for winter. Thank you!" writes returning customer Maxim.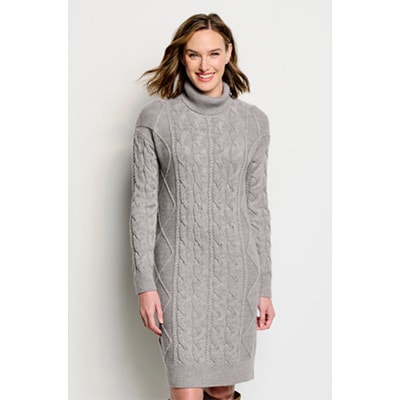 Sweater dresses can't get more classic than this Signature Merino Cable Sweater Dress from Orvis. The light-gray color is easy to combine with every piece of your winter wardrobe, and the fine fabric traces the body, making the dress look flattering on every figure.
"A great fall dress! I like the cotton fabric, which has a vertical texture; the banded hem and sleeves, and the pockets. The cowl neck is not my favorite, but it is okay. This dress strikes me at the knee and looks nice with tights. This is a casual dress that I will wear for appointments, errands, meals out, church, and family gatherings," reads Lofty Lady's review.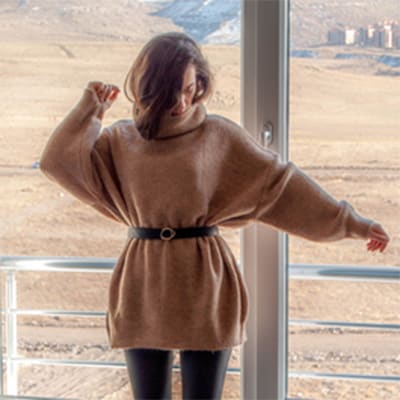 Warm colors on a cold day are a must, so do yourself a favor and grab one of these wonderful Merino Wool Turtleneck Tunic Sweaters while they're still available because they're selling fast! The dresses are handmade and only organic Merino wool is used in the process, which is great news for those prone to allergic reactions. The sweater is one-size-fits-all and available in 11 beautiful colors.
"This is the most wonderful sweater I have ever owned. It is so well made, with high-quality material, & is SO comfortable! Fantastic item, fantastic seller, thanks so much!" claims a shopper that goes by the username Johnny D. & Angie.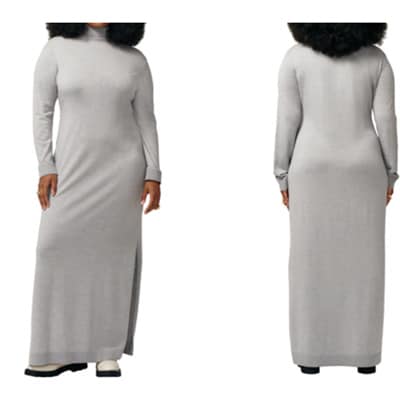 If softness and a chic look are what you look for when shopping for a winter dress, you simply cannot go wrong with the Affection Long Sleeve Merino Wool Jersey Sweater Dress. It is so sleek, comfortable, and figure-flattering, you won't want to take it off! It comes in a long maxi cut with a side slit for movement.
"I was really surprised about the quality of this sweater dress. The fit is appealing and very comfortable to wear all day. I love the stitching on the shoulders and arms. It's a great transition piece from fall to winter. And, I finally may add it is a true to size fit!" states 5Lisa.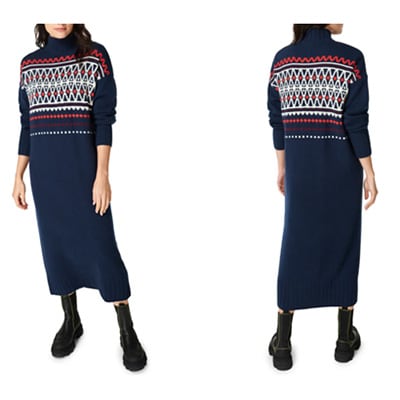 Add a pop of color to the regular woolen dress and stand out from the crowd with the cheerful pattern that this Mountain Merino Wool & Yak Sweater Dress has. Fashionable and funky, we guarantee that the woolen dress will not go unnoticed. You can wear it at a Christmas party or to the grocery store and combine it with high heels or hiking boots—you'll look cool either way!
"This dress is superb quality. The fit is definitely oversized.. Very warm:)" comments Lana.
Finding cozy and colorful clothing that fits your exact style is so easy when you have all of the US to shop! Enjoy all the new looks and trends of each season with your MyUS membership.