Phone Gadgets Perfect For Any Tech Lover
Your cell phone is within arm's reach all day - why not make it as fun (and functional!) as possible?
Check out our favorite cell phone gadgets and accessories from US websites and ship with MyUS for international shipping in as little as 2-4 days.
12. PopSockets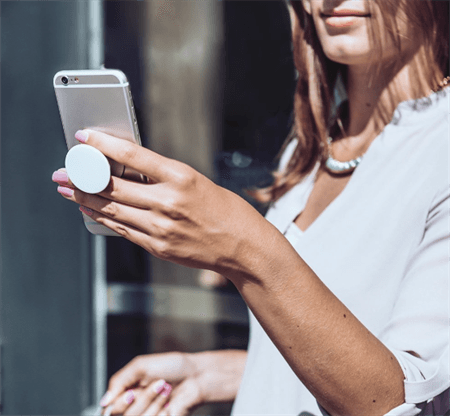 PopSockets are circular, collapsible grips you can attach to the back of your smartphone so you can text with one hand, snap better photos, and stop phone drops. As an unexpected bonus, they're super fun to fidget with too! Buy one here.
11. Finger Loop Mount Stand $8
A twist on the PopSocket is the finger loop mount. It also helps prevent phone drops and provides a handy kick-stand, but with a slimmer profile, it's easier to slip in a back pocket. Buy one here.
10. Anker PowerCore+ Mini Portable Charger $20
This super small external battery pack can be easily slipped into your pocket and detects your device to deliver its fastest possible charge speed up to 1 amp. Buy it here.
9. Camera Lens Kit $13
Upgrade your phone's camera with this set of 3 attachable lenses for amazing close-ups, wide-angle shots that expand the field of view, and fisheye shots that give you dramatic rounded images - super fun! Buy the set here.
8. 5-in-1 Camera Kit $22
To get even more from your camera, try this 5-in-1 camera lens kit that gives you wide-angle, macro, and fisheye lenses with the addition of a tripod to hold your phone steady, and a shutter remote you can pair with your phone that makes selfies and group shots a breeze. Buy the set here.
7. iOttie Smartphone Holder $25
Navigating with your smartphone is easier when it's in your sightline instead of in your lap or in a cup holder. This iOttie smartphone holder is the #1 bestseller in dash-mounted holders on Amazon. Buy it here.
6. Silicone Car Pad $13
Need a phone stand that's a little more portable? This silicone pad is lightweight and easy to use, and will securely hold your phone in the car or on your office desk without magnets, suction cups, clamps, or adhesives. Buy one here.
5. JBL Flip 4 Waterproof Portable Bluetooth Speaker $80
Get great all-around sound from your smartphone with this waterproof Bluetooth speaker from JBL that connects up to 2 smartphones or tablets and supports up to 12 hours of playtime. Buy one here.
4. Mobile Game Controller for iPhone and Android $14
Love gaming on your smartphone? These mobile controllers allow you to aim and fire with precision and will give you an unfair advantage over the competition! Buy them here.
3. 10ft Lightning Cable $8
Wish the power cord for your iPhone was longer? This 10-foot lightning cable will give you the extra length you need to plug in your iPhone just about anywhere and still have easy access to it. Buy one here.
2. WandeR Bundle $17
Ingenious! The WandeR Bundle includes a tab and clip system that prevents phone drops and helps deter would-be thieves. Buy one here.
1. Cell Phone Lanyard $11
Another great option to prevent phone drops while keeping your phone easily accessible is this safety breakaway lanyard with retractable clip/detachable buckle, solid silicone strap and 3M adhesive buttons that can hold a maximum weight of 15kgs! Great for outside work and activities, it can also be used together with an ID badge and keychain. Buy one here.
We love helping our members fabulous new products, but some of the phone accessories featured above could have purchase restrictions, or may not take every form of payment. Find more information by viewing merchant's terms of sale, shipping guidelines and/or terms and conditions.