Unique Men's, Women's & Unisex Platform Shoes
The shoes can make or break an outfit and it's safe to say that they're the most important part of it. If you do not feel comfortable in your shoes (literally and figuratively), you can't truly let your true colors shine because you'll be thinking of going home and getting them off. But do not worry, we can help! Just check our suggestions on platform shoes that feel as good as they look!
Fashion & Shopping with MyUS: Platform Shoes For Men & Women
Platform footwear has been around for a long time – think Napoleon and way before him. It has been in and out of the fashion industry over the decades but has never gone out of style.
Why? Well, we can think of several reasons:
They provide a sense of height and make your legs look longer.
Platform shoes are very comfortable to wear. They will not make you feel like you are walking on a high surface because the platform is built into the shoe.
You can combine them with pretty much anything, regardless of your gender and/or personal style.
In this article, we will list a few different types of platform shoes for men and women, so buckle up and get ready to choose and order your favorite pair!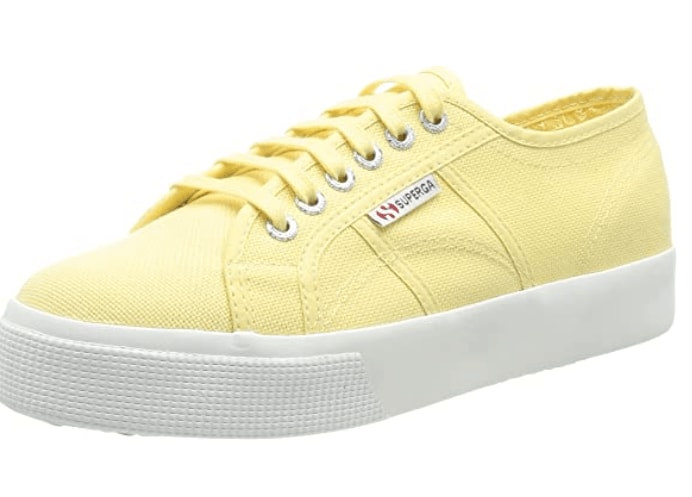 Simplicity is key, and we must list this gorgeous pair of unisex low-top sneakers.
These simple, everyday shoes have a firm, rubber sole, with a platform measuring approximately 3" (talk about a height boost!).
They're available in 43 different colors, and their affordable price might make you want to buy several pairs – don't say you weren't warned!
"I love these!! I typically am between a 9 and 9.5 and opted for the 9 in these as most people indicated they ran slightly large. I would say these run at least a half size small if anything. These are so versatile and cute! They remind me of my favorite platform sneakers I wore in the 90s. I will definitely be ordering more of these!" – Candace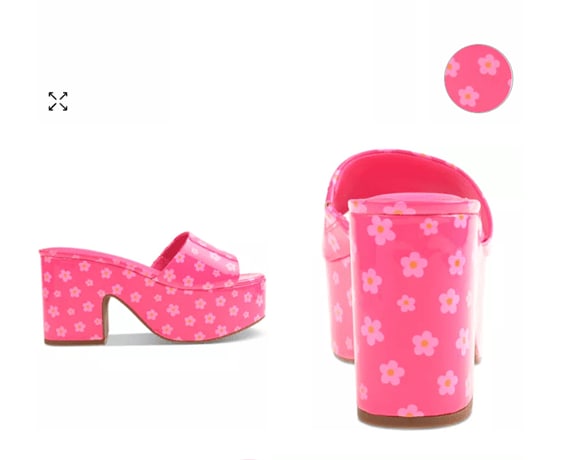 Sandals are everything for the hot summer days! With Macy's Melborne platform sandals, you can be stylish and not have your feet sweat and slip thanks to their slip-resistant sole.
These beautiful wide-strap sandals have a 3-3/4" wedge heel and a 1-1/2" platform, and they come in pure white and hot pink with daisy flowers. Their best feature is probably the memory foam, which, as the name suggests, will adapt to your feet for maximum comfort.
"I got the white ones. They are like a vinyl, patent leather feel. I got size 6.5 and they fit perfectly (my foot measures 9.6). They are very comfortable and easy to walk in. I can hardly wait for fall so I can wear them with my flare jeans for that 70's vibe!" – Marianne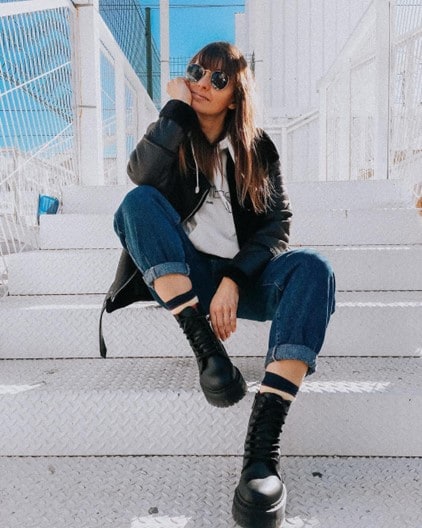 No list is complete without the timeless Doc Martens. Whenever we think of a platform boot or shoe, they are usually the first thing that comes to mind - and rightfully so! Their look hasn't changed in decades, and they are still some of the most-wanted shoes on the market – and that speaks volumes!
However, Dr. Martens have far more options now, thus we recommend their vegan platform boots that are cruelty-free, but as gorgeous as ever! Who wears leather nowadays anyway?
"I decided to treat myself to my first ever pair of Dr. Martens and so happy I chose these, they are really easy to get on because of the zip and are really comfortable. Love the look of the vegan "leather" too. Highly recommend these boots." – Jill C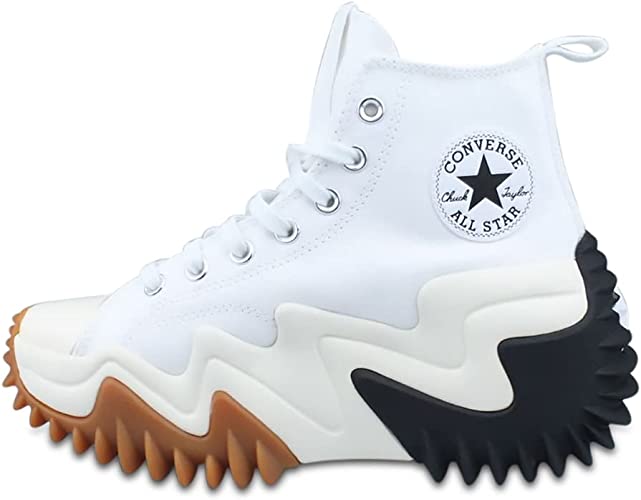 Speaking of timeless shoes, modern men will fall in love with this mix of contemporary and classic fashion that these white Converse platform sneakers offer. Enjoy the classic Converse look with a twist and show off your impeccable style! The unique pair has a Neapolitan design, a wavy chunk that goes from black to white to tan, and will add quite a few inches to your height.
A must-have for the cool dudes out there!
"I bought these and they are very comfortable would recommend sizing down I took a risk sizing down and it was the best risk they are so bouncy and feel like walking on a cloud." – Verified Purchaser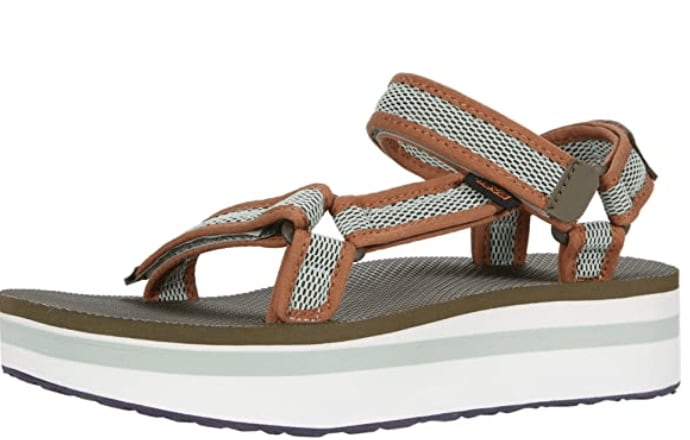 From being frowned upon and called dad sandals to becoming one of the biggest fashion trends, these shoes turned everyone's world upside down when it came to the looks-to-comfort ratio. Naturally, we're talking about the flatform sandals!
Celebrities and mortals alike are crazy about them, and we can see why: they're soft, have quick-dry webbing, and this specific model isn't very tall as the heel measures around 1.75" only.
Available in six pretty colors.
"My feet are super wide & most sandals hurt because they're too narrow. These are very comfortable. They look great with anything too!' – Cheryl W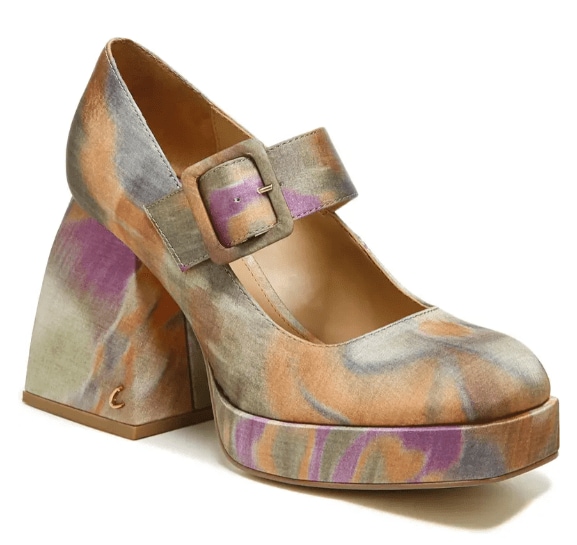 If "unique" is your middle name, look no further because we have the perfect colorful platform pumps for you! These pumps from Sam Edelman come in 5 different colors and have a flared heel that is guaranteed to make your walking much easier, while the adjustable buckle strap will ensure secure and comfortable fitting. The 70s-like platform pumps will leave no heads unturned, and you'll be getting compliments about your bold look on the regular.
"I wasn't sure about these but they really are super cute … little on the heavy side but I am keeping them. Maybe one of my best purchases from the N Sale!" – HiMia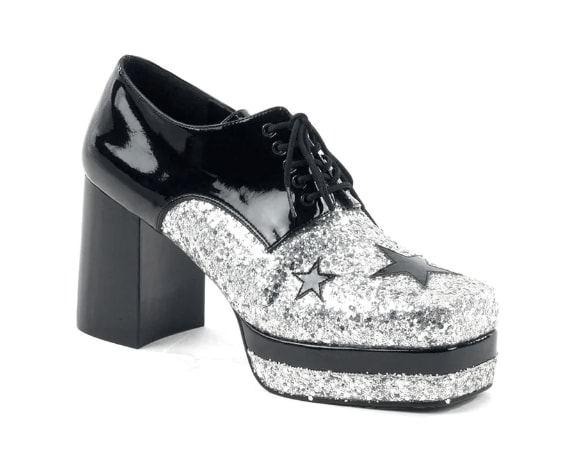 Take an Oxford shoe, but make it glam rock! These beautiful and bold platform shoes for men are one of the most attractive and attention-grabbing shoes you'll probably lay your eyes on.
Think KISS, Freddy Mercury or Harry Styles – some of the biggest names in the music industry surely own a pair similar to this one. They have a 3 1/2" (8.9cm) heel and a 1 1/2" (3.8cm) stacked platform for your comfort and are available in black and silver.
"I like the product! It is satisfying a fantasy of mine! I want an entire collection! They fit my jovial personality!" – Patrick W
See anything you like? Maybe you'd like to recommend your favorite pair? Share your thoughts with us on our Facebook, Instagram, or Twitter.
We hope we heightened your future shoe shopping standards with these stylish platforms. Shop your favorite platform shoe style, along with any other US product, and have it shipped to any location worldwide with MyUS.
We always aim to bring our members the best shopping options available, but some of the products featured in this post may have purchase restrictions. To find more information, please visit the merchant's terms of sale, shipping guidelines, and/or terms and conditions.