Pool Products Just For Kids!
Heading to the pool with the kids? Keep them safe and entertained while they're in and around the water with products designed just for them.
We've rounded up our favorite kids' pool toys, floaties, safety gear, and games from popular US websites below, and they can all be shopped US tax-free and shipped worldwide with MyUS!
Aqua Mini Stingray Underwater Gliders 2-Pack $12.99
Entertain kids for hours with Mini Stingray Underwater Gliders. With adjustable wings that allow you to create your own flight patterns, they glide, boomerang, and spiral all over the pool, traveling over 40 feet!
"This thing is so entertaining - for the kids AND the adults. Simply push it below the surface of the water and let go. The stingray will glide forward, make turns and even boomerang back on its way to the surface. The deeper you place it, the farther it travels. Sometimes it climbs the walls. Sometimes it jumps out of the water. It's mesmerizing to watch and fun to play." says Nervusrek in his product review.
Underwater Pool Toys $12.99
Give confident swimmers hours of entertainment with these colorful fun-filled Diving Toys. Made of 100% non-toxic ABS material, each set includes 4 diving rings, 4 diving torpedos bandits, 3 diving wands, 12 private treasures gift set, and a dry-quick storage bag.
"My daughter (3 years old) is obsessed with these. Can't get enough, the rings, torpedoes, and sticks are the best and the little plastic pieces make the pick up game a little more strategic. She swims to the deep end collecting as many as she can while holding her breath. " says marc in his five-star review.
Mermaid Tail Pool Float $13.99
Easy to inflate and so much fun to use, this Mermaid Tail Pool Float with a unique scale print will make any pool day a party!
"Super cute float for a child. Even when playing around in the ocean/beach with two 6 year old girls, the float held up," says D. Makusij in their product review.
UFO Floats With Ray-Gun Squirters $41.99
Kids will love squirting each other from their own floating command center! Made from heavy gauge vinyl, these retro UFO floats are equipped with constant supply squirt guns for loads of fun. Oversized arm and headrests make them look like the command helm of a formidable spaceship. So much fun!
"Our kids had a blast ..these are Awesome!!" said Joanna in her five-star review.
SwimWays Baby Spring Float Activity Center with Canopy $25.98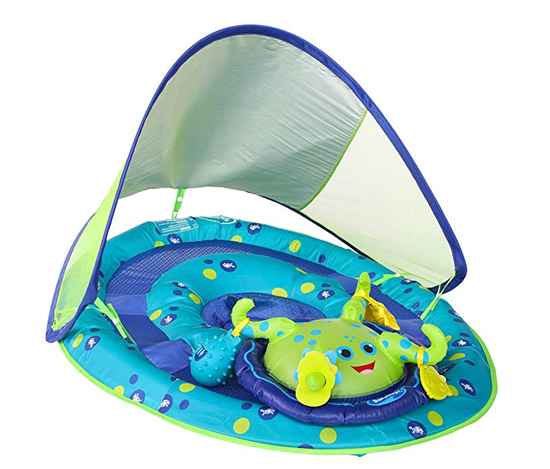 Made for infants and toddlers 9-24 months of age, the Baby Spring Float Activity Center with Canopy from SwimWays is Amazon's #1 bestseller in baby pool floats. It has an adorable octopus that holds toys baby can touch and activate, including a squeaker, rattle, stacking rings, and soft-touch star, for a bright and entertaining environment in the water. It has a patented inner spring sewn into the float for added stability, and a removable sun canopy that offers a shady spot with UPF 50+ sun protection.
"My 8 month old is thrilled with this float, and her sun-sensitive mama is thrilled with the canopy. This float comes nicely bundled in an easy-to-carry travel bag with a strap, and folds out into three quick pieces: the canopy (connects with sturdy snaps), the float itself (takes 30 seconds to blow up both air chambers) and the removable octopus entertainment center/toys. It took me a few minutes to deflate and fold it all back up, but the ease of use is fantastic." says Alissa Ahearn in her product review.
Neutrogena Wet Skin Kids Water Resistant Sunscreen Stick for Face and Body $7.89
Have trouble getting your kids to dry off and reapply their sunscreen? Try Neutrogena's Wet Skin Kids Sunscreen Stick with SPF 70 UVA and UVB sun protection. Made for active kids, it instantly cuts through water, creating a water-resistant protection with every application for up to 80 minutes.
"I love this sunstick. Nothing is easier than taking off a lid and rubbing my baby and toddler's faces with a smooth stick. It's not sticky, it glides like lotion, it doesn't need rubbing, it leaves no marks, and my kids have yet to get burned in the last 3 years I've used this product. I'll buy this every summer for as long as I have kids in the sun!" says MSIM in their product review.
Blue Lizard Baby Sunscreen $24.70
Protect children from the sun's damaging rays with dermatologist-recommended and paraben-free Blue Lizard Baby Sunscreen. Using only Zinc Oxide and Titanium Dioxide, it protects by acting like thousands of tiny mirrors that reflect UV rays away, with SPF 30+ for true broad-spectrum protection from 97% of the sun's burning rays.
"I did a lot of research on sunscreens before I purchased this. I wanted something safe for my little ones. Dealing with the sun is a catch 22 with small children. You don't want them getting sunburned but you don't want to expose them to anything potentially bad either, especially when they are absorbing all sorts of things through their skin! This sunscreen is perfect." says mommyof4 in her Amazon review.
Swimline Lycra Floating Swim Trainer $35.88
While not as buoyant as an official life jacket, the Swimline Lycra Floating Swim Trainer can help kids four and up stay afloat as they build their confidence in the water.
"If you care for your childrens' safety then you go ahead and buy this water vest. I Loved it. Both my sons learned to swim with this water vest. It's very well made, helps small children float really well. Other water vest ride up onto their face, this is a unibody vest, it doesn't ride up. It provides my kids with the best comfort." says Sergio Alvarez in his Amazon review.
Shop these kid-friendly pool products and ship worldwide and US tax-free when you become a MyUS member.
We always aim to bring our members the best shopping options available, but some of the products featured in this post may have purchase restrictions. To find more information, please visit the merchant's terms of sale, shipping guidelines and/or terms and conditions.