Popular Pumpkin Spice-Themed Products for the Fall
Pumpkin spice is the perfect ingredient that brings people together during the fall. Whether it's the Pumpkin Spice Lattes from coffee shops or spices to pumpkin pies, there's a reason why people love this particular flavor. If you can't have enough pumpkin spice in your life, bring the fun, aroma, and joy of Autumn to your home with pumpkin-spiced-themed products!
As a MyUS member, you can ship ground coffee mixes, scented candles, clothing, plush, and more from popular US stores to your doorstep in time for Fall festivities. When you're looking for gifts, accessories, and extra stock of coffee grounds, start planning and searching for themed items for pumpkin spice lovers with MyUS!
Yankee Candle Spiced Pumpkin Large Candle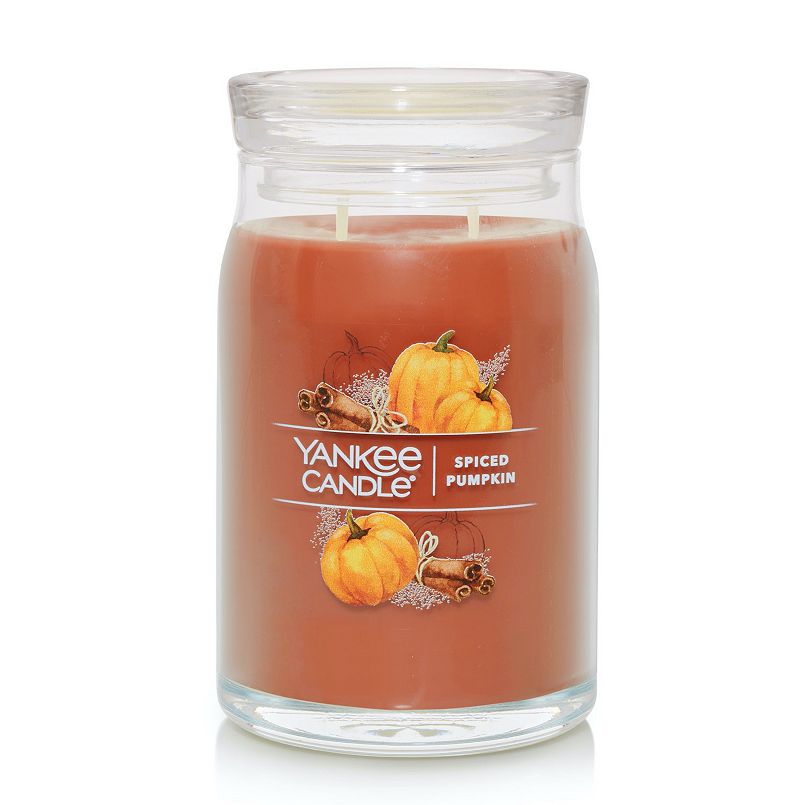 Pumpkin Spice enjoyers will love lighting this 20-ounce Spiced Pumpkin Yankee Candle in their home during this Fall and Winter. Whether you're a fan of the drink or not, you cannot deny filling your home with cinnamon, nutmeg, and ginger scents. It delivers a delightful fragrance that reminds everyone about the joys of Autumn.
Customer Review: "This is my absolutely favorite scent. It fills the house but does not overpower. It is so very pleasant and warm. Spiced pumpkin welcomes the fall and winter months." - Joeynos.
Peet's Pumpkin Spice Flavored Coffee Ground Pack
Need to stock up on Pumpkin Spiced coffee when your favorite local coffee shop runs out? This Peet's Flavored Coffee Ground 3-Pack offers delicious light-roast pumpkin spice coffee for chilly mornings, afternoons, and nights. Each bag contains Peet's unique blend of cinnamon and nutmeg, making an aromatic and comforting drink that energizes anyone throughout the day. Add these packs to your pantry or as a gift during Fall!
Customer Review: "Their coffee is magic! The aroma, the taste, the subtle notes. It's really a great cup of Joe. Everyone at my job liked it a lot as well" - Kc.
Pumpkin Spice Swig Insulated Wine Tumbler
After brewing your favorite pumpkin spiced coffee grounds, store it inside this Swig Insulated Wine Tumbler to keep it warm -or cold- while on the go! The stemless wine cup and its silicone features make it slip-free on surfaces, hot and cold for hours, and easy to hold. It's the perfect accessory for pumpkin spice enthusiasts who can't get enough of the drink and fragrance.
Customer Review: "Great glass for hot or cold!! Love the anti-slip bottom. Will be buying more in all the fun prints" - C.S.
Pup'kin Spice Latte Squeaky Dog Toy
Get your pups and pets into the Fall festivities during coffee runs with this Pup'kin Spice Latte Plush Toy! This themed plush is a lovely addition to anyone's pumpkin spice collection! It can also be the final piece to complete your pet's barista costume for Halloween. This plush toy is unique to the Autumn season and entertains pets during playtime.
Customer Review: "My dog absolutely loves this toy! It's a little big for her, but she loves it nonetheless. It's also appears to be very durable and well made as well." - Tess Brian.
Squishmallows Original Pumpkin Spice Plush
Are you looking for a gift for friends or a cute plush for your collection? Get this Squishmallows Original Pumpkin Spice Latte Plush to commemorate the beginning of Fall and Pumpkin Spice Season. This representation of the popular drink and flavor is soft, adorable, and fun to hug and hold. It also adds more personality to your room, sofa, or shelf for display for friends and family to see!
Customer Review: "Super cute and soft, like all squishmallows. It's perfect for the fall person who had everything else already!" - Krystal.
Hot Sox Pumpkin Spice Crew Socks
Spice up your fashion for any season, especially pumpkin spice season, with these Hot Sox Crew Socks. Pair them with fall-colored clothing or your favorite boots and shoes for extra warmth during chilly days. These crew socks also add novelty and charm to your outfits and make them stand out.
Customer Review: "I bought these as a gift for a barista, and she loved them. I will only wear Hot Sox Brand. They are the most comfortable socks with the cutest patterns, and the band doesn't dig into your leg!" - Jennie W
When you think you don't have enough pumpkin spice, there's an avenue of clothing, toys, and accessories that revolve around the famous Fall item.
Get your pumpkin spice-themed products from your favorite US stores and use lightning-quick shipping to deliver packages straight to your doorstep with MyUS!
We always aim to bring our members the best shopping options available, but some of the products featured in this post may have purchase restrictions. Please visit the merchant's terms of sale, shipping guidelines, and terms and conditions to find more information.