Beautiful Tableware & Plates to Celebrate Iftar
Break the fast and enjoy your Iftar meal with family and friends at a beautifully set table. Whether your meal is casual or formal, indoors or outdoors, new dinnerware and serving dishes that complement your decor will set the tone for a wonderful meal.
MyUS members can purchase dinnerware, serving plates and more from hundreds of US stores and ship anywhere in the world in as little as 2 to 4 days. Get started on your Iftar table today with these beautiful pieces:
Porcelain Serving Bowls
Serve dates, dried apricots and other small finger foods in these six ounce porcelain serving bowls. They can blend with any decor and easily stack for storage when not in use. Buy a set of six here.
Elegant Juice Glasses
Serve Ramadan juices with style in these diamond cut, non-lead crystal glasses that have the look of fine crystal with a much smaller price tag! Buy in sets of six here.
Iznik Tile Melamine Dinnerware Collection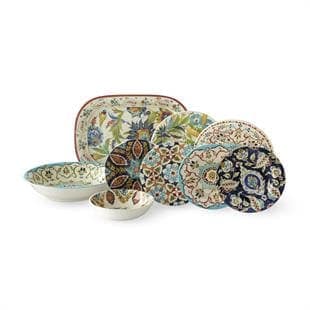 Each of these elegant dinnerware pieces features a unique design of geometric and botanical motifs with rich character and filled with beautiful colors. Buy it here.
Cuisinart Stoneware
This 16 piece ceramic stoneware set includes four dinner plates, four bowls and four mugs with delicate detailing and subtle colors. Perfect to dress up or down. Buy a set (or two!) here.
Bernardaud Constance Dinnerware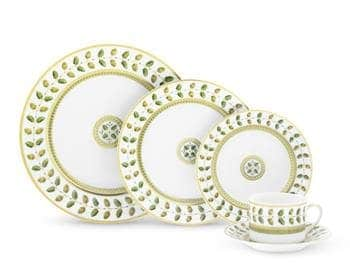 Ready to splurge on elegance? Each piece of this dinnerware is handcrafted by artisans and finished with multiple fillets of 24K gold, featuring laurel wreaths, acorn branches and oak leaves (symbols of strength, longevity and peace). Buy your set here.
Teal Medallion 12 Piece Set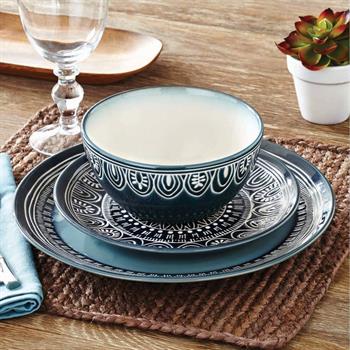 This twelve piece set is durable enough for everyday use (microwave & dishwasher safe), but the textured design in white and smoky teal is perfect for special occasions as well. Buy a set here.
Corelle 20 Piece Livingware Dinnerware Set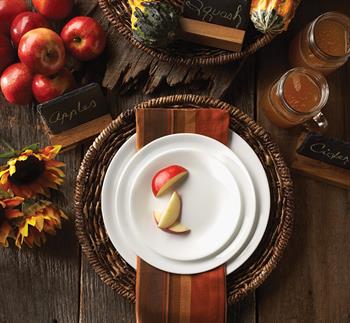 This is a great set. It includes service for four at an extremely reasonable price, but the real value is its versatility. Not only can it be dressed up for any occasion, but each piece is made with Vitrelle glass technology, making it break and scratch resistant, it's microwave, dishwasher and oven safe, and lightweight and thin for easy storage. Buy them here.
Ceramic 16-pc Dinnerware Set by Tunisian Sunset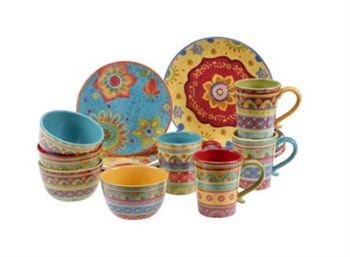 This vibrant and colorful 16 piece set is terrific to use as a dinnerware set, but they can also easily double as servingware for buffets and snack tables, because each piece is a different color and slightly different pattern, giving the set a cohesive yet unique look. Buy it here.
Square Glass Dinnerware
With its unique shape and transparent design, this 12 piece set can be used for intimate dinners as well as large celebrations, and really showcase the food placed in (or on) it. Buy it here.
Iftar Party Pack
Having a casual or outdoor iftar? Keep it super simple with this iftar party pack that includes 20 disposable plates, 20 napkins and 10 balloons with matching designs for Ramadan parties. Buy it here.
We enjoy bringing our members the best products and shopping options available, but some of the tableware featured above may not take all forms of payment, or may have purchase restrictions. Please refer to the merchant's terms of sale, shipping guidelines or terms and conditions for more information.