Shop Prime Day Deals with MyUS and Amazon Prime: Get Exclusive Access and Big Savings!
For international shoppers who want to shop US brands, you won't find a better combination than MyUS and Amazon Prime. As a MyUS Member you can:
Buy brands that aren't available in your country and shop US-based stores online
Save up to 80% on international shipping
Get fast shipping to your country - as fast as 2 days from the USA
As an Amazon Prime Member, you receive:
Prime Day Sales are Comparable to Black Friday
Amazon promises 100,000 sales for Prime Day. Some of the biggest sales will be on TVs. In fact, Amazon said they will offer double the number of sales on TVs as Black Friday and Cyber Monday combined.
Many of the deals will also center on everyday items, such as vitamins, makeup, socks and appliances like slow-cookers and microwaves. There are sure to be thousands of sales on clothes, shoes, furniture and other home goods. Don't miss out!
Want to Shop Prime Day Deals? Get a Free 30-Day Trial
Right now, Amazon is offering a 30-Day Prime Free Trial.
You could sign up just to get Prime Day sales, but why stop there? After your free trial expires, Prime is just US$10.99 a month, and you can cancel anytime.
80 Million Worldwide Prime Members Can't Be Wrong
As Amazon continues to add benefits and exclusive sales, Prime Membership is growing exponentially. More people around the world are realizing it pays off to be a Prime Member.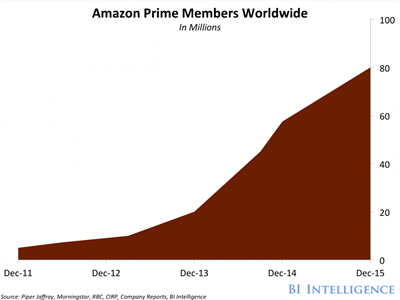 Source: Business Insider
A Small Price to Pay for Big Savings
Amazon is such a great value - especially for frequent online shoppers. For just US$10.99 a month (or a one-time yearly payment of US$99) Prime Members enjoy:
Unlimited free two day shipping to your MyUS address
Member shopping discounts, coupons and exclusive offers
Unlimited instant streaming videos (for some countries)
Prime Pantry, where you can get low priced grocery, household, and pet care items for a flat delivery fee
Kindle lending library (for some countries), and more!
Just think, no matter what you buy from Amazon, you can ship it to MyUS for free. Pretty cool, huh? The free shipping alone pays for itself in just a few purchases or one large purchase.
Young People Are Leading By Example
Millennials are leading Amazon Prime's growth.
Source: Business Insider
As a MyUS member, we already know you like saving money on shopping and shipping, so we think you'll love saving even more with an Amazon Prime Membership.
MyUS and Amazon Prime is a winning combination to make border-free shopping and international shipping faster and more affordable than ever before. Join Prime today and start counting the savings.