The Best Standing Desks for 2023
Remote working over the past two years has taken its toll on us, so we can't be blamed for looking for alternative ways to do our jobs and stay productive. Some do 5-minute yoga stretches every couple of hours, others go for a walk on their lunch break, and some choose to have flexible desks to help with their backs.
Whatever your reason, MyUS prepared a list of the best standing desks to buy in 2023.
FLEXISPOT Electric Standing Desk, $279.99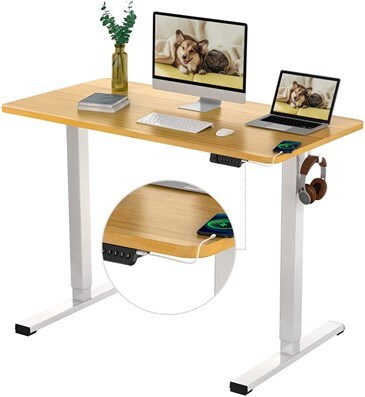 This is a one-piece desktop standing desk, big enough to fit your laptop or desktop pc, phone, notebook, and cup of coffee. And honestly, what more do you need? It's outfitted with 2 USB chargers (1 type A and 1 type C) and 2 hooks for hanging your laptop bag, headphones, etc. There are 4 sizes and 6 different colors and textures to choose from, so just see what works best for your office space.
What customers have to say: "In my actual office, I have a gadget from VariDesk that turns my regular desk into a sit-to-stand desk by sitting on top with a nicely weighted hydraulic mechanism. That cost me $500 three years ago. Spending more time working from home, I bought this Flexispot desk to replace a regular desk and two months in I have no regrets at all. Easily the best $380 I've ever spent." - Scetto.
UPLIFT Custom Solid Wood L-Shaped Standing Desk, $3,599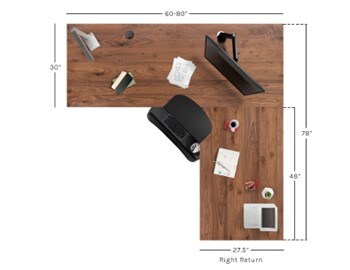 One of the absolute beasts when it comes to this category - is the marvelous L-shaped standing desk from UPLIFT. Buyers that desire flawless lines, constant colors, and matching patterns, may find one of their beautiful laminate desktops to be the best option. The desk gives a lot, and we mean a lot of space for your work essentials, and then much more. There are 10 colors/materials and 25 sizes available.
What customers have to say: "I've never read a book like this before. And I've read many hundreds in my life. This was on a blog titled: '25 books every woman needs to read in her life' and it came in at number one. I'm so glad I bought it because I couldn't put it down If I had to use one word to describe this book it would be "terrifying". I simply loved it!" – Carolyn Holmes
Cora Standing Desk Converter, $89.50
If you don't feel like throwing away your perfect desk, Cora has the solution for you. Their standing desk converter will turn your regular desk into a standing one in a minute. Just add the slim, tray-like mini desk on top, et voila – your standing desk is ready. And when you're not using it, your kids can, so that's double the points there!
What customers have to say: "I wanted a tabletop standing desk and stumbled across Fully. Love the mission of the company and the sleekness of the design. It seems sturdy and looks nice even when folded down. Definitely recommend!" - Caitlin H.
Horchak 59" Desk, $94.99 (Was $174.99)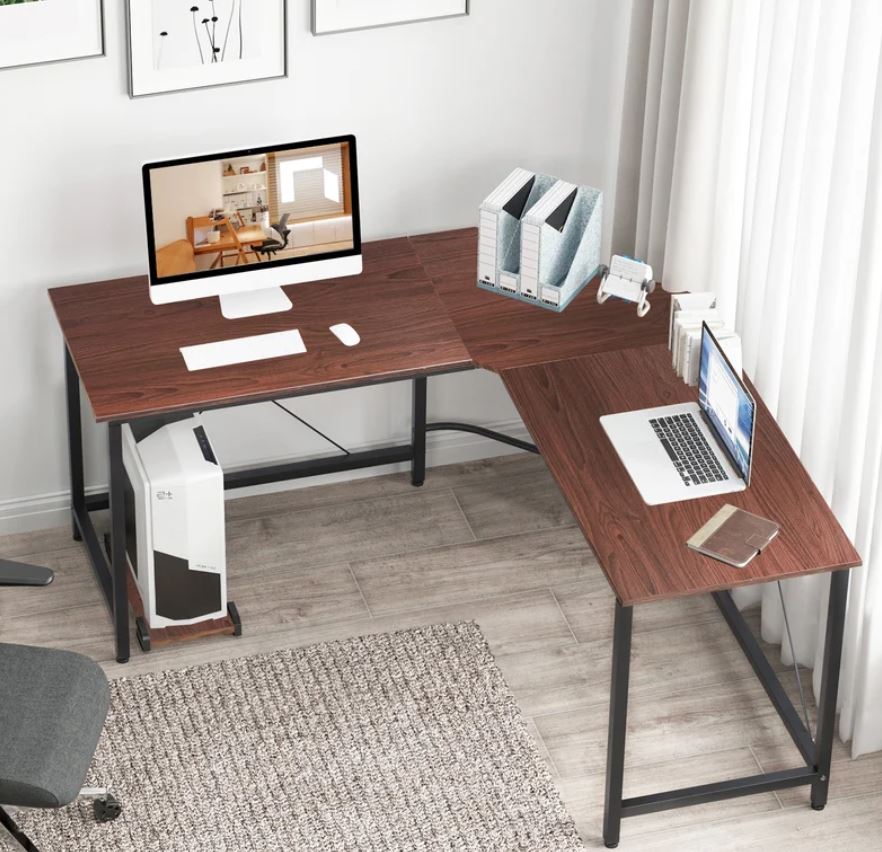 For those on a budget, we have an amazing L-shaped desk that is more than enough for your needs. The double-wide desktop provides ample space for writing, working, crafting, playing, and other activities. The installation is easy and can fit each of your work monitors as needed. Choose between five beautiful colors that will make logging into work feel great.
What customers have to say: "Perfect! It really is just what I needed. I have a monitor stand and a light that clamp on to the back of the desk and this worked just perfectly for them. I needed more room and this definitely delivered! I wish it had drawers, but I can get those any time. Otherwise, I love this desk! It's very sturdy - which I was worried about in the beginning but it doesn't wobble or anything. Perfect height, and lots of room!" - Margaret
SIDUAL Mobile Stand-Up Desk, $95.99
Another very affordable, yet quality and flexible desk come from SUDICAL and this mobile stand-up desk can go from 26.3" to 45.3". Each of the three trays on the desk is movable, so you can adjust it to your liking, so you can get the best support for your back, arms, and legs. There are 3 gorgeous colors available: black, rustic brown, and vintage oak.
What customers have to say: "Need a multi-positional stand for your laptop, accessories, TV or whatever you please? Your search is over. Easy to assemble, this sturdy rolling table has multiple adjustable shelf height possibilities. It is compact yet surprisingly spacious. Components are first-rate and value is outstanding. No less, a 10 out of 10 for me." – urangusm
Tribesigns L-Shaped Desk with Lift Top, $248.99
Can you believe the price of this thing? Neither can we, but the L-shaped desk with a shelf from Tribesigns is as awesome in real life as it looks on camera. If you're a gamer that's just kicking off, the red edges of this beauty will give you the sharp look you're going for. The 2 add-on shelves can hold a few desktop and/or laptop computers at once, which also makes the desk perfect for graphic designers, stockbrokers, etc.
What customers have to say: "I got this desk for my daughter for doing her school work on. It's perfect. She put it together herself. It's sturdy, has nice features, such as hooks to place your headphones on or your gaming controller. It has two tiers as the picture shows. Lots of room. Fits perfect in the corner of the room. I would recommend it!" " – Verified Amazon Customer.
Anmoore Desk, $229.99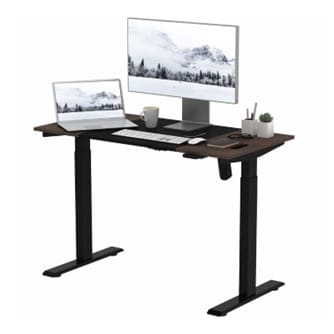 Another electric standing desk that can transition from sitting to standing in just a few seconds with its 2 programmable presets. Get your blood flowing by switching from a sitting to a standing (and vice versa) position every hour. Throw in your yoga ball for when you're seated and you won't even feel like you're working anymore. And when work is fun, good results are inevitable. The desk comes in 5 different colors/tops and 4 sizes.
What customers have to say: "Great desk. Easy to set up. Don't love the 'wood' look. But it's a great desk and easy to raise lower electrically!" – Austin
Would you consider a standing desk after this? Let us know why or why not on our Facebook, Instagram, or Twitter.
We always aim to bring our members the best shopping options available, but some of the products featured in this post may have purchase restrictions. Please visit the merchant's terms of sale, shipping guidelines, and terms and conditions to find more information.