The Force Is Strong With These Star Wars Day Gifts
In a galaxy far, far away... but just a few clicks away on MyUS, there is a list of amazing Star Wars collectibles! You thought we'd miss an opportunity to list some amazing deals for Star Wars Day? Well, I find your lack of faith disturbing.
Okay, I'll stop with the references now.

As Star Wars Day approaches, fans of the epic space franchise – including us - are gearing up to celebrate in style. Star Wars has captivated audiences for more than four decades with its thrilling adventures, memorable characters, and iconic imagery, so it's no wonder that fans worldwide can't get enough of Star Wars memorabilia.
Whether you're a long-time fan or a recent convert, there's never been a better time to celebrate Star Wars. And if you're a MyUS member, you can get your hands on some awesome products that will make your May 4th celebration unforgettable.
Buckle up. We're taking off!
Light of the Jedi, $4+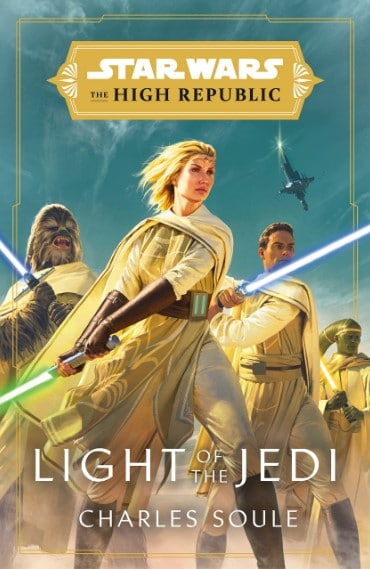 First, we have Charles Soule's exciting novel, the first of four books that takes readers on an adventure through a new era in the Star Wars universe. It introduces new characters, including the charismatic Jedi Knight, Avar Kriss, and the daring pilot, Vernestra Rwoh. And if you decide to get an Audible trial in time for Star Wars Day, you'll get the audiobook for free!
What Customers Have to Say: "I absolutely loved this book. It is very different from the Skywalker saga but still feels like Star Wars. From the very beginning of the book the action takes off with "The Great Disaster" and it had me intrigued all the way to the end." – Jiaphet
Star Wars Black Series Darth Vader, $23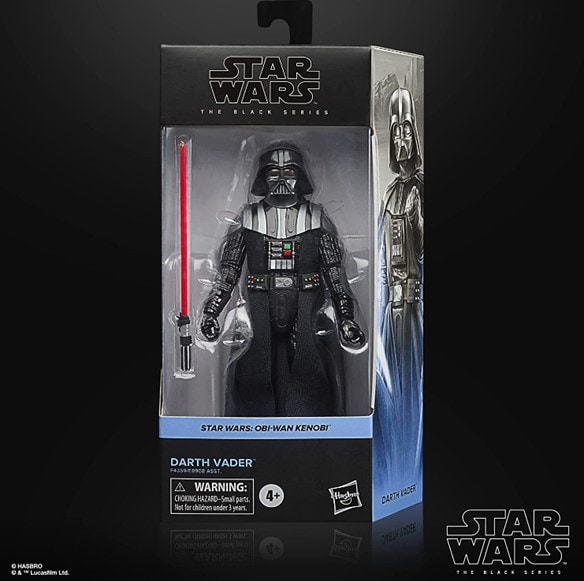 The Black Series has some highly detailed action figures, perfect for collectors or kids who love to play with their toys and make up their own stories. Each figure stands 6 inches tall and has various accessories, including weapons and interchangeable hands.
Almost every character is available in this series, but we highly recommend the Darth Vader figurine, especially if you want to gift it to someone. He's a character you can't go wrong with!
What Customers Have to Say: "Awesome Darth Vader figure. I was worried about getting my son a figure with a lightsaber because the notoriously fragile nub that goes into the hilt. But this figure has a thicker nub that has a slant and isn't fragile at all. My son is very happy would highly recommend!" – Valerie
The Mandalorian Child Plush Toy, $17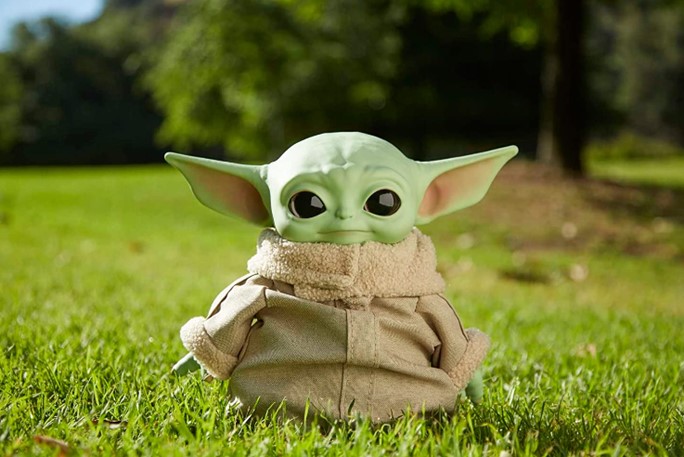 This adorable Grogu plush toy is perfect for fans of The Mandalorian who fell in love with the character within the first couple of minutes of seeing it. It is 11 inches tall and is made from soft, high-quality materials. Kids will have a new best friend to sleep with, and we're certain that many adults won't be able to resist some cuddles either!
What Customers Have to Say: "Good quality and looks cute, especially for the price. I've seen more expensive ones that weren't this nice. Very pleased with this purchase." – Vickie E. Coco
LEGO Star Wars: The Razor Crest, $140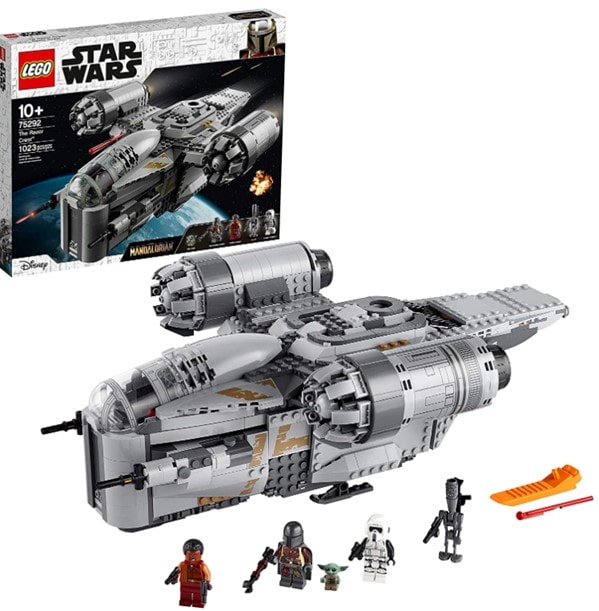 I can only imagine how ecstatic LEGO and Star Wars fans are that this crossover exists. It's a literal dream made of 1023 pieces!
The Razor Crest LEGO set includes all the pieces you need to build the iconic ship from The Mandalorian. It also comes with five mini-figures, including The Mandalorian, Greef Karga, a Scout Trooper, an IG-11 droid figure, and, of course, Grogu, a.k.a Baby Yoda.
What Customers Have to Say: "If I bought this 100 more times, my boyfriend would build every single one. He loves it and had a blast building it." - Kelsey
The Skywalker Saga Box Set, $70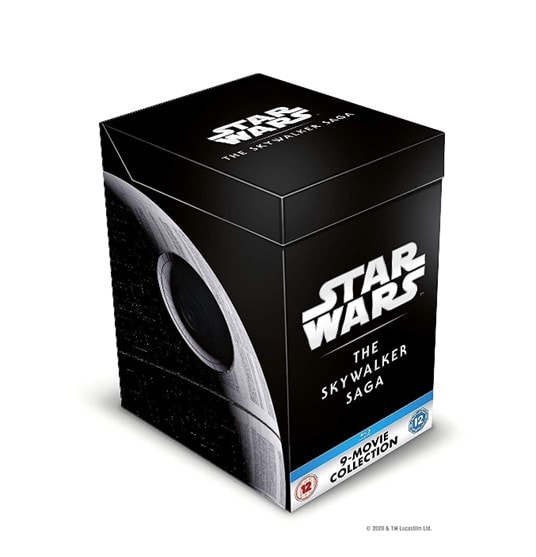 Next, this incredible 27-disc box set includes all nine Star Wars movies, plus bonus features and behind-the-scenes documentaries. It's the perfect way to relive the entire saga or introduce a new generation of fans to Star Wars!
What Customers Have to Say: "These movies are great. Beautifully remastered in high definition. Once I finished one I couldn't wait to start the next one." – gringer2008petlover
The Vintage Collection Boba Fett's Slave 1 Ship, $185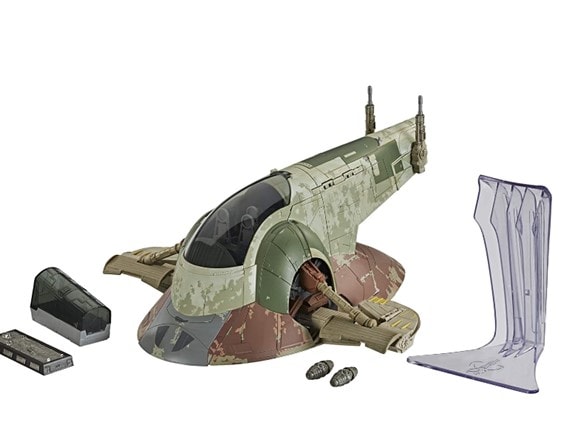 Oh, you want something less commercial? Maybe a vintage-style spaceship? We come to you with the detailed replica of Slave 1, the ship bounty hunter Boba Fett used in The Empire Strikes Back. It includes a Han Solo in carbonite figure and features realistic details, weathering, and battle damage. How does that sound?
What Customers Have to Say: "I got this for my 10 year old son, who is a HUGE Star Wars fan and collects all sorts of Star Wars stuff, most notably the 3.75" figures and the ships. He absolutely LOVED this one!!! It's pretty big, sturdy, looks exactly like the picture, and even opens up so he can put a little Boba Fett in there." – Sarah
The Black Series Darth Revan Force FX Elite Lightsaber, $279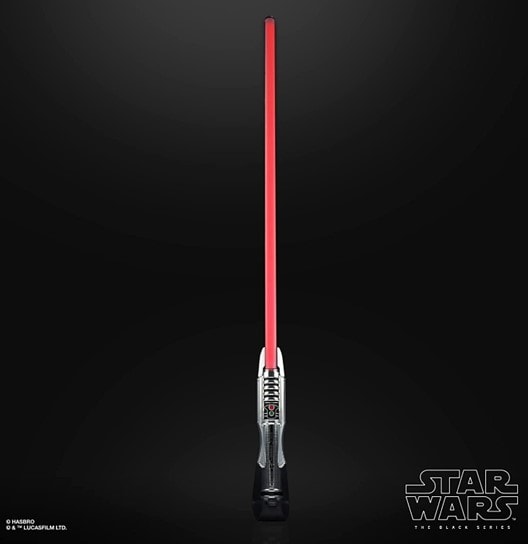 Okay, yes, we can't get enough of The Black Series, but how cool and realistic is every item here?
Even the so-so fans of Star Wars will be in awe of this high-quality lightsaber replica, which can be a great gift for collectors or cosplayers. It features a metal hilt and a removable blade that can be attached to the hilt. Oh, and did we mention the realistic sounds it makes?
What Customers Have to Say: "A little bit fragile feeling but not actually that fragile. I enjoy this purchase every day and it still makes me feel like when I got it. It's a wonderful set if you can afford it." – Griffin
The Complete Star Wars Visual Dictionary (New Edition), $25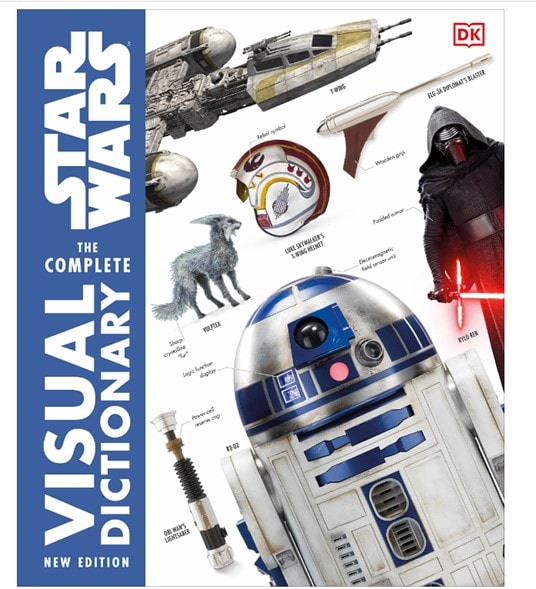 Finally, we suggest the comprehensive guide to Star Wars – the Complete Visual Dictionary that has everything you need to know about the Star Wars universe. It includes over 1,500 images, illustrations, and detailed information on characters, vehicles, and locations, making it the ideal reference guide for any Star Wars aficionado.
By the way, it's 40% off for Star Wars Day, so why isn't it in your cart yet?
What Customers Have to Say: "It's so informative and the pictures are so cool like I'm learning hidden details about the Star Wars series." – Anthony D.
Indulge in Star Wars Day with MyUS
So, whether you're a Jedi, a Sith, a Rebel, or an Imperial, there's something for everyone in Star Wars… and on MyUS' pages. And with these amazing products, you can celebrate May the Fourth in style, as you should! So why wait? Click on the links above and start shopping today.
May the Force be with you, and may all the items be in stock!
We always aim to bring our members the best shopping options available, but some of the products featured in this post may have purchase restrictions. Please visit the merchant's terms of sale, shipping guidelines, and terms and conditions to find more information.