Cozy and Colorful Sweaters for Fall and Winter
Whether going to classes, getting hot chocolate with friends, moving through corn mazes, or attending parties during the fall and winter, a great sweater elevates your clothing style. Many sweater designs complete anyone's outfit, whether long-thought-out or last-minute. If you want to follow fashion trends and dress comfortably for the weather, take advantage of the sales and discounts on sweaters from popular stores in the US and UK. As a MyUS member, you can access the best sales from carefully selected retail partners and ship your favorite items straight to your doorstep!
Rollneck Sweater in Supersoft Yarn
Are you looking for a sweater you can wear at the workplace or for special occasions? This J. Crew Rollneck Sweater offers an air of sophistication and elegance to your outfits. The mixture of merino wool brings comfort and the Heather Graphite color pairs well with skirts, slacks, and dresses.
Customer Review: "I normally order my tops from JCrew in small, as they tend to run large. This sweater is definitely a "true fit.". If you like your sweater on the loose side, you might want to upsize. Otherwise, it's fitted and simply gorgeous!"
Heritage Cotton Crewneck Sweater
When you need to change into Fall and Winter fashion, this Heritage Cotton Crewneck does the trick for insulation, breathability, and layering for chilly days. The compact knit provides a slim fit and enough stretch without compromising comfort and style. This vintage-inspired look is perfect for a business-casual look at the office, school, and home.
Customer Review: "This is a great sweater, I definitely recommend it. Material is comfortable and stretchable, sizing is true to size, some good color options. For the price the quality is good and it's relatively thick. Thicker than cashmere but not at all bulky. Great pick." - Frankie.
Mock Neck Long Sleeve Sweater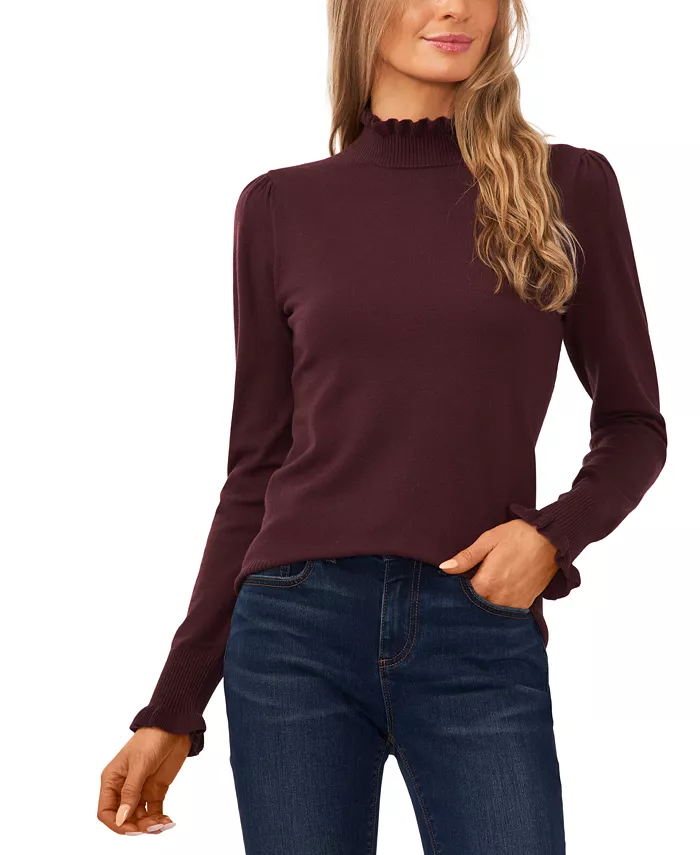 If you need a chic top that looks slender but covers more areas on the upper body, especially the neck, you should get this Mock Neck Long Sleeve Sweater! Choose from eight colors that perfectly match your style, and wear them with your favorite pair of track pants, jackets, jeans, and more! The ruffles around the neckline and cuffs make the sweater delicate and flattering.
Customer Review: "Mock necks are hard to find in dressier styles. This one is perfect for all occasions and is really comfortable. I love it!" - Mary Merry.
Club Room Striped Sweater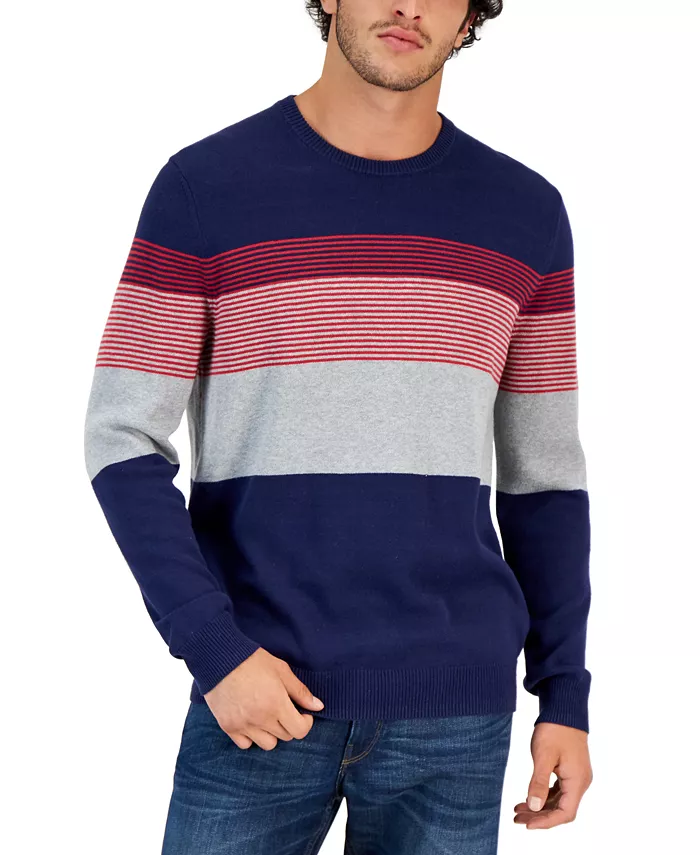 This Club Room Striped Sweater features a ribbed collar and color-blocked stripes, making it a distinct and expressive top for Fall and Winter. The complementary colors give the wearer an advantage in having a sweater that works perfectly with any pair of pants and dress shirts over solid-colored sweaters.
Customer Review: "Love this sweater. Perfect weight, perfect fit, awesome design. Total score." - PaddyG53
Ombre Knit Textured Turtleneck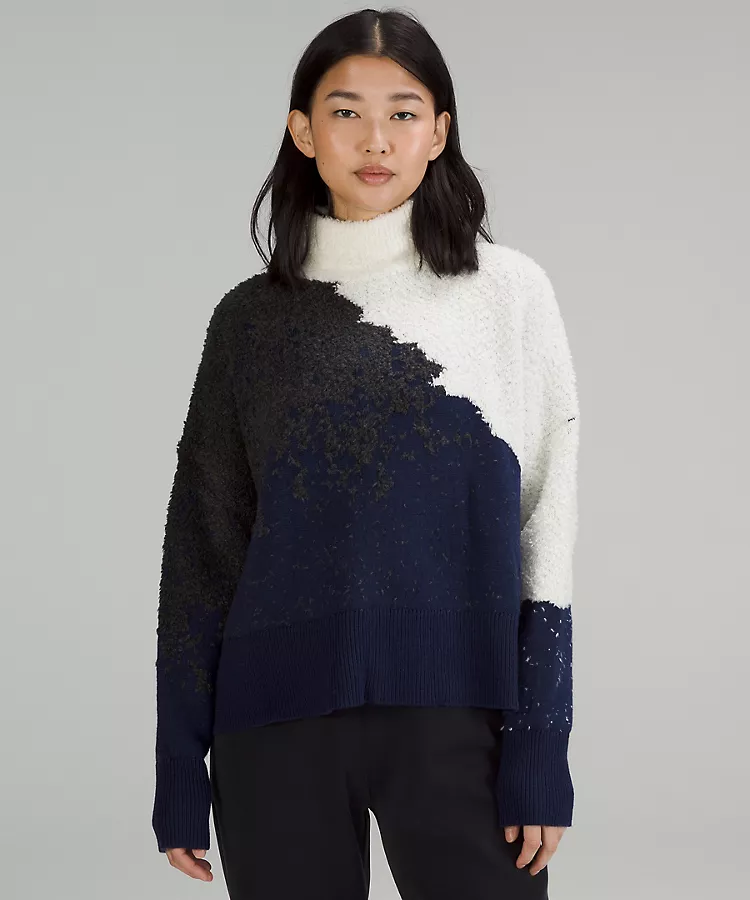 Those who ask for extra warmth during the coldest months of the year will enjoy wearing this Ombre Knit Textured Turtleneck from Lululemon! The high-pile contrast yarns and wool blend contain thermoregulating properties, adding warmth to wearers. The interior fleece and elastane lining also add extra comfort and flexibility to the sweater.
Customer Review: "This sweater is absolutely stunning. The colour combination is beautiful and the fabric is very soft and extremely pleasant to the body. Yes, it's boxy but that's the style and I love it." - Forever Spinner.
Topman Heavy Knitted Sweater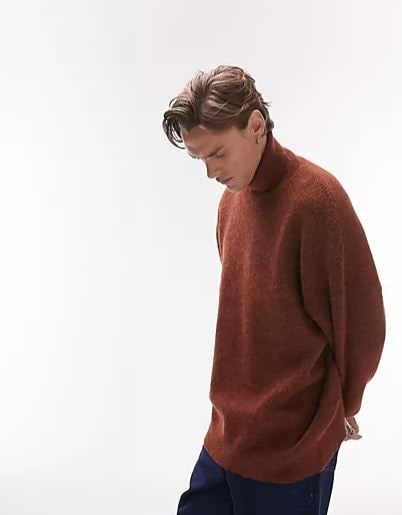 If you love comfortable and classic clothing pieces, then you'll love having this Topman Knitted Sweater for your collection. The solid brown wool adds freshness to the overall piece. The drop shoulders help create a relaxed and oversized look, making it easy to roll up sleeves without stretching them out. This sweater is the ideal top to complete a last-minute winter outfit for vacations and gatherings.
Customer Review: "Very comfortable fit, stylish, and a heavy, cold weather sweater. Not your typical lightweight sweater, it is thick and warm."
Update and refine your fashion collection with one of these stylish sweaters for Fall and Winter! Whether you prefer wearing v-necks, color-blocked stripes, cable-knit, or turtlenecks, there are plenty of options from US and UK retailers. Browse through the carefully selected store partners, choose your favorite items, and ship them straight to your doorstep in time for Fall and Winter activities with MyUS!
We always aim to bring our members the best shopping options available, but some of the products featured in this post may have purchase restrictions. Please visit the merchant's terms of sale, shipping guidelines, and terms and conditions to find more information.