Show Gratitude This Thanksgiving With Amazing Gifts
What are you grateful for this year?
For everyone, the answer to this question is different. Gratefulness is one of the most human characteristics and brings a certain type of calmness to one's state of mind. Every year, Thanksgiving reminds us of the importance of family and the memories we share together.
As the Thanksgiving shopping season closes in, figuring out what to buy for everyone on your list can feel overwhelming. It becomes especially hard when it's a gift that can't be delivered in person, and even more challenging if you're trying to buy gifts for someone living abroad. After all, what could they want when they get to see the world?
We've compiled a list of unique gift ideas that will make anyone smile with delight. MyUS delivers to over 220 countries and territories. Thanks to our long-term partnerships with delivery experts, you can get fast delivery at a low cost in as little as 2-4 days.
Pura Smart Home Fragrance Device Starter Pack, $70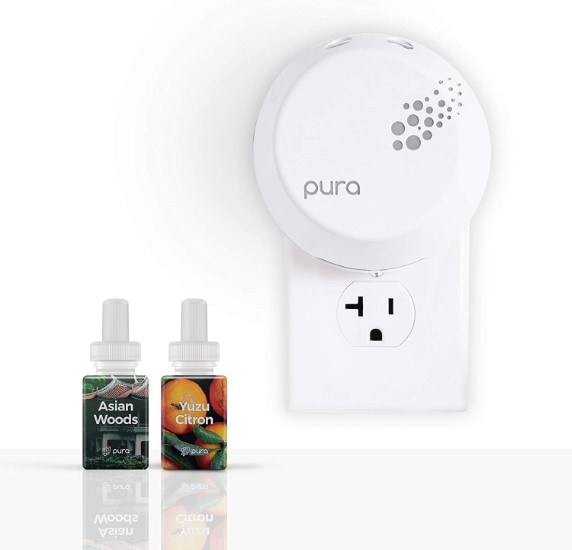 Fragrances remind us of people. Connect with your loved ones through the senses. Coming with two delicious scents, Asian Woods & Spice and Yuzu Citron, Pura Smart Home Fragrance is a nice way to reconnect with people you haven't seen for a long time. With a promise of each fragrance vial lasting up to 350 hours, you can easily control the intensity via the phone Pura app.
"I went to a friend's home and noticed how incredibly wonderful her house smelled, even with multiple pets. I work my butt off cleaning all the time, with candles and other diffusers as well, and my house never smelled as good as hers. She showed me her secret and the app that drives it all. I am hooked. So many scent choices. Of course, Volcano is a favorite, but I'm loving the Sea Salt as well. I'll be investing in several more units soon," comments Roxy's Grandma.
Personalized Family Print, $85.00 - $175.00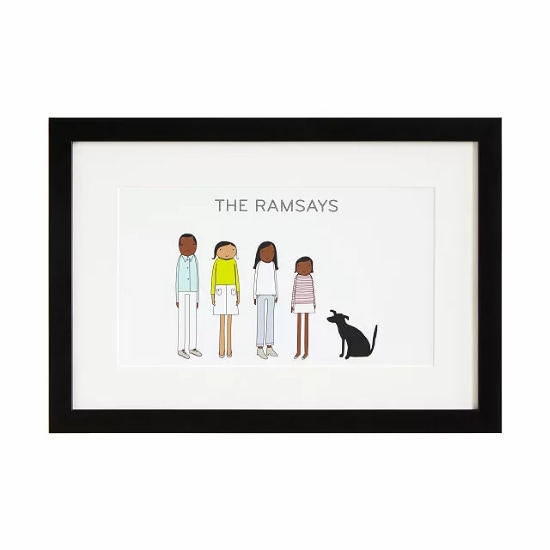 Customize your family art with Shelly Klein's personalized illustrations. Add your family name, and the year you were established, and have various options to optimize the family looks. This meaningful piece of art is bound to be a total hit among family members.
"Love the personalization and bold color! Adds whimsy, character, and charm to your home decor!!!" exclaims The W5.
CRAVEBOX Snacks Box Variety Pack Care Package (45 Count), $26.95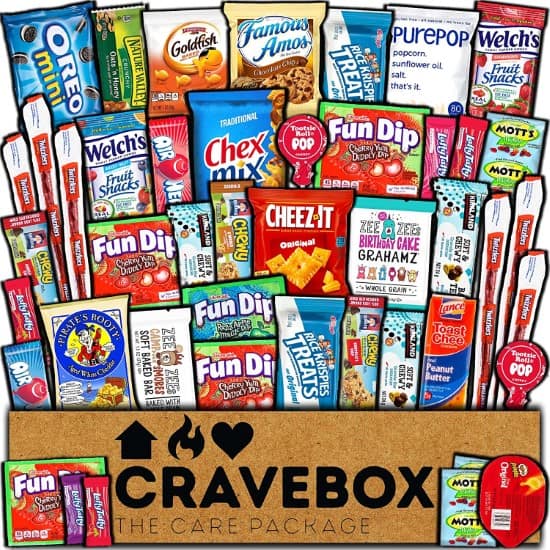 Who wouldn't like a care package that includes a mix of sweet, salty, savory, but most importantly, healthy snacks? CRAVEBOX Snacks Box Variety Pack Care Package comes with 45 packs of all-time favorite brands of snacks. This is a wonderful Thanksgiving gift of great value.
"My grandson is a freshman at college and has a bottomless pit for food. This snack pack will help to keep him free from starvation between meals. It's a nice assortment of fairly healthy treats. I've ordered monthly delivery and hope it will tide him over when he's studying," says Jane van der Veen.
A Year of Gratitude, $30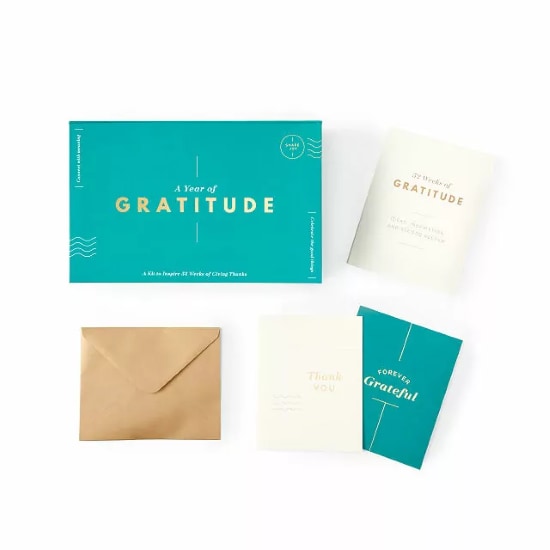 This elegant box set includes 52 thank you cards—one for each week of the year—but it also includes writing tips and a guided journal in which you can record your experiences. This year reconnect with someone from your past or make someone's day who feels taken for granted.
"Creating a habit of gratitude is extraordinarily valuable. It is great for the giver and receiver. These cards are so special for taking time each week to say 'thank you' to someone who is important," comments Donna.
Dayspring Pens Alexandria Fountain Pen, $30.99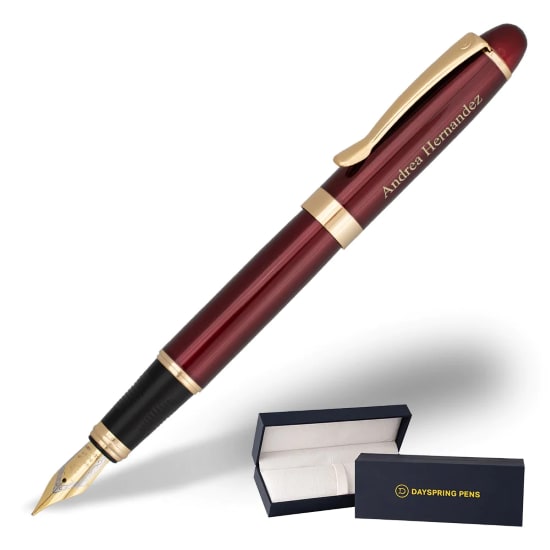 This customized Alexandria fountain pen is an excellent way to express your gratitude to someone special. With an adaptable nib that emphasizes every line unique to your writing style, this fountain pen is simple to use and refill. This pen's broader shape and weight make it ideal for anyone who enjoys a looser grasp on the pen. This pen is certain to be a memorable present with a beautifully engraved name on the cap.
"Gave as a gift, which my nephew loved. I was very pleased with how his name turned out," says Ferguson in their five-star review.
Custom Fav Kid Socks, $24.00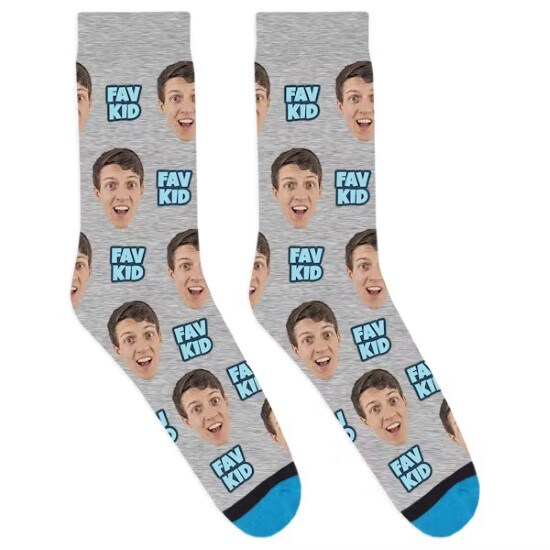 If you have a kid that prefers a funny gift that is also a bold fashion statement these personalized Fav Kid socks are excellent. Simply send them the picture of your child, pick the right color and wait for their reaction.
"Love these socks. Super good quality. I've ordered for myself and for friends. ❤️🐕," states Crystal Silmi.
Farmers' Market Apron, $95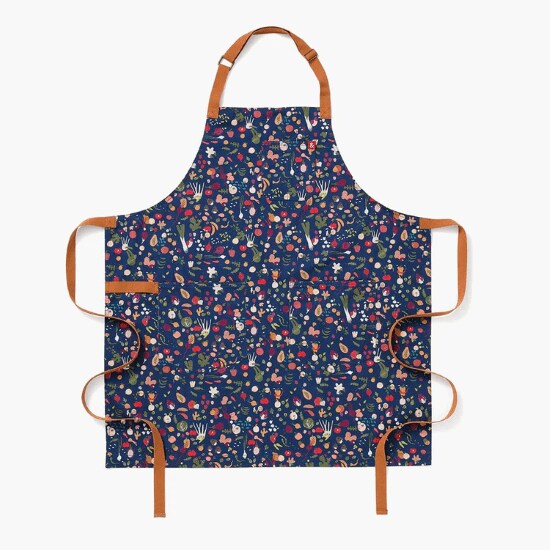 For those who love spending time in the kitchen, the Farmers' Market Apron is a useful and stylish gift idea. Elegantly designed, this apron will protect the wearer while they cook and bake delicious meals. On top of that, they will have a piece to remember you by while they wear it.
Robert I. says: "Absolutely perfect! I've worn plenty of aprons in my life, but after this one, I'll never trust a different company! It's made to be sturdy and take everything I throw at it in the kitchen. Fantastic job y'all! I'll be buying a few more for sure!"
Ready to Shop & Ship?
Choose your Thanksgiving gifts and have them sent globally with MyUS for the lowest shipping costs. We pack and examine each cargo by hand, ensuring that your valued items are well-protected, removing any extraneous packing, and consolidating your goods for optimal savings.
MyUS aims to bring you closer to your loved ones wherever they are. MyUS ships to more than 220 countries and territories, with happy members around the globe. Ready to explore US stores and find the best deals for the lowest shipping rates? All you need is a membership to get your MyUS address instantly.
We always aim to bring our members the best shopping options available, but some of the products featured in this post may have purchase restrictions. Please visit the merchant's terms of sale, shipping guidelines, and terms and conditions to find more information.